This shop has been compensated by Collective Bias, Inc. and its advertiser. All opinions are mine alone. #CerealAnytime #CollectiveBias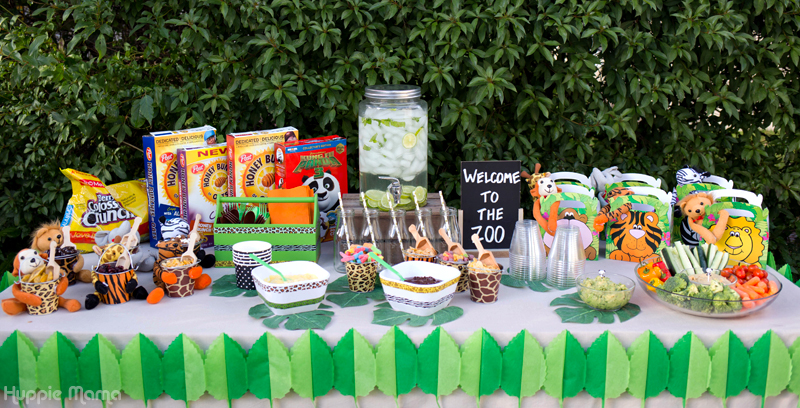 ROAR! Looking for a fun play date or birthday theme? You've arrived on the right page! These Zoo Animal Party Ideas combine recipes for creative snacks and fun craft ideas. As a work-from-home mom, I am always looking for fun, new ways to entertain my kids (and make sure they're learning something along the way). This theme includes engaging, hands-on opportunities with the help of some delicious snack foods from Post.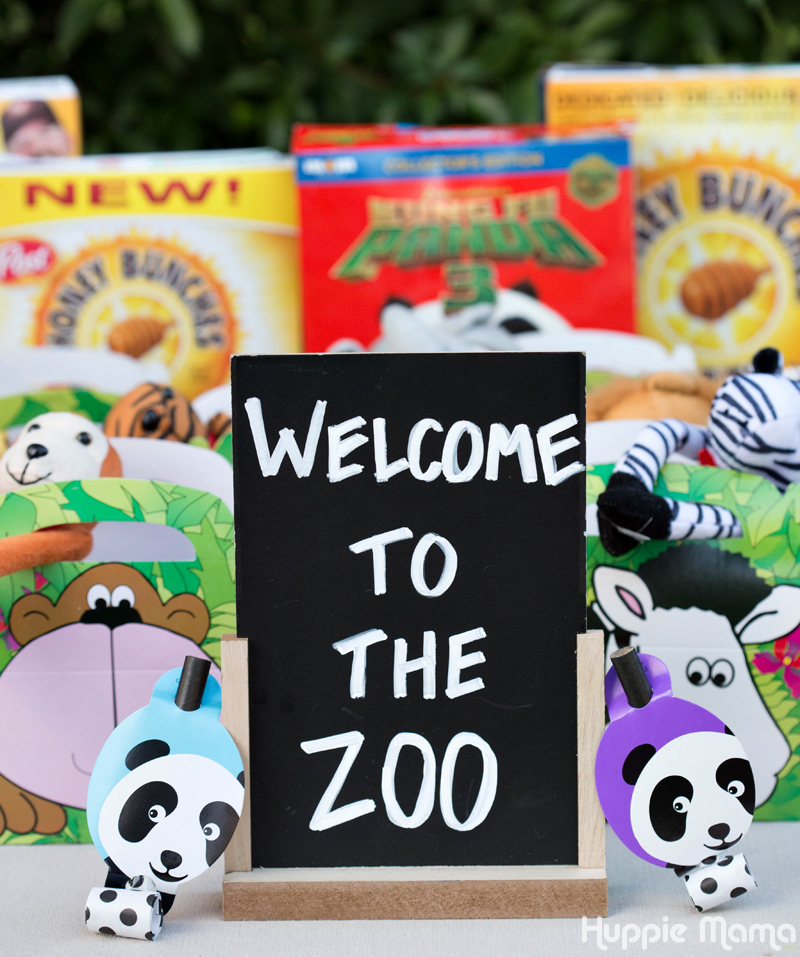 Every great party begins with an awesome tablescape. This table includes a build-your-own trail mix section, a pudding cup station, a vegetable platter with two different dips, a refreshing flavored water, and super-cute party favors. I found a bouncy castle hire near me so I decided to host this party in my backyard for more space and to really embrace nature, but of course you can host it indoors as well.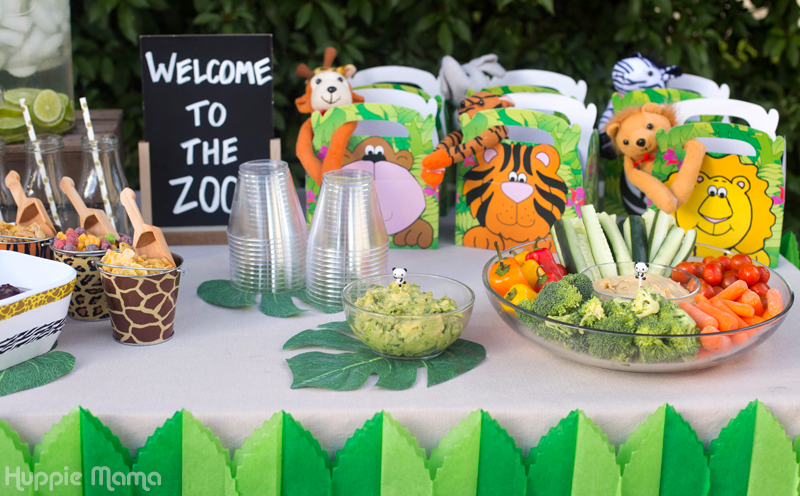 Want to jazz up some plain bowls and containers? Just grab some washi tape in fun animal prints. Check out my green caddy and pudding bowls. How cute are they?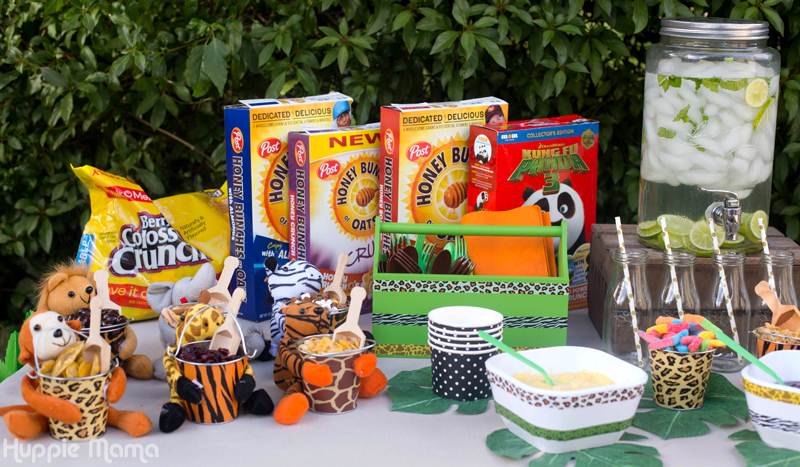 To create each section of this party set-up, I thought about zoo animals. What would zoo animals eat if they were to create their own snack spread? We began with vegetable cups! These are so easy to make. Simply take small clear cups and place some type of dip at the bottom. I included two options: guacamole and hummus. You can also use blue cheese or ranch dressing, spinach dip, or onion dip.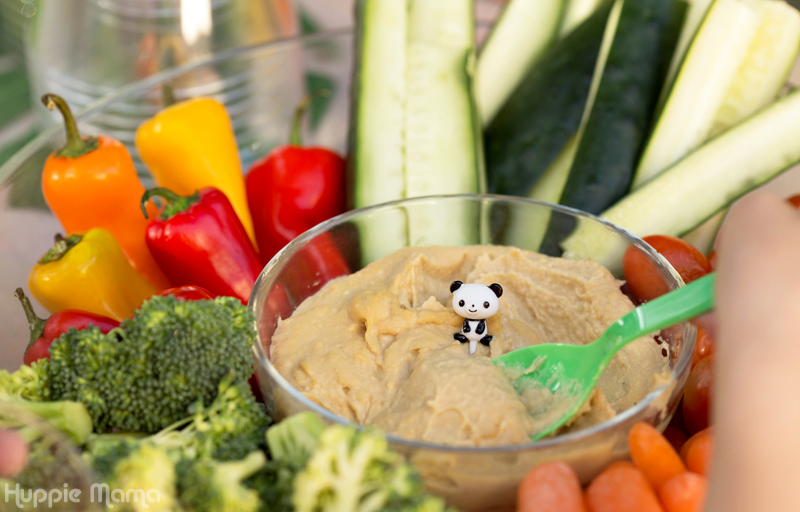 Next, your child will add all of his/her favorite vegetables to the cup. To make my vegetable platter, I included baby carrots, cucumber sticks, broccoli, grape tomatoes, and multi-colored baby sweet peppers. Cut each item big so little hands can grab them easily.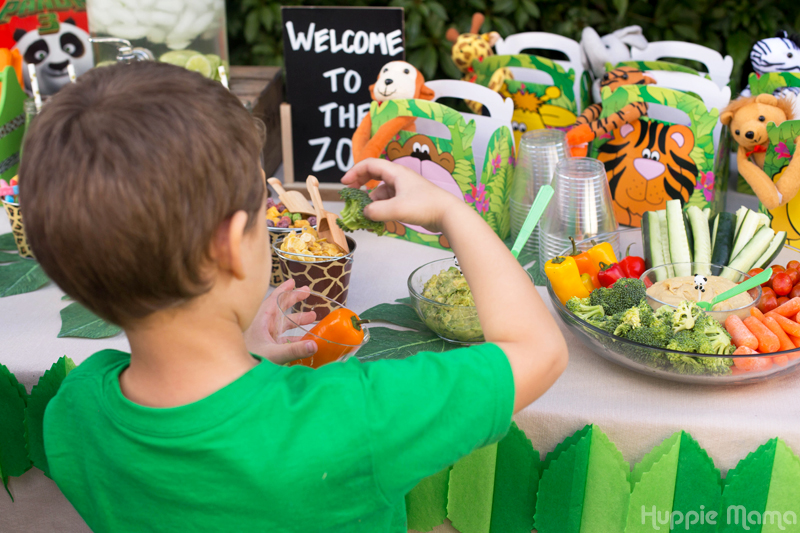 Bryce was very proud to show off the savory snack he created himself! He used guacamole at the bottom of his cup, and included some of his favorite vegetables, like sweet peppers, broccoli, and cucumbers. Cut-up veggies make great finger foods for kids!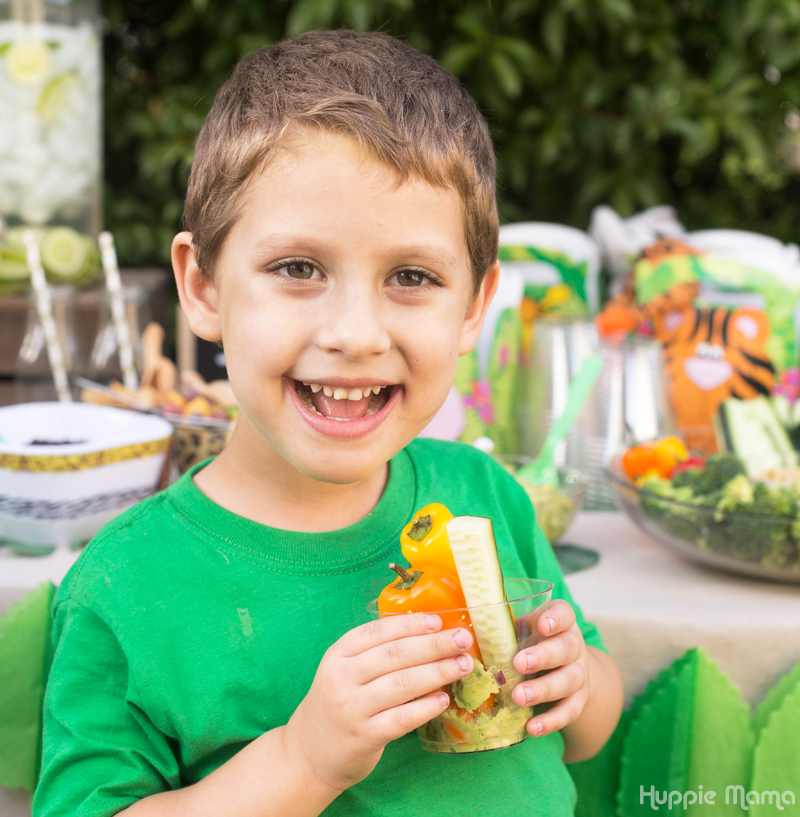 Next up, it was craft time! I gave the children two choices of animals to print out: Tortoise or Giraffe. (You can click those hyperlinked animal names to print the coloring sheets. I suggest using card stock.) To complete this craft, place a variety of crayons and markers in a tray so the kids could get creative!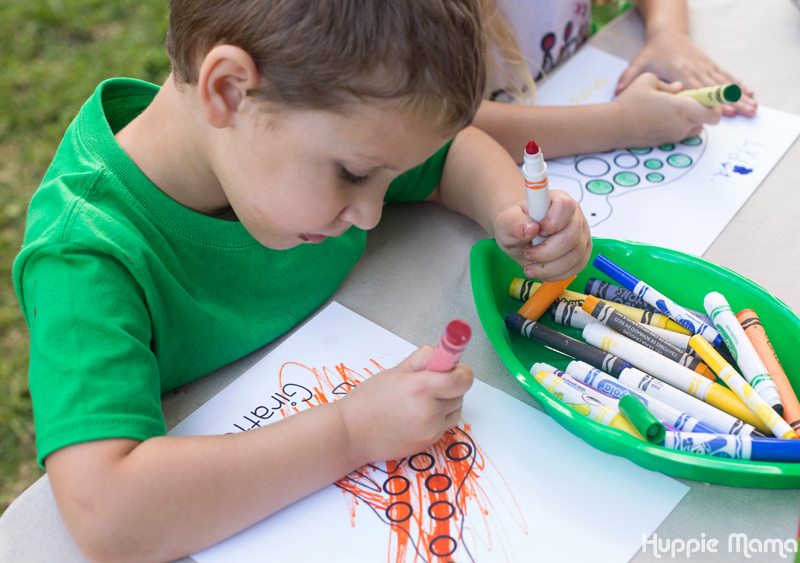 Did you notice that these coloring sheets contain animals covered in spots? There's a reason for that! Using white school glue, attach different cereals – like Honey Bunches of Oats Crunch O's and Kung Fu Panda Po Power cereal – to create three-dimensional spots on the animals. This is a great fine motor skill for young children!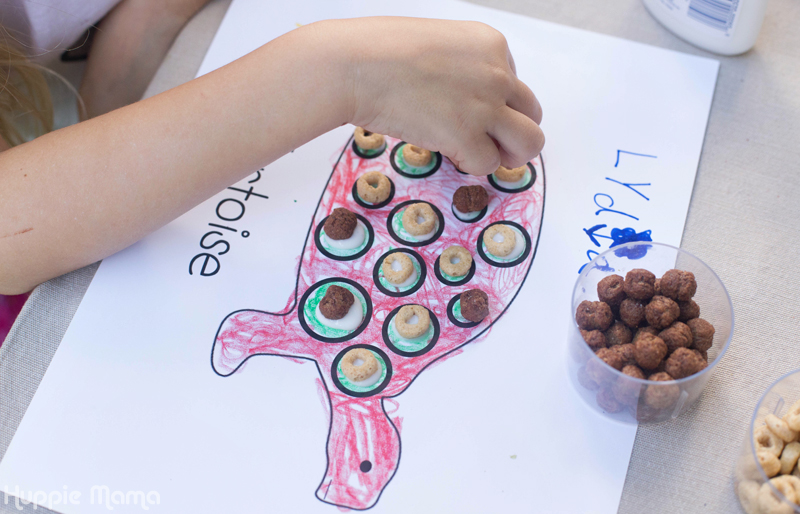 After craft time, it must be dessert time! As I said above, I tried to choose snacks that reminded me of the zoo. These "Zoo Food Pudding Cups" are fun to make and even more fun to eat!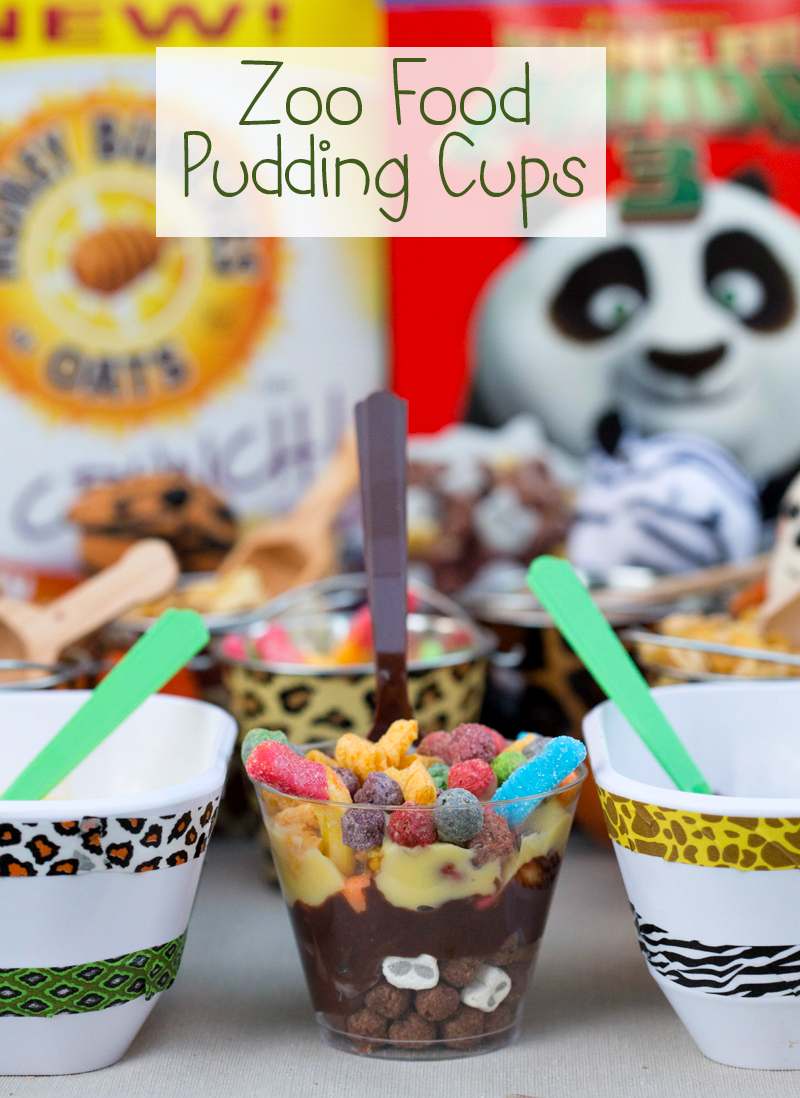 Begin by setting up your pudding cup station. For the vanilla and chocolate pudding, you can either mix up a box of instant pudding + milk or purchase pre-made individual pudding cups.
Ingredients:
4 cups of vanilla pudding
4 cups of chocolate pudding
small package of gummy worms
1 cup each of the following cereals:

Honey Bunches of Oats with Almonds
Honey Bunches of Oats Honey Roasted
Honey Bunches of Oats Crunch O's
Kung Fu Panda Po Power cereal
Berry Colossal Crunch
Directions:
Begin by arranging the bowls of pudding with spoons for little hands to scoop. Place each cereal and gummy worms in a different decorative container with scoops in each one. Be sure to pick up some clear cups when you're shopping for these ingredients so that children can see the layers in their creations from the outside!
Place cereal at the bottom of a cup to look like rocks deep underground. Your child can use "brown rocks" like the Kung Fu Panda Po Power cereal or "colorful rocks" like the Berry Colossal Crunch.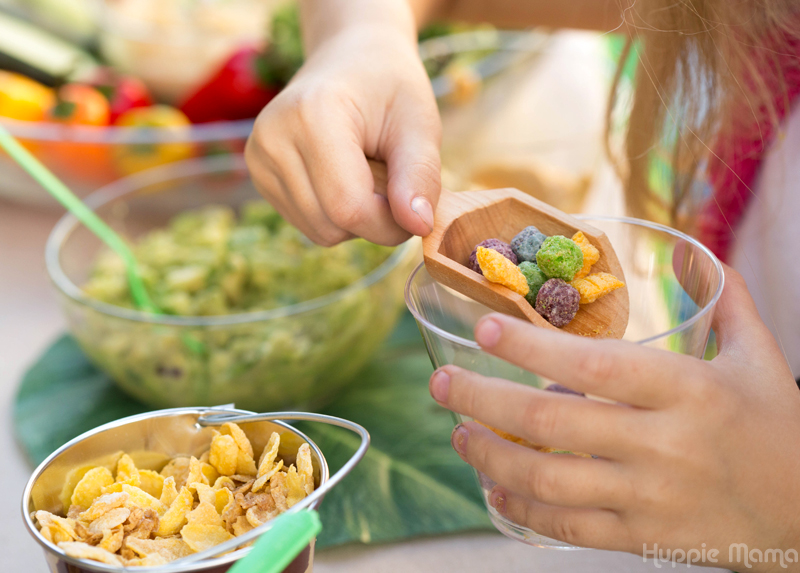 Next, add a layer of chocolate pudding. This represents the soil beneath the earth. And you know what can be found in that soil? Worms! Add some gummy worms to this layer as well.
To complete the dessert, add some vanilla pudding as a soft later of sand and a final layer of cereal to look like flowers or gravel. Each child can build his/her own Zoo Food Pudding Cup however he/she would like! As you can see, it is quite the party dessert. Just make sure your child doesn't stick his hands in the pudding before making his pudding cup (see chocolatey fingers below).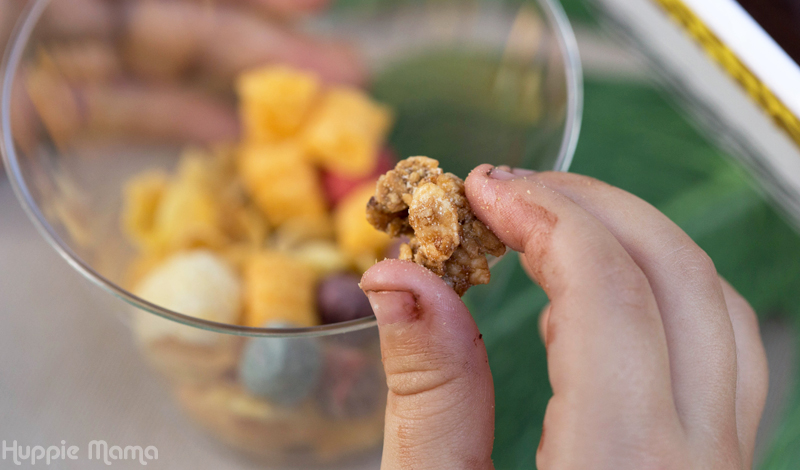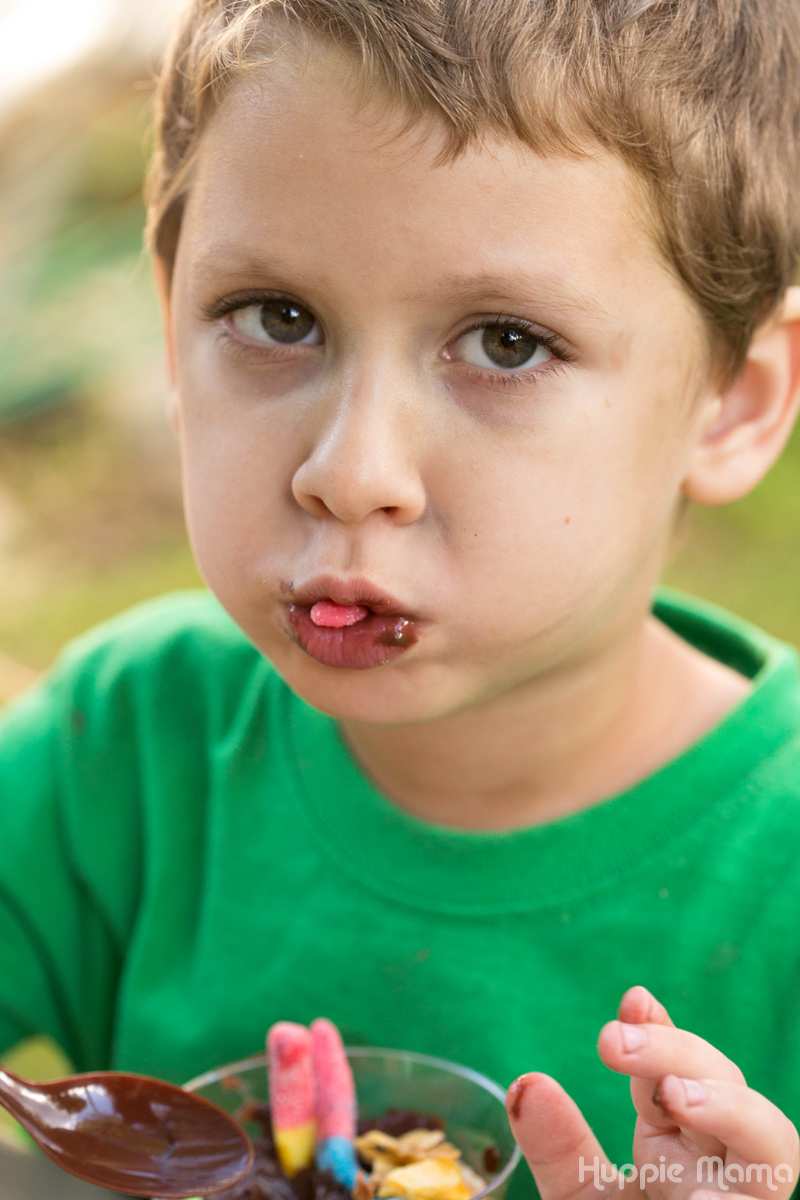 Be sure to serve your yummy treats with a refreshing beverage. I filled my large cooler with water, ice, slices of lime, and chopped mint for a flavorful water. I love using these little glass milk bottles and fun straws to serve this lime-mint flavored water. Just make sure you assist the little ones with filling the bottles.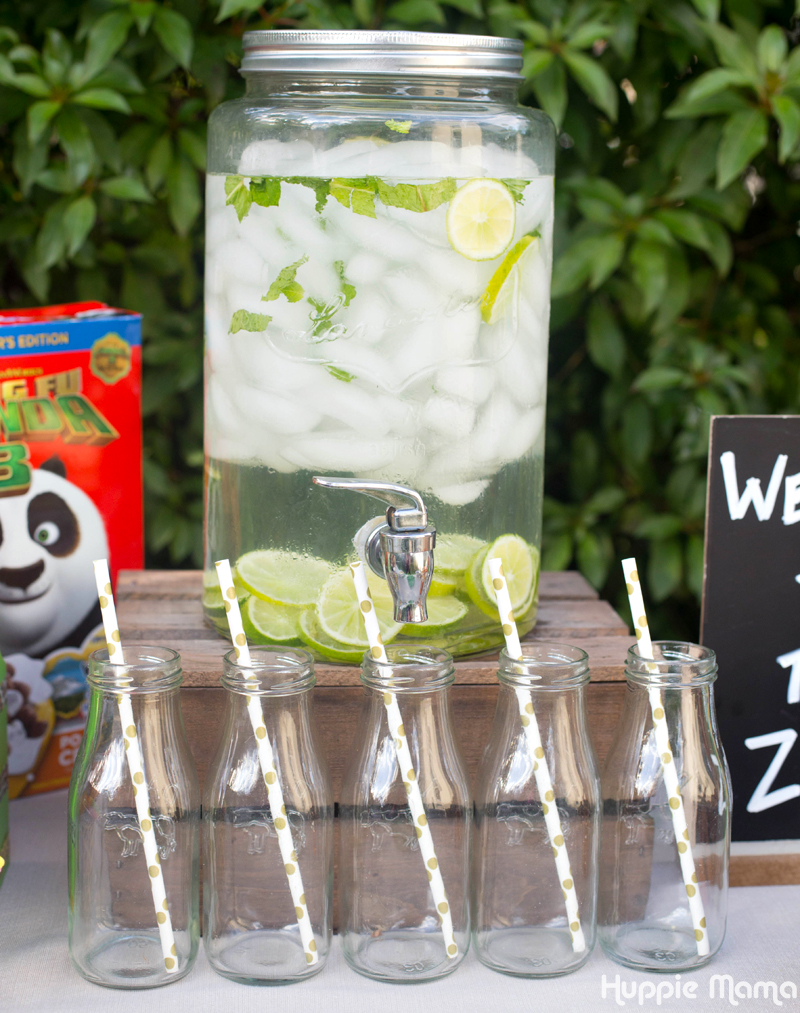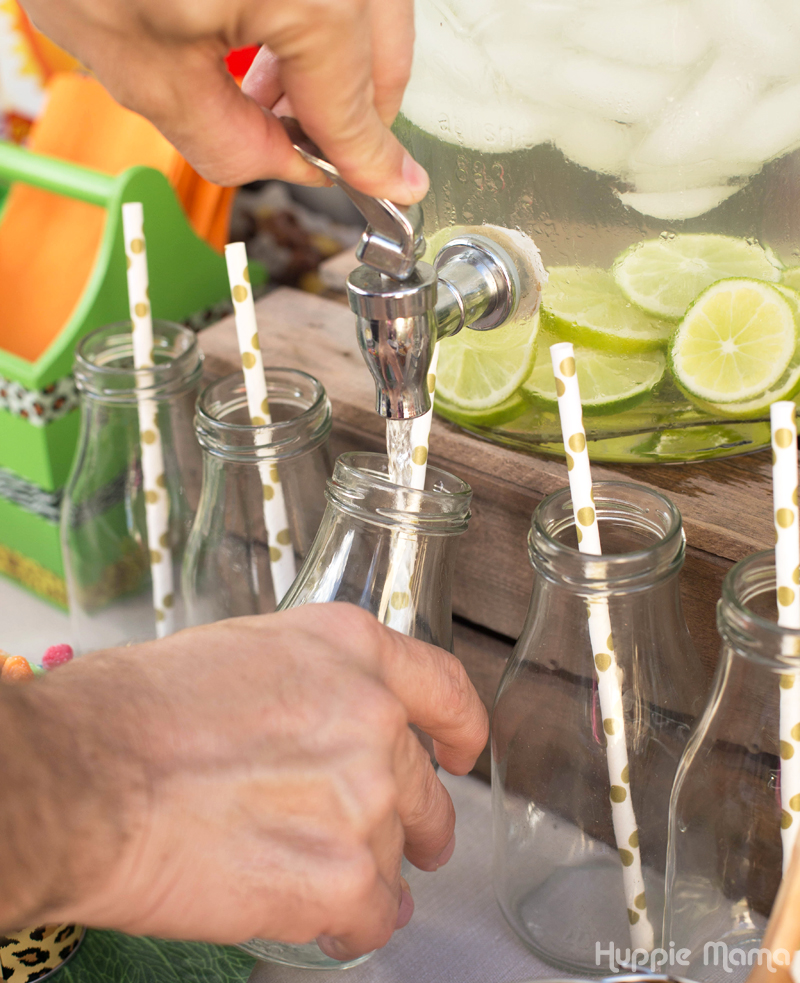 After a fun day of savory snacks, fun crafts, and a delicious dessert, it's time to pack up a little to-go box. No party is complete without a goody bag, right? This one is so much fun for each child to make.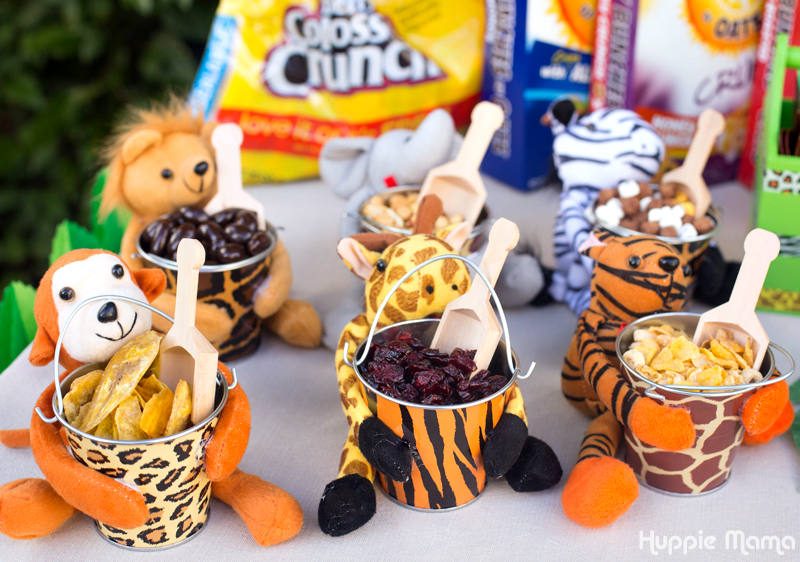 For this build-your-own trail mix section of the table, I filled these colorful animal tins with chocolate-covered almonds, peanuts, banana chips, dried cranberries, and a variety of cereals, like Honey Bunches of Oats with Almonds, Honey Bunches of Oats Honey Roasted, Honey Bunches of Oats Crunch O's, Kung Fu Panda Po Power cereal, and Berry Colossal Crunch.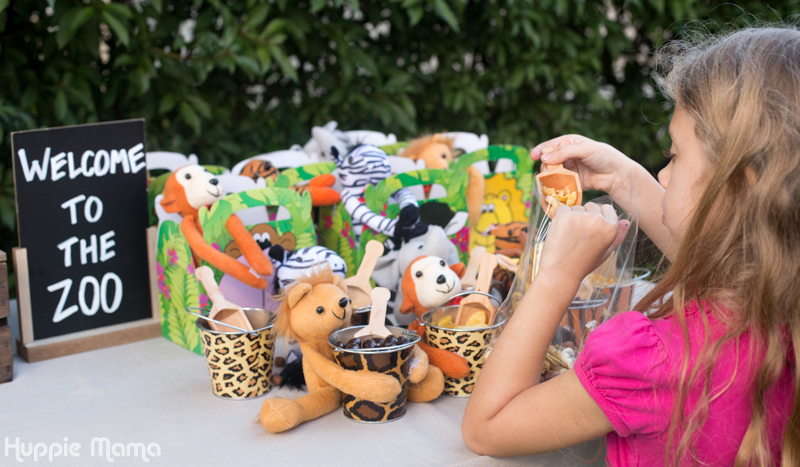 To make the trail mix, kids will fill clear goody bags with each of the snacks pictured above. Use a twist-tie to close the bag, and add the trail mix, a small animal tin, a fun stuffed animal, and a panda party blower to each of the to-go animal boxes.
Want to recreate this fun Zoo Animal Party filled with fun snacks and crafts? Head to Walmart to purchase all five Post cereals used in this party (including the new Honey Bunches of Oats Crunch O's and Kung Fu Panda Po Power cereal) along with the new Honey Bunches of Oats Gluten Free Chocolate (perfect for my husband's gluten-free diet). You can even earn $0.50 when you buy any Post product at Walmart with Ibotta.
What's your favorite play date theme and what tasty snacks do you serve?