This shop has been compensated by Collective Bias, Inc. and its advertiser. All opinions are mine alone.  #MixMatchMunch #CollectiveBias
So the kids are officially back to school, which means an entirely new schedule for all of us. This has been a big adjustment. Richard generally leaves for work around 7:45, Lydia has to be at school around 8:30, and Bryce has to be at school by 9. For Lydia, this is the same schedule as last year, but for Bryce, who only went to school twice a week last year, this is a huge change…but a good one. He really does well with a more structured day. His normal school days are from 9 am – 12:15 pm, but on days when I have extra work or appointments, he stays later for lunch and recess. He cannot bring meat to his school because of the school guidelines, so I have to plan veggie-friendly meals for him. I decided to make this fun veggie snack mix!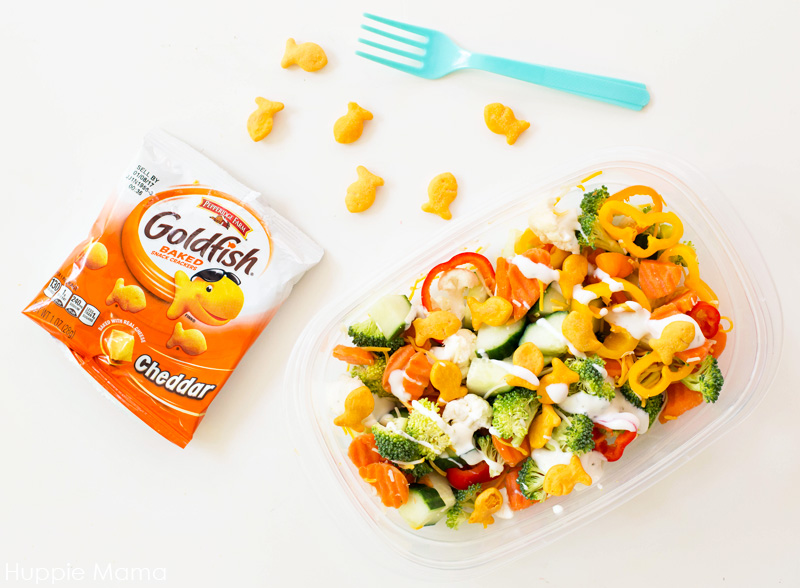 Ingredients:
1 snack pack of Goldfish crackers
1 cup broccoli
1 cup carrots
1 cup cauliflower
1 cup chopped cucumber
1 cup chopped sweet peppers
1/4 cup shredded cheddar cheese
Directions:
Begin by selecting your child's favorite flavor of Goldfish crackers. These crackers will act almost like croutons in the veggie snack mix, so consider using the Cheddar or Pretzel variety. A variety pack is great because of the different flavors available to mix and match.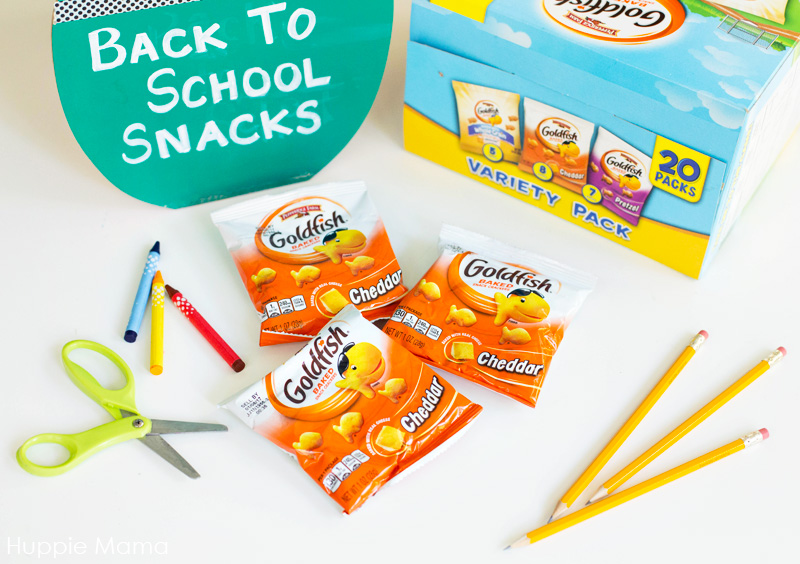 Next, select your child's favorite vegetables. I'm lucky – Bryce loves raw and cooked vegetables. His favorite raw vegetables include broccoli, cauliflower, carrots, cucumber, and sweet peppers. I chopped these up finely so that Bryce could easily eat them with a fork.
Add 1/4 cup of shredded cheddar cheese and stir together in a large bowl. This vegetable mix makes two servings, so you and your child can both enjoy it as part of a lunch or after school snack.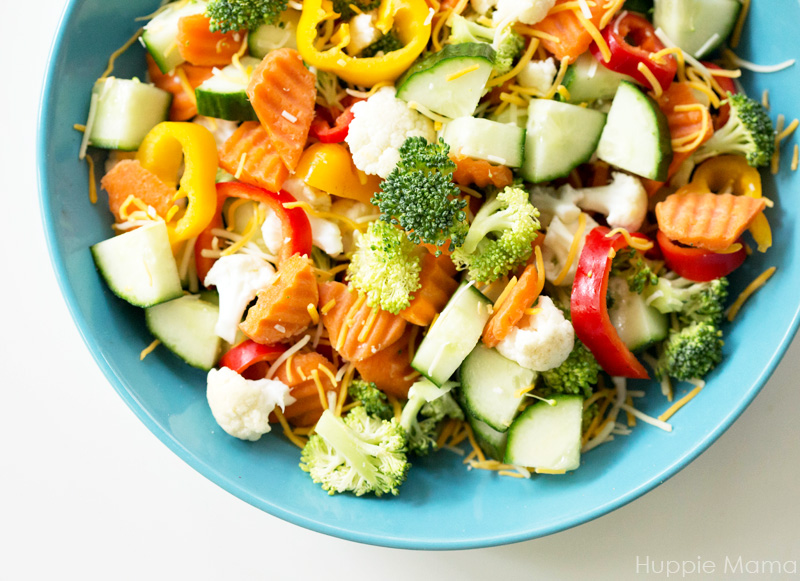 If you are packing this up for a school lunch, place it in a reusable container. Remember to pack a small cup of your child's favorite salad dressing as well. I purchased a yogurt ranch dressing for Bryce that he just loved. And for the perfect addition, Goldfish crackers!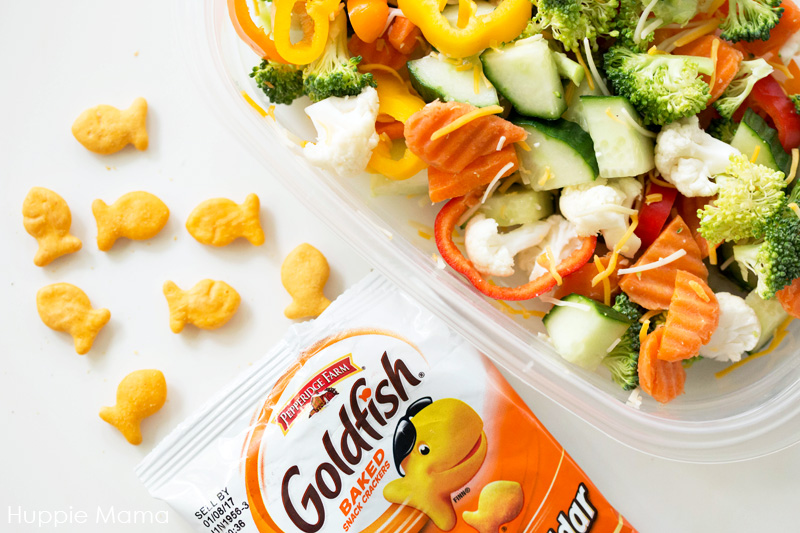 When your child is ready to eat this veggie snack mix, encourage him to sprinkle the Goldfish crackers over the top and combine with the vegetables and cheese. Kids love food they can help prepare themselves. As you can see…this was a hit! I'm so glad we can share some lunches at home together, but that I can also prepare a healthy lunch for him to enjoy at school with his friends and new teachers.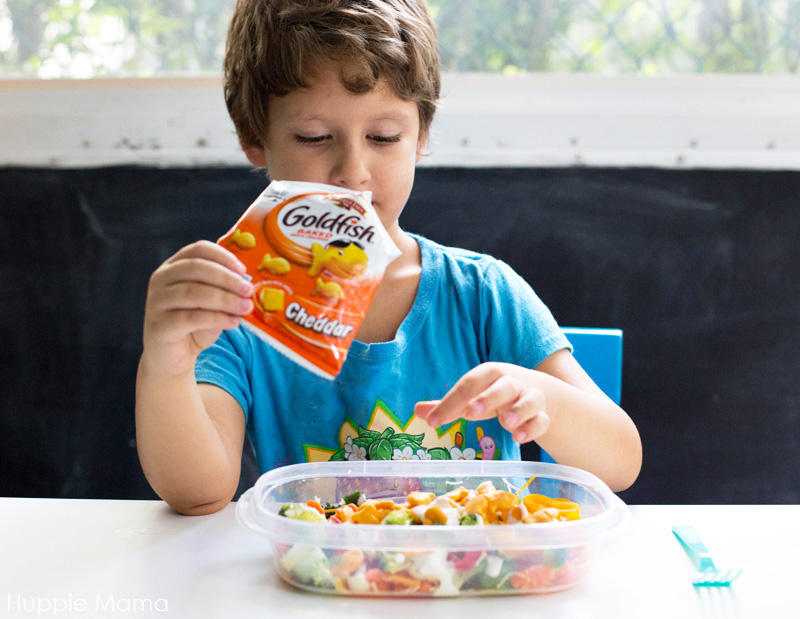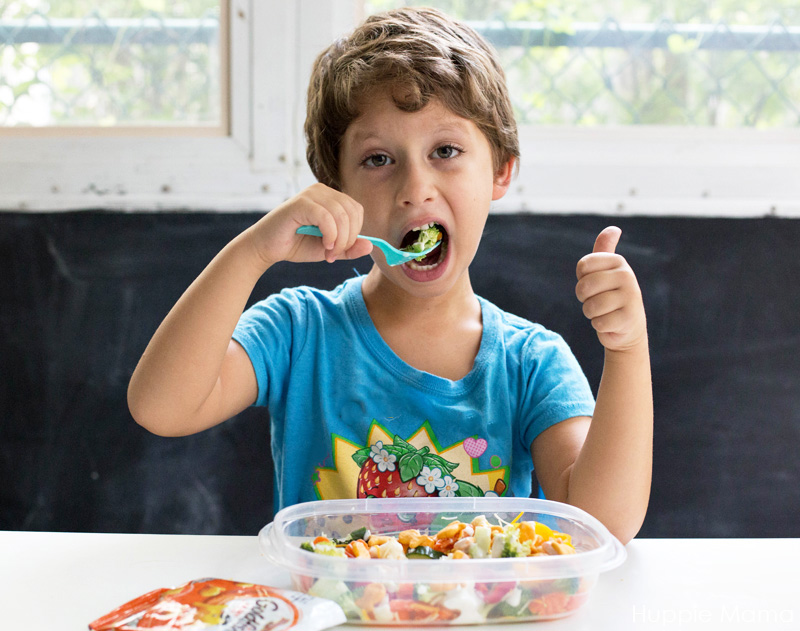 Goldfish crackers make a great snack by themselves or an addition to a delicious sweet or savory snack mix. They are perfect paired with fresh produce, a win-win for both parents and children!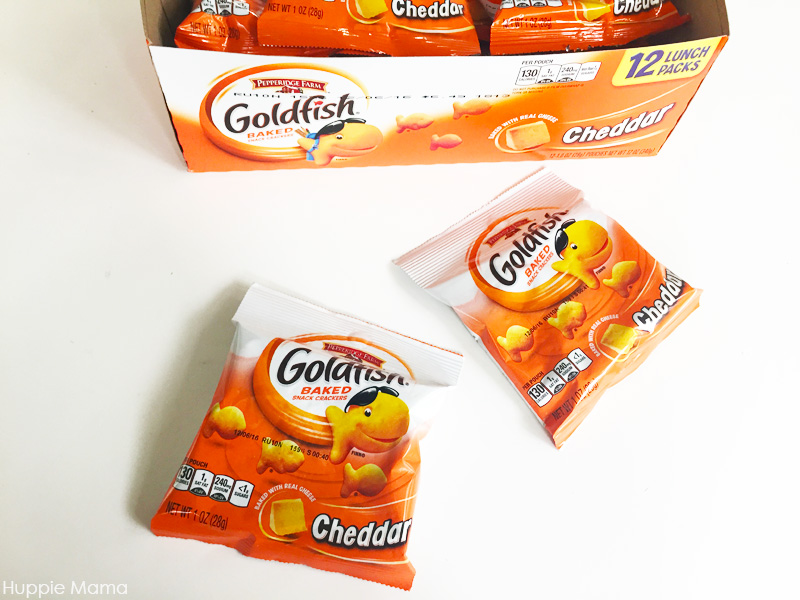 Head to Walmart to purchase Goldfish crackers for your child's back-to-school snacks. Save $1.00 on any ONE (1) Bolthouse Farms® 10 oz. Baby Carrots or Bolthouse Farms® 11 oz. juice when you buy any ONE (1) Pepperidge Farm® Goldfish® crackers 30 oz. or larger.
Check out these other awesome snack mix ideas!