This post was sponsored by Fresh From Florida as part of an Influencer Activation for Influence Central, however all opinions expressed are my own.
Enjoy this delicious Ultimate Salad Bar Party with Fresh From Florida ingredients!
We moved from South Florida to North Central Florida almost two years ago, and we have been so fortunate to maintain incredible relationships with friends who live about 5 hours away from us. Recently, my friends came to stay the weekend in our home, and I was so excited to share with them some of my favorite spots around town. We visited a farm for retired horses, enjoyed drinks at a brewery that incorporates locally-grown ingredients into their brews, and visited our local natural history museum. I'm kinda known for my food and party preparation, so of course we had to have a fun outdoor meal as well, highlighting some of the ingredients Florida is known for, including our fresh sweet corn and watermelon, which are both in season now! This Ultimate Salad Bar Party also includes other Fresh From Florida produce, like blueberries, strawberries, tomatoes, and mangoes.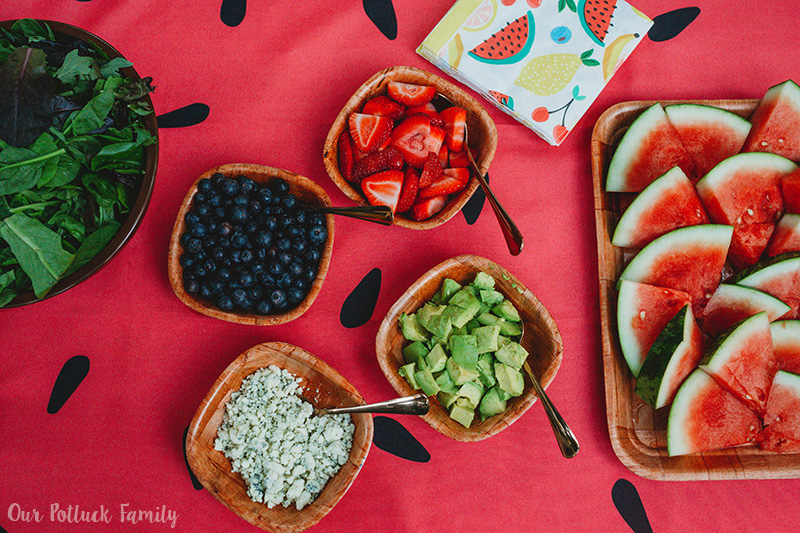 Ultimate Salad Bar Party Preparation
To prepare for this party, I headed to the grocery store to purchase a variety of salad bar ingredients. I love a little of everything – fruits, vegetables, cheese, nuts, and proteins. For this salad bar, I chose to make a skirt steak with a simple marinade of salt, pepper, balsamic vinegar, and oil. I grilled it until it was medium rare, set it aside for about 10 minutes to rest, and then sliced it against the grain to ensure it was tender. Along with the skirt steak, I grilled four ears of corn that were seasoned with salt and pepper and cut the corn off the cob as one of the salad toppings. I also sliced up fresh watermelon because it's the perfect dessert you can enjoy with your dinner!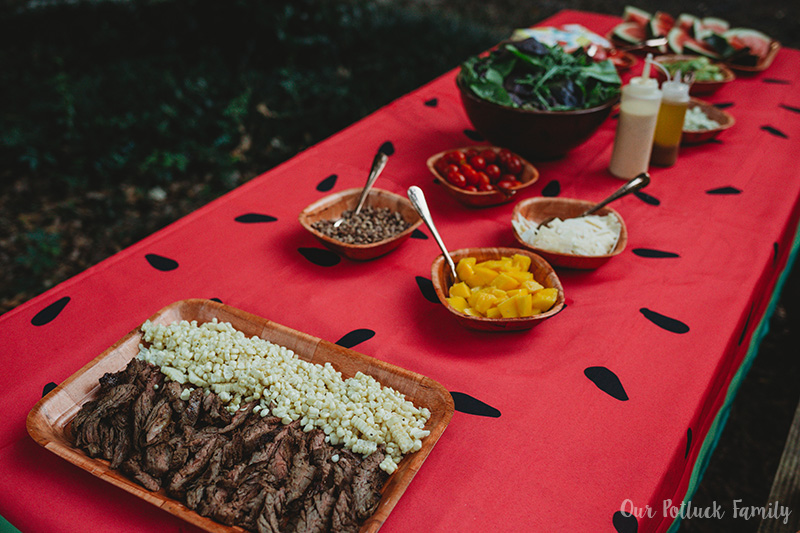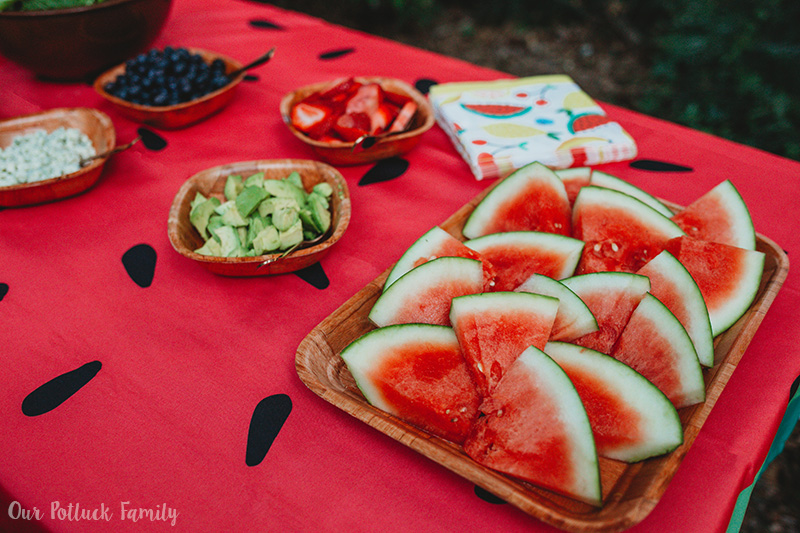 For the other toppings, I featured some of Florida's finest produce – mango, strawberries, tomatoes, and blueberries, along with Hass avocado, blue cheese crumbled, shaved parmesan cheese, pecans, and, of course, a large bowl of mixed greens. I love the textural and color varieties in mixed greens. They are perfect for an ultimate salad bar party! Of course, I also had to include two salad dressings – range and lemon vinaigrette.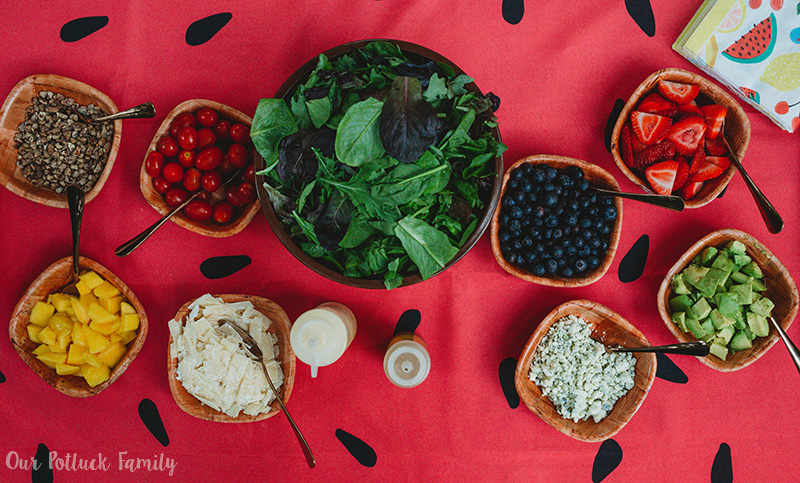 To set the table, I purchased this super fun watermelon tablecloth along with lots of wooden bowls and platters. The small bowls are great for the salad toppings while the large bowls are nice for building dinner-sized salads. I used the wooden platters for serving the grilled steak and corn on one, sliced watermelon on the other. I also found brightly colored cups and fruit paper napkins to complete the tablescape.
Ultimate Salad Bar Party Recipe Idea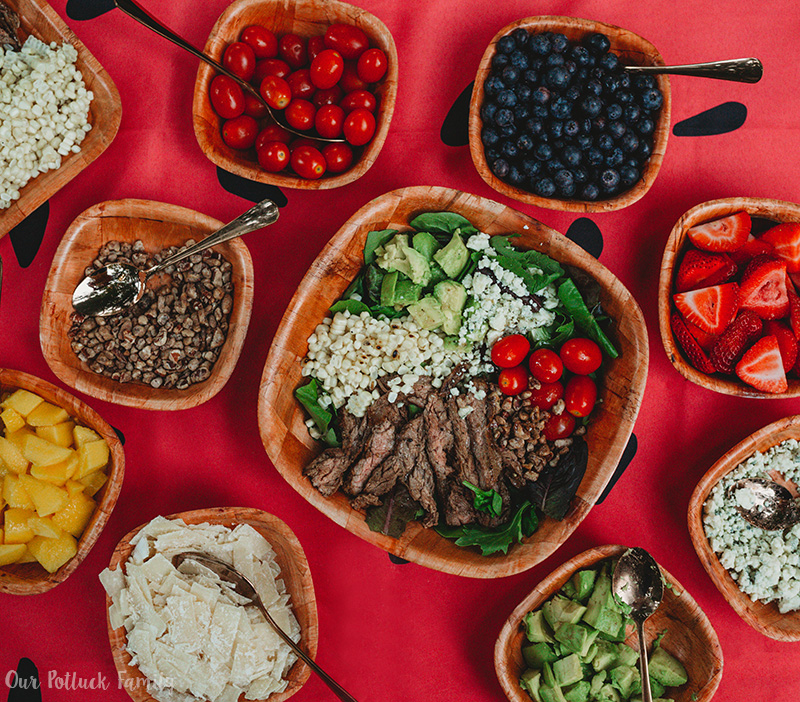 I built a delicious Grilled Steak and Corn Salad when I assembled my Ultimate Salad Bar dish. For this salad, I included grilled skirt steak, grilled Fresh From Florida corn, diced avocado, grape tomatoes, pecans, and blue cheese over a bed of mixed greens, topped with lemon vinaigrette. This is a delicious salad, perfect for the warm summer months ahead. Check out the complete recipe below!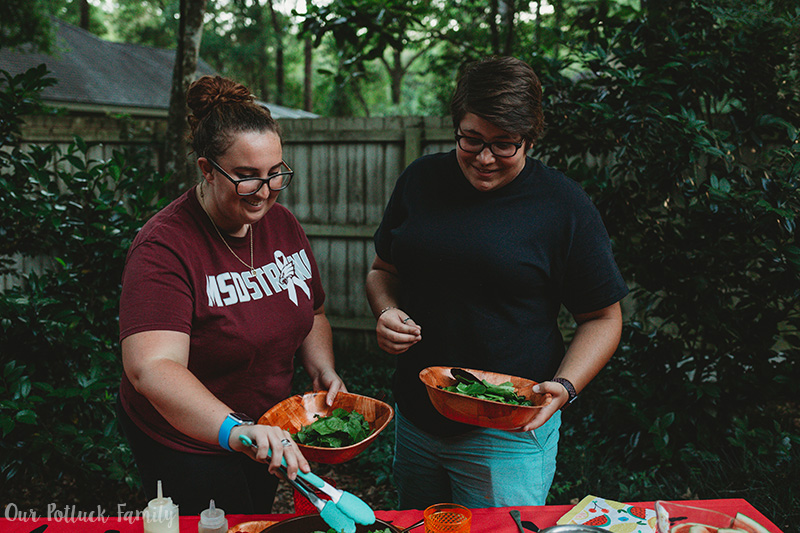 I love that each guest got to enjoy salad their way. One friend had never tried these mixed greens or blue cheese, so this was a fun way to expose your guests to completely new flavor combinations! By making a salad with fruits and vegetables, you get that perfect sweet and savory balance that I just love in my salads. When prepping for this party, try to cut your ingredients into similar-sized bites to maintain that textural consistency throughout. Nobody wants a salad that they have to cut with a knife because the pieces are too big.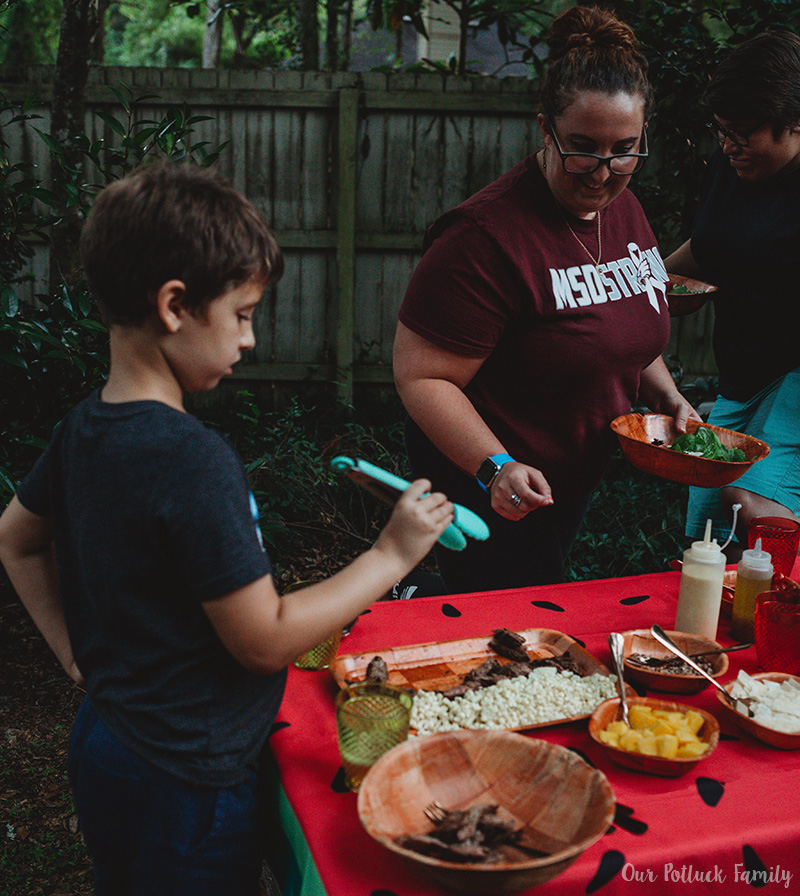 The kids are adventurous eaters, so their salads included steak, vegetables, fruits, cheese, and their preferred salad dressing. Lydia doesn't like salad greens unless they are cooked, so she made a dish of skirt steak, avocado, and blue cheese, and then she enjoyed the berries for dessert. This is why build-your-own food parties are great for everyone!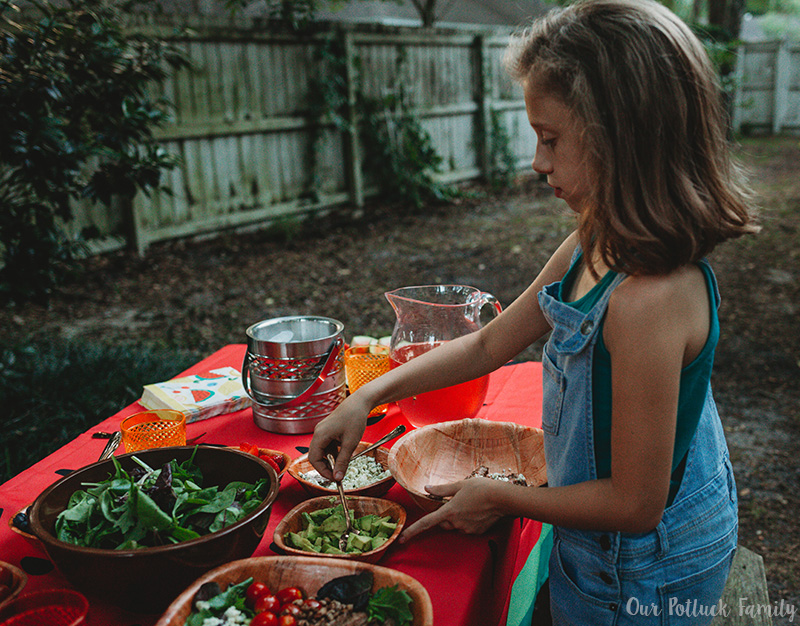 We served the salads with refreshing pink lemonade and enjoyed watching the sunset together on a beautiful late spring evening. Because these friends are from out-of-town, it was fun to catch up on what's been happening in our lives. Work, school, family, old memories, new pets… it's awesome to relax in the backyard and enjoy time with loved ones. Afterwards, we played a board game and kept the laughs going all night!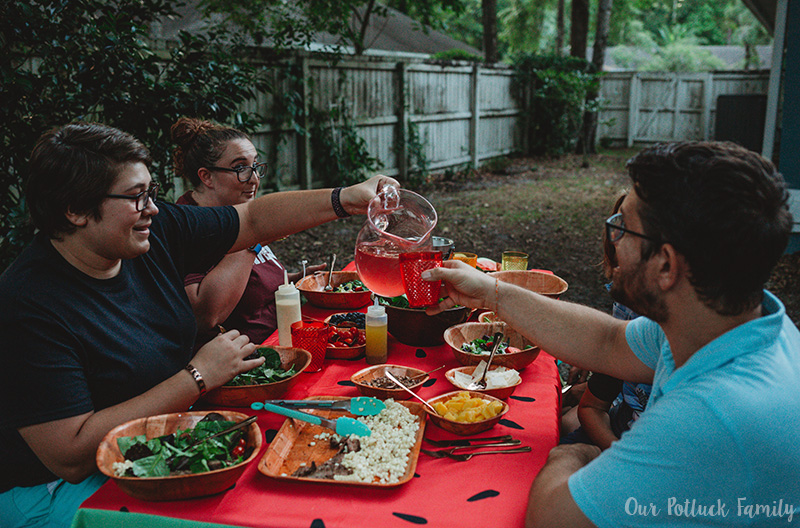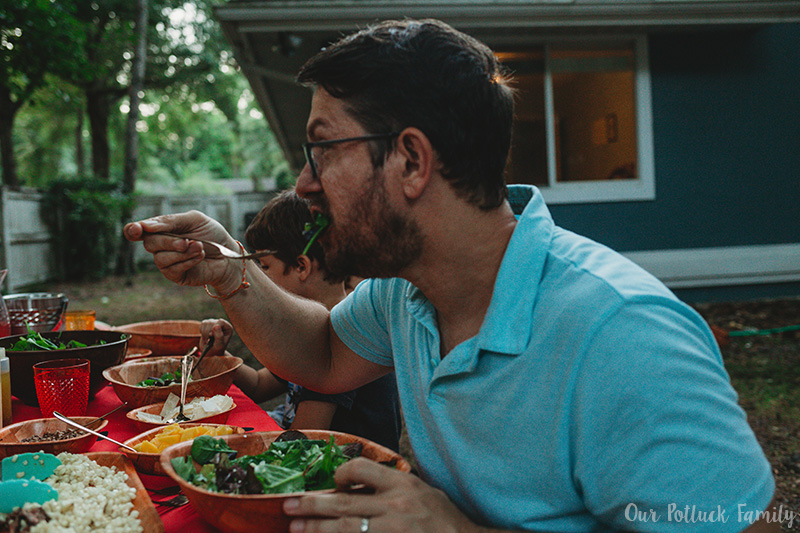 I had to include an embarrassing picture of myself taking a big bite, right? It's all part of the party fun! As for all of the delicious ingredients I gathered together for this party, Florida Farmers make it easy for everyone to eat fresh produce year-round! Look for food, produce, and seafood labeled Fresh From Florida to enjoy all of the local, seasonal flavors available at your grocery store.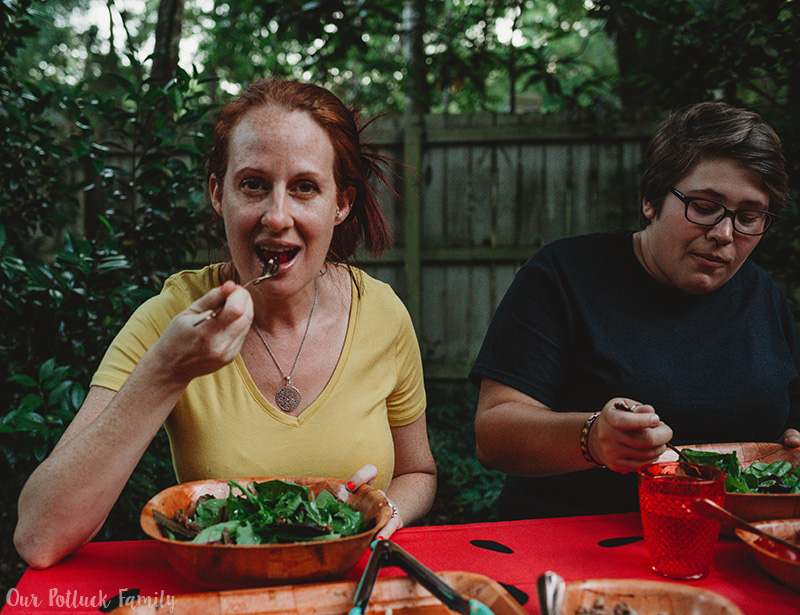 Would you like to host your own Ultimate Salad Bar Party?
Pin this Ultimate Salad Bar Party image below!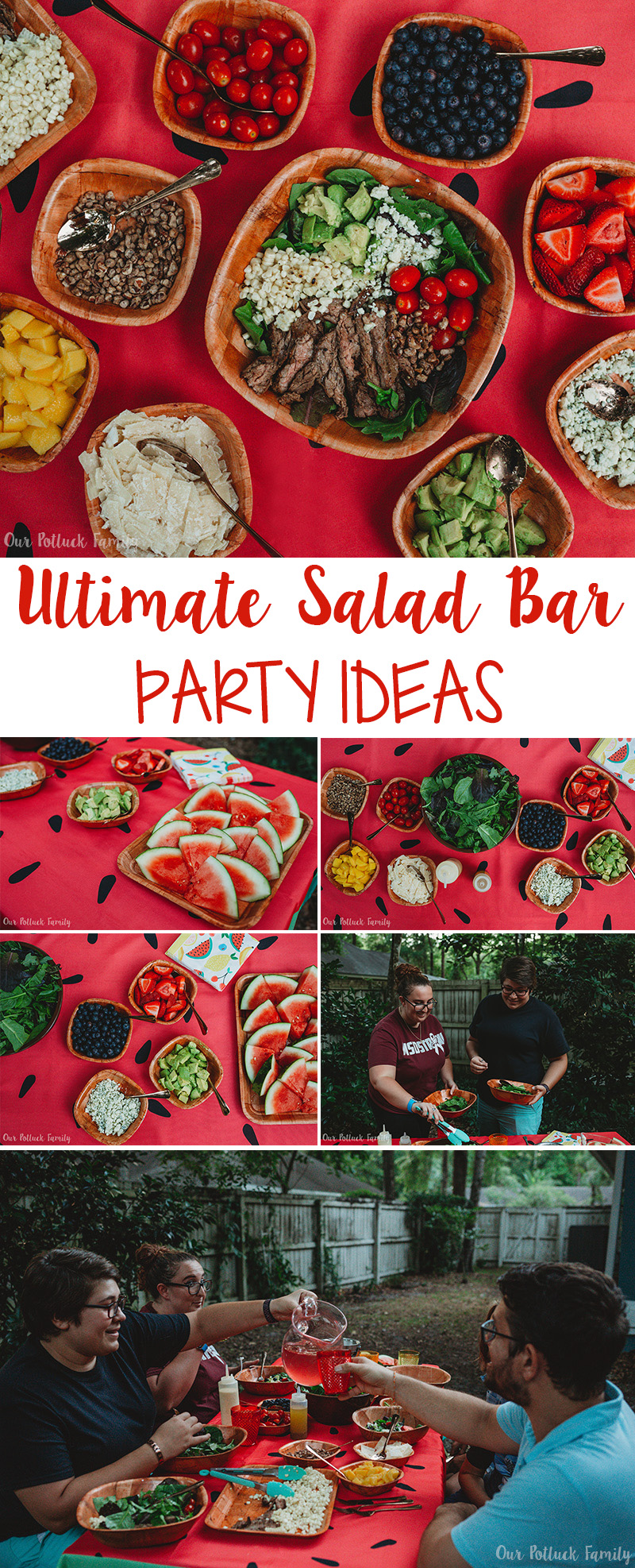 [tasty-recipe id="28776″]