This shop has been compensated by Collective Bias, Inc. and its advertiser. All opinions are mine alone. #WetSkinMoisturizer #CollectiveBias
Winter break seemed to go by so quickly that I began this year in a bit of a funk. The demands of getting the kids ready for school, taking them to birthday parties, doing homework together, keeping the house clean, preparing dinners, doing my work, etc. crept up quickly. As a result, I need to find ways to put myself first a little. Step one: a spa day at home for me and my friends. This is a time to relax so I can feel re-energized and refreshed. Like a January reboot for the mind and body.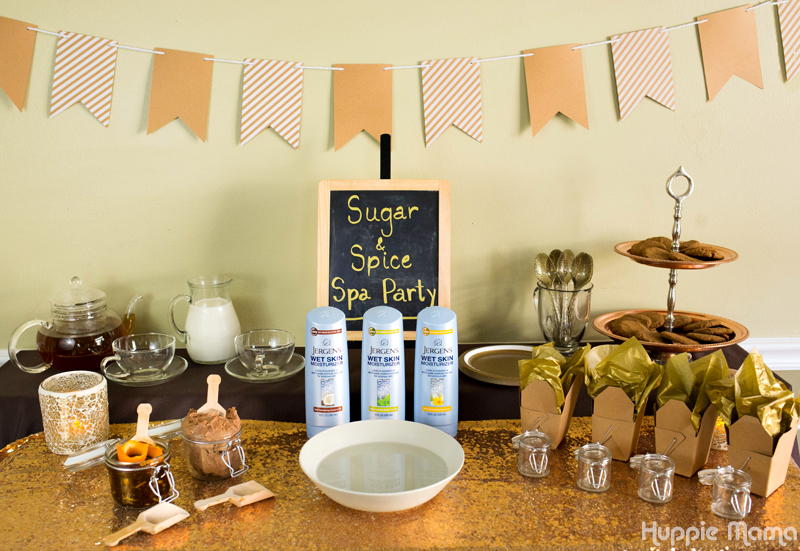 I began planning this party by selecting a theme. I thought a Sugar and Spice Spa Party would be so much fun! I could make Chai Tea, Spice Cookies, Brown Sugar Scrub, and Body Butter. The different shades of gold and brown seemed like a soothing color palette to compliment the theme. Below are all of my ideas with recipes for each.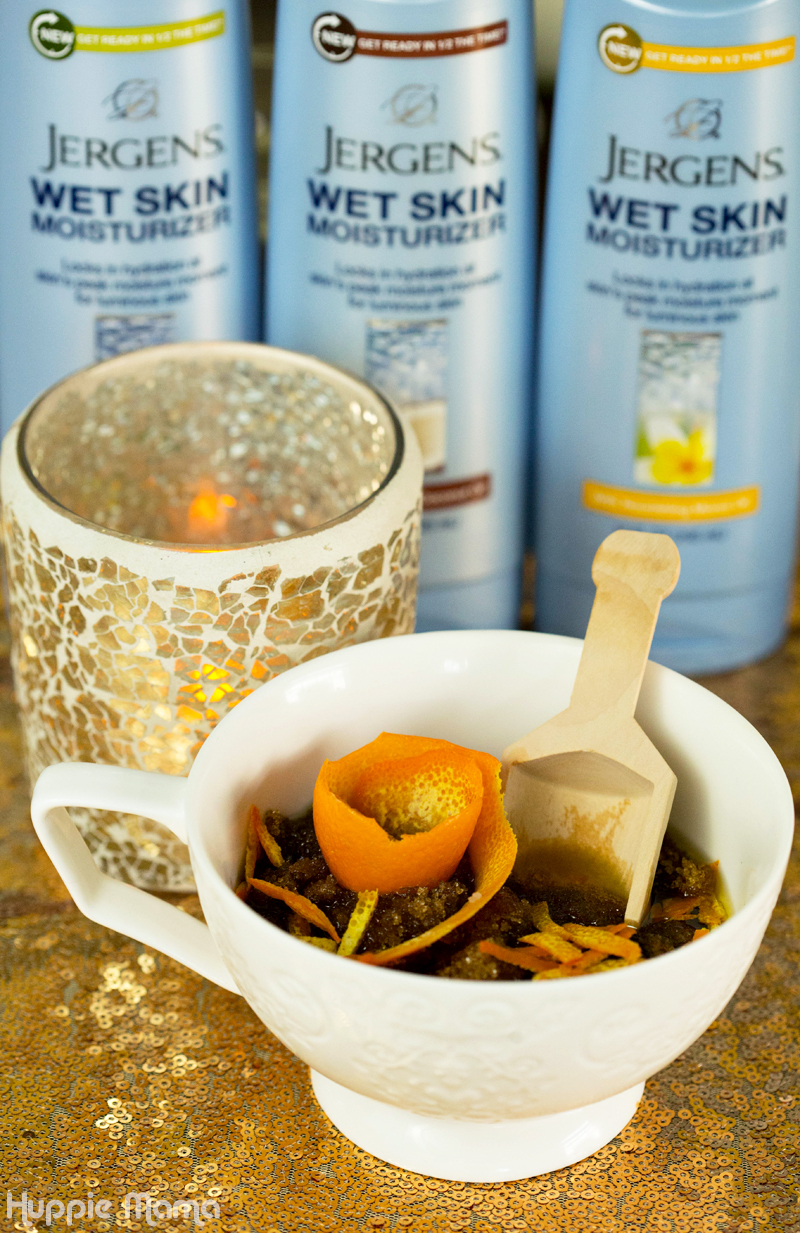 This brown sugar scrub is scented with fresh orange zest and ground cloves. Place about a teaspoon-sized quantity in your hands and scrub. Rinse off with water to leave your hands feeling very soft. Just combine the ingredients below and store in a glass jar.
Orange Clove Brown Sugar Scrub
1 cup brown sugar
1/2 cup olive oil
zest of 1/2 an orange
1/4 t ground cloves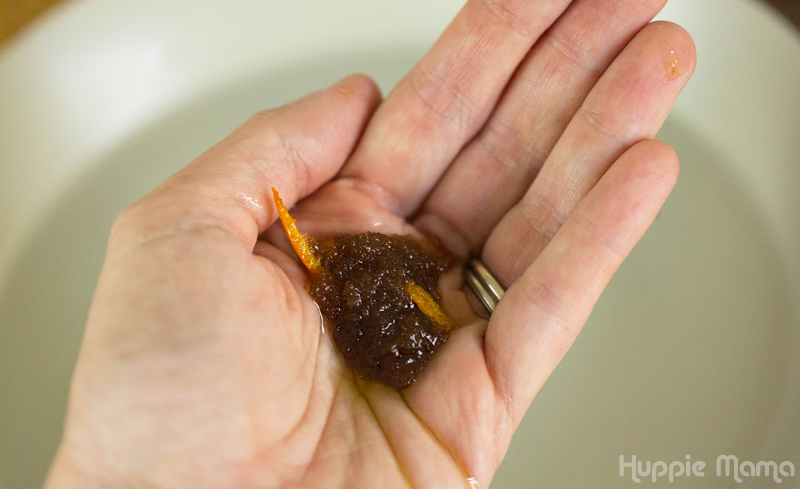 Next up is this body butter. A small quantity goes a long way. Use it to repair those extra-dry areas, like the heels of your feet or callouses on your hands. To make it, add the ingredients to a small saucepan over low heat. When all of the ingredients are combined, place in the freezer to cool and become firm. Whisk the chilled ingredients together to reach a desired consistency. Move to a glass jar and store in a cool place.
Chocolate Almond Body Butter
1 cup coconut oil
1 t cacao powder
1 t almond extract
To go with the handmade spa items, try the new Jergens® Wet Skin™ Moisturizers, available in three varieties: Refreshing Coconut Oil, Calming Green Tea Oil, and Nourishing Monoi Oil. These varieties inspired the recipes for my Sugar and Spice Spa Party. Apply these moisturizers to wet skin to feel hydrated.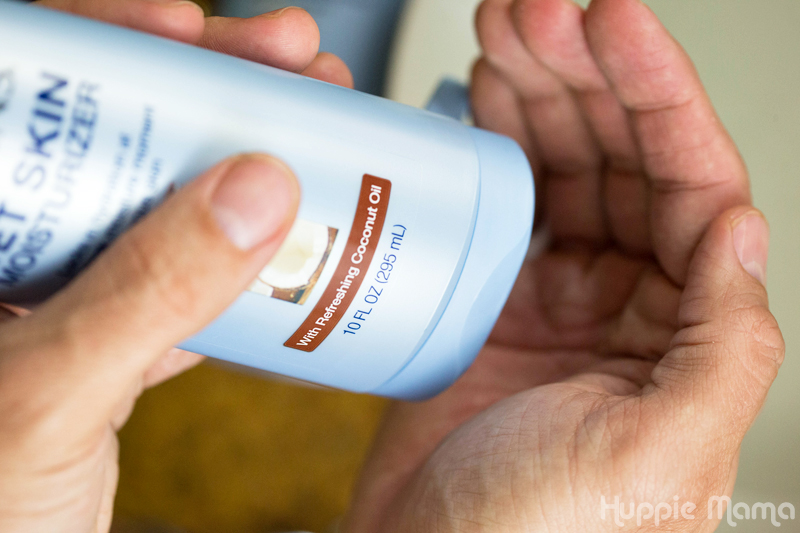 Next up, Chai Tea. When I first started dating my husband and he was having a bad day, I headed to the store to purchase the ingredients to make this tea and surprised him with it. This is the perfect recipe for a soothing day at home with friends. I serve milk alongside the tea so guests can add as much as they would like. Darjeeling is generally used to make this chai tea, but I used green tea instead.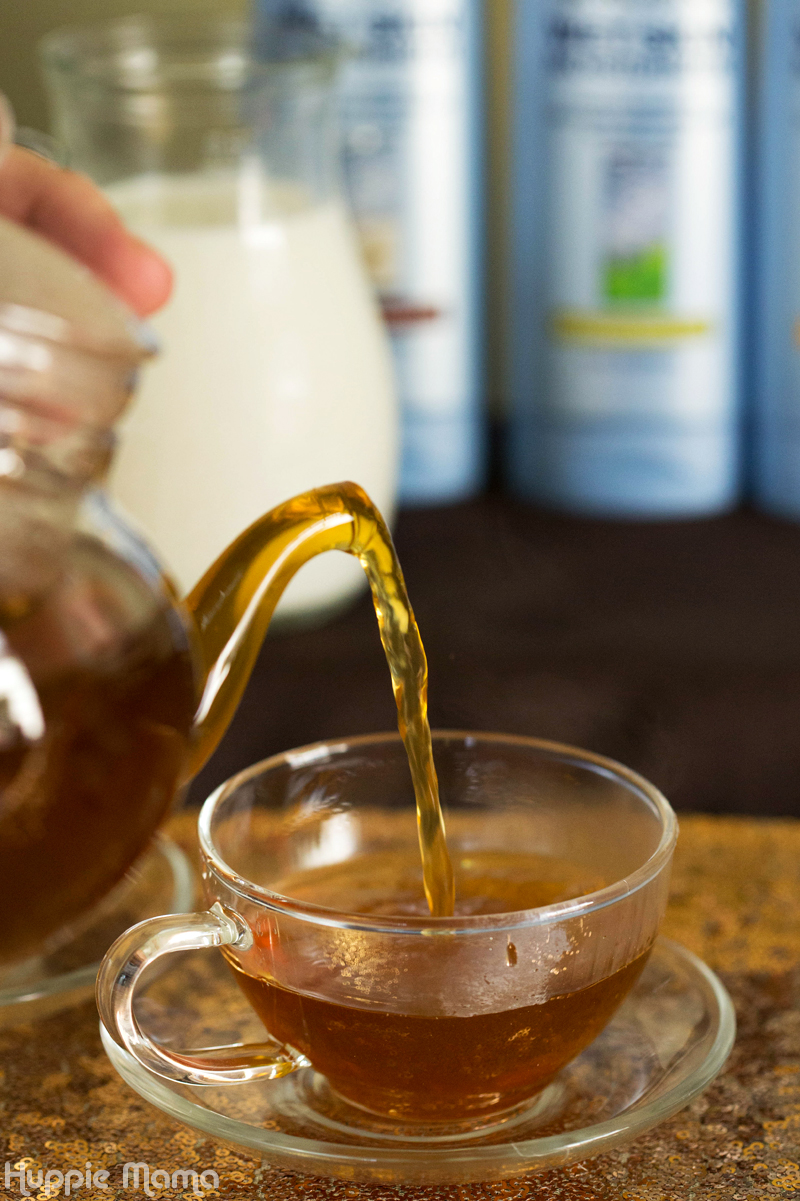 Chai Tea
4 green tea bags
4 cups water
2 T brown sugar
1 whole nutmeg
1 cinnamon stick
1 t fennel seeds
6 whole cloves
small piece of fresh ginger
Milk
Directions:
In a saucepan on the stove, combine the water and brown sugar and bring to a boil. I purchased a glass tea pot with a small central portion to place the loose tea and spices inside. If you don't have a tea pot like this, add the tea and all of the spices (nutmeg, cinnamon, fennel, cloves, and ginger) to the boiling water and steep for 10 minutes, then strain before serving. If you have a pot like mine, place the tea and spices in the central portion and pour the boiling water over the top. Add milk as desired.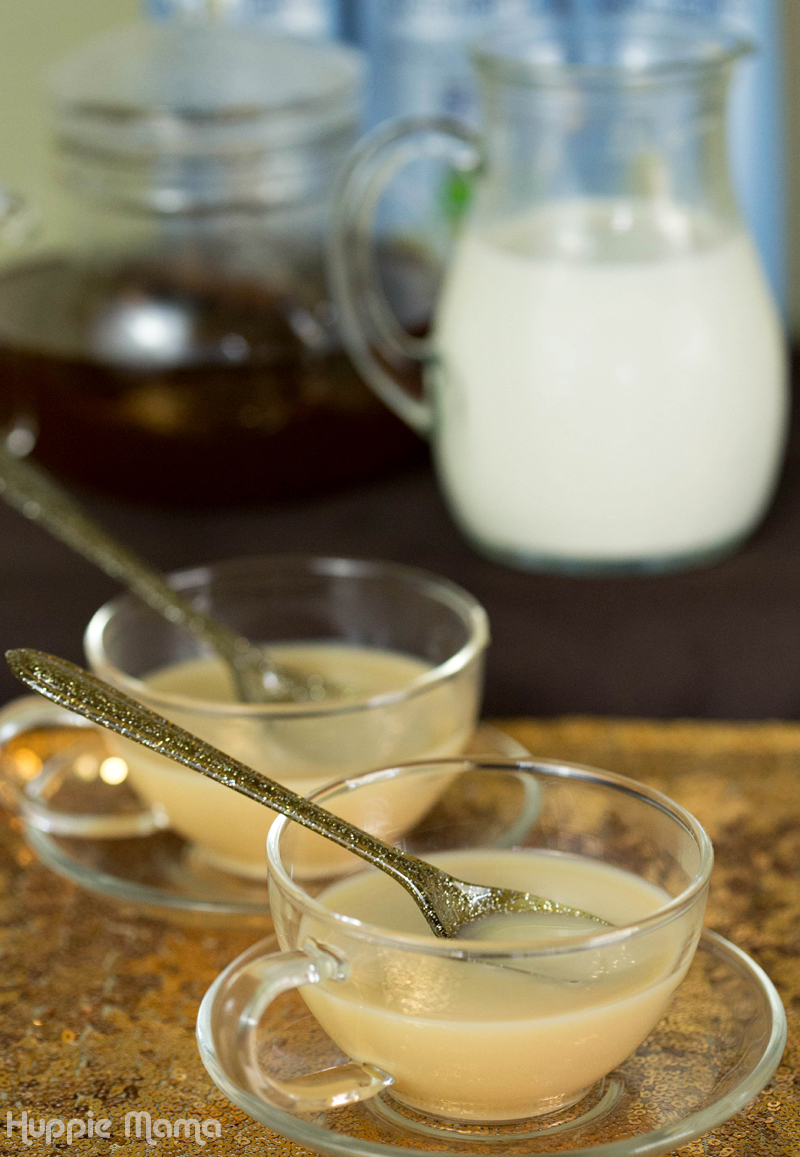 Now, what's the perfect recipe to enjoy with this Chai Tea? My delicious Spice Cookies, of course! These cookies are crisp, flavorful, and very easy to make. This recipe a great way to use some of those spices that usually only come out of the cabinet during Thanksgiving and Christmas. They can be prepared a day or two in advance and stored in a plastic container on the counter.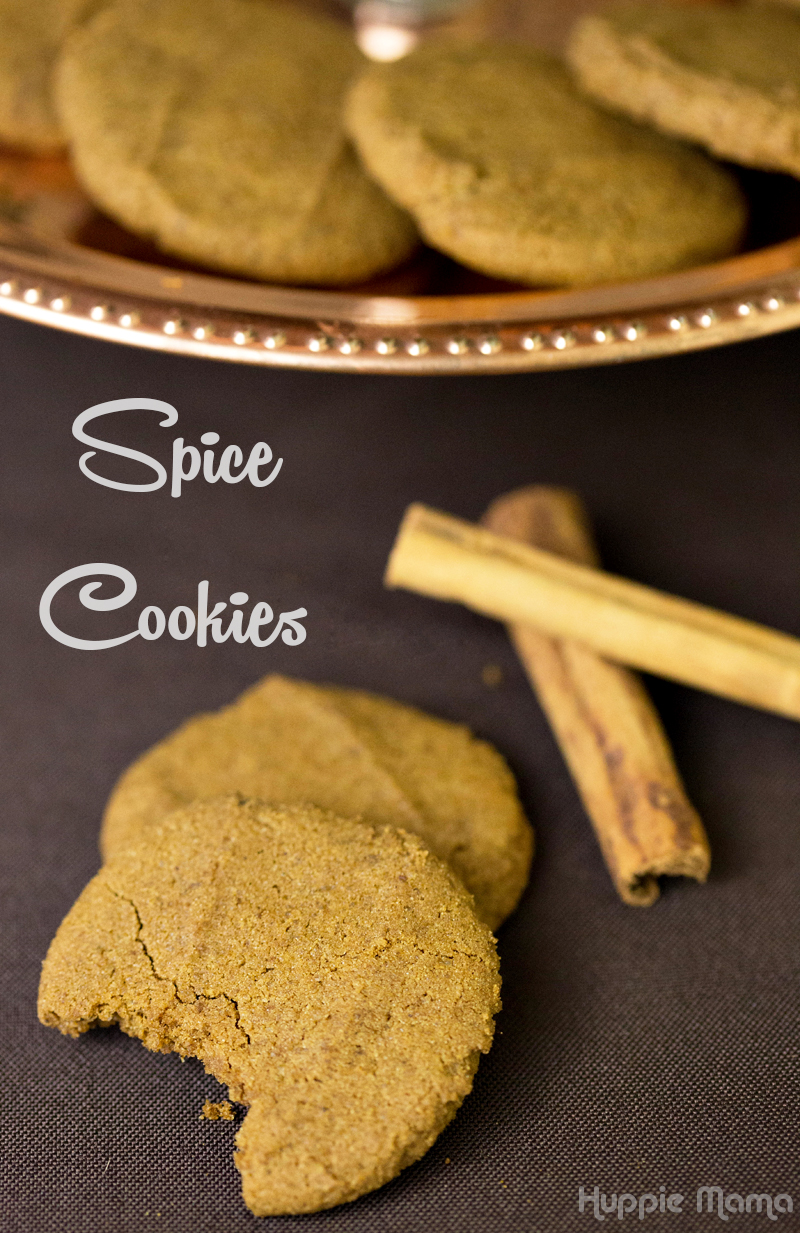 Spice Cookies
Ingredients:
2 cups flour
1 egg
3/4 cup butter
1/2 c sugar
2 T molasses
1 t baking soda
1/2 t ground cinnamon
1/4 t ground cloves
1/4 t ground nutmeg
1/4 t ground ginger
Directions:
Preheat oven to 350 degrees. In a mixer, combine the butter, egg, molasses, and sugar. In a separate bowl, sift together flour, baking soda, cinnamon, cloves, nutmeg, and ginger. Form cookies into round balls that are 1 teaspoon each and flatten them. Place on a lined cookie sheet and bake about 10 minutes. Place on a cooling rack until cookies are firm and ready to serve.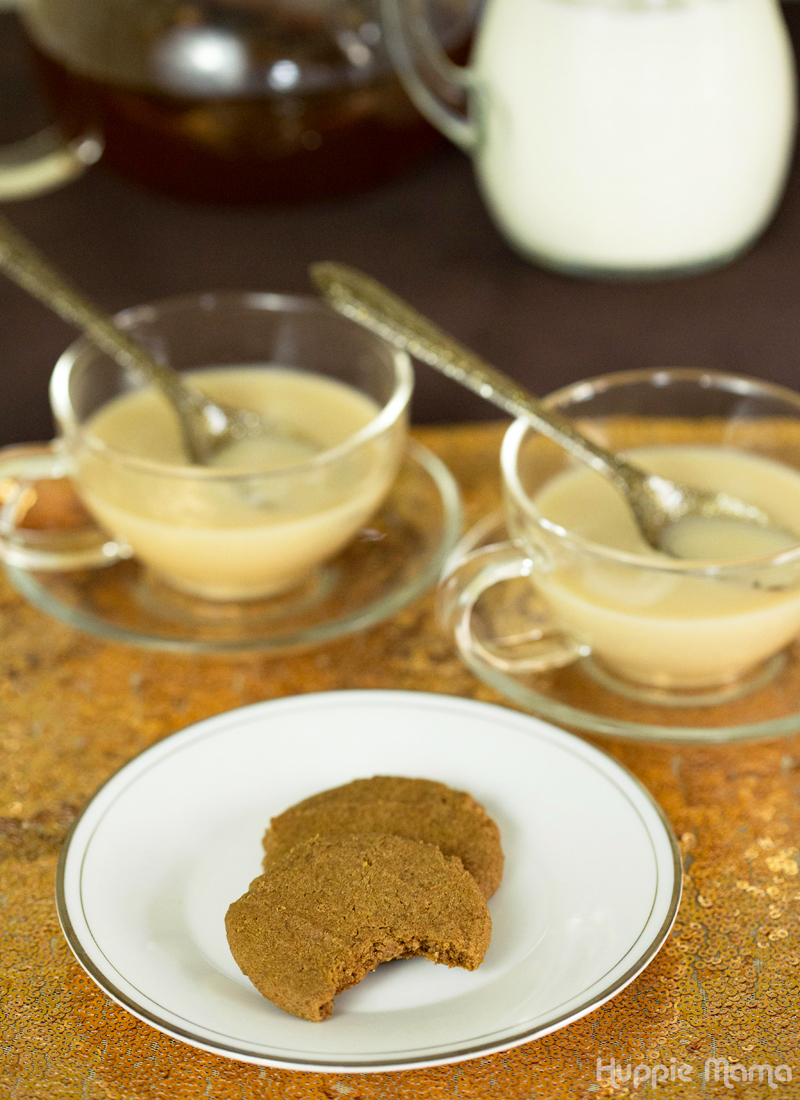 After your guests have enjoyed a relaxing day at your house, send them home with little goodies to enjoy later. Take-out containers filled with tissue paper make the perfect package to bring home.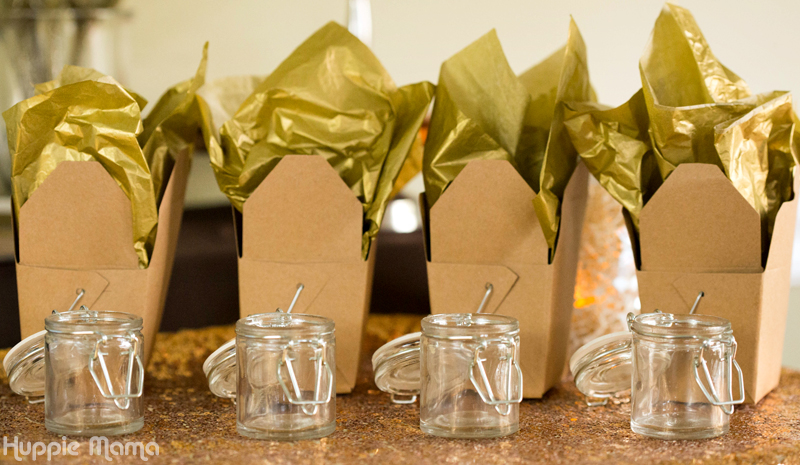 Just fill the small jars with brown sugar scrub and the body butter. Place a chalkboard label on the front of each small jar and use a chalk marker to write the name of each product on the front. Pack them up in take-out containers for each guest.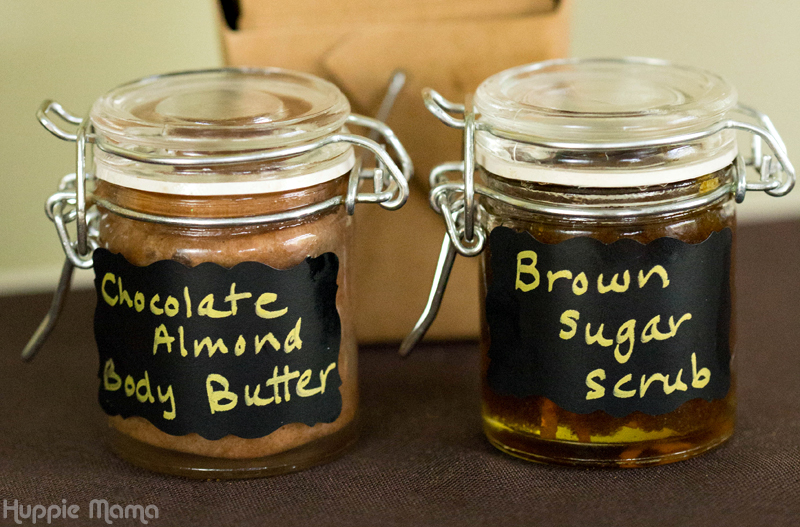 Don't forget to send each guest home with a container of Jergens® Wet Skin™ Moisturizer. Purchase all three varieties so each guest can select her favorite at your Sugar and Spice Spa Party.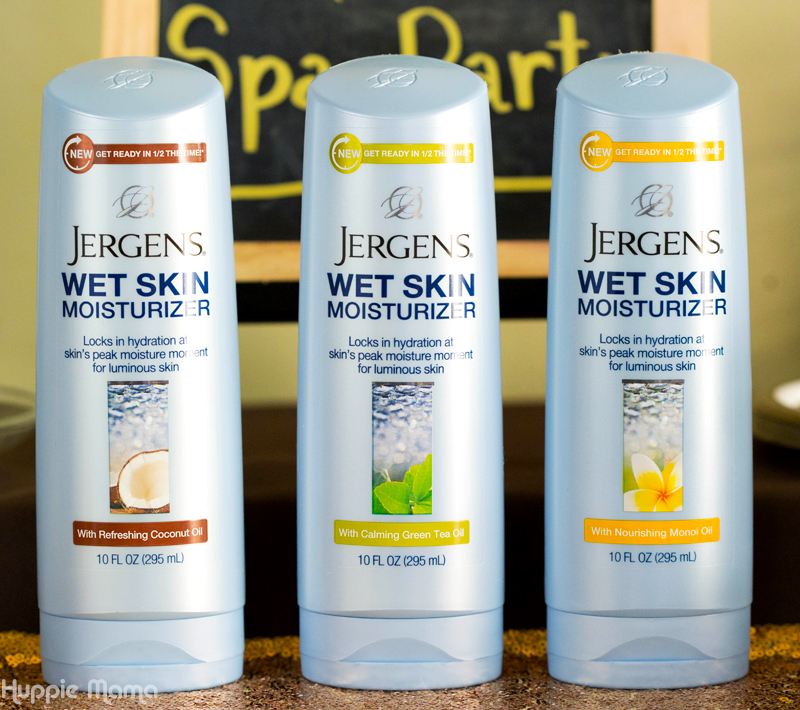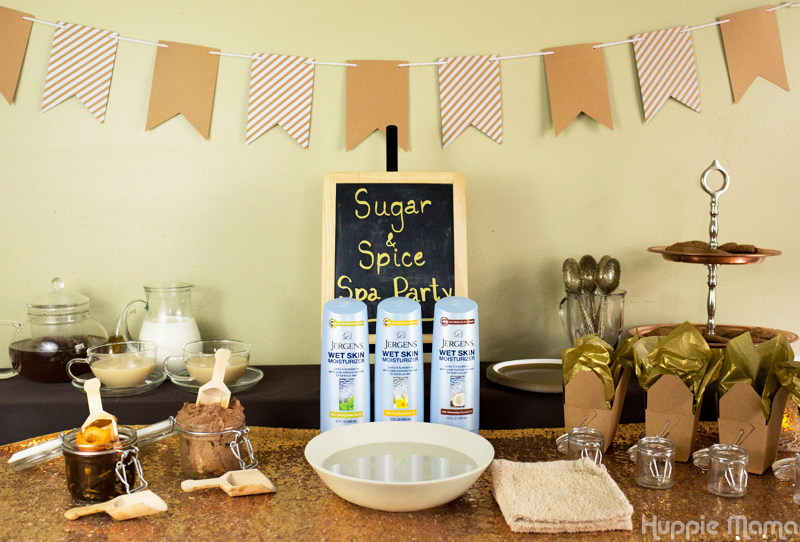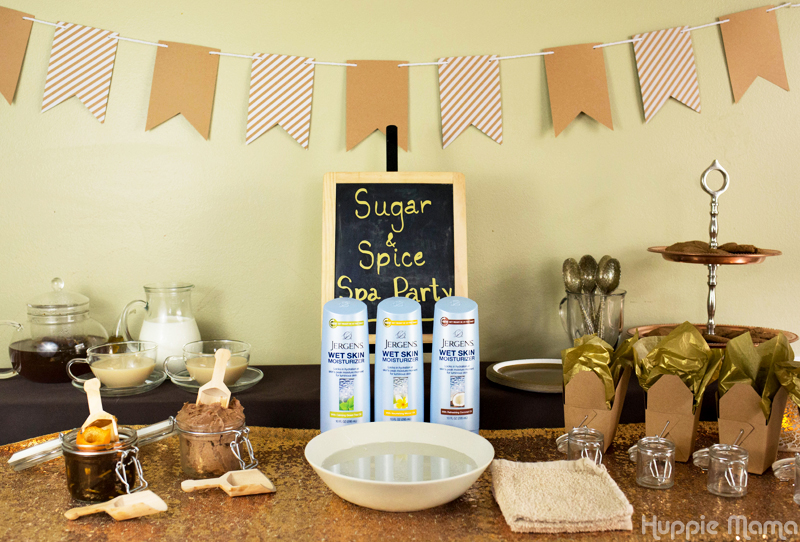 Head to Walmart to purchase Jergens® Wet Skin™ Moisturizers. You can find them down the lotion aisle. Just look for the light blue bottles!
How do you rejuvenate after the holidays with your friends?