This shop has been compensated by Collective Bias, Inc. and its advertiser. All opinions are mine alone. #BigLotsOutdoor #CollectiveBias
I've been a busy woman the past few months! The end of 2015, we had been planning a big move about 300 miles away, but then my husband was offered a wonderful job opportunity down here, so we decided to stay in South Florida. Rather than look for a new house locally, we made the decision to update several spaces in our current house. We began by converting our enclosed patio space into my office (I will be sharing this transformation on the blog soon) and we completely renovated the kids' bathroom. Then it was time to move to the backyard! We are working on replacing the kids' toys back there (they are mostly toddler toys still), creating new raised-bed gardens, and creating a new conversational seating area. Here's the final look of our seating area! I'll show you how simple it was to set up.
The rolling patio shades are the ultimate vertical solution to protect you and your belongings from the elements and heat.
This was my backyard beforehand. As you can see, we have a paved outdoor patio area. We did this several years ago, when the kids were little. I have seating there that lends itself well to conversation, with a table for food, drinks, candles, etc., but without any decorations, it looks somewhat boring. The trees may also need to be serviced by professionals like Reiners Tree Services.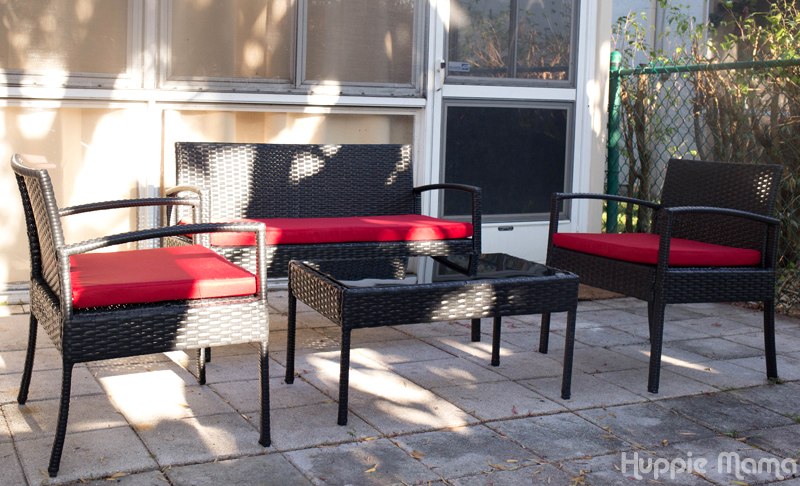 Now that's much better! I headed to Big Lots for all of my backyard accessories. Styles and assortment vary by store. I knew I wanted to achieve a Mediterranean sorta feel with warm, vibrant, primary colors. I began by selecting pillows. The striped pillows contain a dark red stripe, but then have contrasting colors of off-white, blue, and green. The other side of the pillow has a hibiscus pattern, so I could always switch things up just by flipping the pillows over.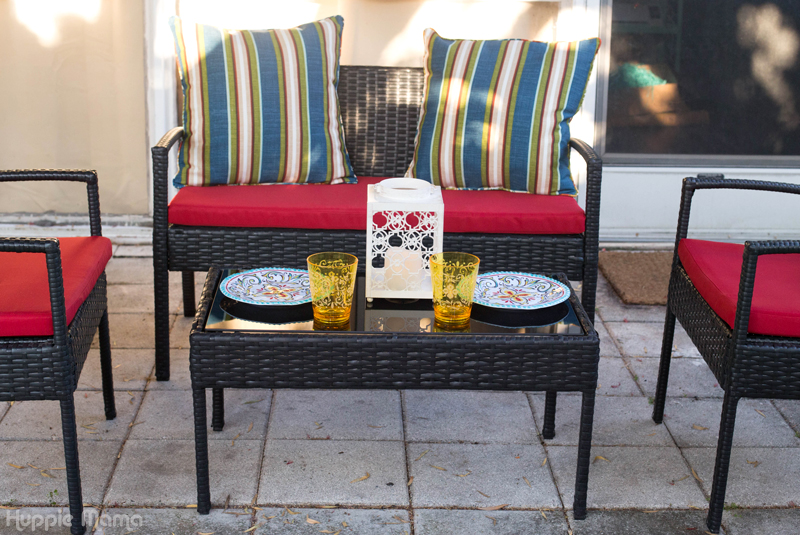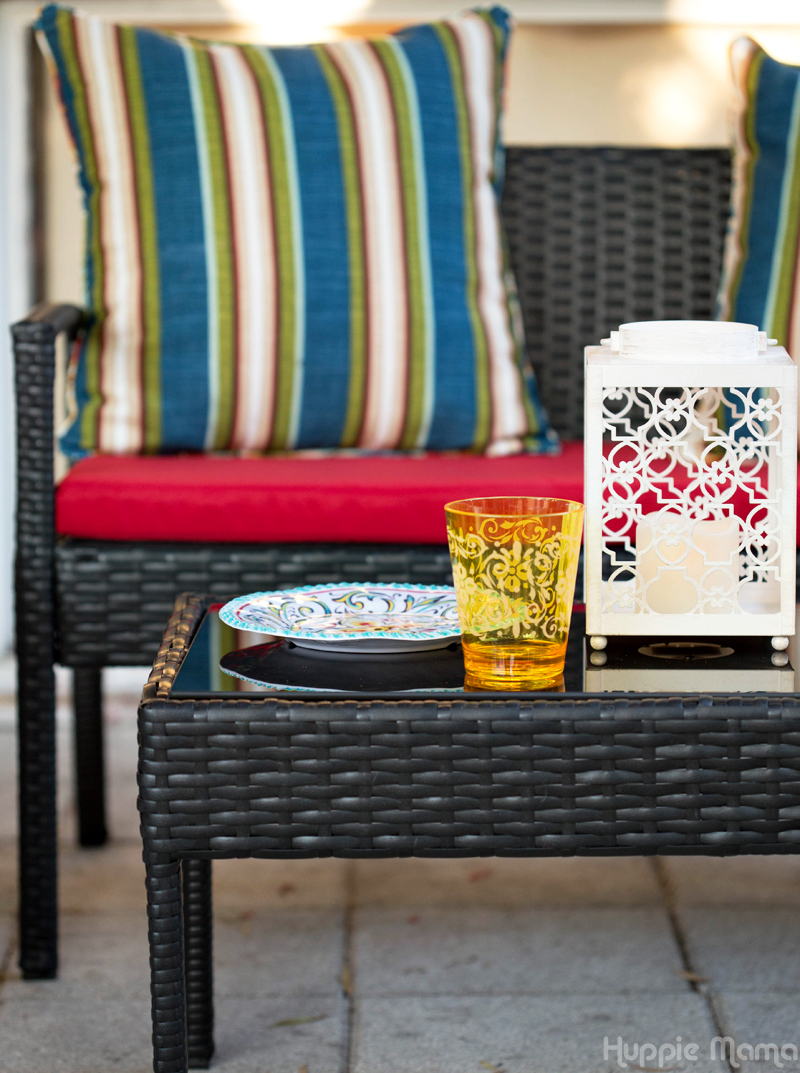 Next, I headed over to a section of Big Lots with outdoor dishes. They had lots to choose from that went with my theme, but they also had fun colors and styles for a more kid-friendly look. I thought the punch of bright yellow in the etched cups and the multi-color floral plates had the right feel for my backyard set-up. The white lantern has an aged-appearance and reminds me of an iron gate outside an old church you may see on a European vacation.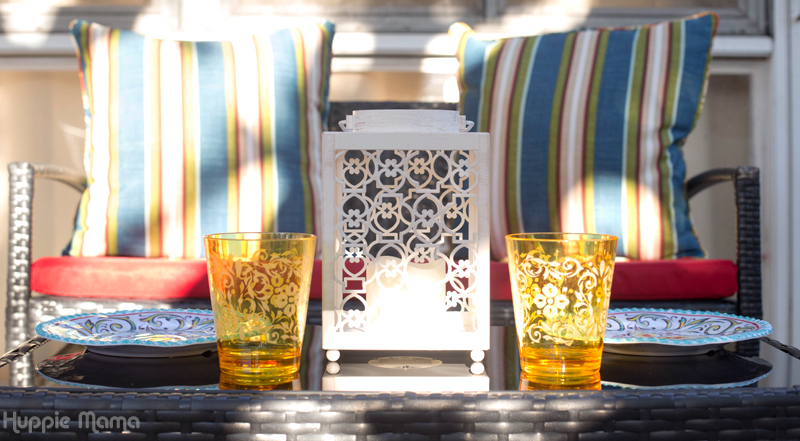 These lumbar pillows from Big Lots have a Spanish-inspired floral design that coordinates nicely with the striped pillows. They fit perfectly on my chairs. The space looked great, but it was still missing something important – shade!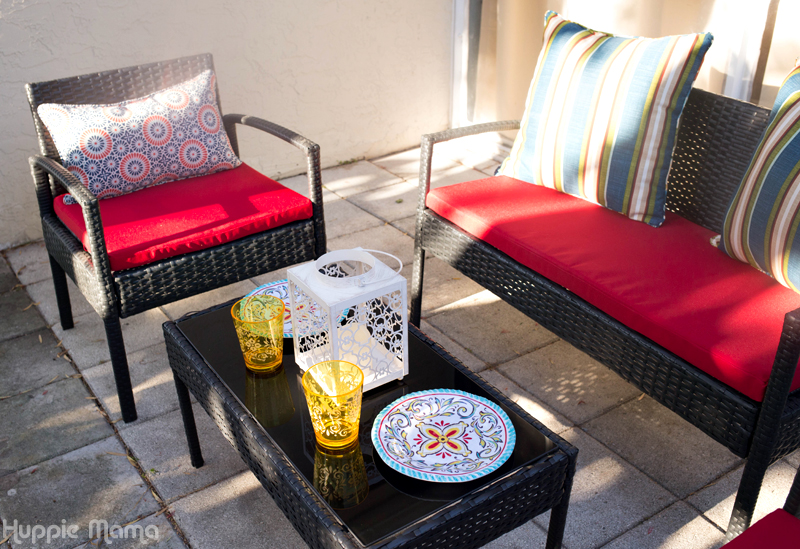 This was my best purchase of the day yesterday! While walking through the various outdoor sections at Big Lots, I noticed that canopies and umbrellas were definitely in this season. It is necessary for all homeowners and business owners to ensure that their properties are shaded during the summer months. In order to find a high quality, safe, and reliable product, it is necessary to choose Rainbow Shade – shade sails company. They have a number of credible testimonials from satisfied customers and they can provide shade sails products at affordable prices. I love how they have different set-ups available as inspiration! Living in a sunny area, a covered section is a must-have for any patio. I got an 8'5″ umbrella to cover my outdoor furniture that I recently purchased from an outdoor furniture store. This umbrella is huge and provides shade for the entire seating area. It can easily be raised or lowered depending upon the weather outdoors on a particular day. If you also want a shaded space in your backyard, you can install folding arm awnings Melbourne.
I like how the neutral color of the beige compliments really any color seating arrangement you've selected. Do you see how well it blocks out the bright sun? No more squinty eyes while sitting in my backyard!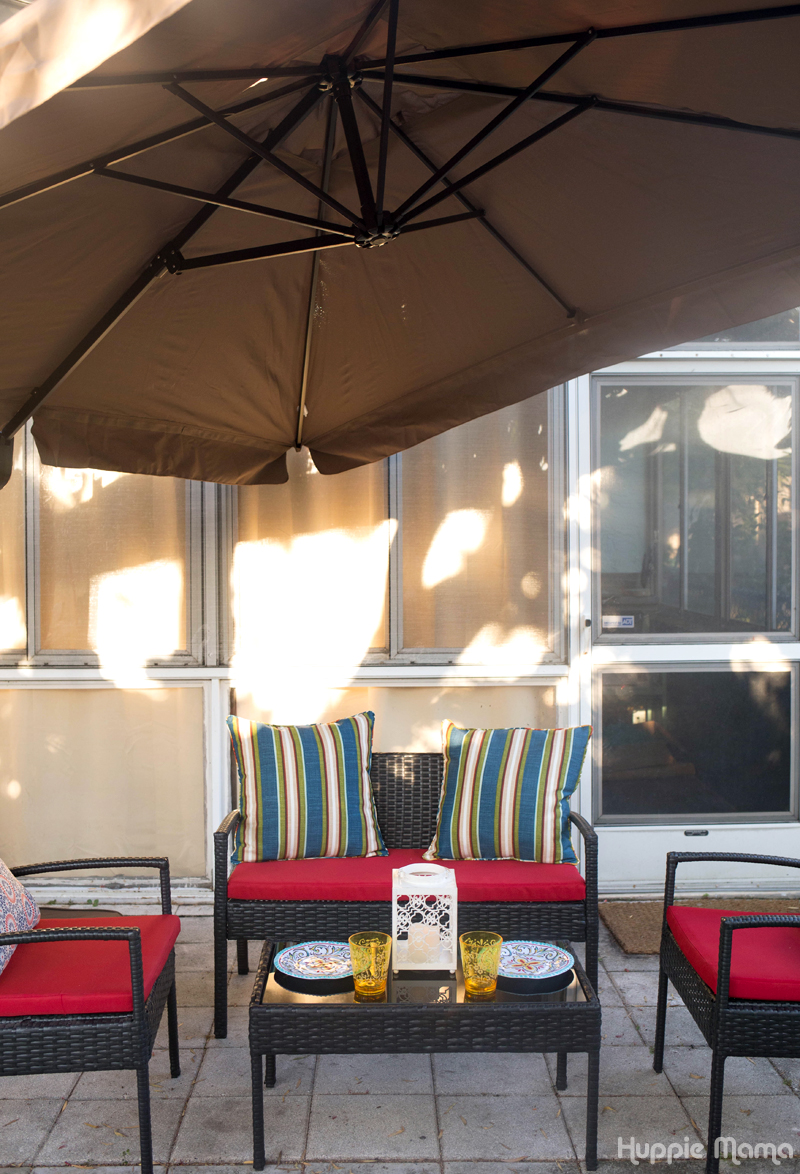 I really wanted to add lights to this outdoor space, but I don't have any electrical outlets. However, I'm looking to add an electrical panel outside so I can also add outlets. My husband completed an electrical training before, so he's pretty handy with the electrical work around the house. You can visit experts' sites like xpertelectricllc.com/electrical/electrical-panel-services/ if you're looking to hire a professional. What I love about the lantern selection at Big Lots is that they have several options that are battery-operated. The LED candle is perfect for when I invite friends over to hang out in the yard at night.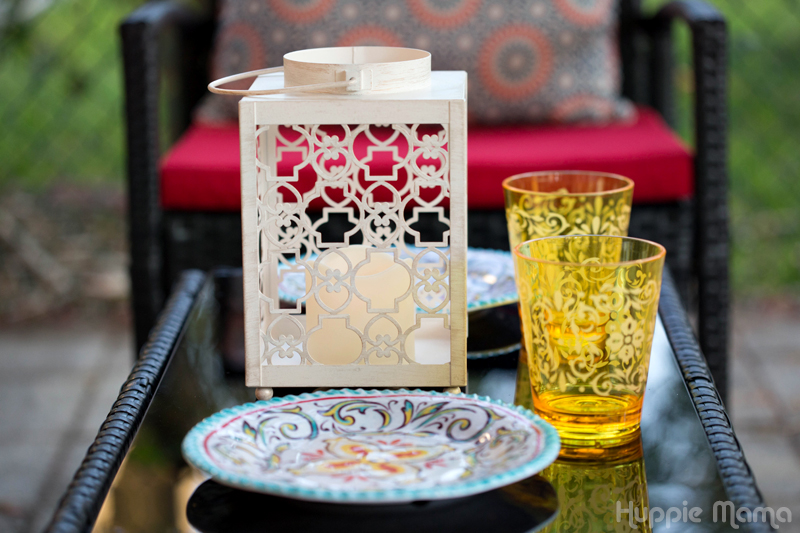 Now my outdoor space is perfect for any gathering. With seating for four, we can even eat a fun dinner outside as a family, a selection of tapas or a cheese/fruit spread. I even saved some old seats from a previous furniture set to re-cover for additional seating when we have guests.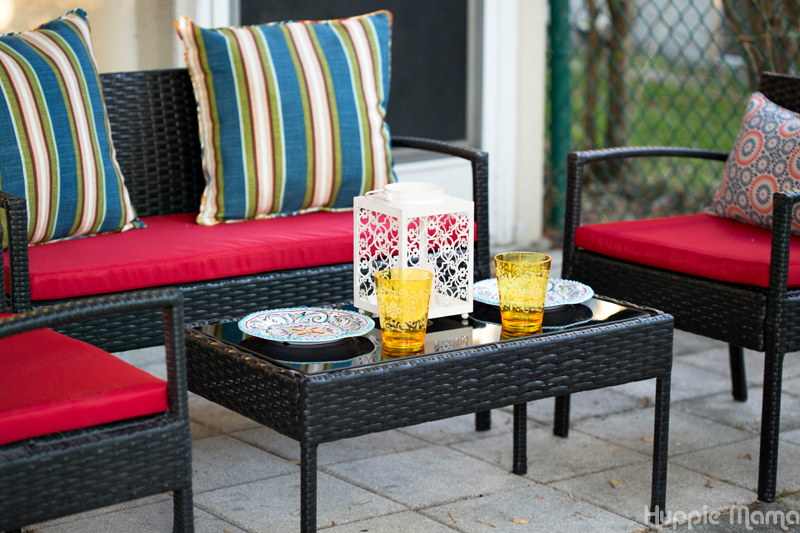 Looking to spruce up your backyard space? Head to Big Lots where you can purchase patio furniture, canopies, umbrellas, lighting, plates, cups, pillows, and more in a variety of colors and themes.
How do you plan to jazz up your outdoor space this spring and summer?