This shop has been compensated by Collective Bias, Inc. and its advertiser. All opinions are mine alone. #EcoBoysAndGirls #CollectiveBias
We moved into our current house the year Lydia was born. When she was a baby, we decided it would be important for us to have an herb and vegetable garden in our yard. This would be something we could tend to year-round to teach our children where their food really comes from. We also take trips to local you-pick farms throughout the year to reinforce this concept. Each month in our home, we pick a different theme to learn about, where we incorporate crafts, books, and other learning activities related to the specific theme. This has gotten to be a little tricky since Lydia began Kindergarten, but it's still important that we introduce new ideas and teach them in age-appropriate ways.
Since we celebrate Earth Day in April, it seemed only appropriate to learn about eco-friendly concepts this month. Gardening, farming, recycling, reducing waste, etc. are all very important to my family. I logged into my iTunes account on my iPhone and looked for ebooks in the iTunes store. I found 6 titles by author Maria Snyder that were perfect for Lydia's reading level (she's reading at about the end of first grade/beginning of second):
Meet the Eco Boys and Girls
Eco Boys and Girls Go to an Organic Farm
Eco Boys and Girls Plant an Urban Garden
Eco Boys and Girls Visit the Everglades (which is right near our home!)
Eco Boys and Girls Learn about Energy
Eco Boys and Girls Visit the Ocean
These Eco Boys and Girls books are just $5.99 each and can be read using an iPad with iBooks 2 or later and iOS 5 or later, an iPhone with iOS 8.4 or later, or a Mac with OS X 10.9 or later. Just search "ecoboysandgirls" and they can be easily found at iTunes.com or the iTunes app to be viewed in iBooks. Kids can watch the animated characters (Ernie Earth, Lulu Love, Patsy Peace, Ray Recycle, and Sammy Sun), read along with their voices, and see them in action! Eco Boys and Girls is an educational organization that creates child-friendly, engaging books and other learning materials for children grades PreK – third. They works with leading organizations in education, science, and the environment, like the National Education Association, Association of Children's Museums, and Association of Science and Technology Centers.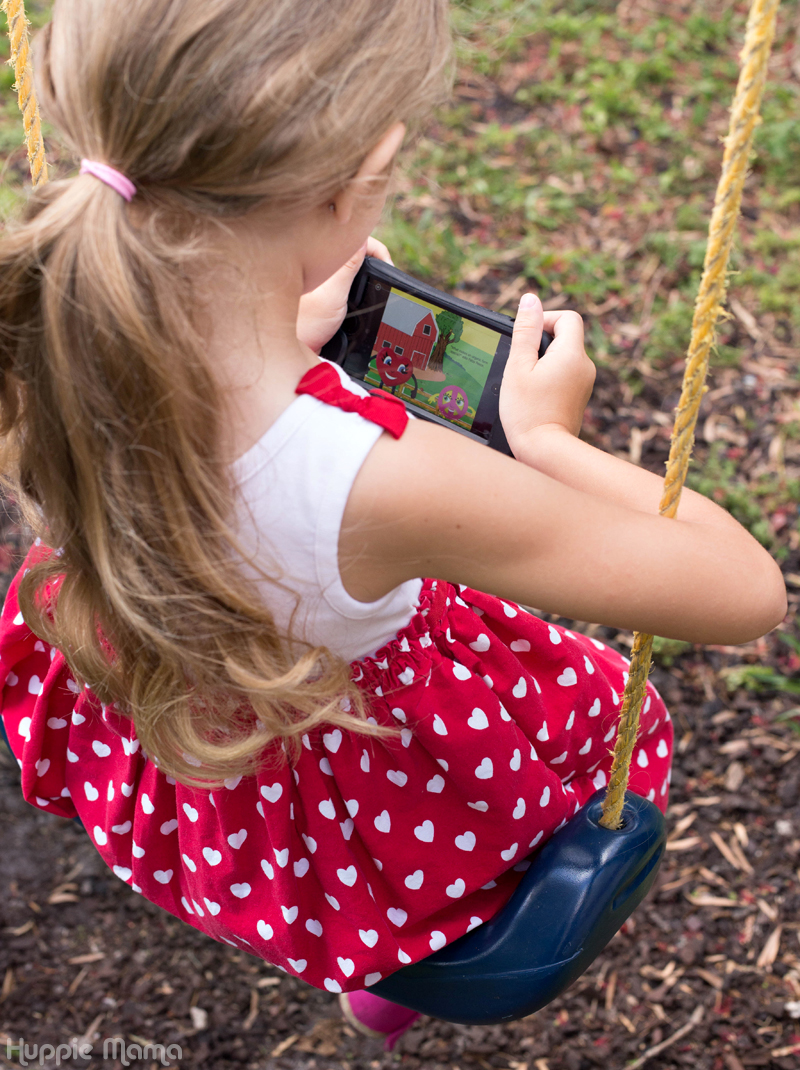 Last night we read Eco Boys and Girls Go to an Organic Farm and Eco Boys and Girls Plant an Urban Garden. Usually we read paperback books, so they were really excited to see these animated books come to life on my phone. My children's favorite part of Eco Boys and Girls Plant an Urban Garden is when they planned a garden party. It inspired them to want to host a party in our backyard when are vegetables are ready to pick! I love how these books not only emphasize eco-friendly concepts, they also teach diversity by including children of all ethnicities.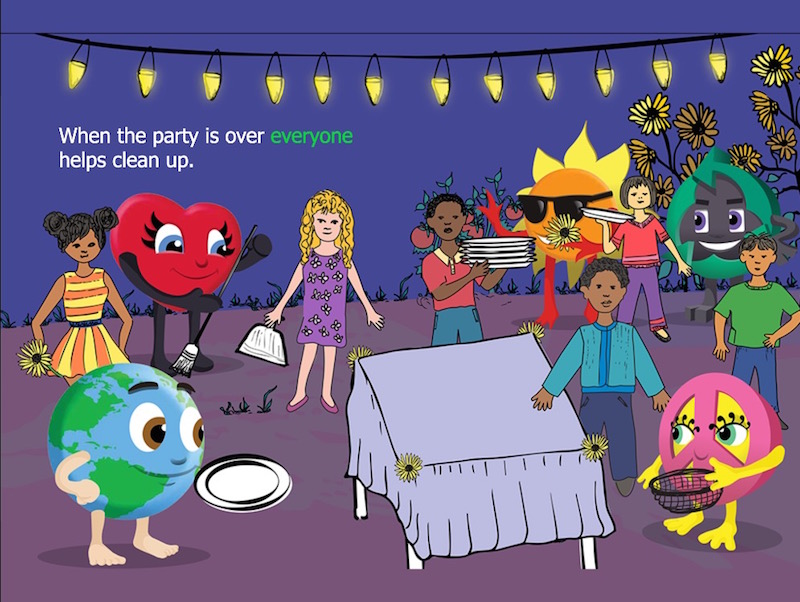 To tie in with these awesome books, I thought I would show you how we completely rebuilt our raised bed gardens last week. We began by picking a spot in our backyard. This is easy because it was the same place we had our previous garden area. If you want to build your own garden or revitalize your current one, you can trust topnotch companies like Holroyd Tree and Garden Services Tree Surgeons in Bristol.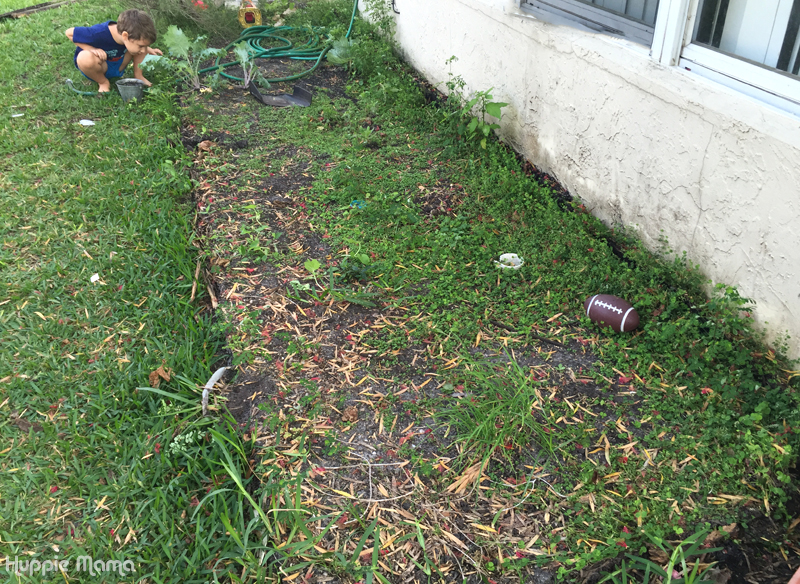 We worked together to clear the area. We had to remove the weeds, dead leaves, grass, toys, and other debris. This is a good way for everyone to help out! Richard and I did some of the more difficult labor and the kids were able to clear their toys from the area. We also decided to buy timber sheds for the storage of our gardening tools and because we're planning to transfer the plants there.
In the past, we used wood to create the barriers for our garden. But over time, the wood rotted. We decided upon a more durable material this time: cinder blocks. We purchased 12 large cinder blocks (with two square openings) and 4 small cinder blocks (with one square opening) to build a garden that is 4′ x 4′. In addition, other homeowners who want to elevate the aesthetic appeal of their gardens can also utilize rock walls disguised as a garden bed.
We created two of these raised beds.
To build the garden, begin by digging a channel in the soil that is wide enough for your cinder blocks. By placing them about an inch into the ground, you're making the structure stronger. After leveling out each block, fill the inside about 1/3 of the way with the dirt you removed from that area.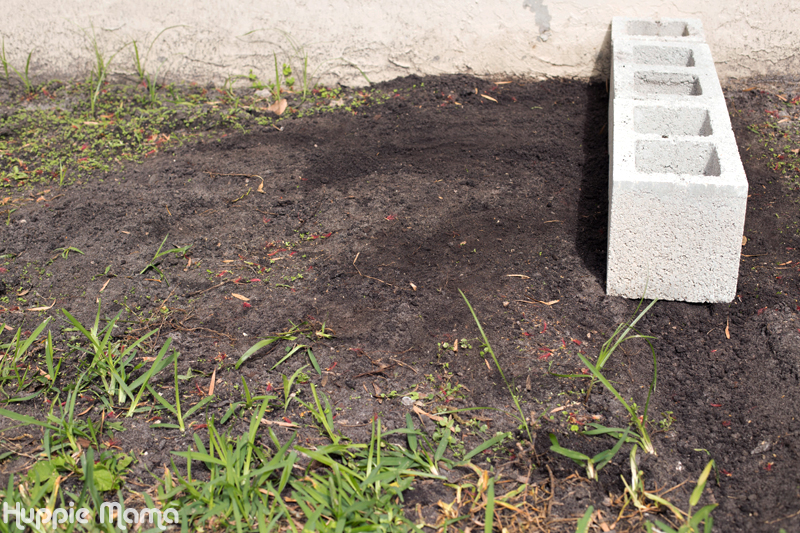 To create the square-shaped garden, use a small cinder block in the corner, three large cinder blocks, followed by one small cinder block. Continue this until you have built the 4′ x 4′ square.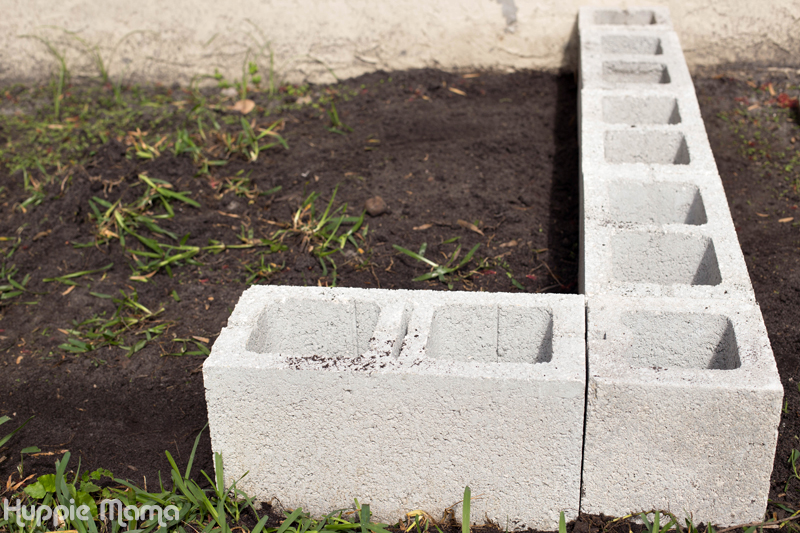 Next, place flat tiles over the larger pieces to make them more secure and to prevent all kinds of debris and critters from getting into the cinder blocks. Also it gives the garden a nice finished/professional appearance. Fill the inside with soil and compost, and you're ready to start planting!
This is the part that the kids loved! When we placed all of the soil inside the garden, we let Lydia and Bryce distribute it evenly until it was level. This is a project where the kids can really enjoy getting messy. That's what showers are for after, right?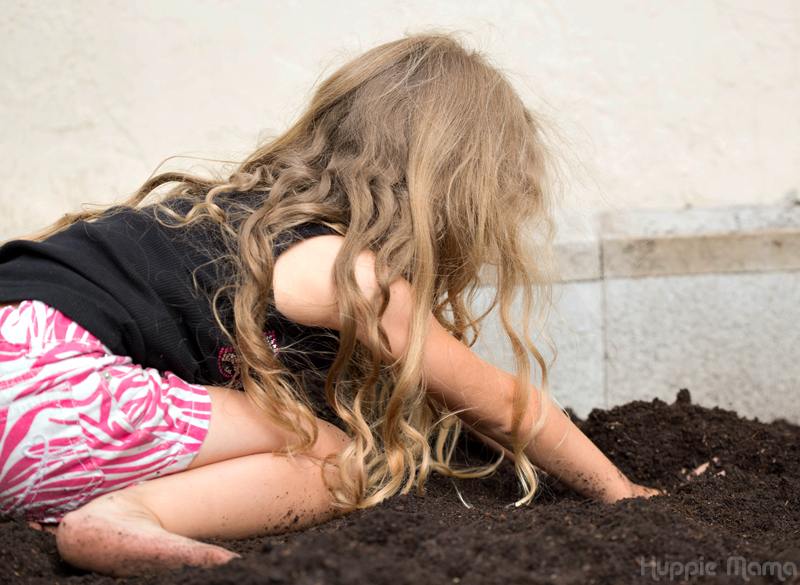 In advance, determine what types of plants you want in your garden. You should definitely do a little research into what grows in your area during which times of the year. For one raised bed, we selected tomatoes and basil. For the other, peppers and cilantro. (Salsa anyone?) The kids dug holes in the ground, broke up the plants roots a little, and planted them.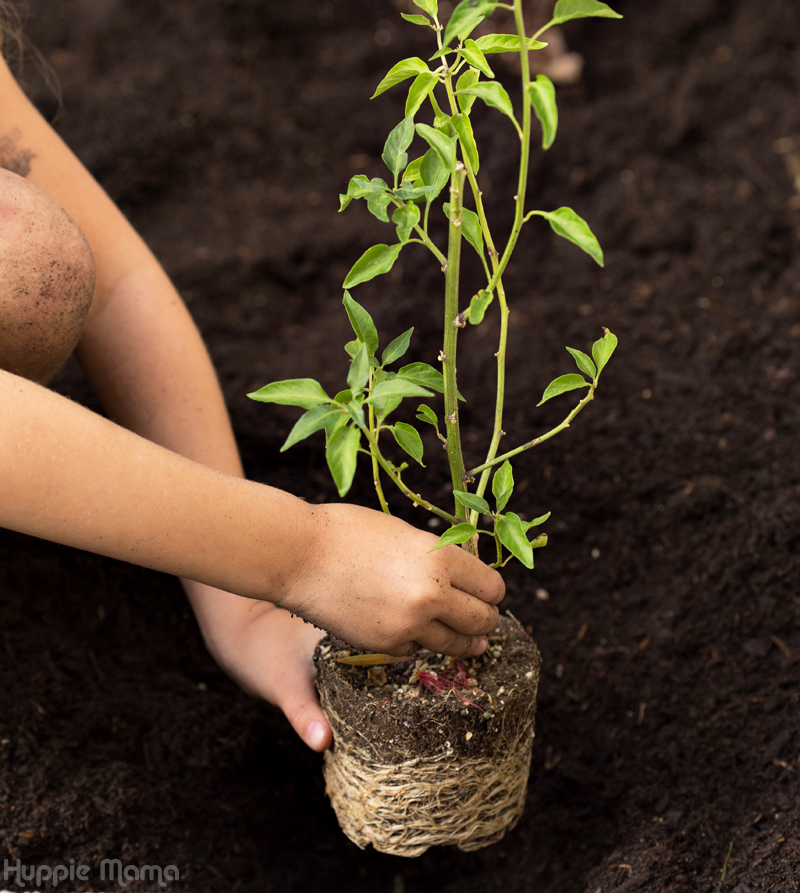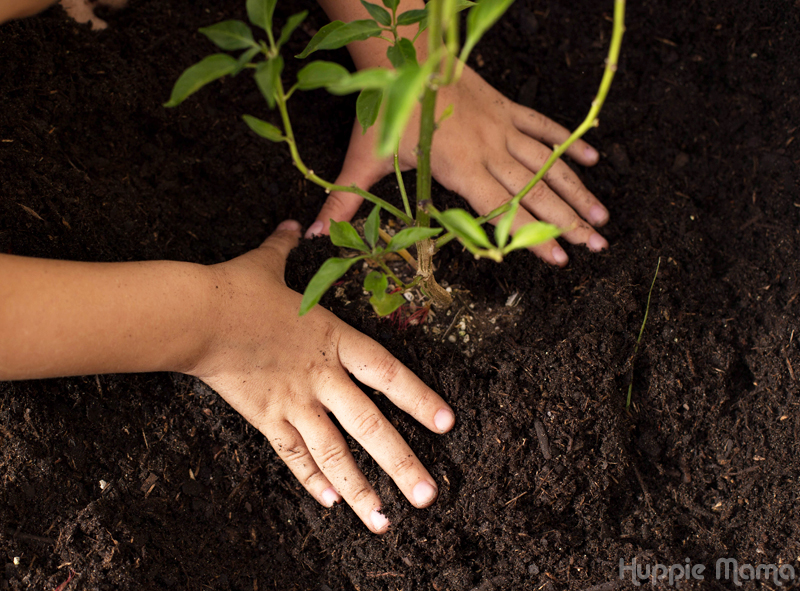 After seeing the fun Lydia was having, Bryce joined in, too. Children of all ages can help out in the garden with a little assistance! That's definitely a great message we learned in the Eco Boys and Girls books. Bryce was actually quote gentle with the plants (he can get a little rough sometimes).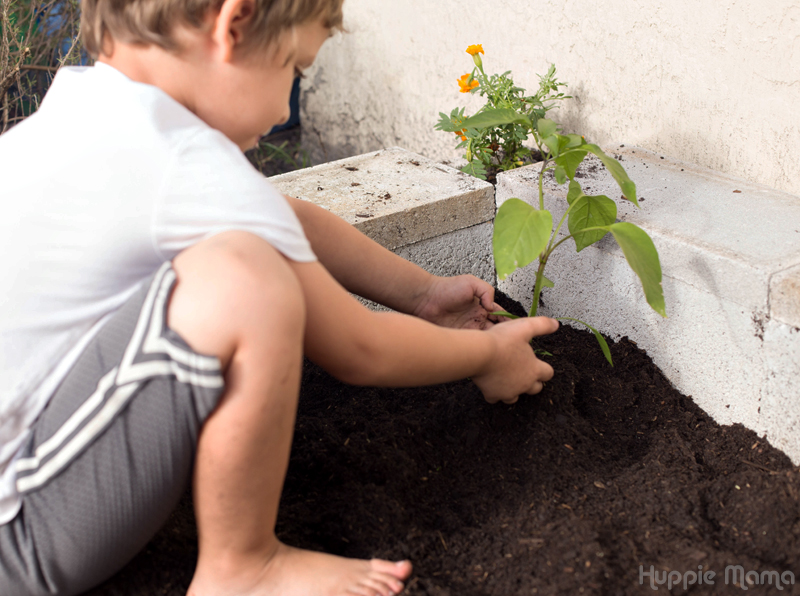 TIP: In the four open corners of the garden (where you placed the small cinder blocks), plant marigolds. These orange and yellow flowers are not only beautiful, but they also repel certain insects. Your herbs and vegetables will be protected, and you'll add a pop of color to your garden!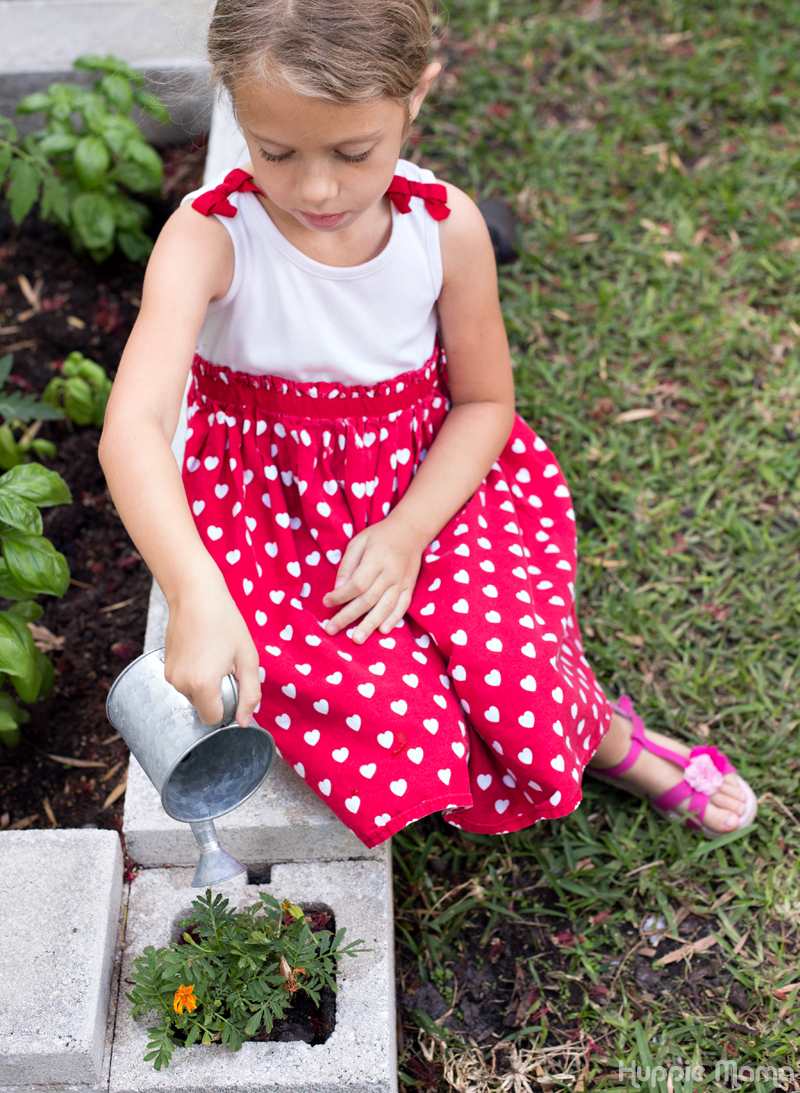 Lydia was so excited to help us build our new raised bed gardens. She also enjoys taking care of the plants by checking on them daily and watering them. To make sure your tomatoes grow properly, use tomato cages to provide support around the plants. Add these when the plants are small so it's easier to surround the plants without doing any damage.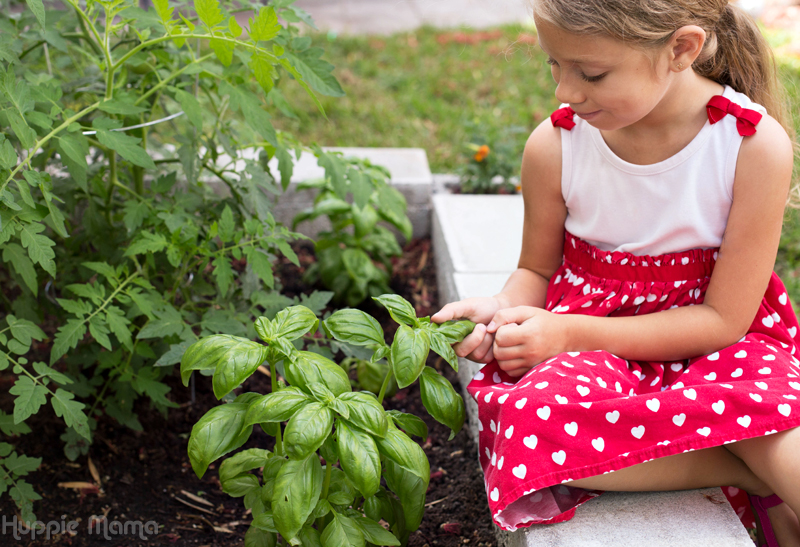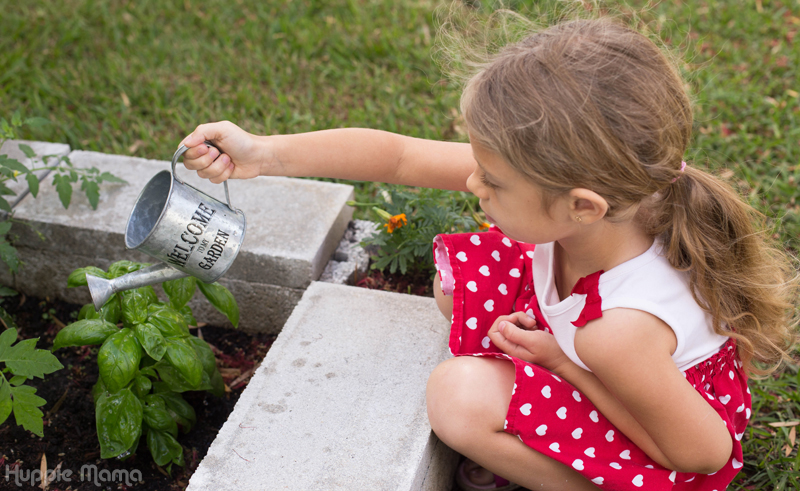 The Eco Boys and Girls goal is to engage young children and families around the world to be aware of, involved with, and connected to each other and the earth! Inspired by their message, I want to empower my children to learn about the environment and explore creative new ways to live in harmony! Our raised-bed gardens were a great way to teach this message at home.
How do you teach your children about the environment and how they can positively impact the world and people around them?