This shop has been compensated by Collective Bias, Inc. and its advertiser. All opinions are mine alone. #BalanceRewards #CollectiveBias
The games provided by dadu online have differences with other live casino games, this dice game has a large payout calculation if you successfully guess the bet you choose.
While I've been eating a clean diet for years, last Fall I decided to add more structured exercise activities into my weekly routine. I work on reaching fitness-related health goals: lifting more, being able to do more repetitions, running faster, etc. It's fun to challenge yourself to do more physically than you ever thought possible!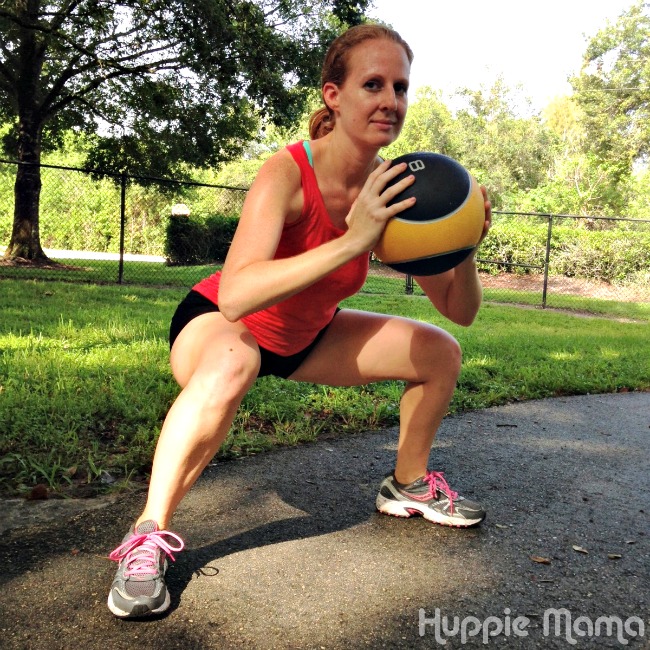 Sunday is generally a busy day in my family, especially now that the school year has begun. Our morning begins with Sunday Bootcamp. My daughter and I go together. We meet up with friends and family to get in a great outdoor workout.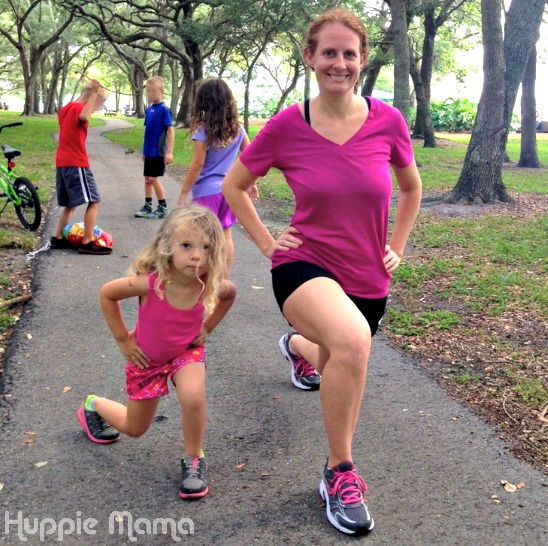 To track my fitness goals, I downloaded the Walgreens app for my iPhone (which I love for their Balance Rewards savings) and registered for the Balance Rewards healthy choices program. I can add physical activity to track my performance and earn points toward future purchase. For example, I just added a goal to be active 3 days/week and earned 250 reward points! You can also target other wellness goals, like weight, blood glucose, and blood pressure.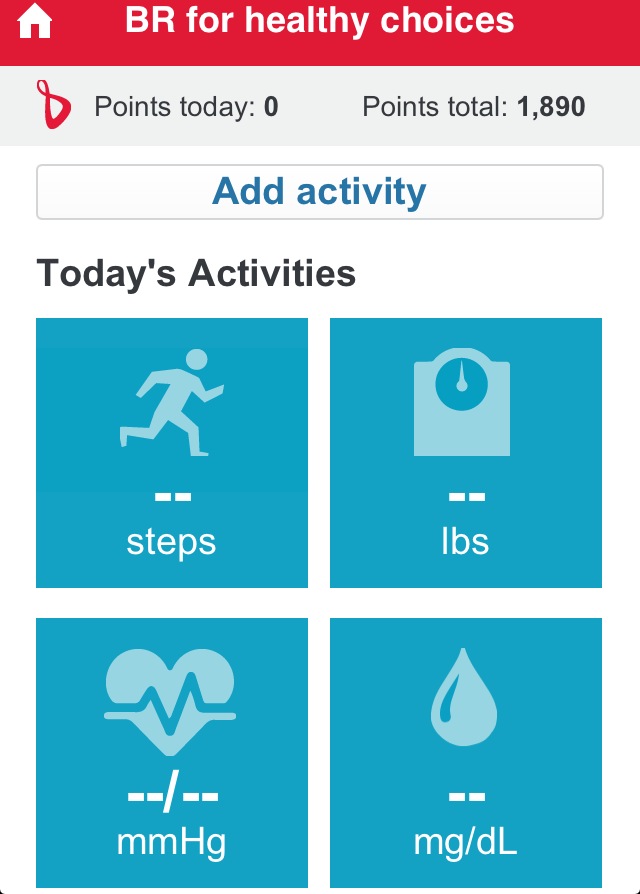 Next up, a quick trip to Walgreens. I planned this trip in advance by checking out the weekly sales on my Walgreens app. I scrolled through the different categories, "clipped" the coupons for items I wanted to purchase, and scanned my phone (or Balanced Rewards card) to enjoy the savings. I purchased nuts and dried fruit – great healthy snacks for my family! I saved over $3 on this shopping trip. I can put these savings toward my bootcamp classes.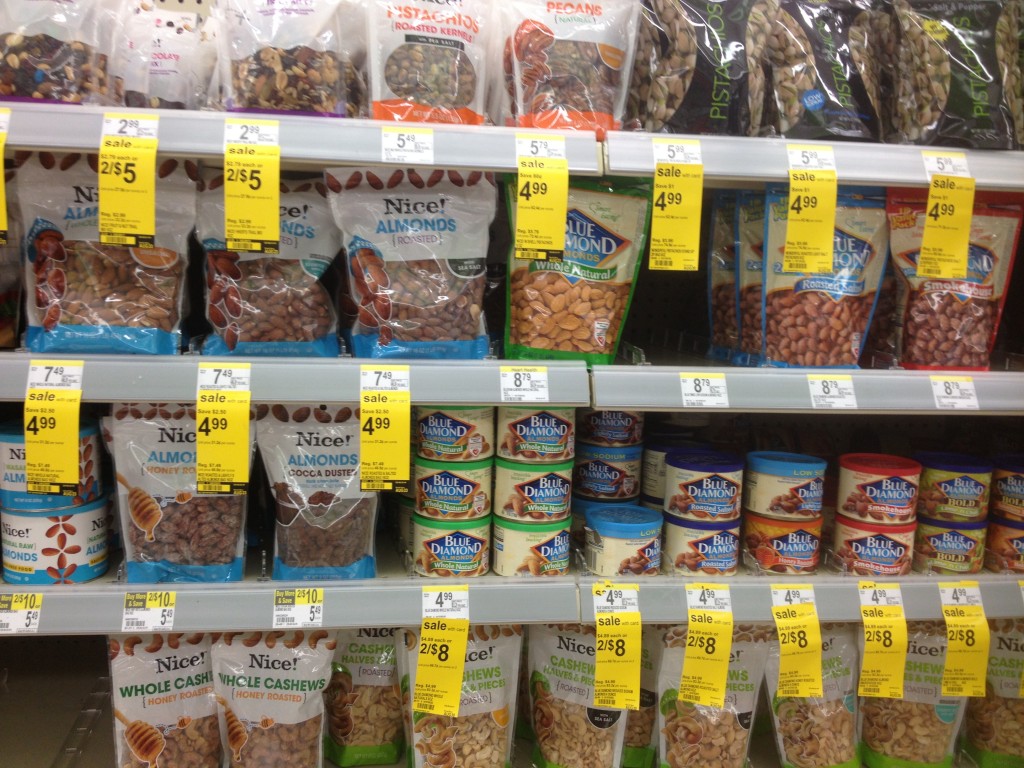 After bootcamp and a shopping trip for healthy snacks, we spent the day together as a family, enjoying each others' company. To tie in with my fitness goals, I prepared a balanced, nutrient-dense dinner: grilled steak, roasted potatoes, and salad.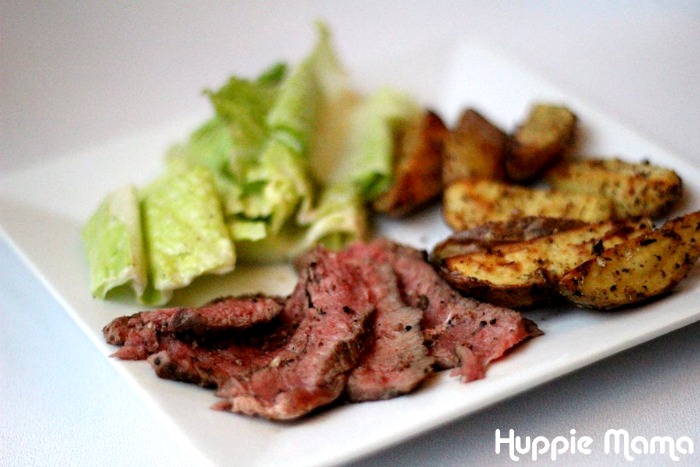 While on-the-go, I need a good place to put my essentials (keys, sunglasses, a few dollars, phone). I searched Pinterest and found ideas for these: Mesh Sports Pouch and Toy Bags. I combined the two to create this Sports Pouch, perfect to store all my exercise essentials while outdoors and some cash for quick shopping trips. This simple sewing project takes less than an hour. Now, you can easily take your Balanced Rewards App and card with you wherever you go!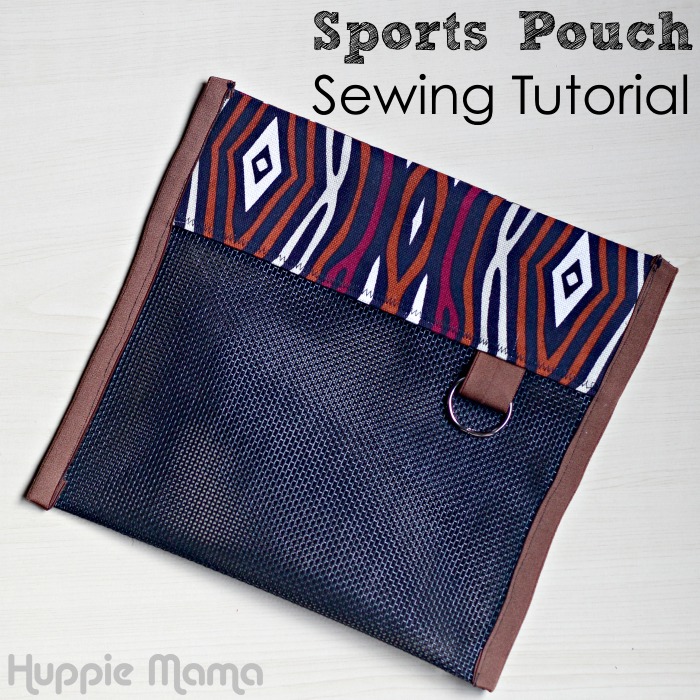 Materials:
1/4 yard mesh
1/4 yard fabric of your choice
1″ fold-over elastic
1″ Velcro (soft/rough sides)
coordinating thread
1 key ring
Directions:
Step 1 – Gather your materials. You can make this bag for about $8 (and you will still have leftover materials, probably enough to create a second bag).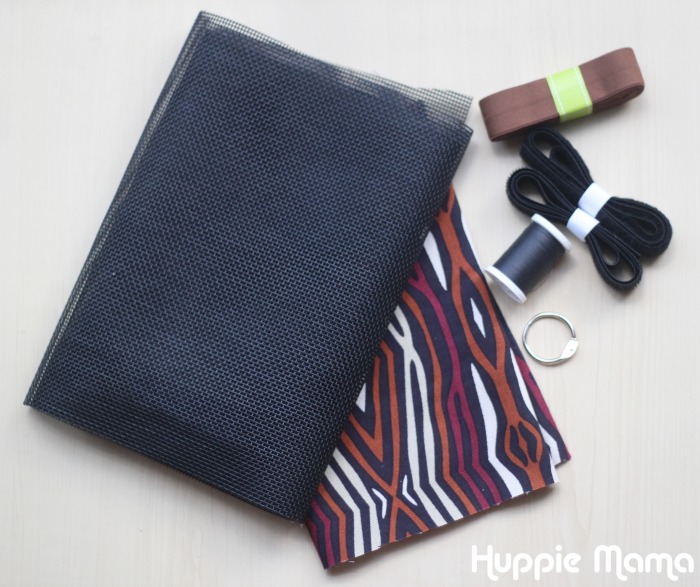 Step 2 – Cut materials in the following way:
1 piece black mesh 9″ x 18″
2 pieces fabric 7″ x 9″
2 pieces fold-over elastic 10″ long
1 piece fold-over elastic 3″ long
1 piece each soft/rough elastic 8″ long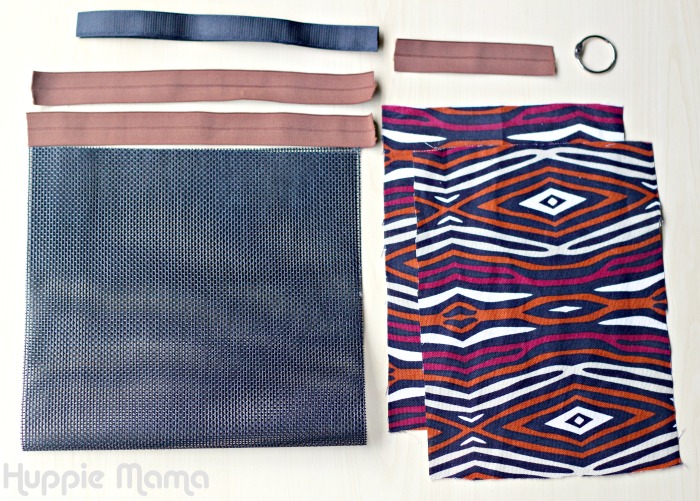 Step 3 – With black mesh laid out flat, pin fabric, right-side face-down, 3″ from the top of the black mesh. Sew together using a straight stitch.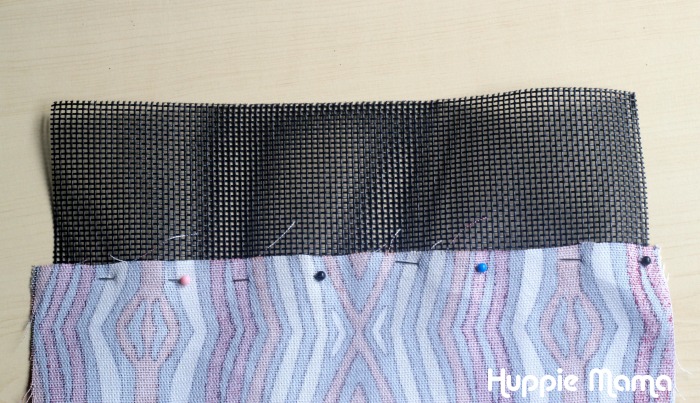 Step 4 – Flip fabric upright and quickly/gently iron. Remember, your mesh will melt, so be sure to not touch the iron directly to the mesh. Pin a strip of Velcro about 1/2″ below where the height of the mesh would end. The pins should go through both the fabric and mesh. Use a straight stitch to sew Velcro in place.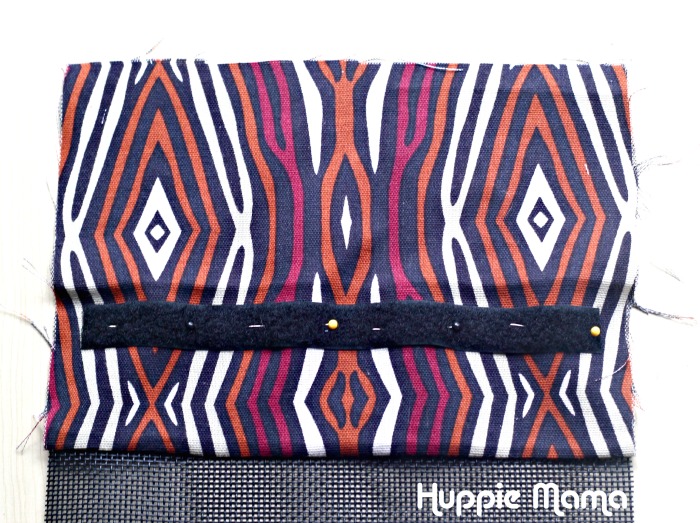 Step 5 – Fold the fabric over the mesh, and iron in place. Take the smaller piece of fold-over elastic in half and place under the fabric so that about 1″ is visible. I placed mine about 2″ from the right edge. Pin all layers of fabric together along the bottom seam, with the end neatly tucked over to hide the raw edge. Sew using a zig-zag stitch for a decorative edge.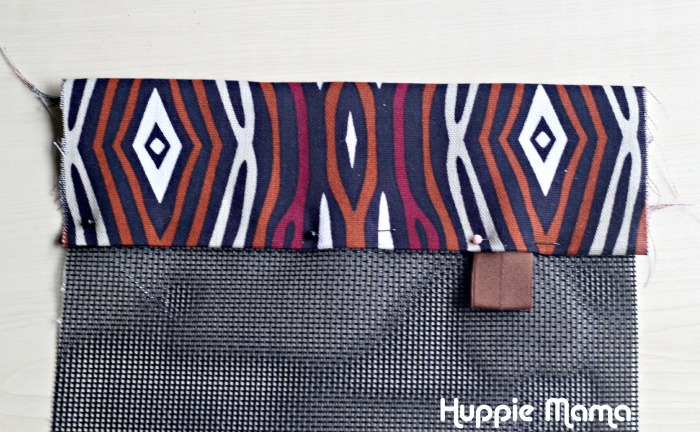 Step 6 – You have now completed the first side of the mesh bag. To create the second side, follow the same exact directions, only leave out the small piece of fold-over elastic since you only need one key ring. To complete the sports pouch, fold in half and pin the two longer pieces of fold-over elastic, one on each side, by tucking the ends over and folding in half along the seam. Sew using a straight stitch.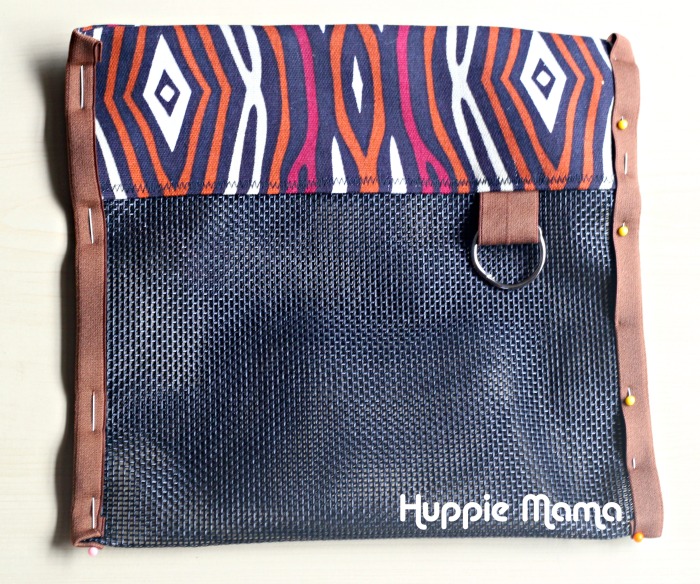 And you have officially created this great Sports Pouch to carry all of your essentials, like keys, a phone, cash, sunglasses, a snack, sunscreen, and insect repellent during your workout.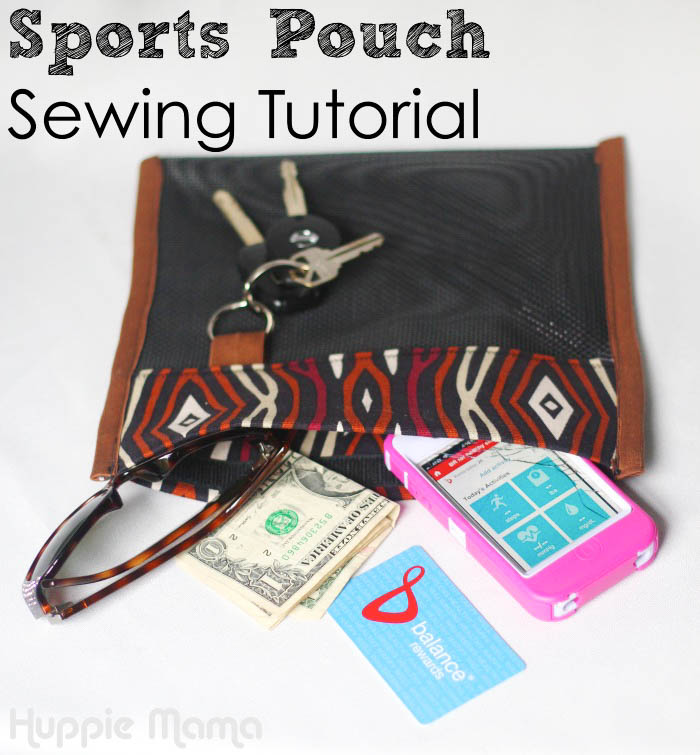 A special thanks to #CollectiveBias and #BalanceRewards for supporting my healthy choices!