I try to use any down time I have with my children to enhance their understanding of the world. A great time to work on language development is while driving in the car together. These preschool language games are particularly fun on long road trips, when your kids start to get antsy in the back seat. Have fun, laugh together, and engage your young children in some great learning activities while on the road.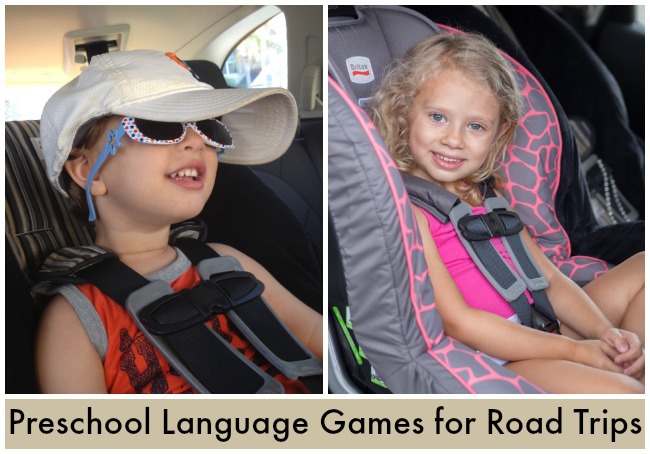 1. The "look out the window" game.
Here's a great visual game you can play with your children. This game focuses on receptive language, having children demonstrate comprehension of spoken language. Just name two or three things at a time that they can locate while looking out the window. Your child will let you know when he/she has found each item. Here are some examples:
Look for a gas station
Find an emergency vehicle
Identify a store sign
2. The "tell me 5" game.
This is a great way to work on understanding members of a particular set and build vocabulary. Give your child a category and ask him/her for 5 items that belong to that category. If he struggles to come up with items, provide additional clues (e.g. animal sounds, color of item). Some examples include different types of:
Zoo animals
Dessert foods
Holidays
3. The "what begins with" game.
This game works on identifying initial sounds in words, a building block to early reading. Present your child with a sound (or have your child select a sound) and each individual in the car will say a word beginning with that sound. You can actually combine this game with the "tell me 5" game by selecting a specific category to pick words for that beginning sound. For example: Foods that start with /p/.
For ideas of more Preschool Language Games for Road Trips, click here.