This shop has been compensated by Collective Bias, Inc. and its advertiser. All opinions are mine alone. #MerryandBright #CollectiveBias
Some years are less than remarkable. You may think back and remember a few moments, some good, some bad, but overall, it was just a small step in your journey. Other years are far more monumental. Through the great moments and tragic moments, you're forced to learn and grow as an individual and as a family unit. That was 2016 for my family. We went on a wonderful 15-day long road trip where we had so many amazing new experiences, but we also experienced the loss of my father on Halloween, which is a huge loss to such a small family like mine. Through the many ups and downs of this year, what's important is family.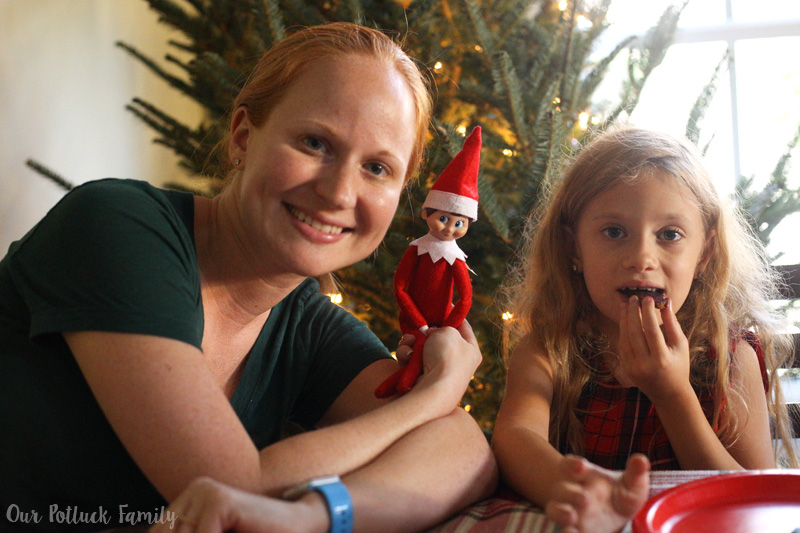 My sister stayed with us for Thanksgiving. (She lives about 4 hours away.) Together we ran a 5K, enjoyed a delicious dinner, and decorated my house for Christmas. My sister Jamie loves these silly Christmas elves, so I thought I'd make a DIY snow globe featuring elves as part of a fun gift basket. She's had so many rough times this year as well, but the holidays? That's a time to celebrate! We will be staying at her house for Christmas, so I thought this would be a good surprise. (Let's just hope she doesn't read this blog post!)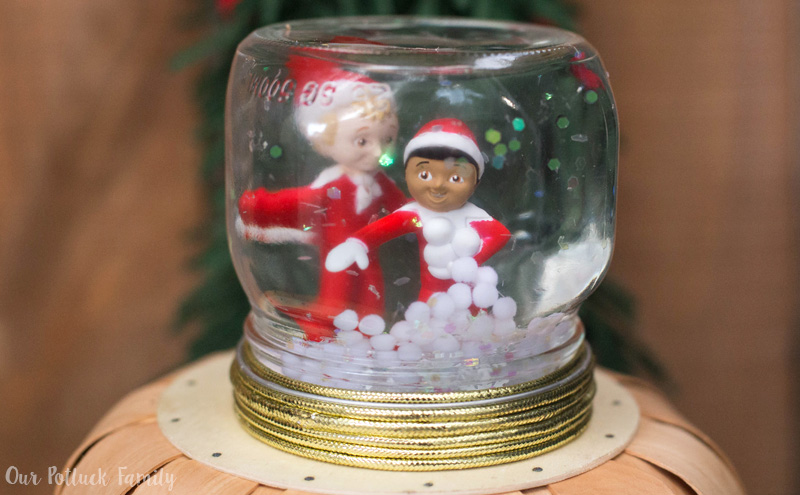 Materials:
Wide mouth mason jar + lid
E6000 permanent craft adhesive
Plastic elf figures
Glitter, sequins, and other pretend snow
Water
Decorative trim
Directions:
Begin by gathering your materials and planning out the contents of your snow globe. My sister likes elves, so I found some plastic elf figures at a discount store. I was very indecisive about what types of 'snow' to use inside the snow globe, so I combined glitter, small white pompoms, and snowflake sequins. The gold cord would surround the base of the snow globe.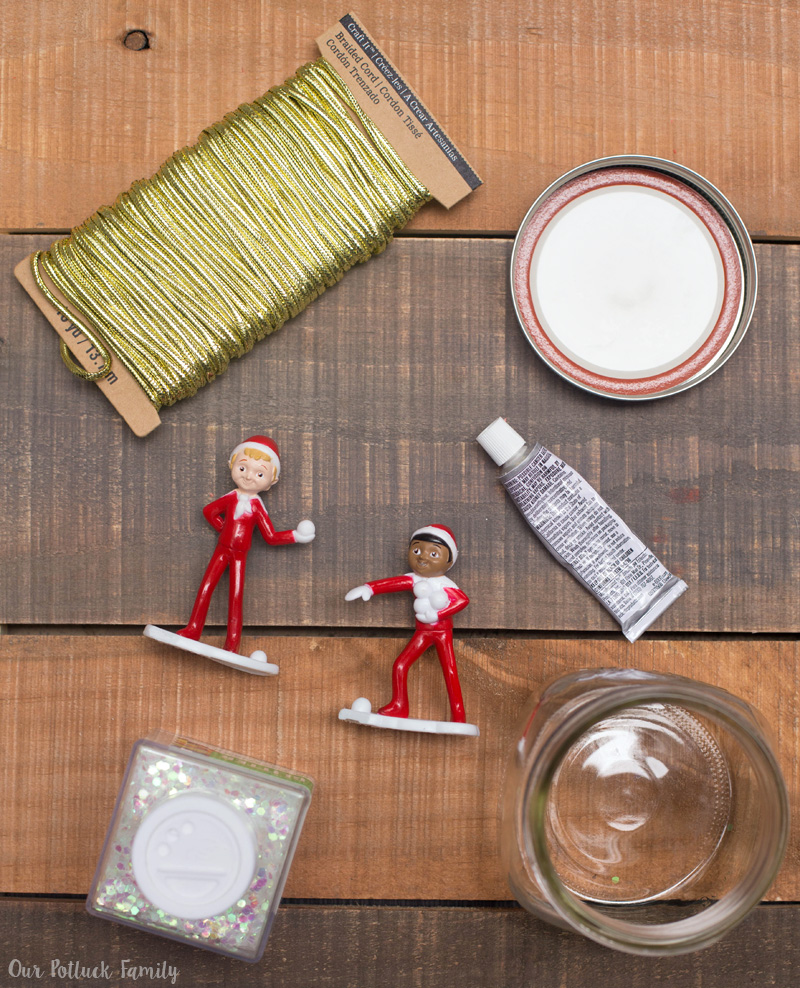 I arranged the elves on the inner portion of the lid to the jar. I selected a wide lid jar so that I could include both figures inside. How cute are these snow fight elves? I like how one elf looks like he's sneaking up on the other one. Glue them in place using the E6000 adhesive and allow them to dry completely.
American Greetings #MerryAndBright Sweepstakes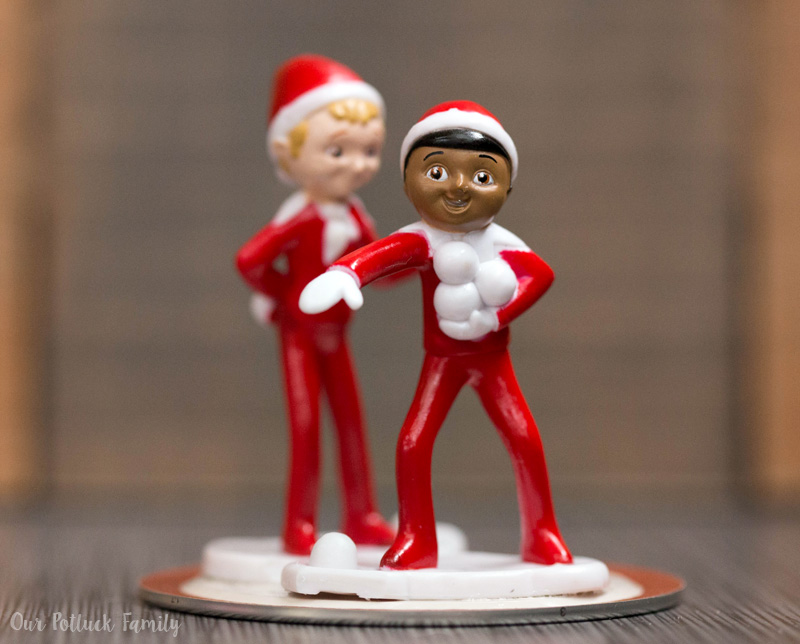 Add your pretend snow to the jar. You can use any type of glitter, sequins, and/or pompoms to use as snow. Get creative and glittery! After adding the glitter, fill the jar with water up until almost the rim. You want to make sure that there's enough water to not have an air bubble when you screw on the lid.
Add adhesive inside the edge of the lid and screw in place. When the glue dries, flip over the jar. Complete the snow globe by adding trim around the lid (which is now the base). I used gold cord to give it a fun metallic finish.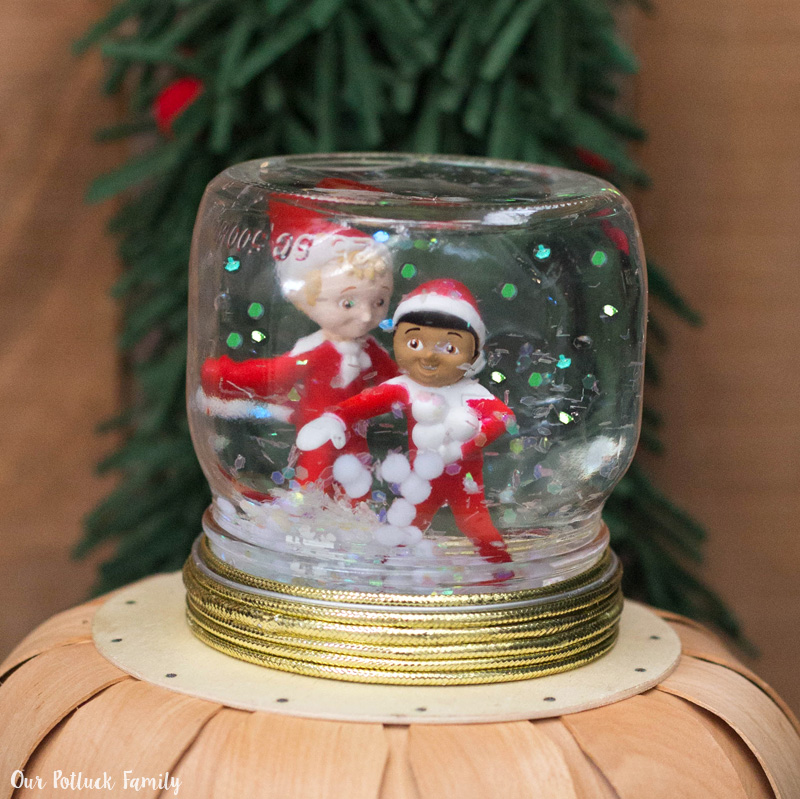 Now it's time to assemble the gift basket! Rather than purchasing a new basket, I took a fall basket and made it wintry by adding fun plaid paper tape. This gives it a great Christmas-y look.
I added a card, and not just any old card. I wanted something really special, so I picked out a … card. I wrote a personalized message and added a sticker to the envelope to seal it. See the other card with the snow globe? That one is for my husband, but shhhh… don't tell him either!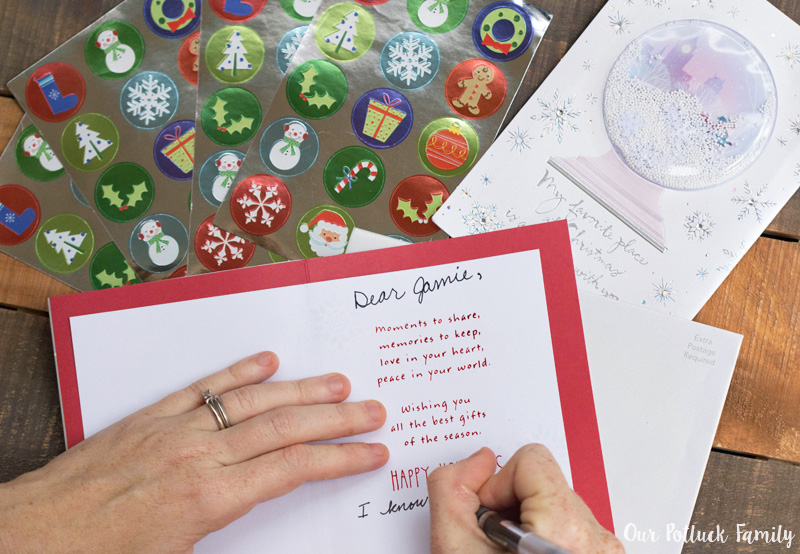 To assemble the basket, line it with snowflake tissue paper. Fill the bottom with a yummy treat – Fun Size M&M'S. Your friend or family member will be happily surprised to find chocolate underneath the other basket contents.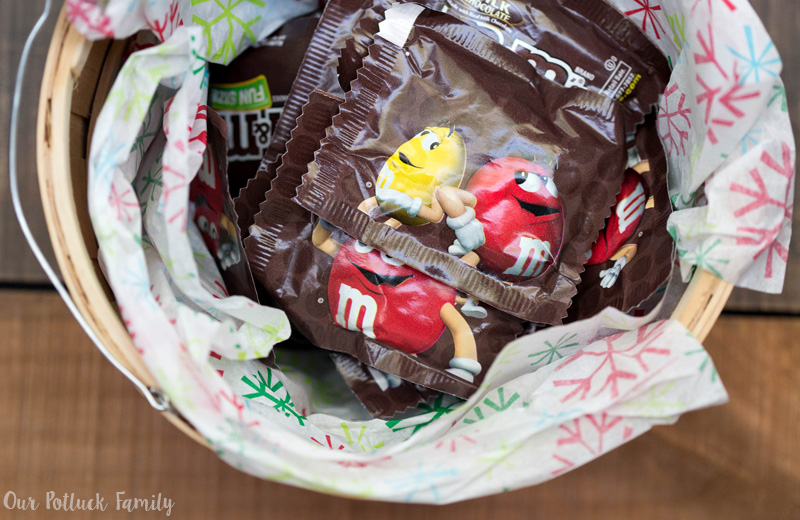 To complete this holiday gift basket, add a cute holiday bear and the elf snow globe. I also added card holders to display the cards like artwork after they are received. A Christmas ornament like this reindeer and a fun tree complete this holiday gift basket. You can also download FREE Elfing printables to give a fun *surprise* gift to your friends and family.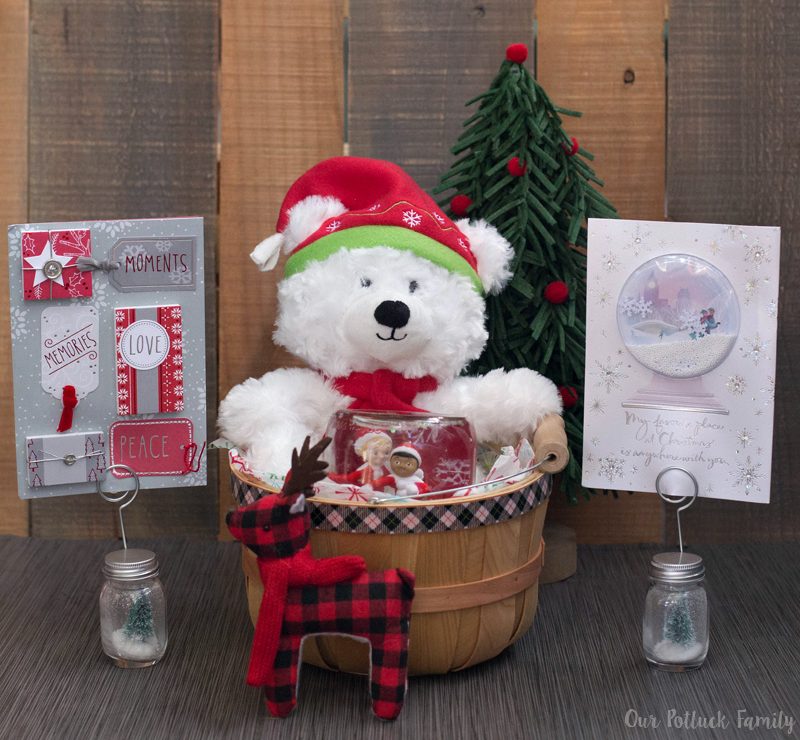 For beautiful holiday cards, head to Walmart. Lily Pad Press along with American Greetings has an incredible selection of greeting cards, gift wrap, tissue, and bags to help celebrate and connect with family members and friends. Purchase this promotional plush bear for just $3.47 with the purchase of any three American Greetings cards (regularly $6.97). Check out this Ibotta offer for $2 off your purchase.
What are your favorite holiday projects? You can find more holiday inspiration here!