This shop has been compensated by Collective Bias, Inc. and its advertiser. All opinions are mine alone. #MoreMomentsWithExcedrin #CollectiveBias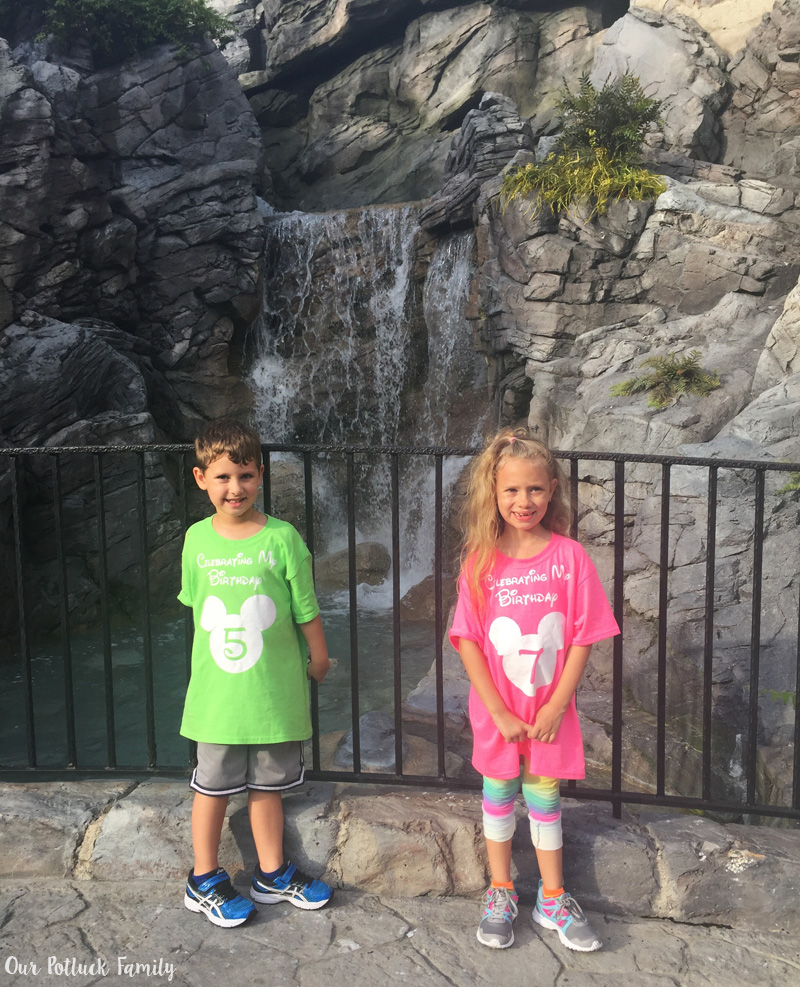 Last spring, I presented my children – then 4 and 6 years old – with an option. Rather than organizing a large birthday party with their friends, which usually runs us about $500+, how about we visit a theme park for the day and invite my sister (their aunt) and her boyfriend along with us? They loved that idea and quickly accepted! We are very fortunate to have two September kiddos so that we can celebrate their birthdays together. It makes it an extra special time of the year for our family.
Here are some of my tips for celebrating a special occasion with your family at a theme park!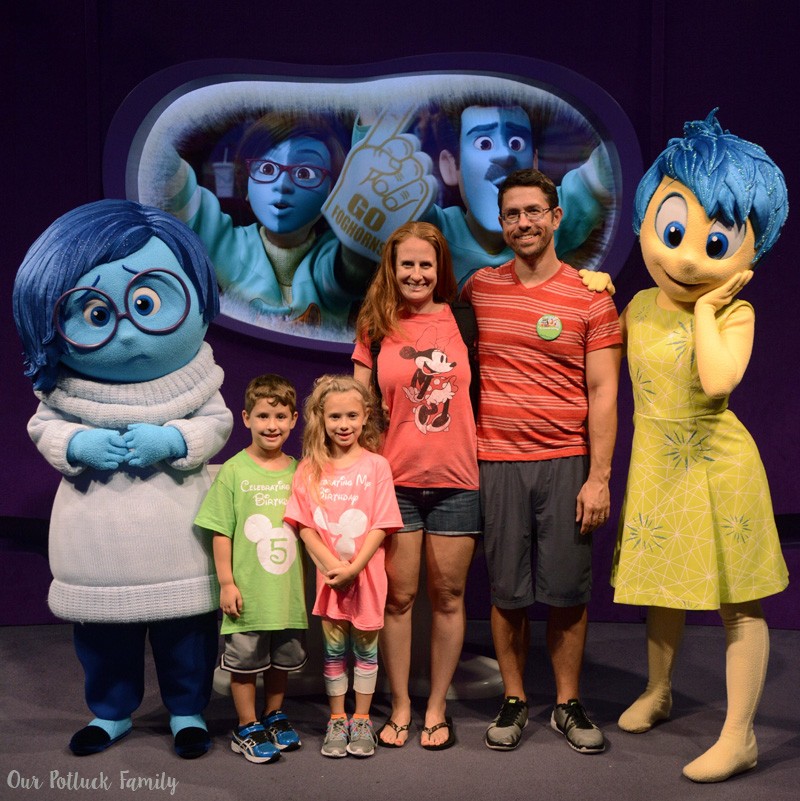 Since we live in South Florida, we have about a 3-hour drive to the Orlando area to visit theme parks. My sister lives about an hour west of there, so we were able to stay with her and travel to the park together the next day.
Here's a tip: If you don't have annual passes to theme parks, travel with someone who does to save on the parking!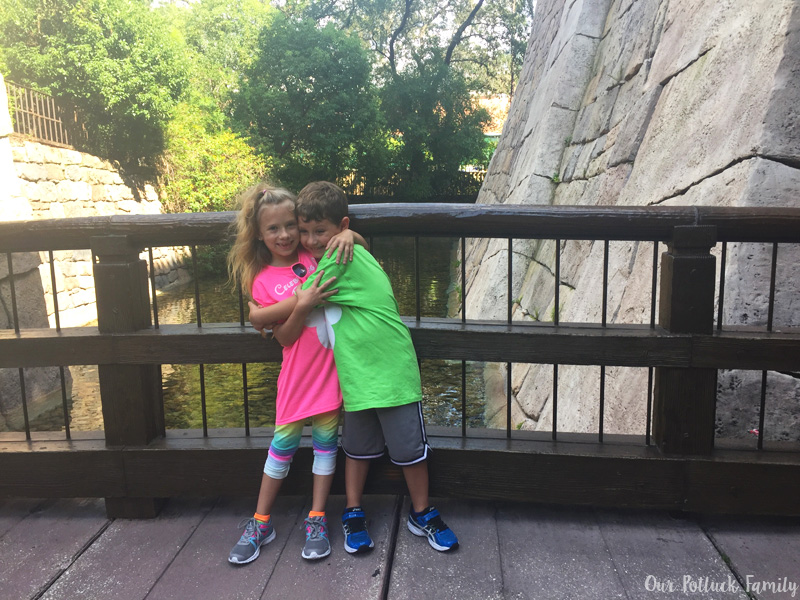 When we arrived at the park, the kids were ready for fun! My sister is the theme park pro, so she planned out some of the 'must see' attractions we just had to visit and scheduled fast passes at set times.
Here's a tip: If you're not familiar with a theme park, begin by checking out the website, but also ask for help from someone who has visited multiple times. You want to make sure you maximize your time there!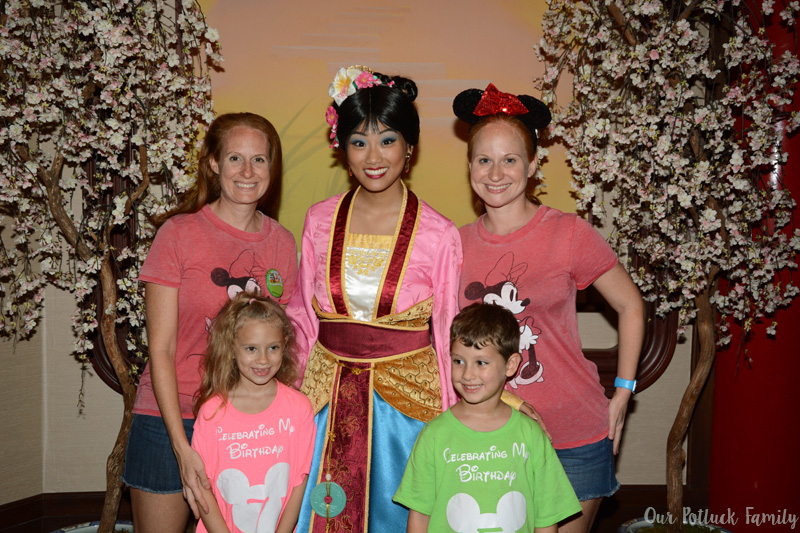 My kids enjoyed meeting all of their favorite movie characters. The lines were fairly short (10 – 20 minutes each), so this was a fun activity while visiting a theme park. I think the pictures came out so cute!
Here's a Tip: Check to see if the theme park has its own app. Sometimes the photographs that are taken at the park can be downloaded directly to your phone through the app.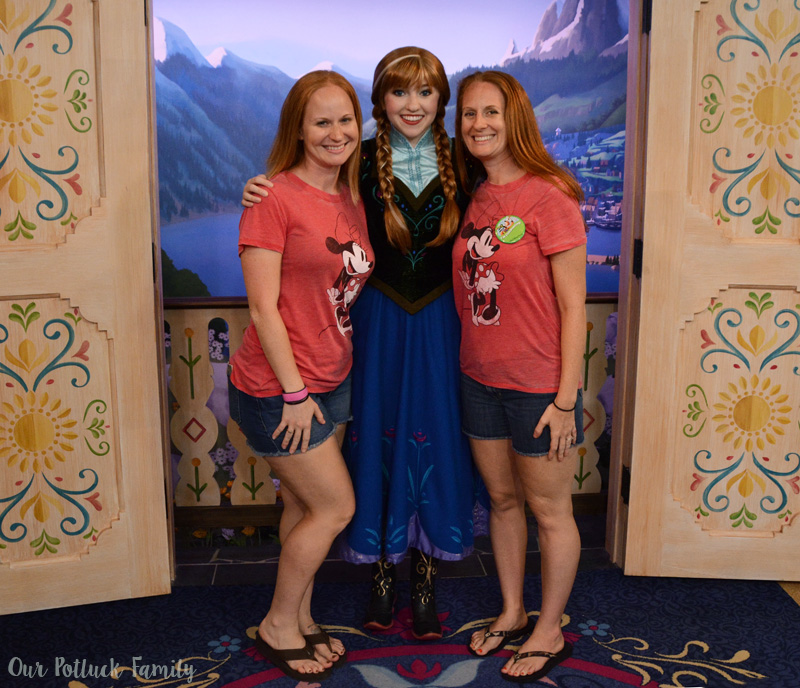 We planned this trip around the park's annual food and beverage festival. Richard and I had never been, so we thought it would be fun for all of us. I'm glad we went during this time. It definitely made the trip more fun for all of us.
Here's a Tip: While the trip is primarily for the children, adults should have a good time, too.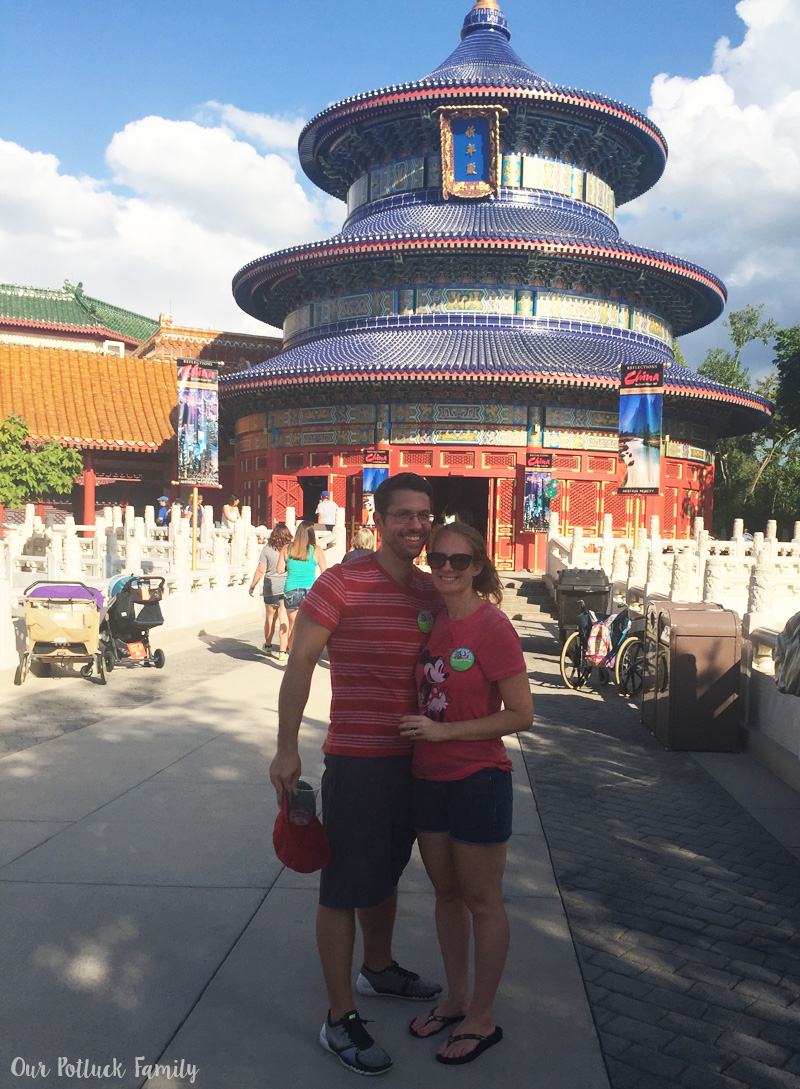 Based on the layout of this park, we traveled from one area to the next, sampling small plates of food and beverages from around the world. Surprisingly, the food was reasonably priced and had an authentic taste. We tried food from Greece, Korea, England, and Mexico. Lots of delicious bites (and drinks to enjoy with these bites).
Here's a Tip: If you're traveling with friends/family, try to get a picture of you and your spouse. We have so many pictures of the kids because we each take them, but we have so few a number of husband/wife photos.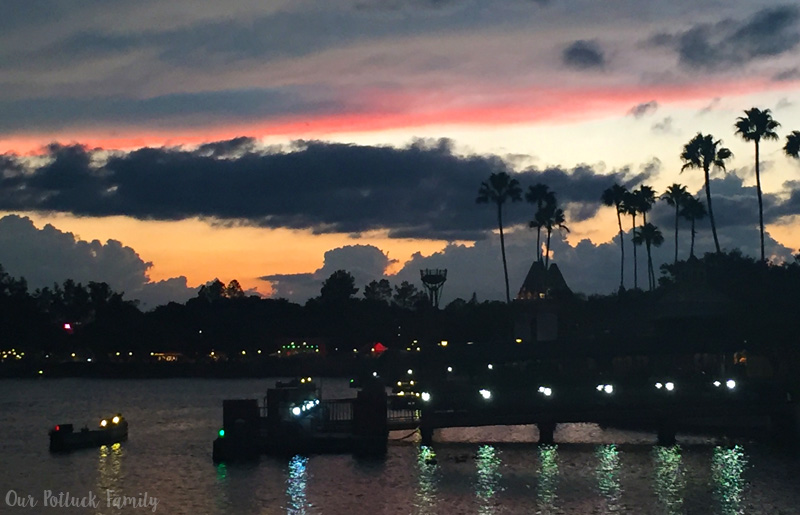 Plan to stay day-to-night. Some theme parks have special evening events, like parades, fireworks, or light shows. Florida sunsets are just the best, no matter where you are staying. How beautiful is this night sky over the theme park?
Here's a tip: Check out the weather in advance to see if you need a light sweater in the evening.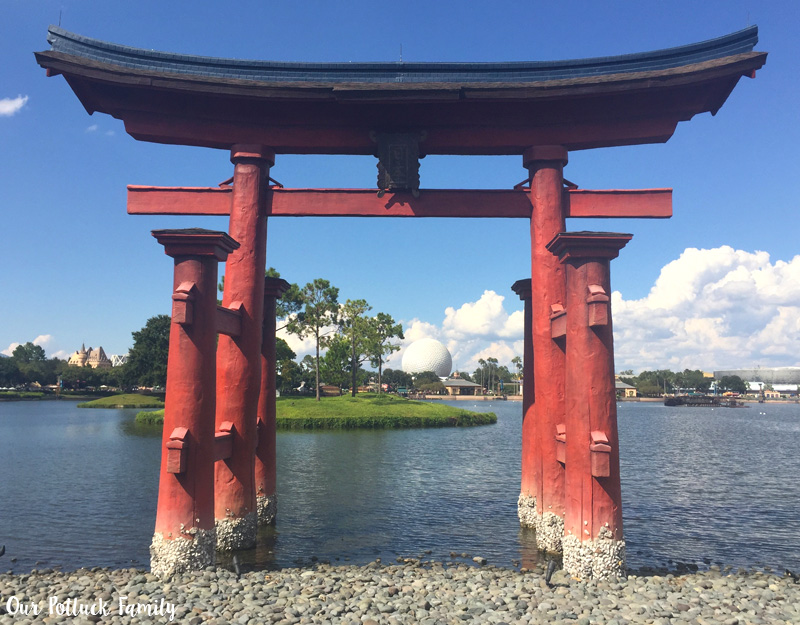 In the back of my mind, I have that fear "What happens if the kids get separated from us?" One thing that I think helps to keep track of the kids (who tend to wander when excited) is to plan brightly-colored, coordinating shirts. This will make them stand out from the crowd!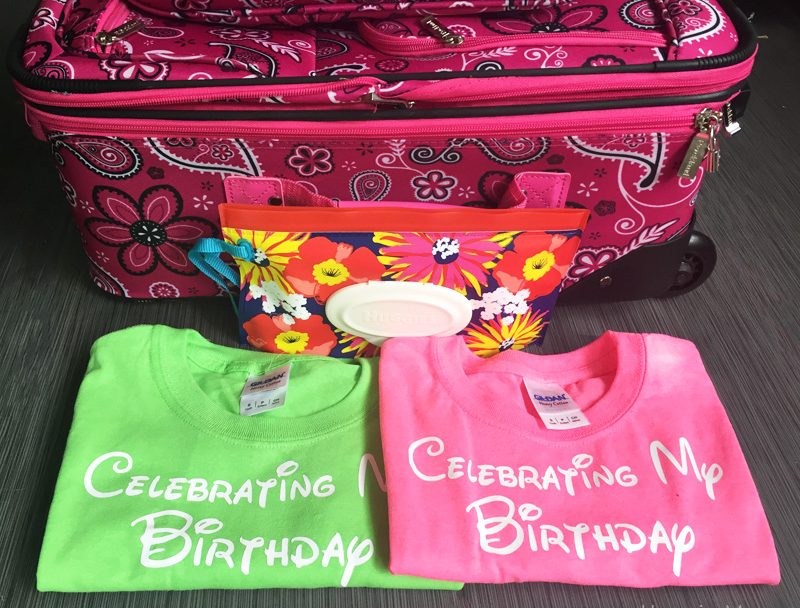 Here's a tip: Check out this tutorial to make your own custom-designed travel shirts for your kids.
The last part involves a little self-care while traveling. Unfortunately, I have spent most of my life suffering from migraines. In the past, this ruined family plans because sometimes the pain is simply unbearable. But this past summer, while on our 4,000-mile road trip, I learned an important lesson – pack Excedrin®. Each time I felt a migraine coming on, I took Excedrin®. It allowed me to enjoy time outdoors with my family, even in the blazing sun and brutal heat. So of course, I packed some for our day in Orlando as well. Excedrin® products deliver fast relief for different types of headaches. Excedrin® Migraine starts to relieve migraine pain in 30 minutes. It is the #1 Neurologist Recommended (Among OTC medicine for migraines. Symphony Health Solutions, 2016. Consult your doctor if you think you are suffering from migraines.)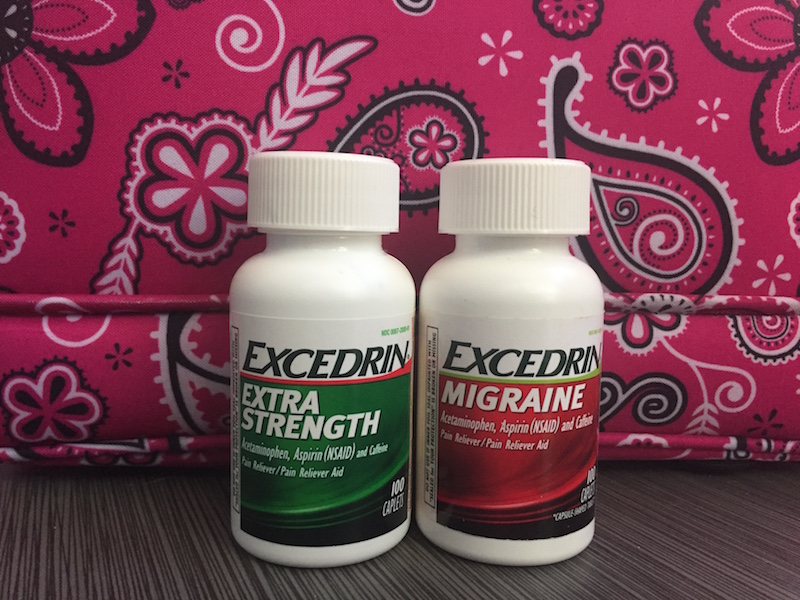 Before visiting a theme park with your family, be sure to pack all of your essentials. I carry them in a backpack, which is much easier to hold on to when walking around all day than a purse. It distributes the weight well, which eases some of the pressure on my shoulders/neck.
Here's a tip: In addition to packing Excedrin®, to help avoid potential migraine headaches, bring plenty of water to stay hydrated, sunscreen to avoid a burn, snacks to stay well-nourished, and sunglasses to block out the sunlight. All of these can be migraine triggers for me.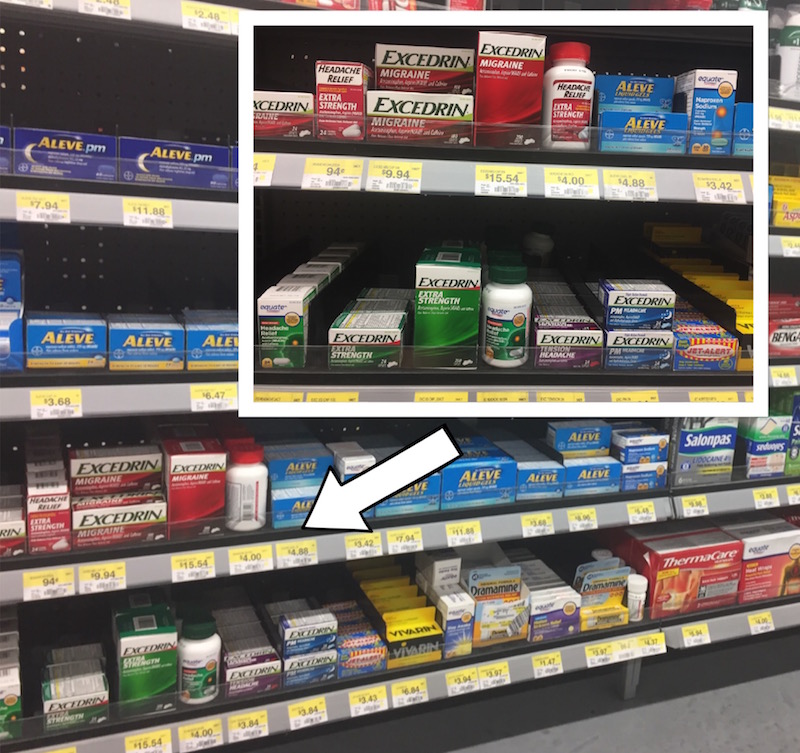 Head to Walmart where you can purchase many of your theme park essentials, including Excedrin®, which is found in the pharmacy section. Look for Excedrin® Extra Strength, Excedrin® Migraine, Excedrin® Tension Headache, Excedrin® PM Headache, and find the product that matches your needs.
What are your tips for visiting a theme park with your children?