Enjoy these Simple Italian-American Christmas Dinner ideas.
Each year, I host the holidays at my house for my family and my husband's family. My husband and I are both part Italian, so I often serve an Italian-American Christmas Dinner.  But after cooking an elaborate meal for Thanksgiving and an elaborate meal for Christmas Eve, Christmas Day should be about relaxing and enjoying time with family. That's why I put together this Simple Italian-American Christmas Dinner. It takes about an hour to prepare, with a few shortcuts to help you out.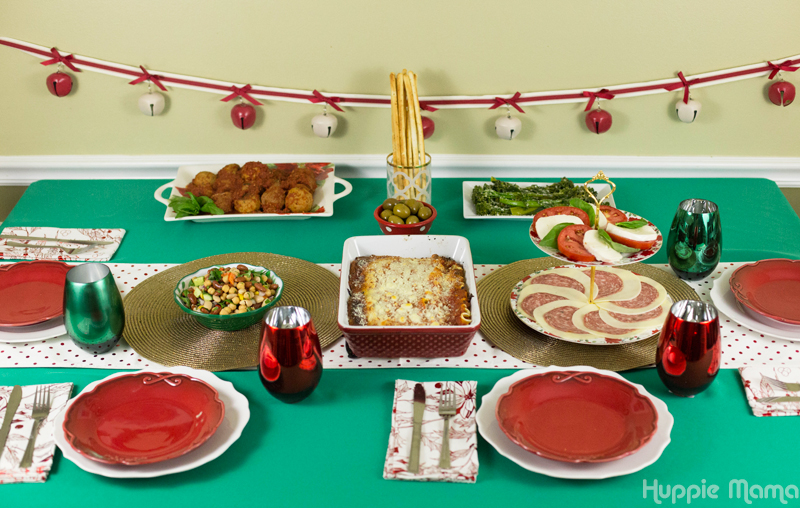 Simple Italian-American Christmas Dinner Decor
Let me walk you through the decor and menu. To keep things traditional, I went with colors of the Italian flag: red, white, and green. I really wanted to create that "grandma's house for the holidays" feel with antique-inspired dishes, poinsettia accents, and gold touches.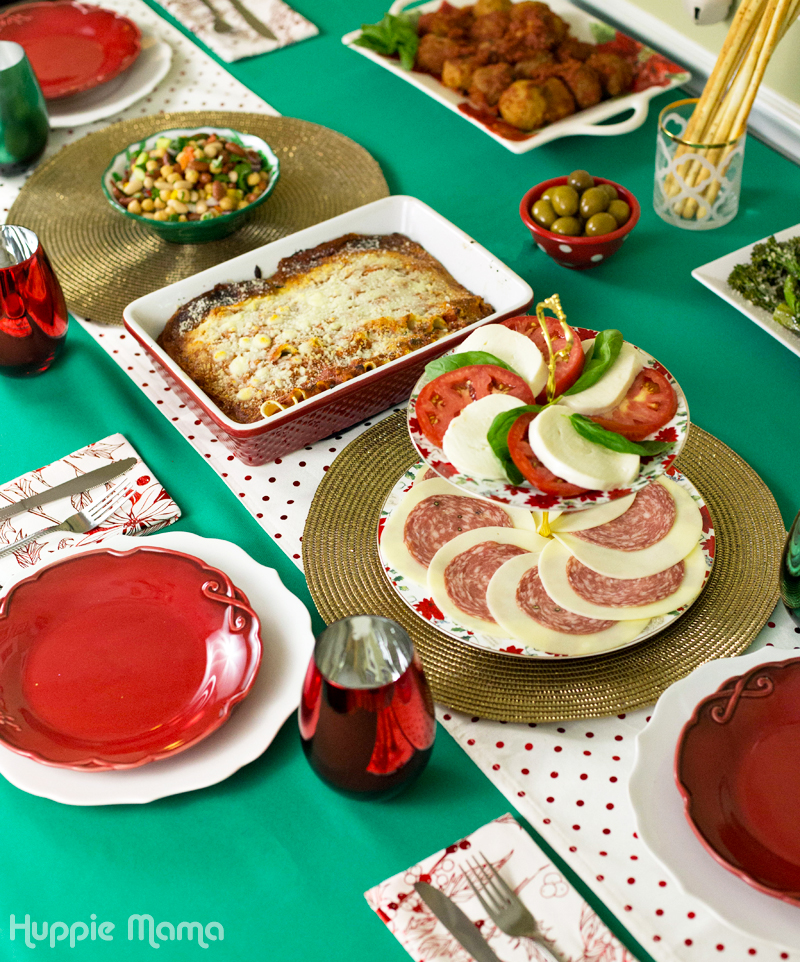 For the delicious food, I used this cake stand to display a simple antipasti. You can bring that out first, or serve everything simultaneously like I did here. That way, your guests can serve themselves buffet-style.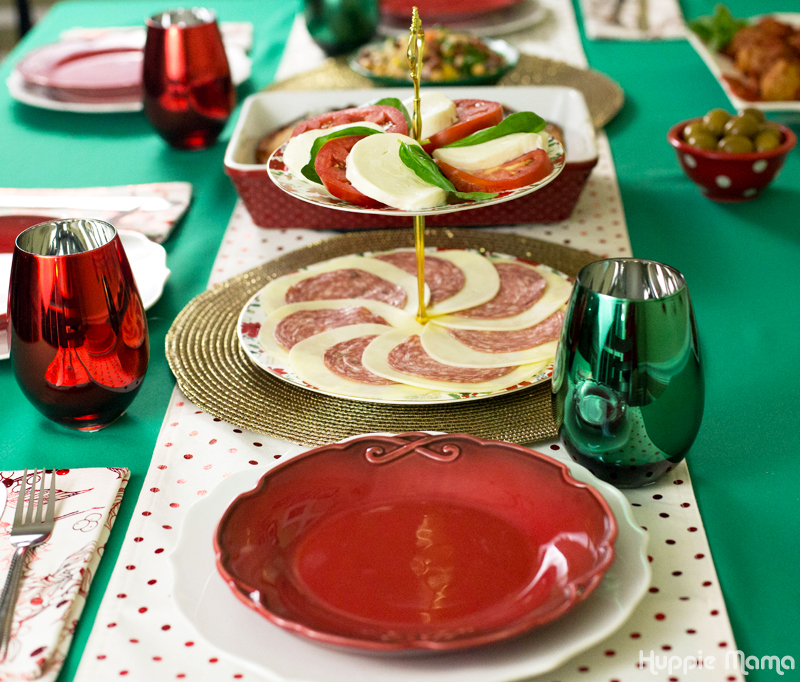 On the top, a caprese salad that captures the same beautiful red, white, and green colors with slices of tomato, fresh mozzarella, and basil leaves. I love it on its own, but you can also drizzle with balsamic vinegar and sprinkle with salt and paper.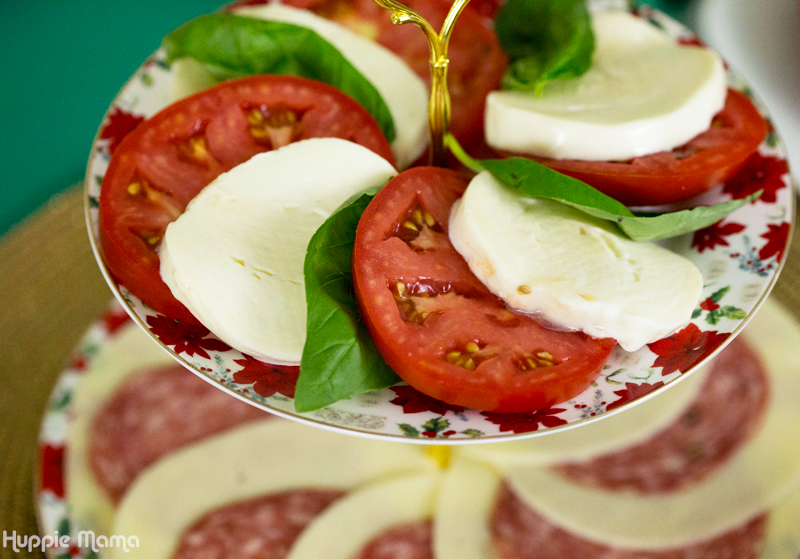 On the bottom, I spiraled slices of provolone cheese and salami. I made sure it was a mildly-flavored salami so the kids could enjoy it, too. Even though this food takes just minutes to put together, the food styling is what makes it extra special.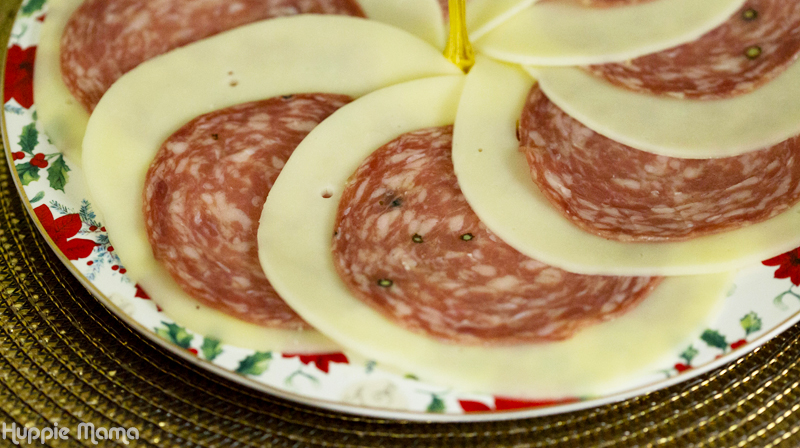 The main entree for our Christmas dinner is Lasagna with Meat Sauce. The family size entree is great for about seven people. It is made with sheets of pasta layered with meat sauce and topped with mozzarella cheese. Best of all, it contains no preservatives and takes just minutes to heat in your oven.
Let me give you a close-up. Can you see how meaty it is? It makes such a hearty entree for your Christmas Day celebration. Definitely a crowd pleaser!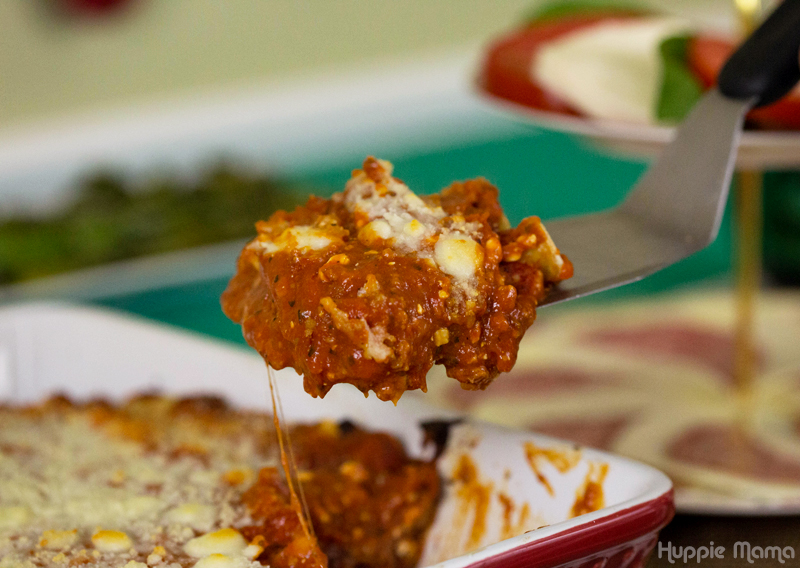 This three bean salad is a staple in my house because it is so simple to make and tastes delicious. And it's great not just for holiday meals, but as a side dish to dinner any night of the week. Check out the recipe below!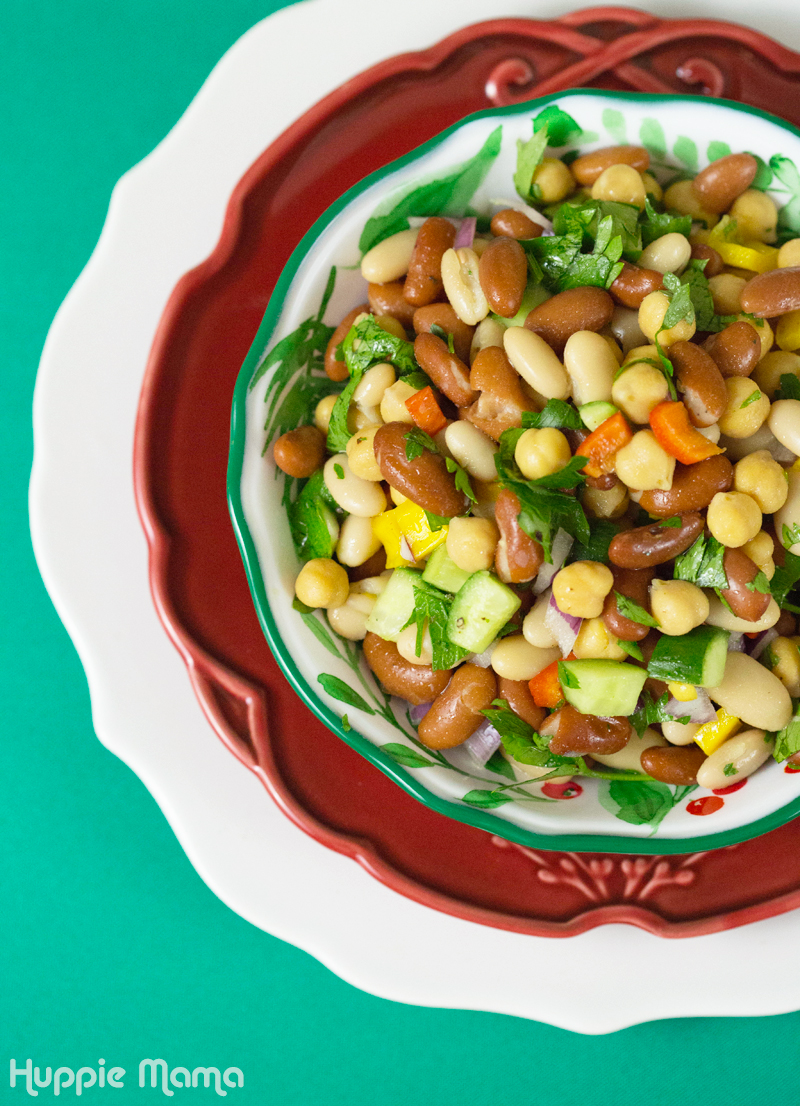 Three Bean Salad Ingredients:
1 can kidney beans, drained & rinsed
1 can cannellini beans, drained & rinsed
1 can garbanzo beans, drained & rinsed
1/3 cup chopped red onion
1/3 cup diced bell pepper
1/3 cup diced cucumber
1/4 cup chopped parsley
1/4 cup red wine vinegar
1/4 cup olive oil
salt & pepper to taste
Three Bean Salad Directions:
After preparing all of the ingredients as outlined above, toss together in a large bowl. This dish can be served immediately or prepared a day in advance and served chilled.
To finish off this Italian-American spread, meatballs cooked in marinara sauce, sauteed broccolini with garlic and olive oil, bread sticks, and Sicilian olives.
And did you notice the place setting? The napkins have red foil poinsettias to match the red polka-dotted table runner, the red and white plates have a fun antique look, and the metallic glasses add a punch of color.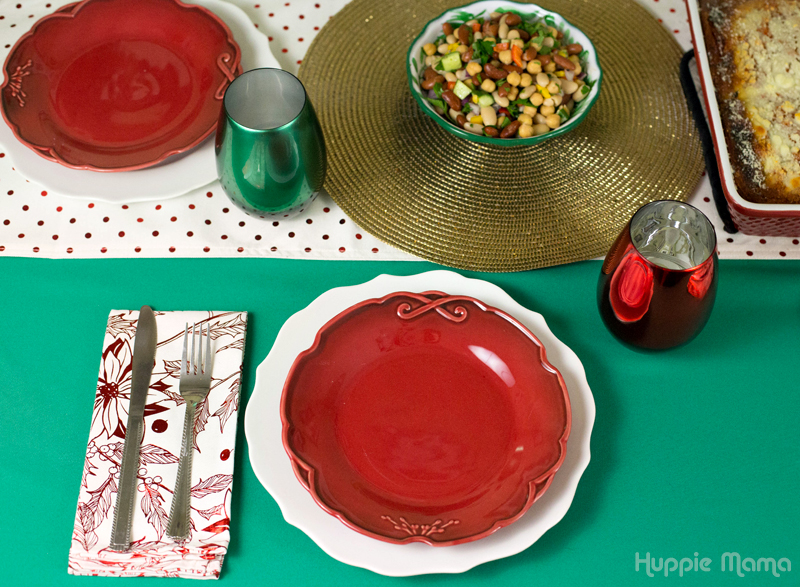 No Italian meal would be complete without dessert – I purchased pannetone (a traditional dessert bread), a mix of fresh berries, and we prepared mini cannoli. Learn below how we made these cannoli.

These cannoli take just minutes to prepare if you purchase pre-made mini cannoli shells. Then all you have to do is fill them and decorate. This is such a simple dessert everyone will love!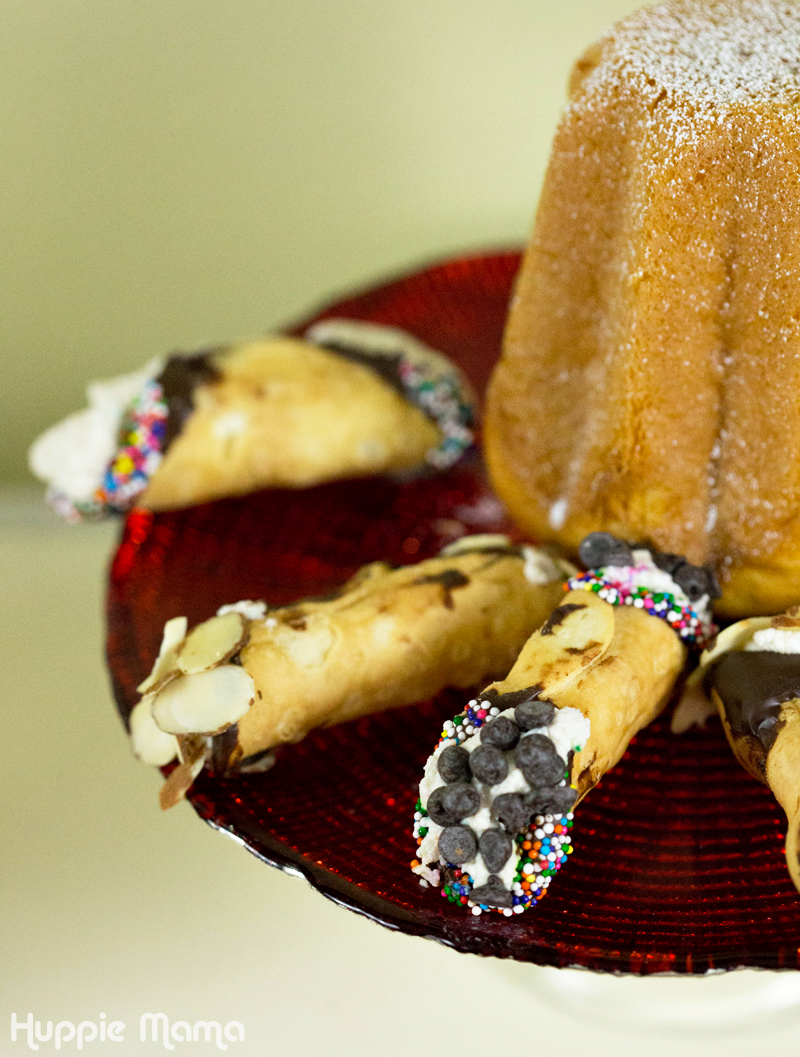 Mini Cannoli Ingredients:
12 pre-made cannoli shells
1 cup ricotta cheese
1/3 cup powdered sugar
2 T heavy cream
1/2 t cinnamon
1/2 t vanilla extract
Mini Cannoli Directions:
Begin by melting your chocolate. I did this in the microwave in under a minute. Just place it in a glass bowl, microwave for 15 second increments, stirring after each one, until it was completely melted. Dip both ends of the cannoli shell into the melted chocolate.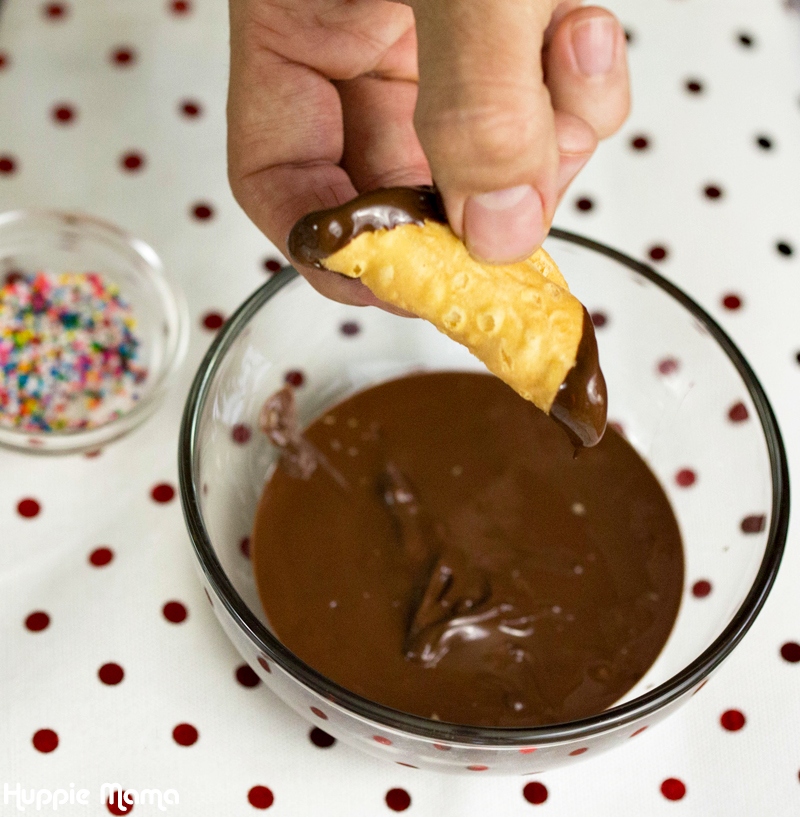 Next, dip the ends of the cannoli shell into colored sprinkles (or leave them plain if you prefer). Place them on a parchment paper lined baking sheet. Allow them to chill in the refrigerator until the chocolate is firm.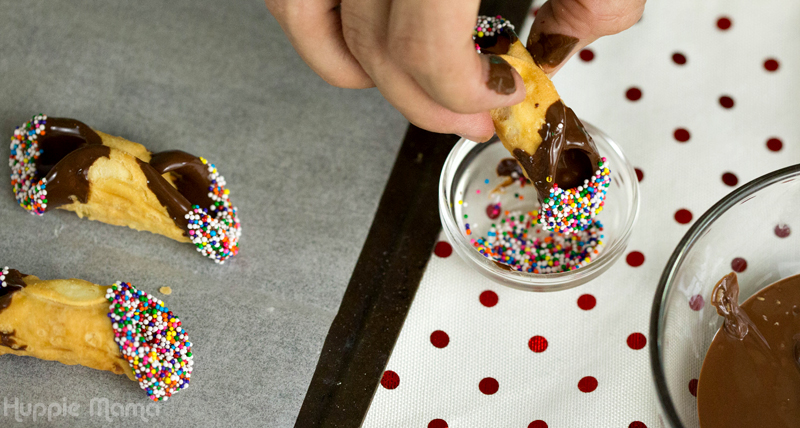 Make the cheese mixture by combining the ricotta cheese, powdered sugar, heavy cream, cinnamon, and vanilla in a large bowl. Place this mixture in a zipper bag and cut one end off so that it can easily be squeezed into the cannoli shells.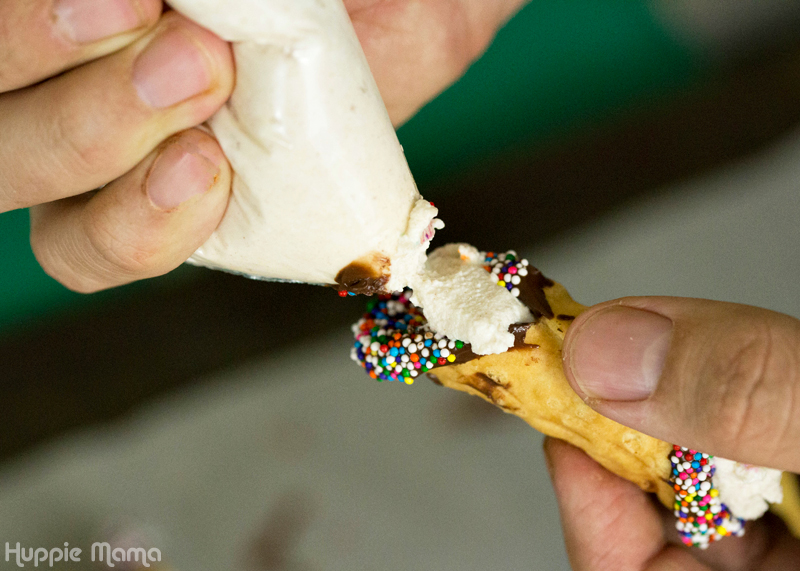 They are delicious as is, but even better if you dip them in either mini chocolate chips or sliced almonds. We made a variety of cannoli so that there was something for everyone at our dinner party!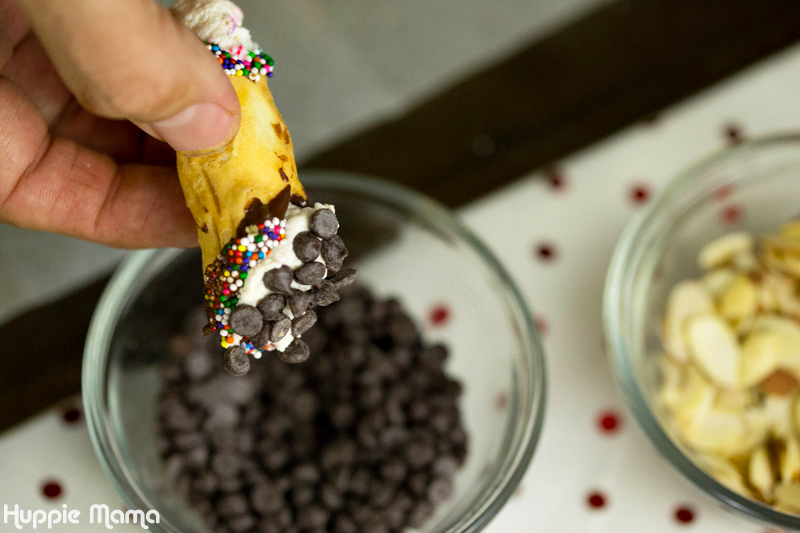 Display your cannoli on dessert trays or cake stands and they are ready to serve!

This delicious meal is so easy to prepare and everyone will love it! I invited over my parents, mother-in-law, and brother-in-law to enjoy this Simple Italian-American Christmas dinner ideas.
Want to enjoy a Simple Italian-American Christmas Dinner at home?
Pin this Simple Italian-American Christmas Dinner image below!