This shop has been compensated by Collective Bias, Inc. and its advertiser. All opinions are mine alone. #BetterWithCraisins #CollectiveBias
This past summer, we took our 4,000-mile road trip from South Florida to Maine, with so many awesome stops along the way. Before we left for our trip, Lydia and I were talking about how she aspires to be a good cook. One of the best things about traveling is that you get to try so many new and exciting flavors. I explained to her that when you travel, you learn about different regional cuisine, featuring the ingredients that are available in that particular area. I recently shared a recipe for Tomato Watermelon Salad, inspired by a dish I tasted in New York City. While in Burlington, Vermont, we dined in an Irish Pub in the downtown area, and I tried a delicious Shaved Brussels Sprouts Salad. It was tossed with a maple vinaigrette, which I had never tried before, but was clearly representative of the local cuisine in Vermont. I prepared my take on this recipe at home for a family potluck dinner, and everyone loved it. It makes the perfect fall lunch!
Ingredients:
1 pound Brussels sprouts
1/2 cup Ocean Spray® Craisins® Dried Cranberries
1/2 cup blue cheese
1/2 cup pecans
1/4 cup olive oil
1 T whole grain mustard
1 T maple syrup
1 T red wine vinegar
Salt + Pepper
Directions:
The first step in preparing this salad is to shave your brussels sprouts. This can be done a number of ways. First off, you can buy a bag of shaved brussels sprouts salad. Not available? Either take a few minutes to shave your brussels sprouts with a knife, or carefully use a mandolin to get consistently thin shavings.
Next, add the dried cranberries, pecans, and blue cheese. Make sure you either buy blue cheese crumbles or crumble your blue cheese into pieces about the same size as the dried cranberries. For the pecans, I generally buy pieces or chop them into small pieces. This salad is even more delicious with seasoned pecans (I love a spicy bite – but a honey roasted pecan would be delicious, too).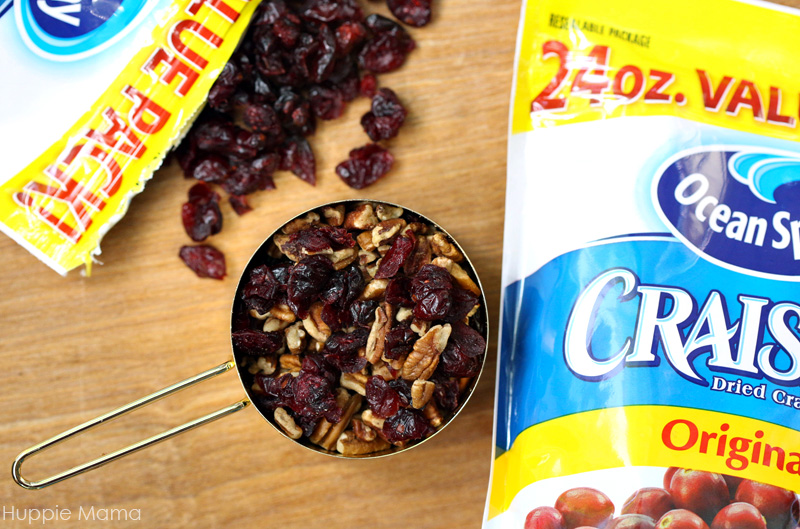 Now it's time to prepare the maple-mustard vinaigrette. Vermont is known for their delicious maple syrup. Be sure to purchase a bottle of real maple syrup for this recipe, not the stuff made from corn syrup. The darker the syrup, the deeper the flavor. In a mixing bowl, whisk together the maple syrup, whole grain mustard, red wine vinegar, and salt and pepper to taste. While steadily whisking, slowly pour a stream of olive oil into the bowl. This will create an emulsified vinaigrette. If it splits, no worries! It will be just as delicious.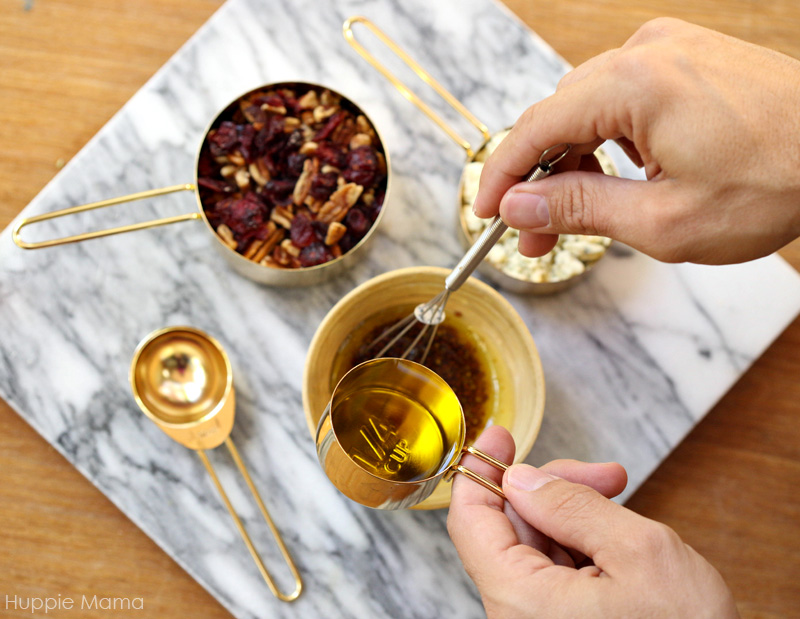 The final step is to toss the salad with the vinaigrette an serve! The variety of textures and flavors makes each bite of this salad just perfect. And because it is so hearty, it's great served as either a lunch salad or side dish at dinner time, especially during the fall months.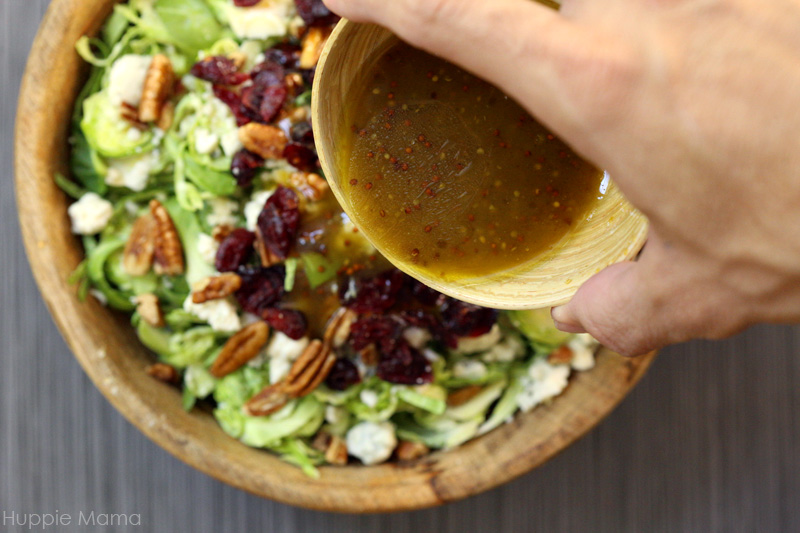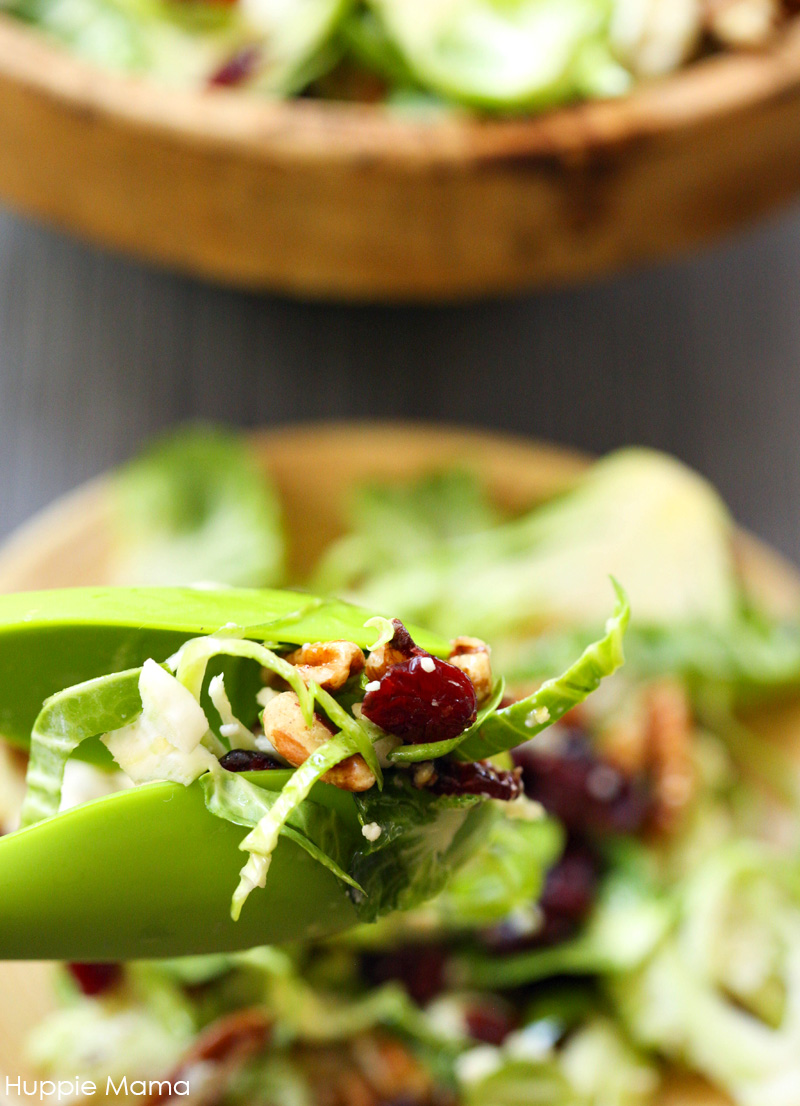 Serve up the perfect portion for a delicious fall lunch. The combination of brussels sprouts, pecans, dried cranberries, and blue cheese pair perfectly with the maple-mustard vinaigrette. Dried cranberries make everything taste better and make living a healthy lifestyle more fun and enjoyable, and 1/4 cup of Ocean Spray® Craisins® Dried Cranberries provides 1/2 cup of fruit.
Ocean Spray® Craisins® Dried Cranberries may not be available at all Sam's Club locations, but they are still available at a number of retailers! I picked up a bag at Walmart. Take advantage of the Rollback price of $4.98 for the 24 ounce bag.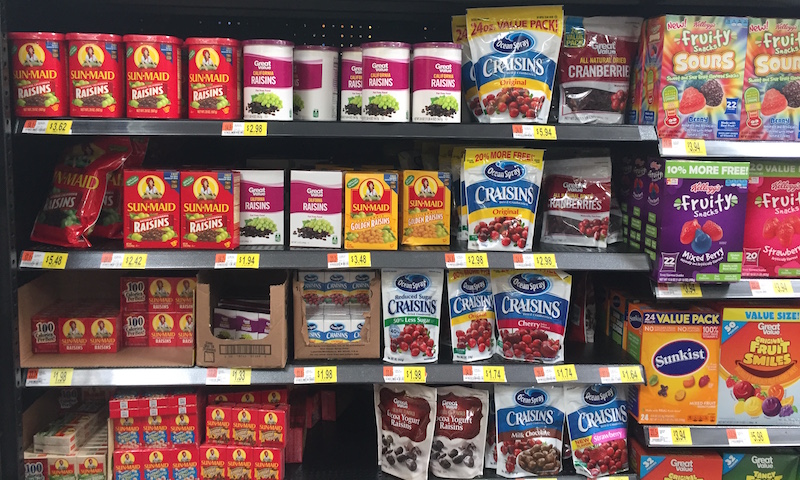 Here are a few photographs from our time in Vermont, starting with the inspiration salad at the pub in Burlington. It was locating in the downtown area. We arrived just before the sunset, and it was a little drizzly, but still cool to walk around such a hip part of town. All of Burlington was really nice!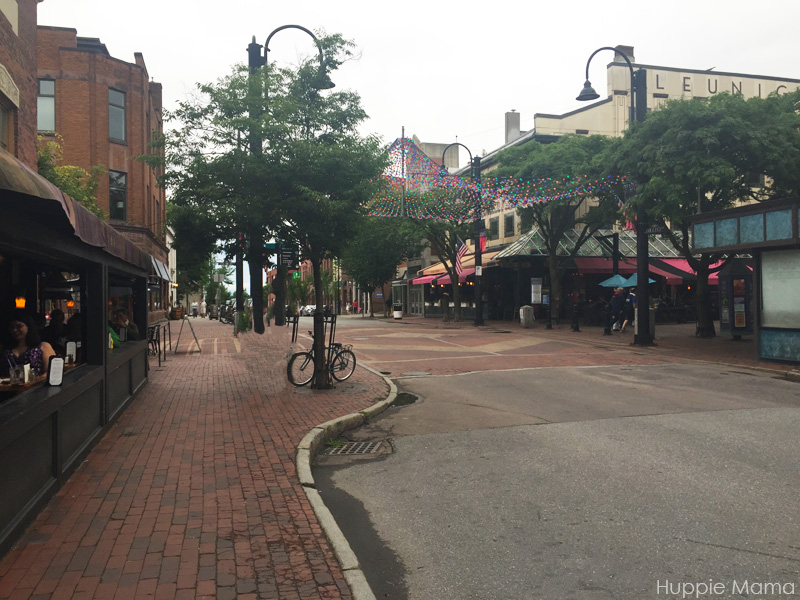 If you've never been to Vermont, it's very mountainous, and even during the summertime, it is quite cool outside. Here's a view from above in the mountains and a selfie we took a few hours earlier in the day. We only spent about 24 hours in Vermont, but it's certainly a place I'd like to visit again one day.