We got a food dehydrator about a month ago, and I have been experimenting with simple recipes like sweet potato chips, dried strawberries, and fruit leather. I decided I was ready to try raw granola! I found this recipe for Vanilla Bean Raw-Granola on Pinterest and tried it. Here are my step-by-step directions to make a variation of this yummy granola (with a few suggestions after).
Raw Dehydrator Vanilla-Cinnamon Granola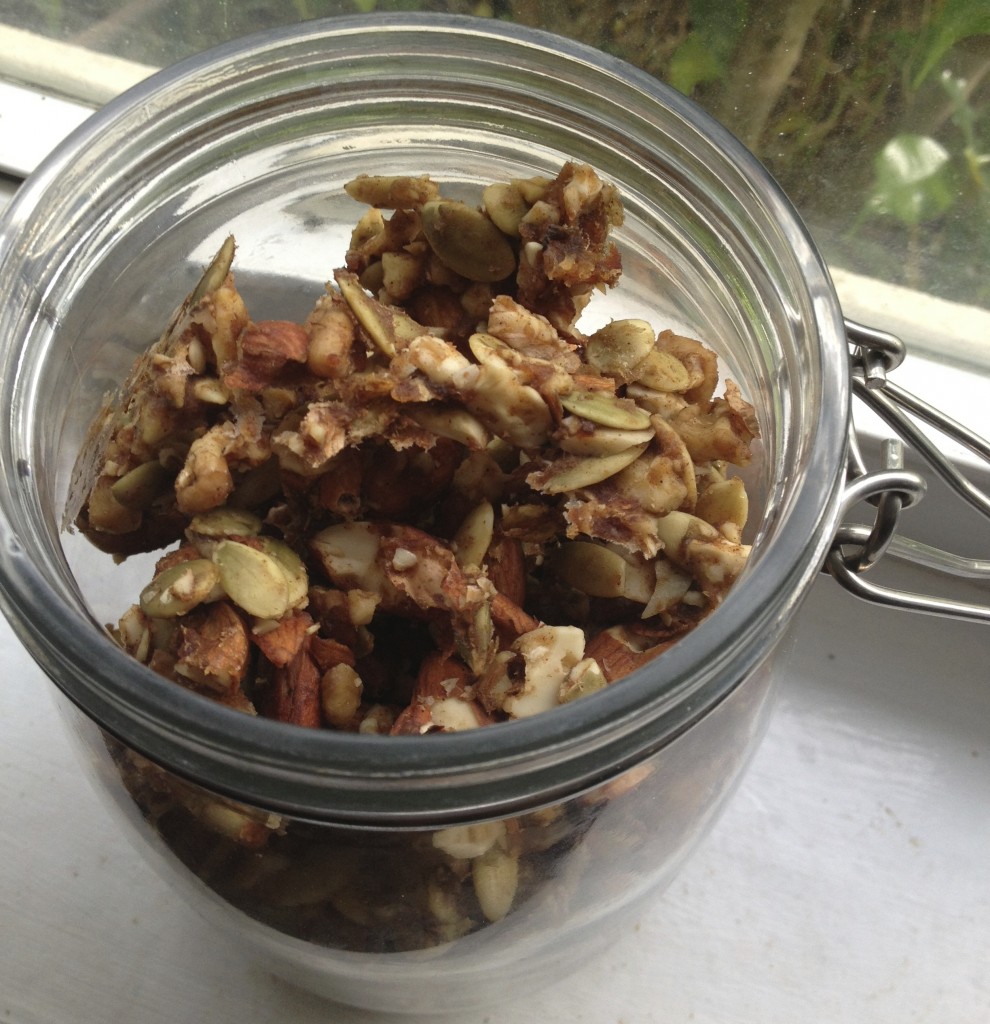 Ingredients:
2 cups raw almonds (soaked)
1 cup raw walnuts (soaked)
1 cup pumpkin seeds (soaked)
1 tsp vanilla extract
3/4 tsp cinnamon
6 pitted organic dates
1/4 cup water
2 T raw honey
Directions:
Begin by soaking your nuts and seeds. I soaked my walnuts and almonds for 6 hours and my pumpkin seeds for 2 hours. Just place each in a separate bowl, and add enough filtered water to cover them. I usually stick the bowls in my microwave to rest. Begin this recipe first thing in the morning, and you will be ready to prepare your granola in the afternoon.
About 15 minutes before starting the granola, soak your dried dates in filtered water to rehydrate them. Here is what the nuts, seeds, and dates will look like.
Now you are ready to prepare your granola. Here are all the ingredients you will need.
Begin by pureeing your rehydrated dates, vanilla extract, honey, and cinnamon in a food processor or blender until you form a paste. It will look like this.
Using a food processor, coarsely chop your nuts and seeds. I think I did this for just a second or two.
Combine your the nuts/seeds with the date paste. Spread this mixture onto a tray in your dehydrator. This is a great job for a little helper! 
I dehydrated this granola for about 20 hours at 115 degrees. You will know it is ready when it's crunchy and only slightly chewy. (Some of the granola is missing because I had to taste it along the way to see if it was ready.)
When the granola is ready, place it in a lidded jar — If you don't eat it all immediately!
When I make this again, I think I will add a 1/2 cup of unsweetened coconut flakes and perhaps some dried fruit, like chopped pineapple, raisins, or cranberries. I would also toss some dark chocolate chunks in with the jar after the granola has been dehydrated.
It's a delicious treat with a bowl of yogurt and some fresh berries!