I acquired some sourdough starter from a friend, probably about a month ago. Since then, I feel like a chemist, creating all kinds of interesting recipes in my kitchen using sourdough. Some have been just okay…some have been absolutely delicious! This recipe has been my favorite, hands-down. I joked with my husband about how the recipe was "written in British" as opposed to "American" (in other words, the metric system was used). So here is the recipe I found for Sourdough Pretzels, converted into our illogical system of measurements, with a few adjustments based on what I learned making these twice. These are best served straight out of the oven, warm and chewy.
Sourdough Pretzels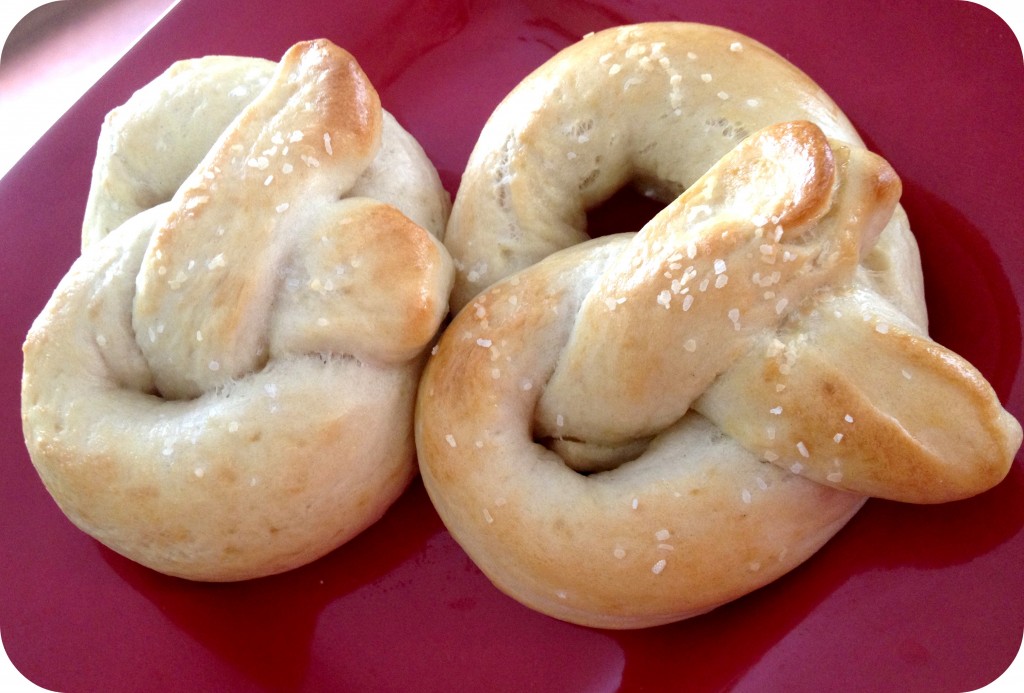 Pretzel Ingredients:
7 oz sourdough starter
1 cup warm water
3 cups white bread flour
1 T sugar
2 t salt
3 T + 1 t unsalted butter
Pre-baking Liquid:
Large pot of water
1 T baking soda
Glaze:
1 egg yolk
Coarse sea salt
Directions:
Combine the water, sugar, flour, sourdough starter and salt in a large bowl. Melt the butter and drizzle this over the top. Using a stand mixer fitted with a dough hook, knead for about 6 to 8 minutes on medium speed. If you notice the dough appears very tacky, add flour (a tablespoon at a time) until it is a better texture/consistency.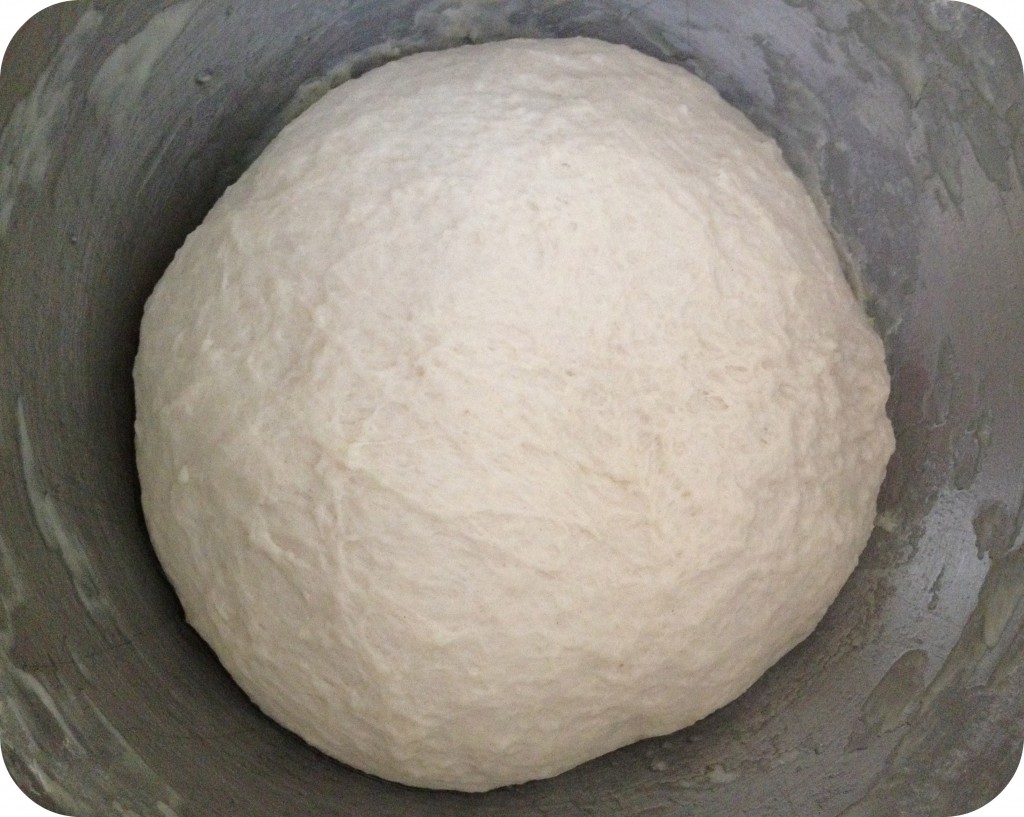 Lightly oil a large bowl and place the dough inside. Cover with a warm, damp cloth and leave to rise in a warm place until doubled in size, about 1.5 hours. I place mine in the microwave or on top of the stove.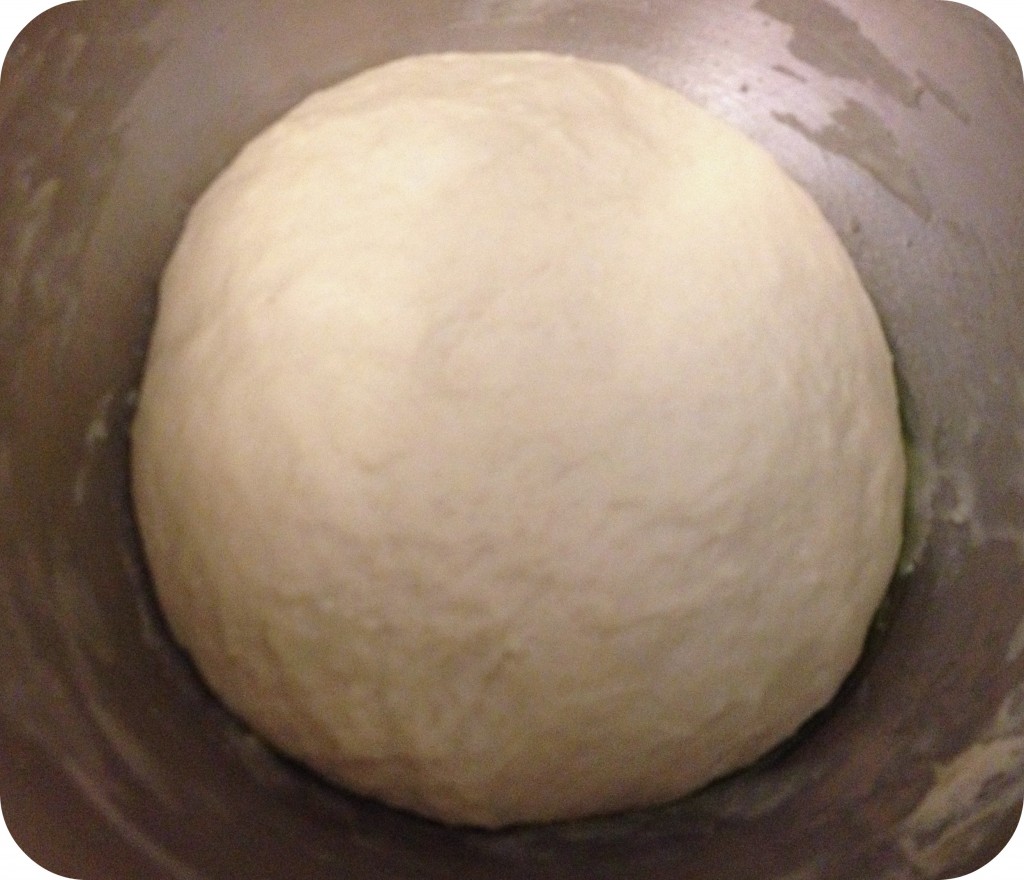 Preheat the oven to 450 degrees F. Line a cookie sheet with a silicone mat or parchment paper and set aside. Bring the water and baking soda to a boil in a large pot.Meanwhile, turn the dough out onto a slightly floured work surface.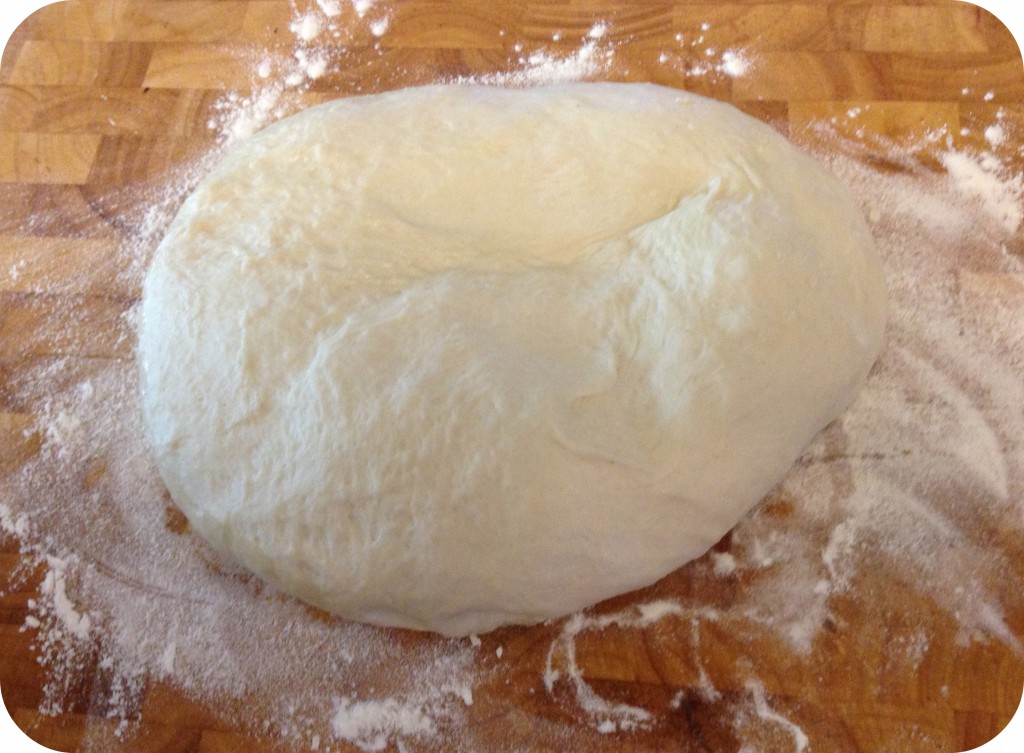 Divide into 8 equal pieces.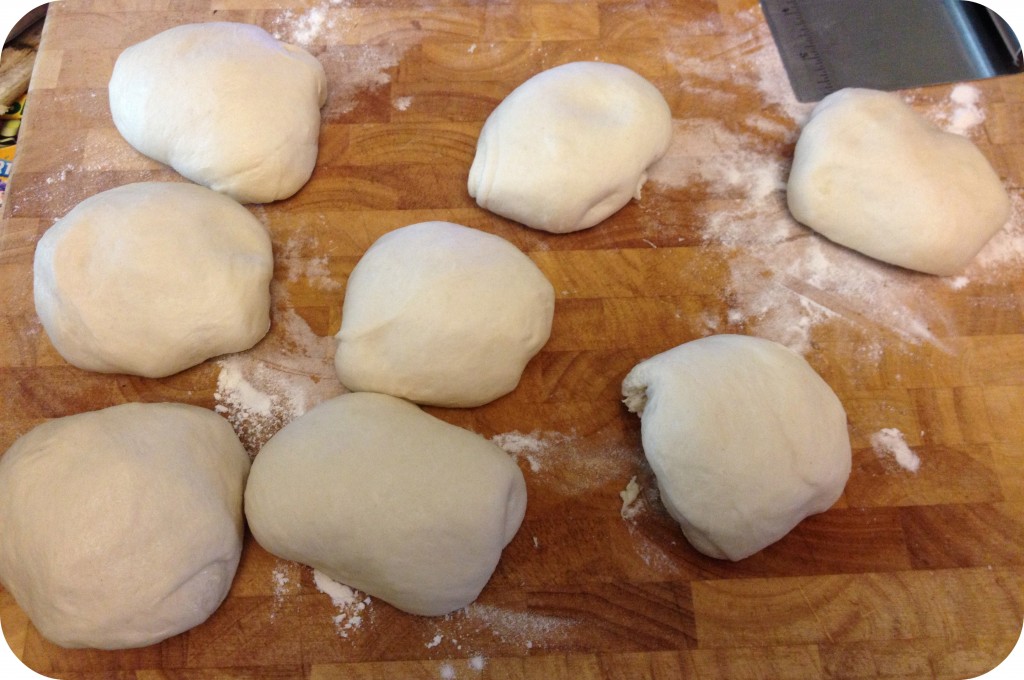 Roll out each piece of dough into a long rope and twist to form a pretzel shape.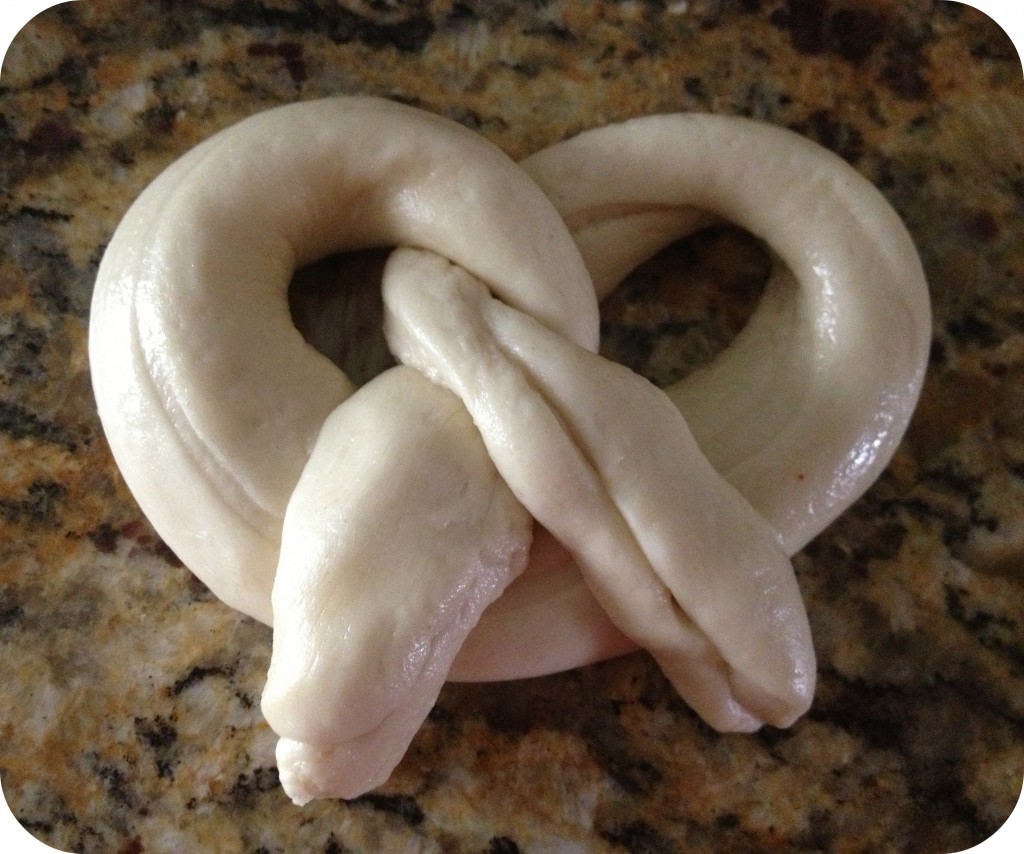 Place each one on the baking tray while you shape them all.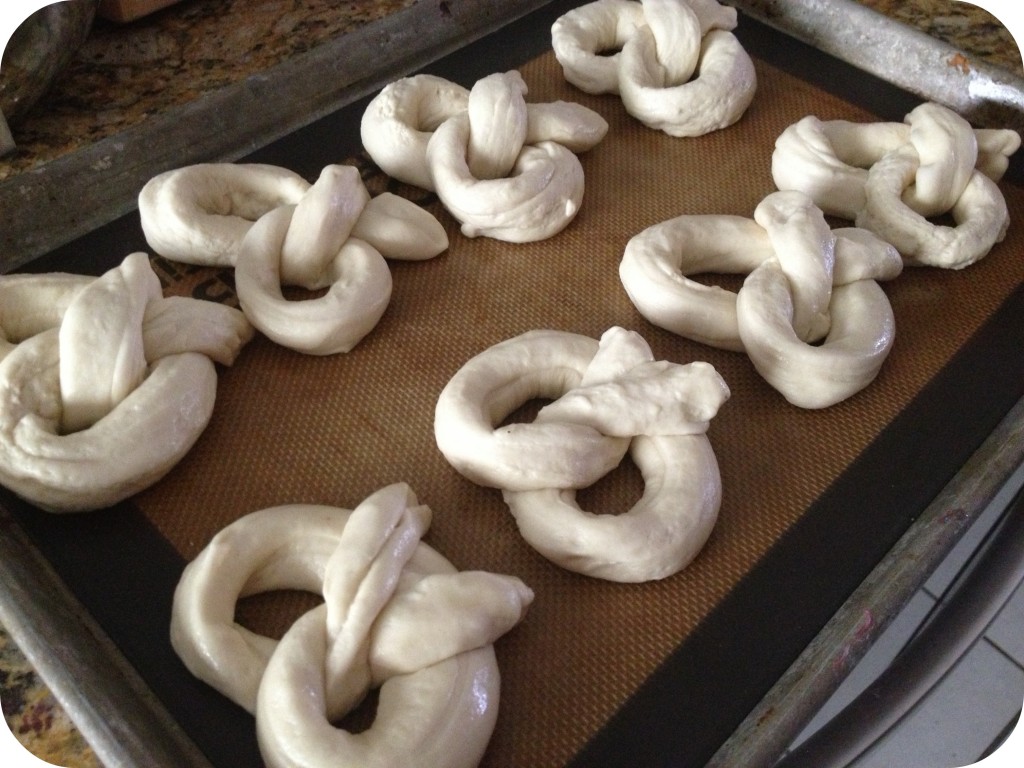 Lift each pretzel and place it gently, but quickly, into the pan of gently boiling water. Only do one at a time. It will sink to the bottom of the pan, but after 30 seconds, it should rise up and float to the top. If not, gently tap it with a fork to unstick it from the bottom.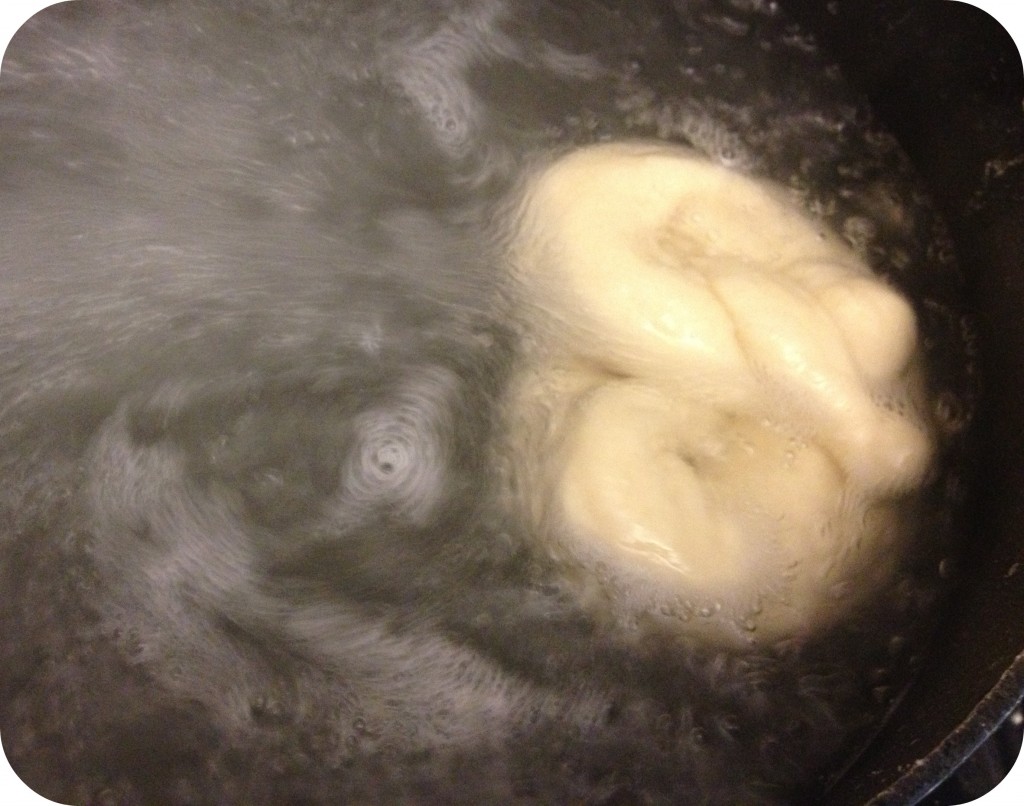 Lift out using a large spatula and repeat with the rest of the pretzels. (This is what makes them lovely and chewy. They should be a little firmer and slightly glossy in appearance). Beat the egg yolk and brush over the tops of each pretzel. Sprinkle with a little sea salt.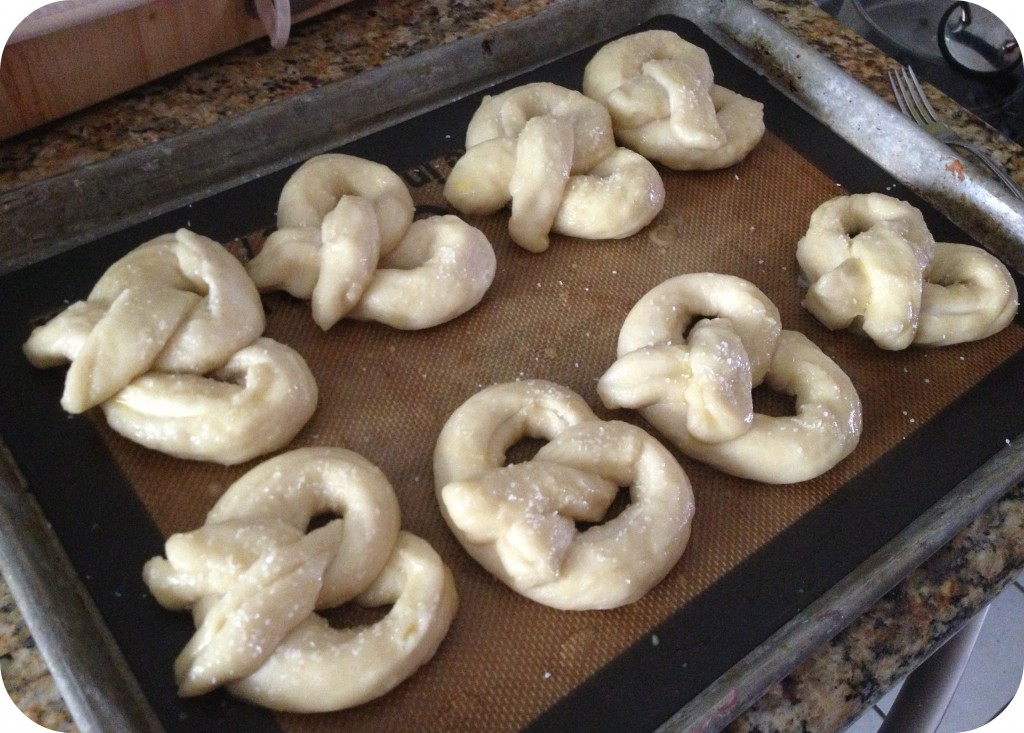 Bake for 18 – 20 minutes until they begin to brown. Wait for them to cool (if you can – it's not easy) and enjoy!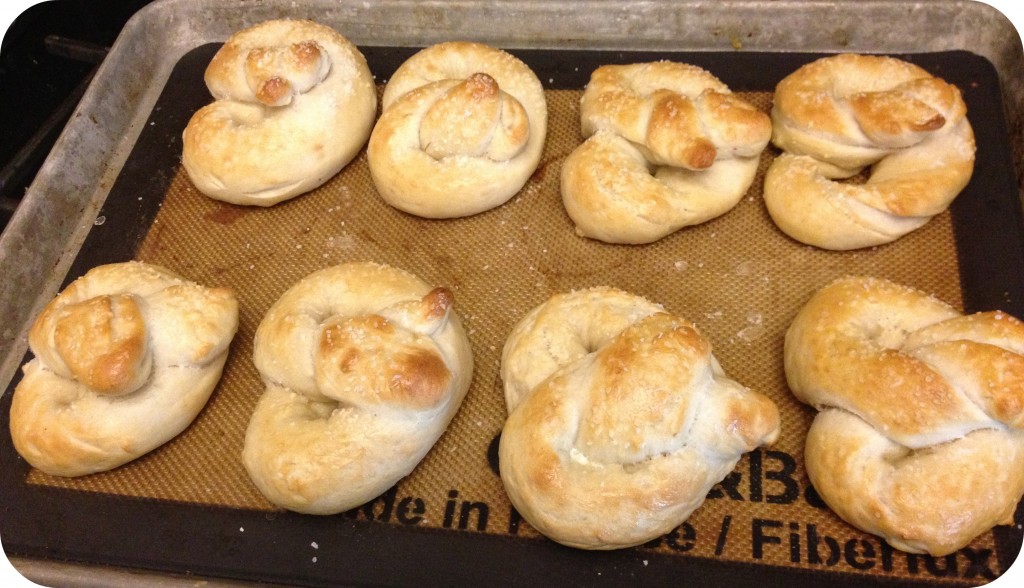 Makes 8 large chewy pretzels.