We received these products for free from Lakeshore Learning. The opinions expressed are honest. 
When Lydia was just 8 months old, my friend Bonnie gave birth to a son, Brandon. Brandon was Lydia's first friend. Usually when Brandon comes over, he plays with Bryce, but recently Lydia and Brandon had an unscheduled play date, and they had so much fun making puppets together. But first… a totally adorable throwback picture from October 2010. The cutest!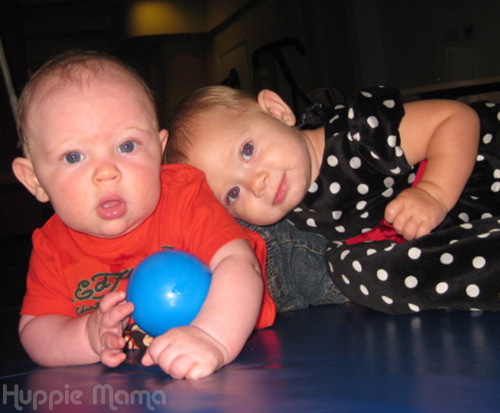 Back to the puppets. Lydia and Brandon each made a puppet using thePeople Shapes Project Kit from Lakeshore Learning. Each child started out with the People Shape of their choice. Brandon loves sports, so he made a football player. The Miami Dolphins is his favorite team. This kit comes with lots of different decorations, and we were able to find a sequin circle and dolphin to make a logo for the football player's jersey. Brandon loved it!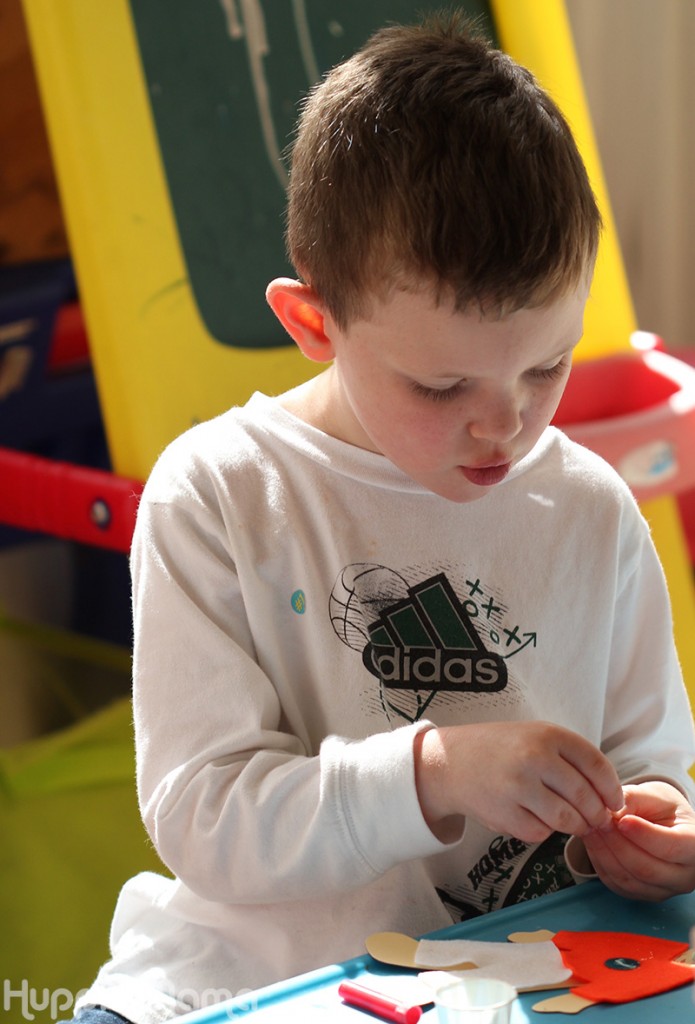 Lydia, of course, wanted to make a girl in a dress. I'm actually quite surprised she selected a light blue dress and not pink or purple. She tends to be very girly. The clothes are made of felt, which makes a nice textural contrast to the chipboard person.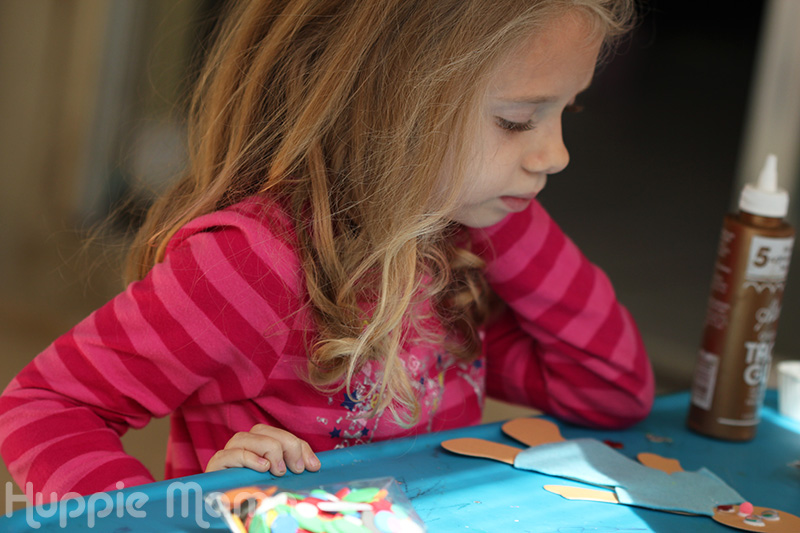 This kit contains tacky glue, wiggly eyes, buttons, pompoms, and so many other decorations to add all the details a child wants to his/her puppet. How cute are the sequin lips Lydia added to her puppet?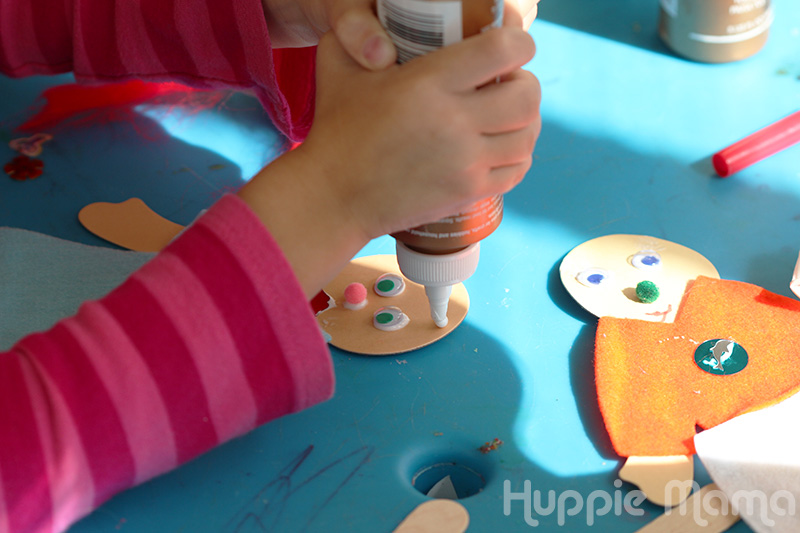 Lydia gave her girl red hair (wonder where she got that idea) and added button details to the puppet's dress. Her puppet was complete!
Brandon got really creative. He used the small cup that contained his wiggly eyes and nose to make a helmet for his football player. Such a great idea! Both children added sticks to their puppets.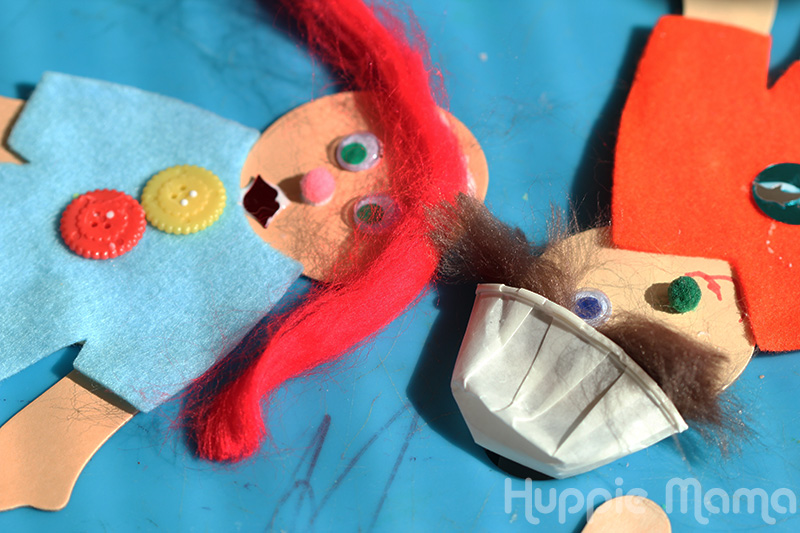 When they were done creating their puppets, Lydia and Brandon asked if they could have a puppet show. We found Lydia's tabletop puppet theater and wrote their names at the top in chalk. They came up with their own idea for a puppet show to entertain me and Bonnie.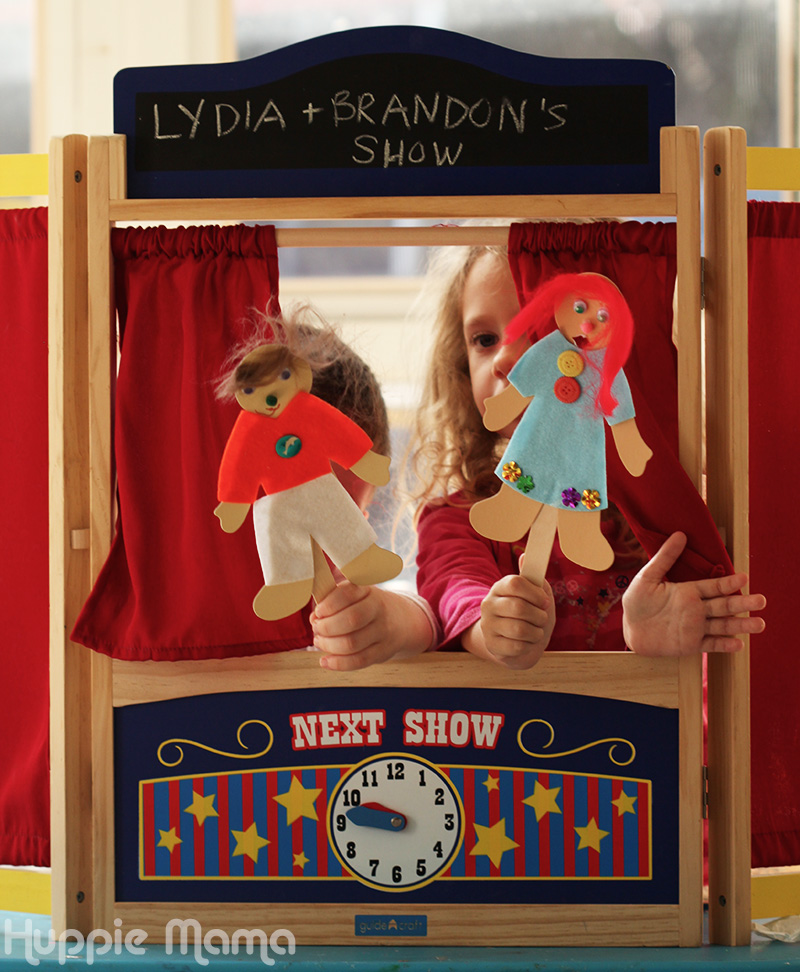 Our crafty puppet play date was a hit! The kids had so much fun playing together. Brandon enjoyed making puppets so much, he made some at home and at his school after. The People Shapes Project Kit comes with everything you see below, enough to make 24 people. This would be great for a PreK – 2nd grade classroom, a birthday party, or for craft play dates.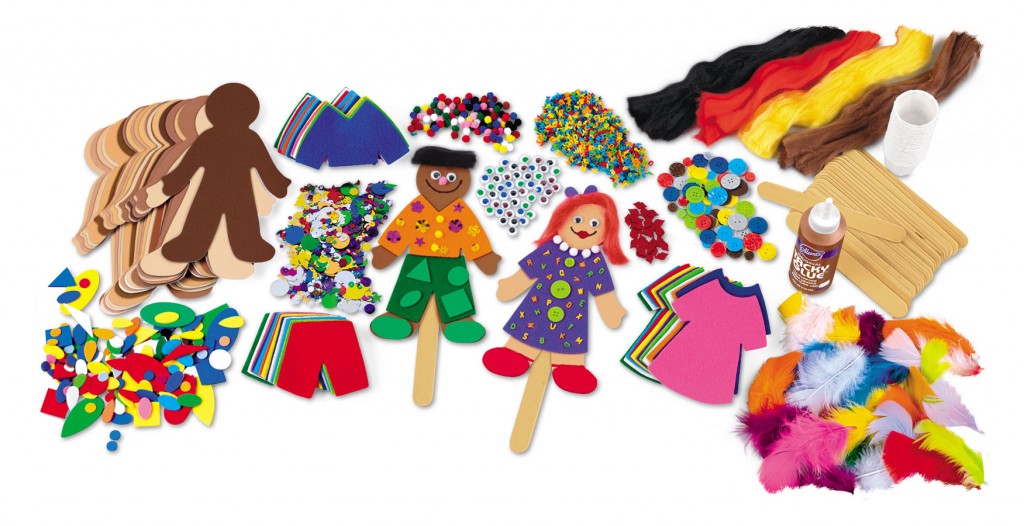 BUY IT! The People Shapes Project Kit is available at Lakeshore Learning for $29.99. Click here to receive 20% off your order (expires 3/31/15).