I have been getting beautiful organic pumpkins in my biweekly fruit & vegetable share, and since I was hosting a party with my children's friends, I decided to whip up a delicious pumpkin dessert. I roasted and pureed my own pumpkin, but I'm sure canned pumpkin would work, too (just get pumpkin puree, not pumpkin pie filling). This bar is extremely moist and fluffy, with a delicious creamy frosting.
Pumpkin Apple Bars with Maple Cream Cheese Frosting
adapted from Frosted Pumpkin Bars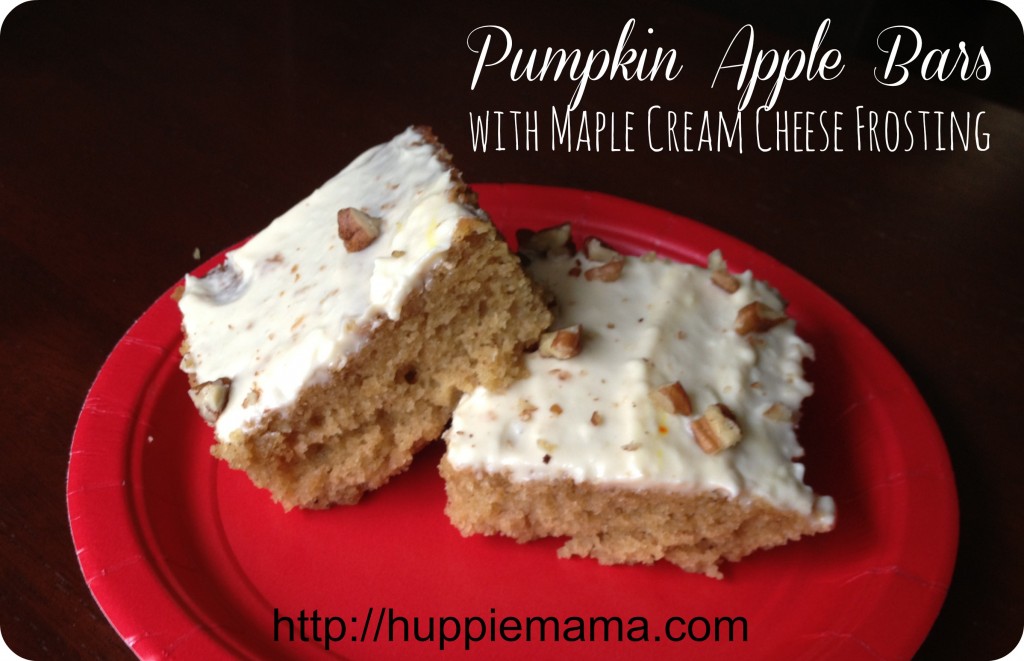 Pumpkin Apple Bar ingredients:
2 cups unbleached organic flour
2 cups organic sugar
1/2 cup pumpkin puree
1/2 cup applesauce
1 cup coconut oil
4 eggs
2 t baking powder
1 t baking soda
1 t ground cinnamon
1/2 t ground nutmeg
1/4 t ground cloves
1/2 t salt
Maple Cream Cheese Frosting
4 ounces cream cheese
maple syrup
1/2 cup chopped pecans (optional)
Directions: 
Preheat oven to 375. In a large bowl, combine dry ingredients (flour, baking soda, baking powder, cinnamon, nutmeg, cloves, and salt).
In a stand mixer fitted with a paddle, combine eggs, sugar, coconut oil, applesauce, and pumpkin puree until a consistent mixture forms.
Slowly add the dry ingredients to the wet ingredients until just combined.
Grease the bottom of a 13″ x 9″ pan with coconut oil. Pour the batter into the pan. Cook for about 30-35 minutes, until cake is cooked through.
To make the frosting, bring the cream cheese to room temperature and place in a stand mixer fitted with a paddle. Whip cream cheese until it is soft and fluffy. Slowly add maple syrup, one tablespoon at a time, until it reaches your desired sweetness. I added about 4 tablespoons.
Allow the bars to cool. Cover with the maple cream cheese frosting and sprinkle with chopped pecans.
Recipe makes 20 pumpkin apple bars.