This is a sponsored post written for Lakeshore Learning. The opinions expressed are my own.
Are we already mid-way through summer? This is quite hard to believe! So far this summer, we have been preparing Lydia for Kindergarten. What does this mean for my family? We've been having fun while working on all different types of readiness skills. We visited the beach to learn about sea creatures, the science center to learn about the moon and planets, a chocolate factory to learn how chocolate is made, and so much more! This post is part two of a three-part series titled "Preparing for Kindergarten" that addresses reading, math, and language. This morning, we played a math game that tied into this month's theme, starting school.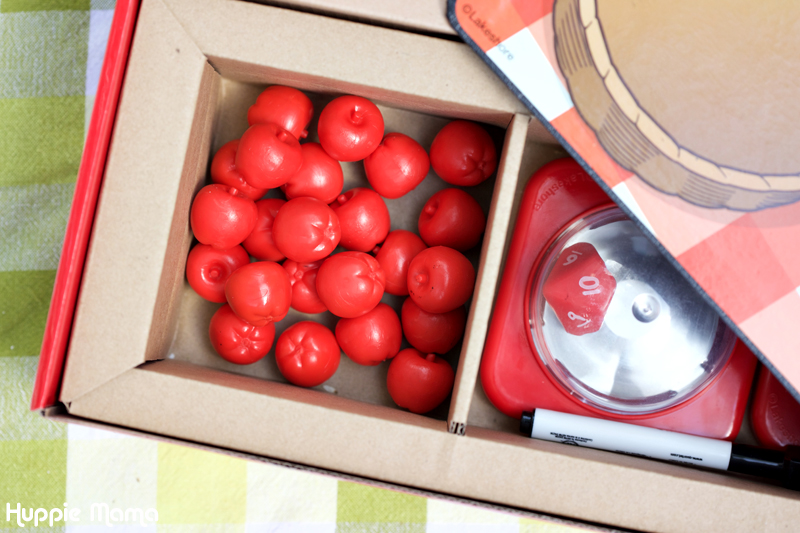 Learning the Rules: Lydia, Bryce, and I sat outside in the backyard on a picnic blanket together to play the game Pop and Add to 20. In this game, the children began by unfolding the game board and inserting two poppers. Each popper contains a 10-sided die. We set our apples in a small basket (not included). The apples serve as the counters in this game. The children then listened as I explained the rules of the game. It's so important for children entering Kindergarten to be able to follow multi-step directions given by an adult.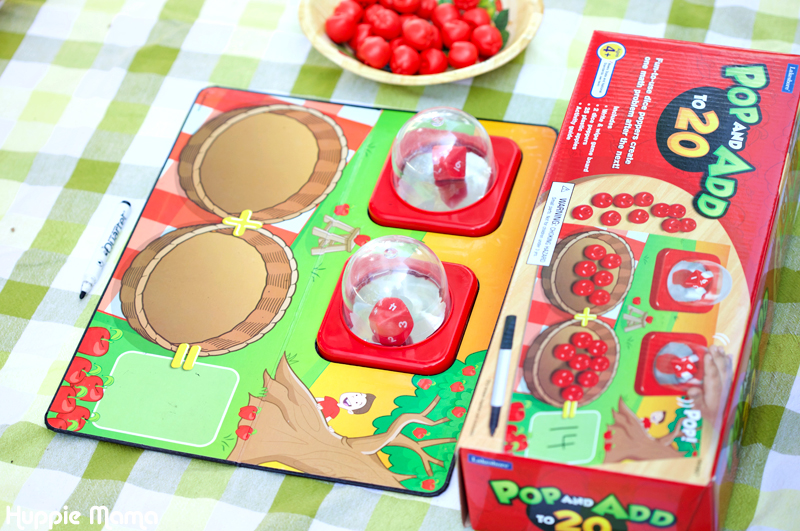 Social Skills: We like to play this game collaboratively, so each child gets to simultaneously push down a popper to roll the die. You can also play this game by taking turns so that each child gets to pop both dice in one turn. Beyond learning just the directions of the game, it is also important for Kindergarten children to learn to take turns and share.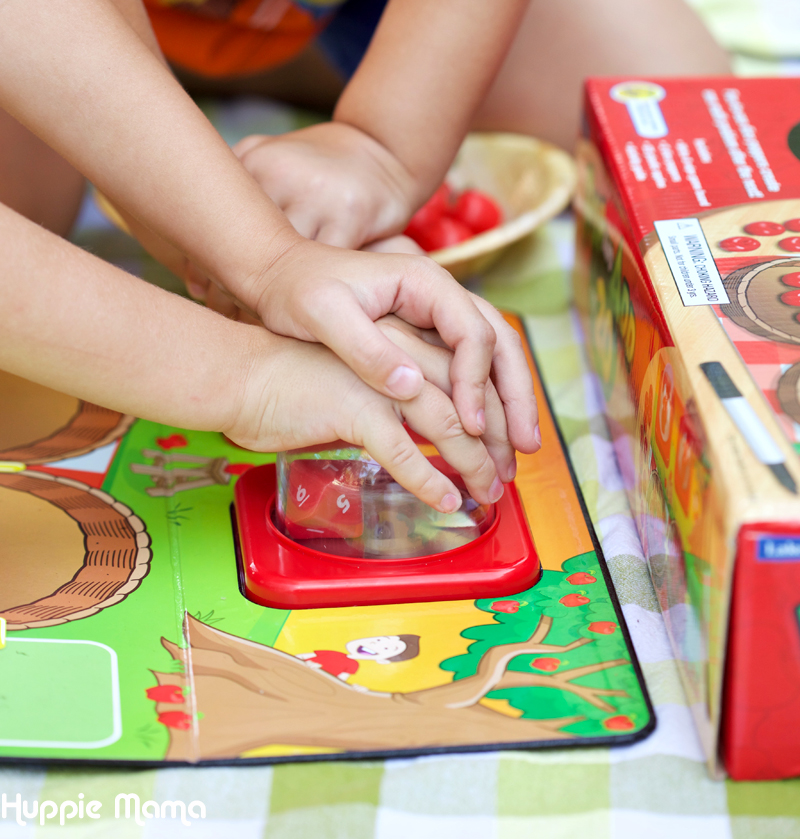 One-to-one Correspondence: Once the poppers have been popped, the children must place the corresponding number of apples in the basket below. Before young children are able to perform simple mathematical operations, they must first understand that the visual representation of a number, the way it is written, represents a set or quantity. For example, if a child pops the popper and it lands on a 7, he must know that the written number seven represents seven separate apples. This is known as one-to-one correspondence. Your child can demonstrated Kindergarten-ready math skills by counting to 20, recognizing numbers through 20, and understanding that the written and spoken forms of a number represent a particular quantity.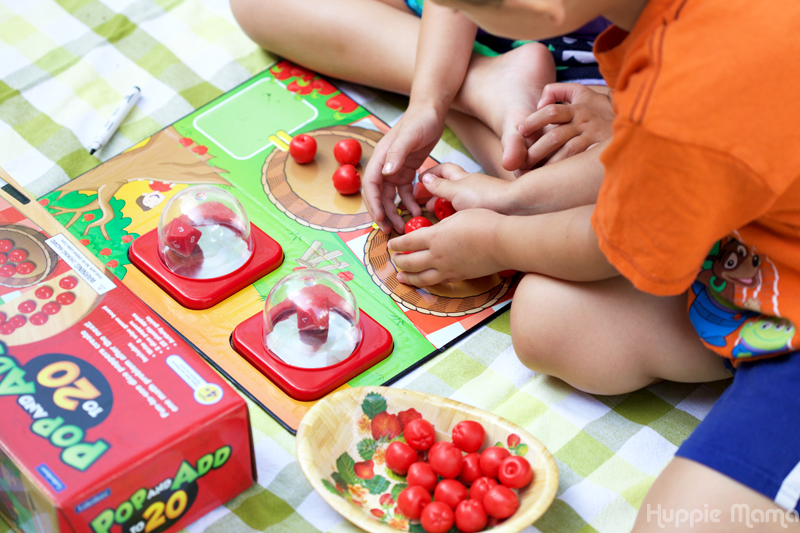 Adding using Manipulatives: Before children are able to solve basic operations using rote memory, they must find a method that works well for them. In Pop and Add to 20, children can count the apples they have placed in the basket drawings to add the two quantities. These apples are great manipulative because they are small and brightly-colored.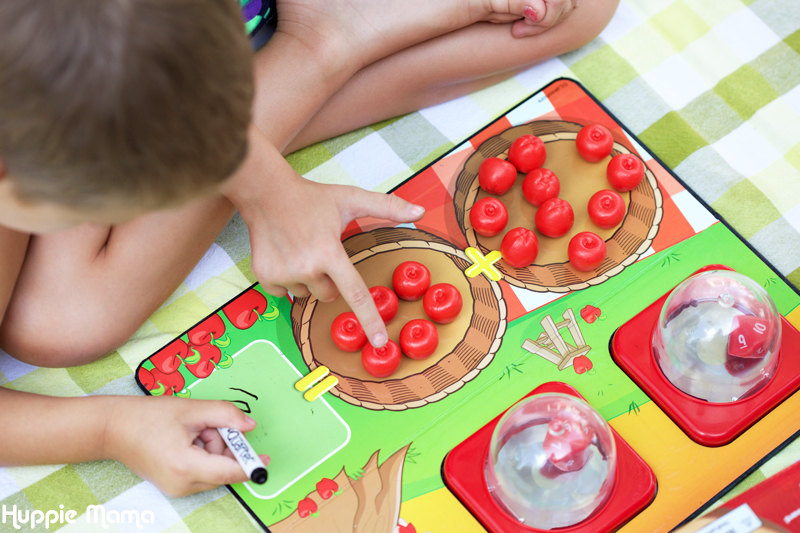 Writing Numbers: In order to indicate that a child has correctly solved a math problem, he must be able to write his numbers. In this game, children use a dry erase marker to write the number in the white box to the right of the two baskets. I love how this game emphasizes working from top-to-bottom, left-to-right. This prepares young children for the activities they will perform in school.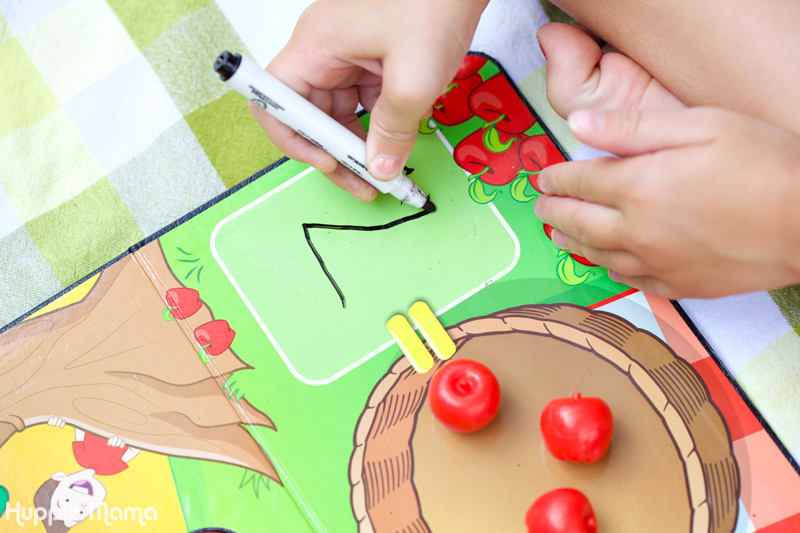 We received this game at the beginning of the summer, and both children have asked to play it multiple times. They enjoy manipulating all of the materials – the poppers, small red apples, and dry erase marker – to add different quantities. It's a fun way to work on an important Kindergarten skill.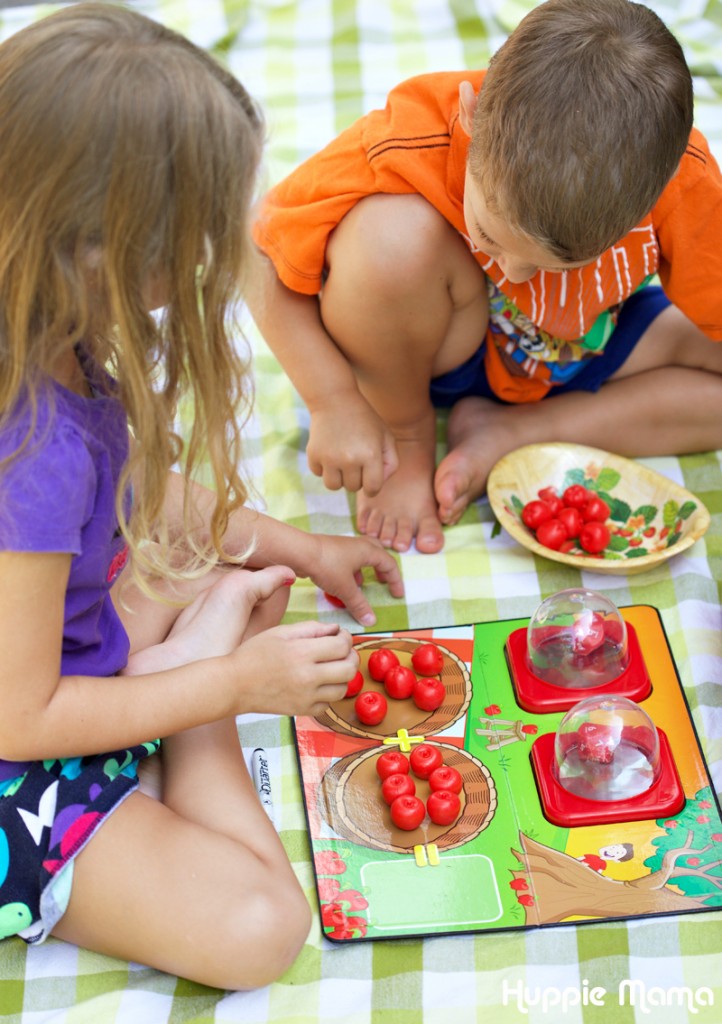 Looking for related activities? Check out these posts:
BUY IT! If you would like to shop for this Kindergarten math game and many others, get your 20% off coupon code to save on your next purchase at Lakeshore Learning.
WIN IT! Enter below to win a $50 Lakeshore Learning gift card.