This #FreshOnTheGo shop has been compensated by Collective Bias, Inc. and its advertiser. All opinions are mine alone. #CollectiveBias
Since my husband is a teacher, he has time off during the summer to spend with us as a family. But what does this mean for me? Time to increase the workload! I'm trying not to over-do it since this is our time to visit museums, go to waterparks, spend time at the beach, and go shopping for back-to-school clothes. To find that perfect balance between work and family fun, I have to take a few shortcuts. That's how I found these Ready Pac Bistro Salads. With ten varieties available, I can purchase a different salad for every day of the week. Yesterday, I tried the Organic Cranberry Walnut, which has mixed greens, walnuts, almonds, feta, and dried cranberries. It's served with a tangy raspberry vinaigrette. How awesome is it that all of the ingredients in the salad are organic AND that it even comes with its own fork?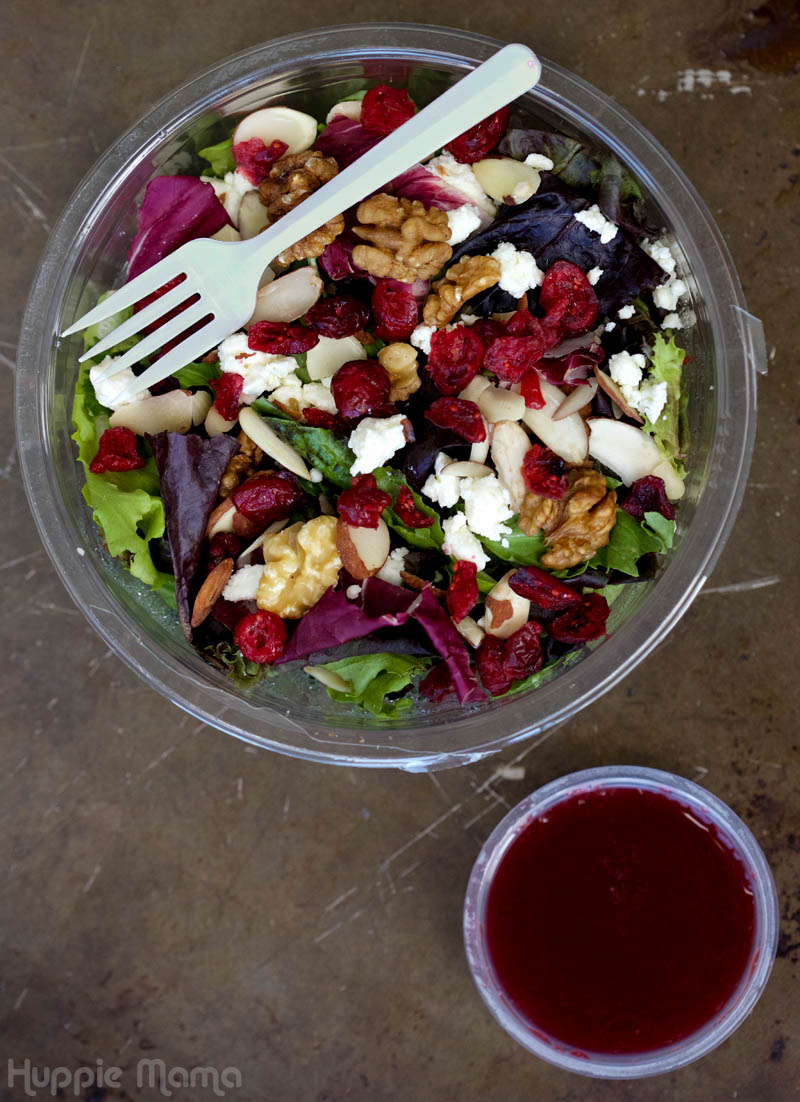 If you didn't already know, I live in South Florida, where around mid-day, it reaches an average of close to 100 degrees. To compliment the fruit flavors in the Organic Cranberry Walnut salad, I decided to make refreshing fruit sherbet in two different flavors: peach and raspberry.  These frozen treats are low-calorie and take just minutes to make.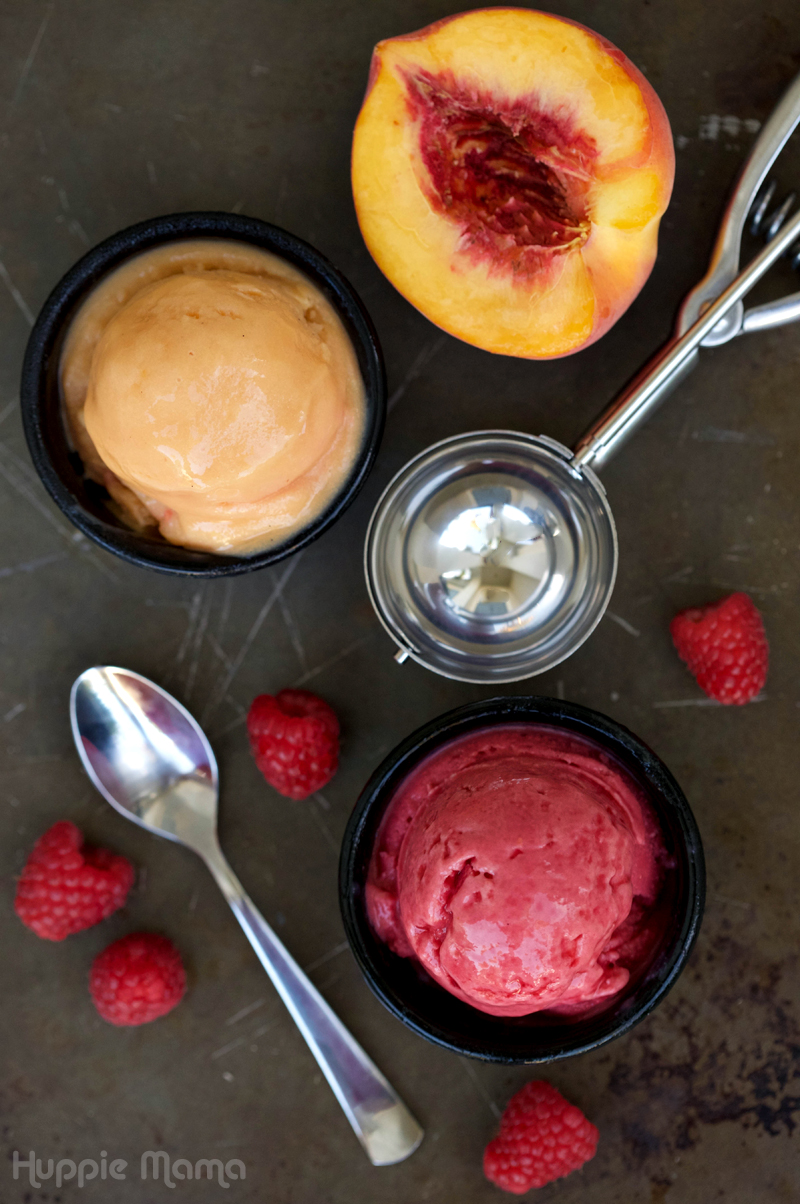 Ingredients for raspberry sherbet:
1 pound of fresh raspberries
2 T low-fat vanilla Greek yogurt
2 T honey
Ingredients for peach sherbet:
1 pound of peaches, peeled + pits removed
2 T low-fat vanilla Greek Yogurt
1 T honey
1/2 t lemon juice
Directions:
First, you need to decide what type of sherbet to make… or, like me, you can make both! Raspberries are my absolute favorite fruit and my husband and daughter love peaches. Both are in season right now, so it's the perfect way to celebrate fresh summer fruits. I added a little lemon juice to the peaches to balance out the sweetness and extra honey to the raspberries to balance out the tartness.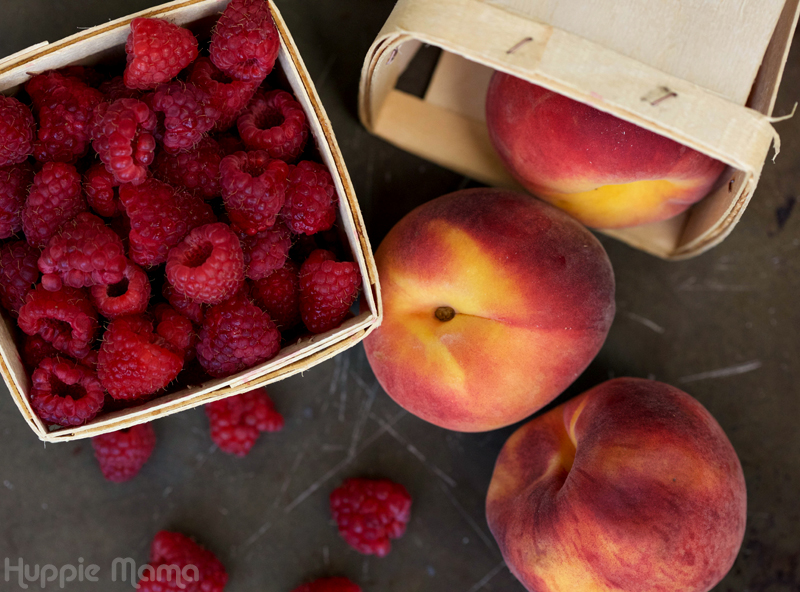 After selecting your fruit, add all of the ingredients to a high-speed blender and puree. I pushed the puree through a fine-mesh sieve to get out any little bits of skin or seeds. Generally sherbet is made with milk or cream, but this lighter version is made with Greek yogurt to keep the calories down but still add that creaminess. Rather than using sugar, I am sweetening the sherbet with honey.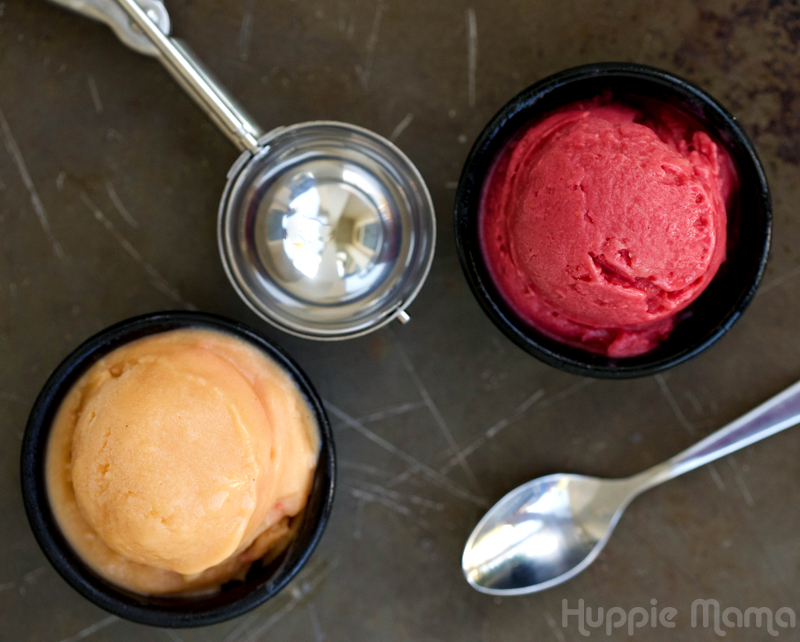 This sherbet is made in an ice cream maker. My ice cream maker requires me to freeze the insert for at least 24 hours, so I had to plan this recipe out in advance. Be sure to follow the manufacturer's directions to churn the sherbet in your ice cream maker. When the sherbet is the consistency of soft-serve ice cream, transfer it to a container to place in the freezer. Freeze for 1 – 2 hours, until you are able to scoop it easily with an ice cream scoop. If it freezes over night, it will get very firm, so you will have to leave it on the counter for a little bit to thaw.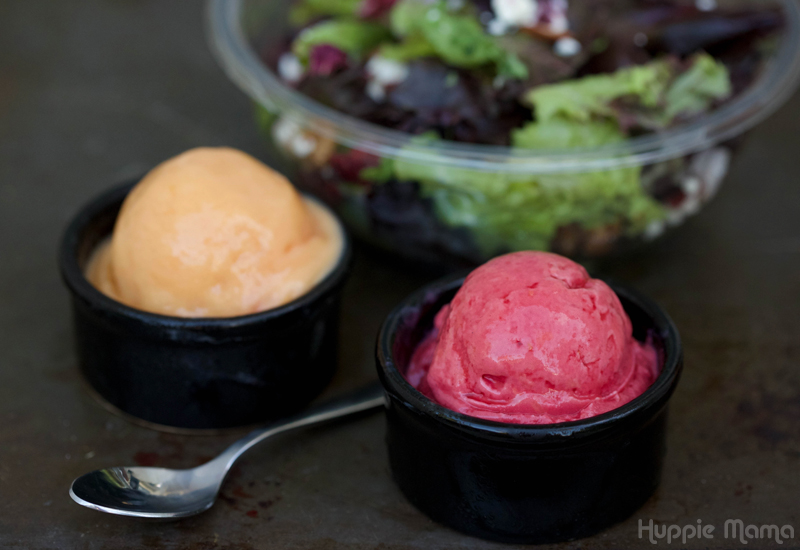 Since I made peach and raspberry sherbet, I am able to serve both flavors side-by-side for a light summer dessert. This pairs perfectly with the fruity flavors in Organic Cranberry Walnut salad. Ready Pac Bistro Bowls can be purchased in 2-pack and 4-pack packages at your local Costco store.
What delicious dish would you pair with a Ready Pack Bistro Bowl?