I have been baking like a crazy woman (that's what you're supposed to do around the holidays, right??) I've done espresso brownies, peppermint brownies, chocolate gingerbread cake, breads, soft pretzels, and what feels like a thousand other things. I wanted to create something different this morning, so I modified my M&Ms Blondies recipe to make Peanut Butter & Milk Chocolate Blondies for a New Years Eve party. Here goes!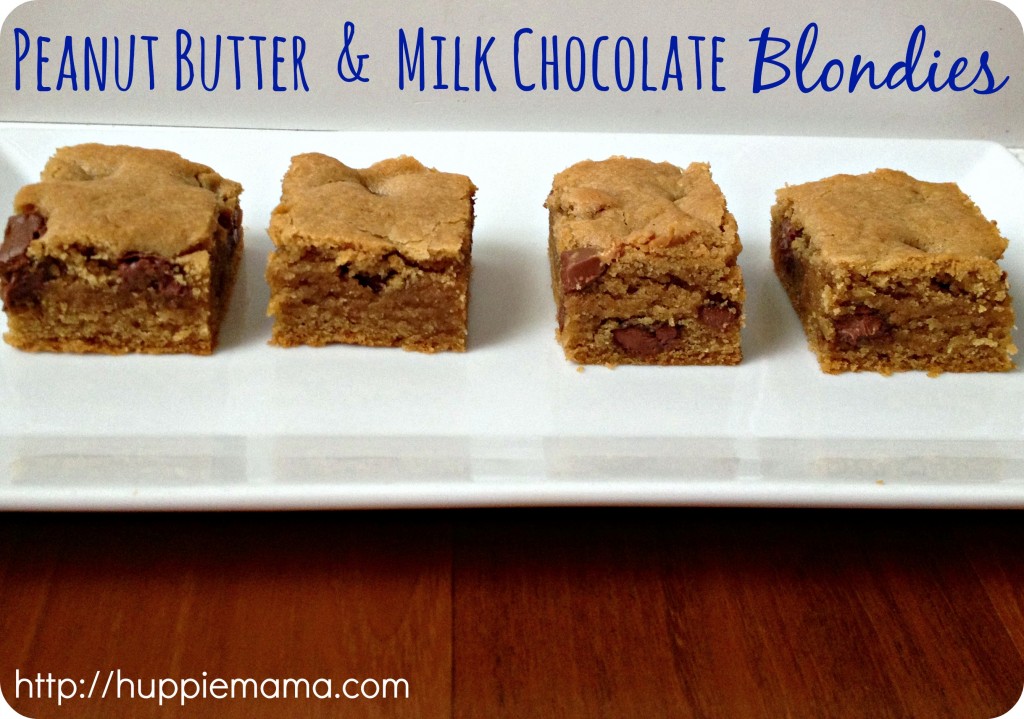 Ingredients:
2 cups flour
2 eggs
1 cup brown sugar
1/2 cup sugar
1/2 cup butter (melted)
1/3 cup organic peanut butter
1 1/2 t baking powder
1/2 t baking soda
1/4 t salt
3/4 cup milk chocolate chips
Directions:
Preheat oven to 375 degrees. In a stand mixer fitted with a paddle, combine sugar, brown sugar, and melted butter.
Add peanut butter and two eggs.
In a separate bowl, combine flour, baking powder, and baking soda.
Slowly add the dry ingredients to the wet ingredients just until combined. Stir in milk chocolate chips.
Pour the mixture into an 8″ x 8″ pan lined with parchment paper. Bake 30 – 35 minutes until edges turn a golden brown. Allow to cook completely before cutting.