This #Back2SchoolReady shop has been compensated by Collective Bias, Inc. and its advertiser. All opinions are mine alone. #CollectiveBias 
I am still trying to absorb the idea that in just a month, my daughter will be in Kindergarten and my son will be starting Preschool two days a week. For the past 6 years, my children have been home with me every day (with the exception of my daughter going to PreK for 3 hours a day). We go on play dates, attend a local art class, take dance lessons, and learn together at home. The end of some of this extra time together is so bittersweet. I am so happy to have children who are prepared for school because of all the experiences we have shared at home, but it's sad to think our days of me being their primary educator are coming to an end.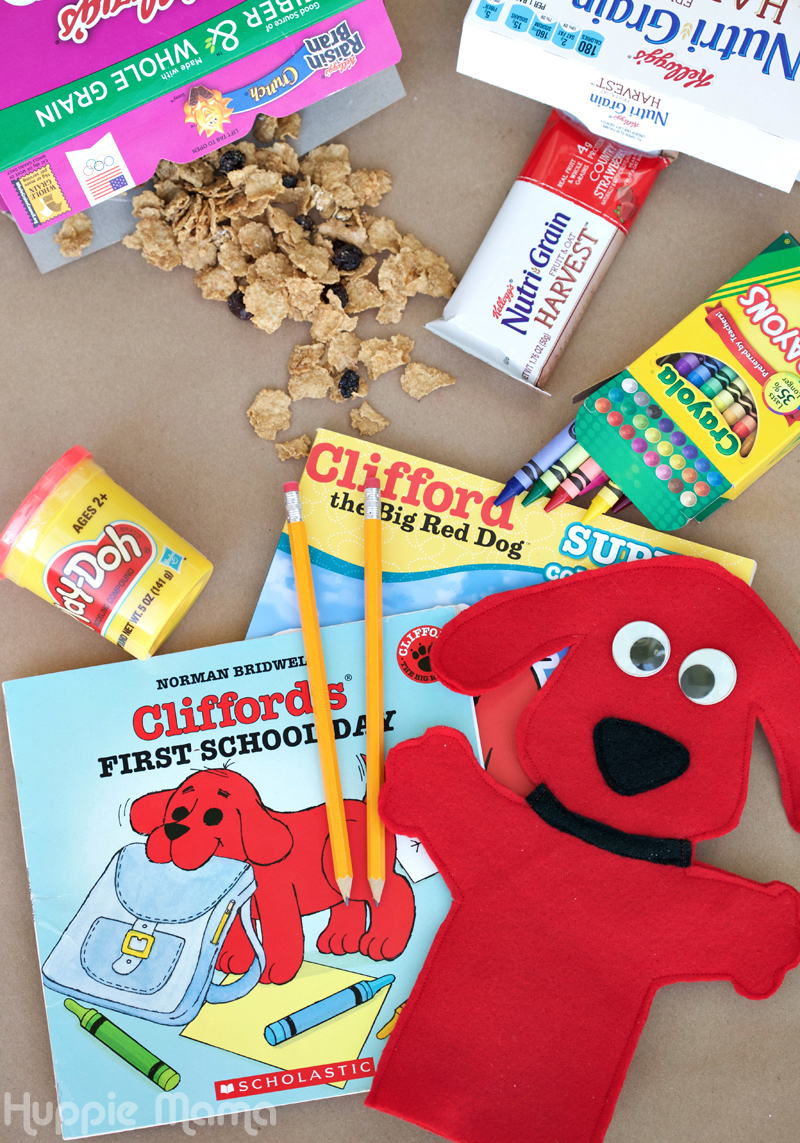 However, as a former educator and private tutor, it is so important that my children not only learn at school, but also continue to learn at home. And sometimes, the best way to learn, is to do so without realizing you are learning at all. You know those times you're kids come to you and say "I'm bored!" or when you're out in public and they are super-restless? That's what these Literacy Busy Bags are for! Each bag contains a central theme with activities to compliment the theme. Here's our Clifford the Big Red Dog Literacy Busy Bag. I will begin by sharing my Clifford Puppet Tutorial.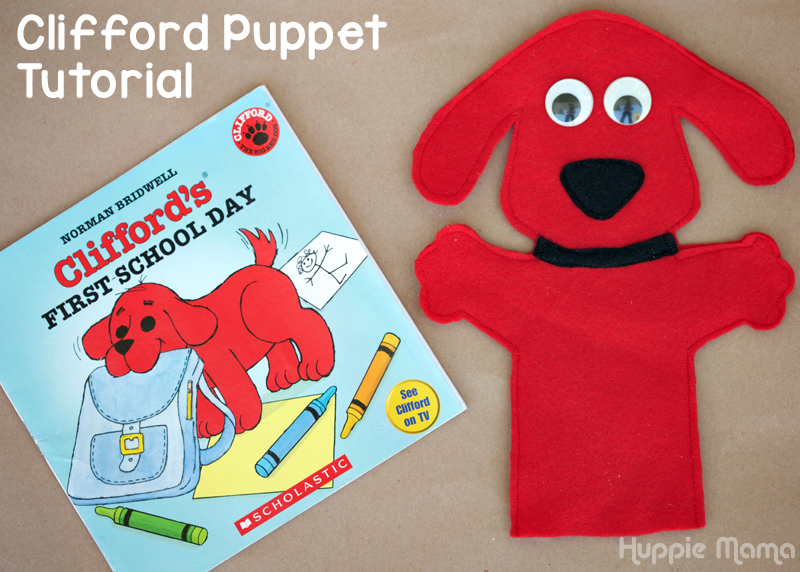 Materials:
2 pieces of red felt
1 piece of black felt
Black thread
Red thread
Wiggly eyes with loop back (for sewing)
Needle
Scissors
Black embroidery thread
Sewing machine (optional)
Directions:
Begin by gathering your materials. I was so excited to find that I had everything I needed at home already. (I tend to hoard arts and craft supplies.) This project can be completed either with a sewing machine or by hand. I used my sewing machine, and it took just minutes to complete.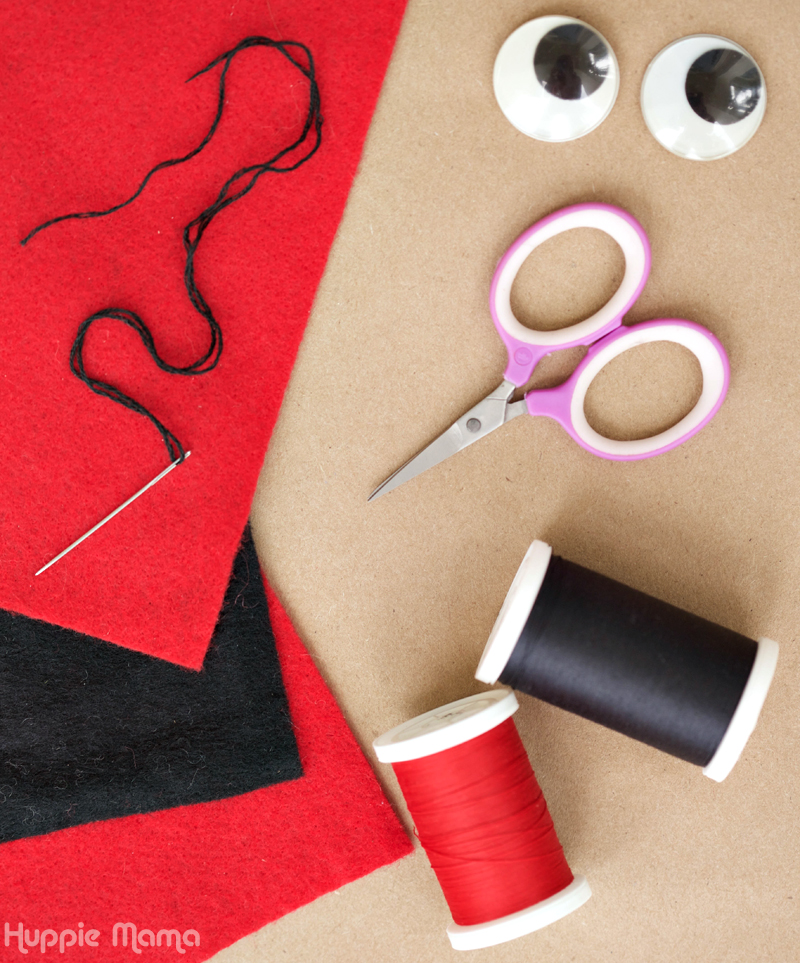 Next, print the Clifford Puppet Pattern and cut it out. Pin the main portion of the puppet to your red felt. I actually placed one piece of felt on top of the other and pinned the pattern over the top. Cut carefully to be sure the two sides match perfectly. Cut the nose and collar from black felt.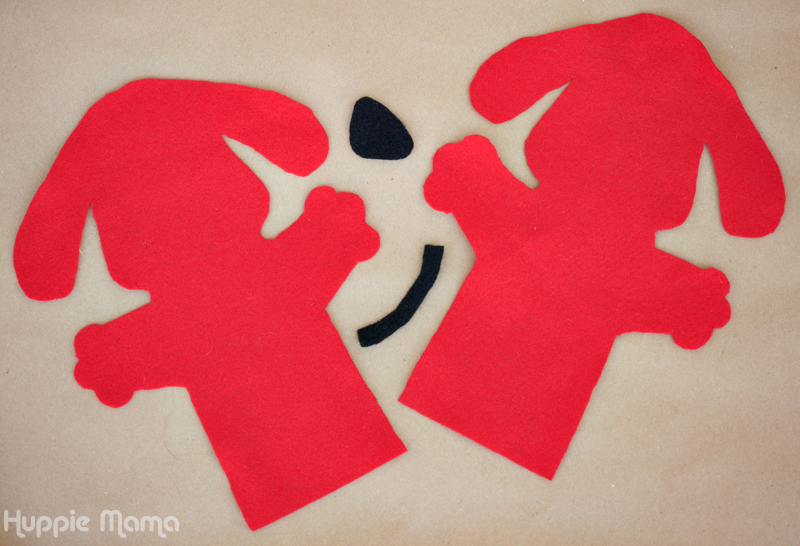 To make the face, I hand-sewed the eyes to one side of the puppet using the embroidery floss. Then I used my sewing machine to sew the collar around the neck portion and the nose to the face.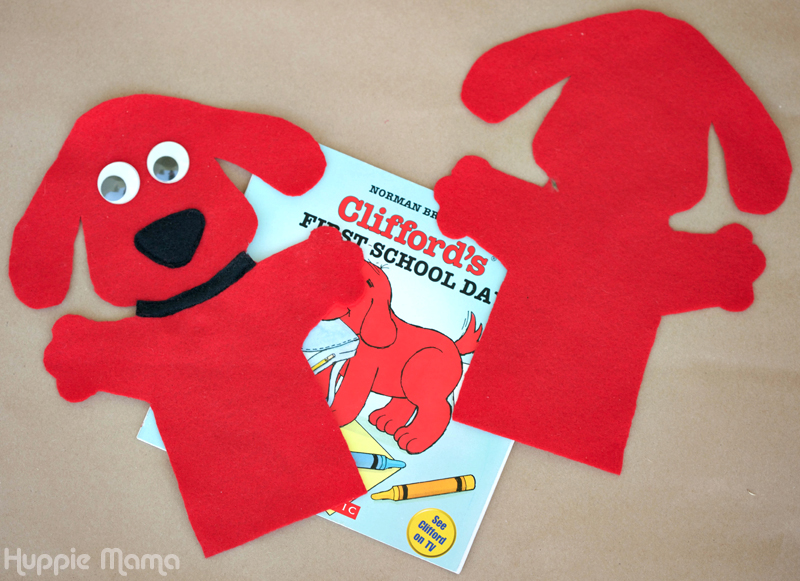 To complete the puppet, simply pin the front to the back and sew along the edges (be sure to leave the bottom open). This makes the perfect kid-sized Clifford Hand Puppet.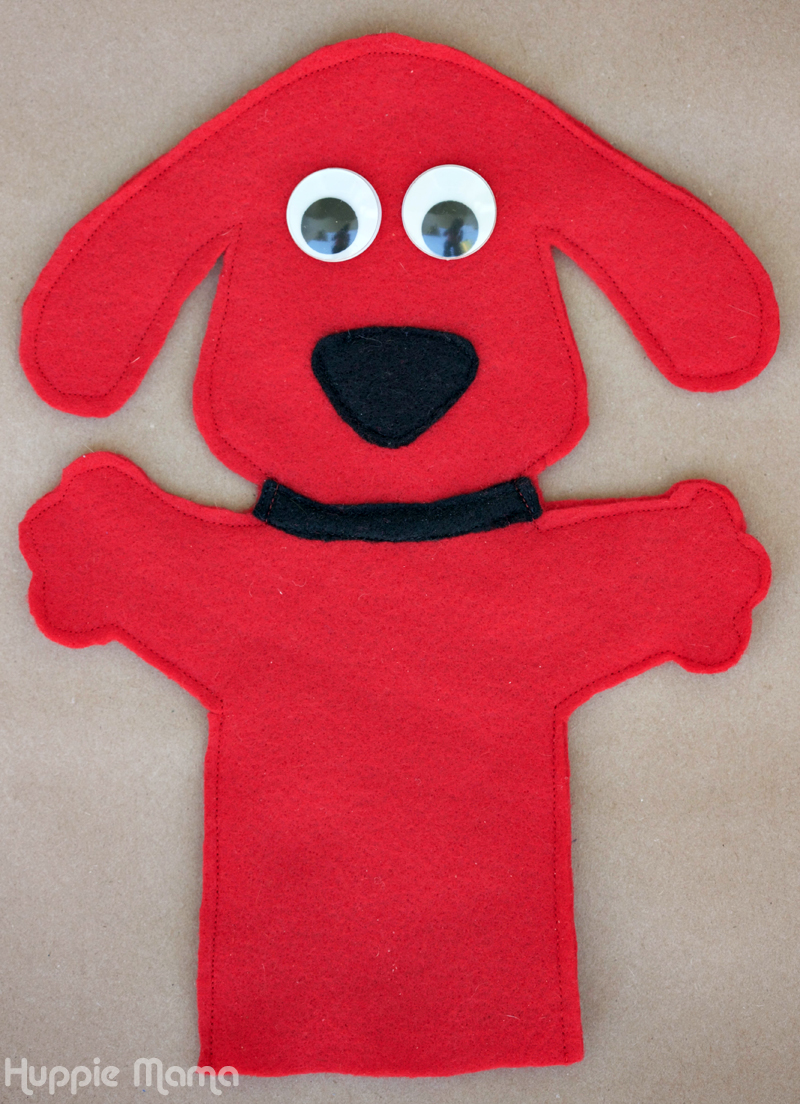 Now that your puppet is ready, you can create your Clifford Literacy Busy Bag. I included a Clifford the Big Red Dog coloring and activity book, Clifford storybook, Clifford puppet, pencil pouch with markers, a container of red Play-Doh, crayons, and two snacks.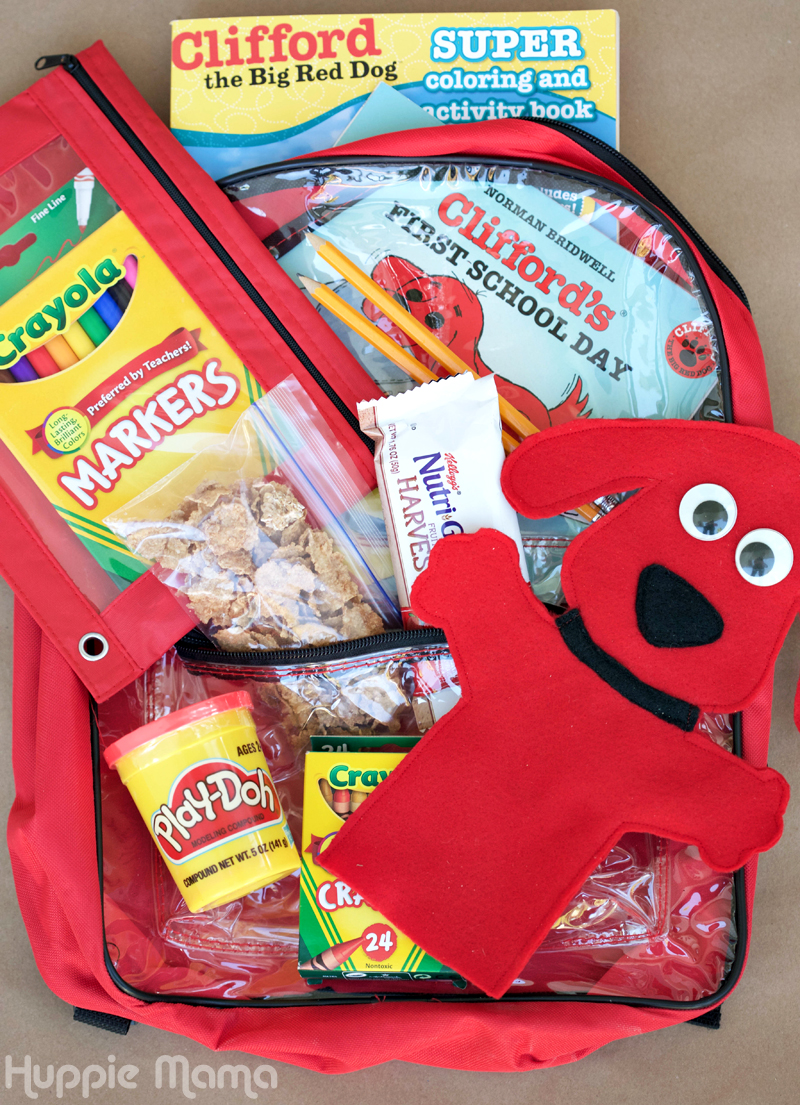 For our snacks, I packed Kellogg's Raisin Bran Crunch and Nutrigrain Bars. Look for the specially-marked Kellogg's packages that include a 16-digit code for a Free Scholastic Book. Read more below to learn how to get one of over 80 different Scholastic titles.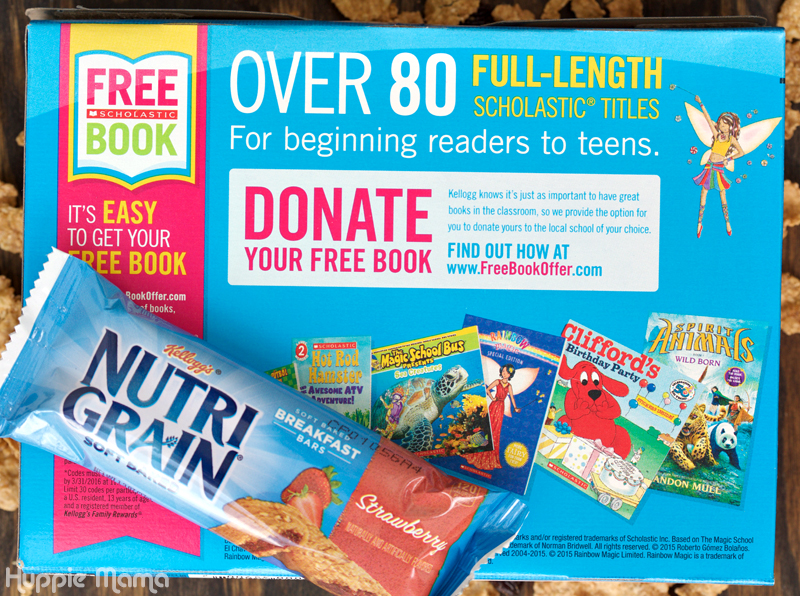 Here's Lydia with her Clifford Literacy Busy Bag. It's perfect for taking on a trip grandma's house, a doctor's office (kids needs something entertaining for that long wait sometimes), restaurants, and road trips.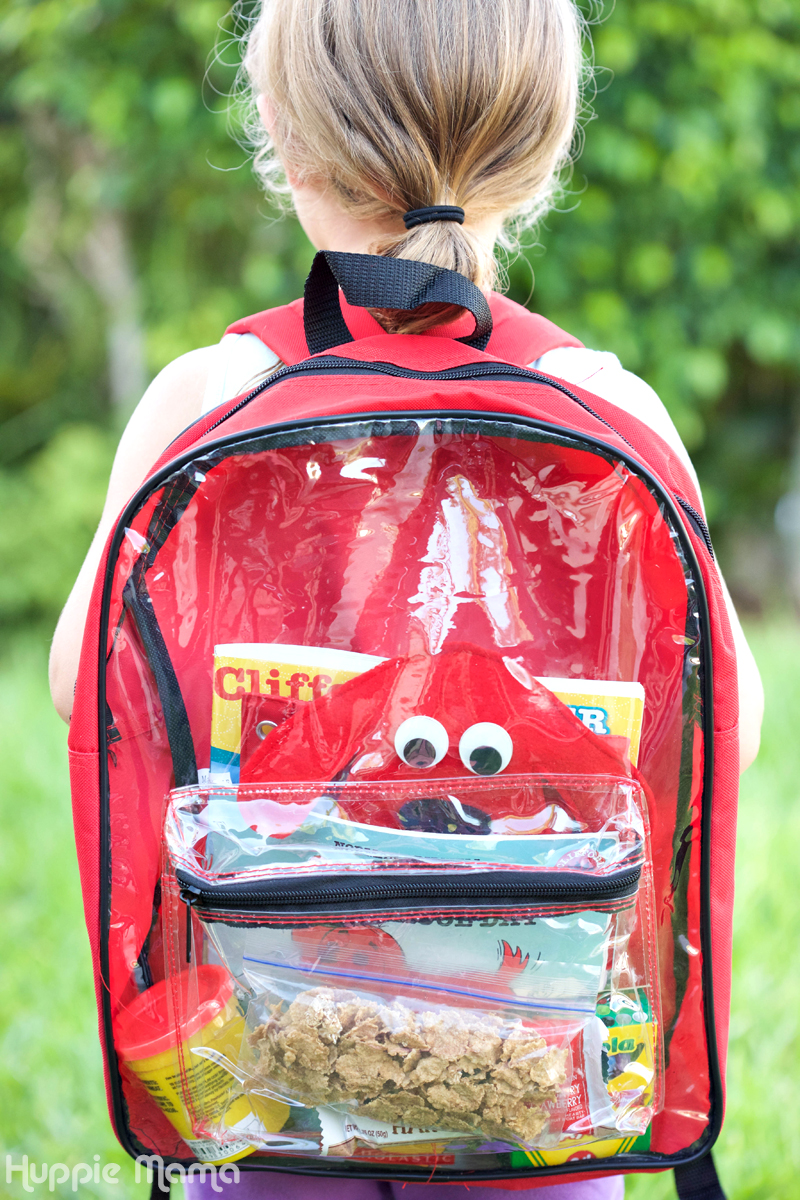 Look for this school bus back-to-school display at Walmart to find some of your child's lunchbox favorites. Find the specially-marked packages with the Scholastic book offer: 1 box of Kellogg's products = 1 book.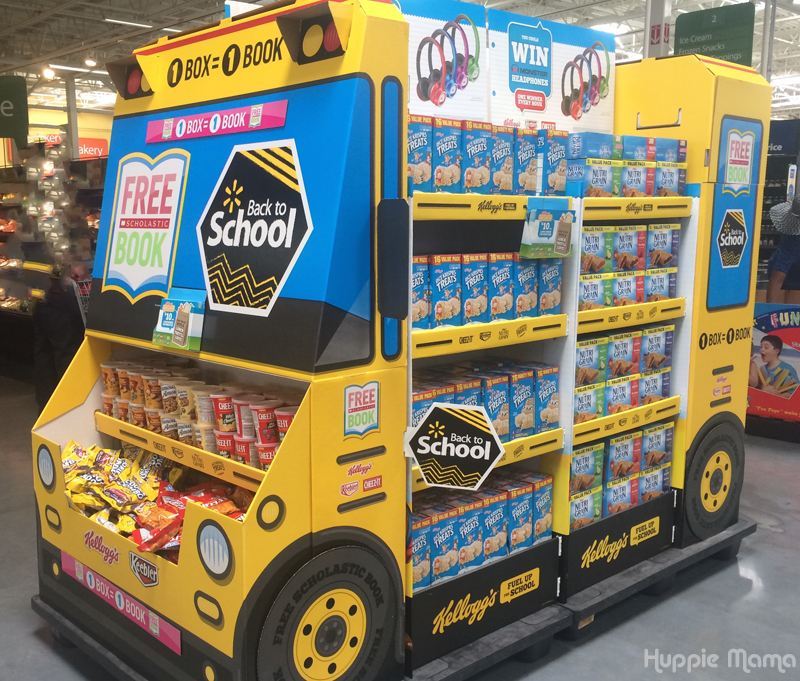 To redeem your Kellogg's product for a book of your choice, visit the Kellogg's Family Rewards website. Create a new account and enter your 16-digit code.  There are 3 ways you can upload your receipt, via text, via scanning into your computer, or Kellogg's Family Reward app (only when you purchase online between 7/21 – 9/11). You must request your book within 14 days of purchase. Each participant is able to redeem up to 30 books, and books arrive within 6-8 weeks.
With over 80 titles from which to choose, there's something for young readers of all ages. Check out the Clifford books that are available! As you can see, he's one of our favorites.  This is a great way to build your literacy collection so that you can create Literacy Busy Bags for fun learning on-the-go. And if you are feeling generous, you can even donate your book!