Lydia and her cousin Alana are just 6 months apart, but Alana is a bigger size clothing than Lydia, so we are fortunate to get all her beautiful hand-me-downs. I planned on making a 4th of July outfit for Lydia, but I thought I'd buy enough fabric (and an extra tank top) so we can make Alana an outfit, too, to show our appreciation for all of the clothing she has given us. Plus – matching outfits are SO CUTE! I based these skirts off of this pattern that I found on Creative Kids Couture (with some changes).
Materials/supplies to make one skirt:
1/2 yard each of 3 – 4 different coordinating fabrics (you will have extra left over)
1 yard of 3/4″ elastic
spool of coordinating thread
rotary cutter and met
iron
sewing machine
Step 1: Select 3 – 4 different coordinating fabrics. Alana's skirt (left) has 4 different fabrics, and Lydia's skirt (right) has 3 different fabrics.
Step 2: To make a 3T, 4T, or 5T skirt, cut 27 6″ x 6″ squares. Line them up in the following way:
Row 1: 6 squares
Row 2: 9 squares
Row 3: 12 squares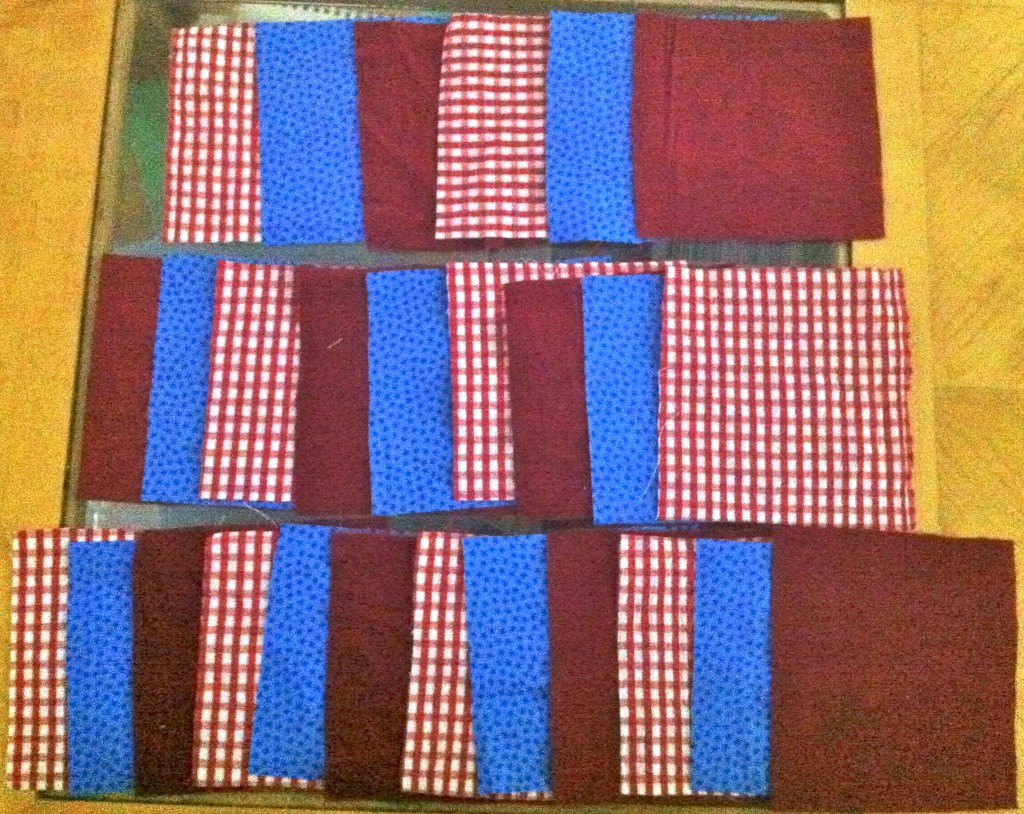 Step 3:  Stack the squares in the sequence above (you can do a pattern or random) so that they are ready to sew together into rows.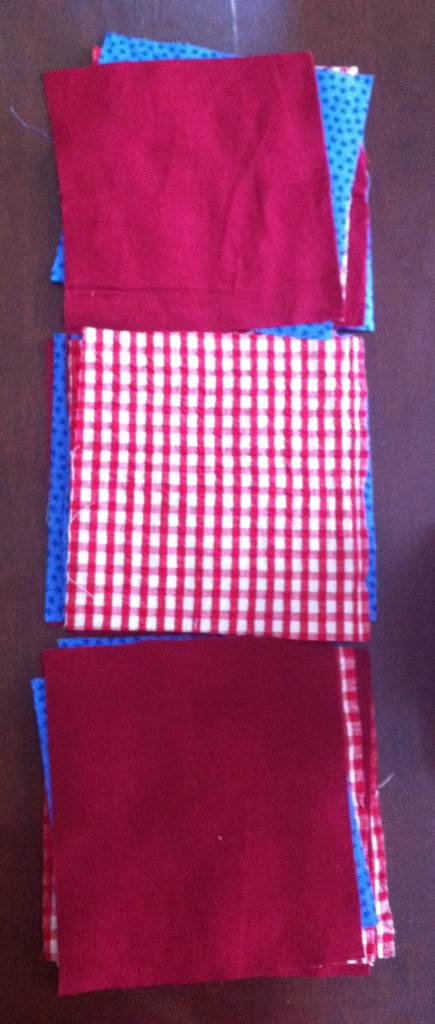 Step 4: Sew with right sides together on two parallel sides to make three long strips of connected fabric squares.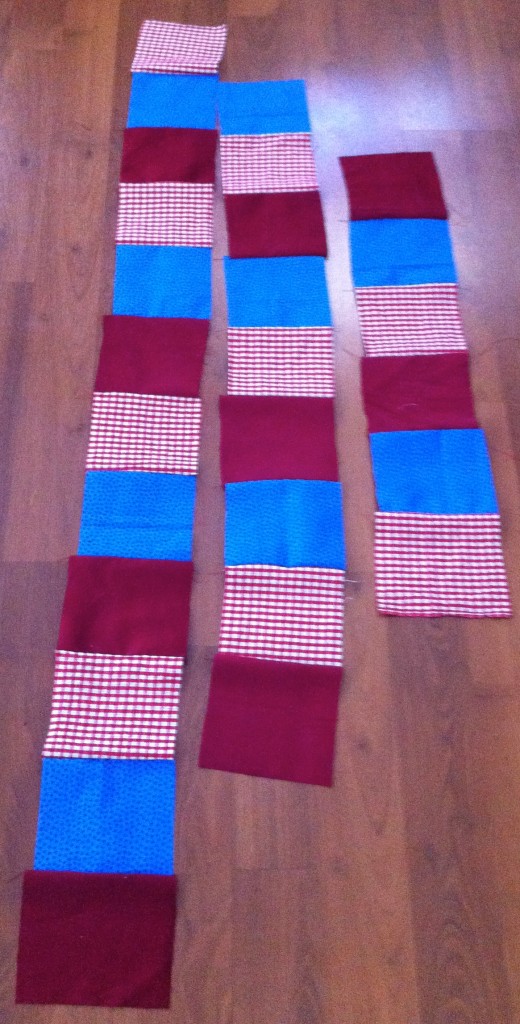 Step 5: At the top of the bottom row, sew a basting stitch. Then gather the fabric so that it is the same length as the middle row. Distribute the gathered fabric so that it creates an even fullness throughout and sew (right sides together) to the middle row. then, repeat with the process by sewing a basting stitch to the top of the middle row, gather to the length of the top row, distribute evenly, and sew (right sides together) to the bottom of the top row.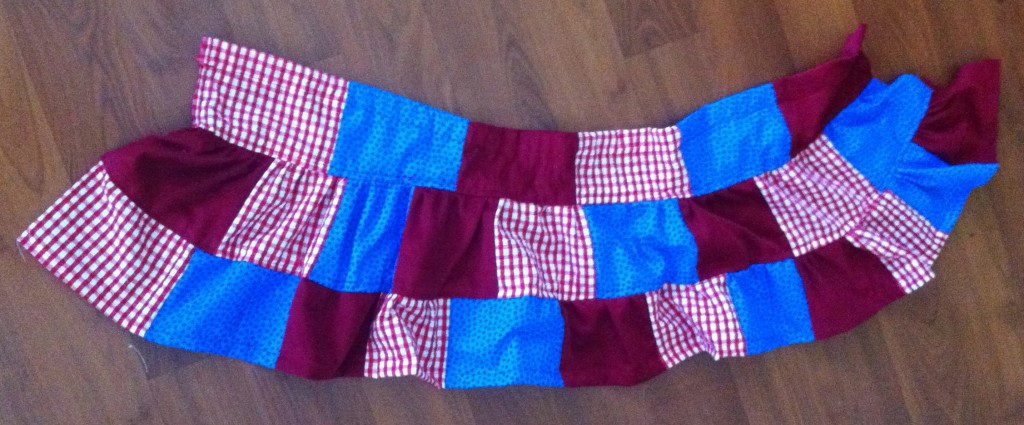 Step 6: Add a top stitch above the bottom and middle rows to give the skirt a more finished appearance.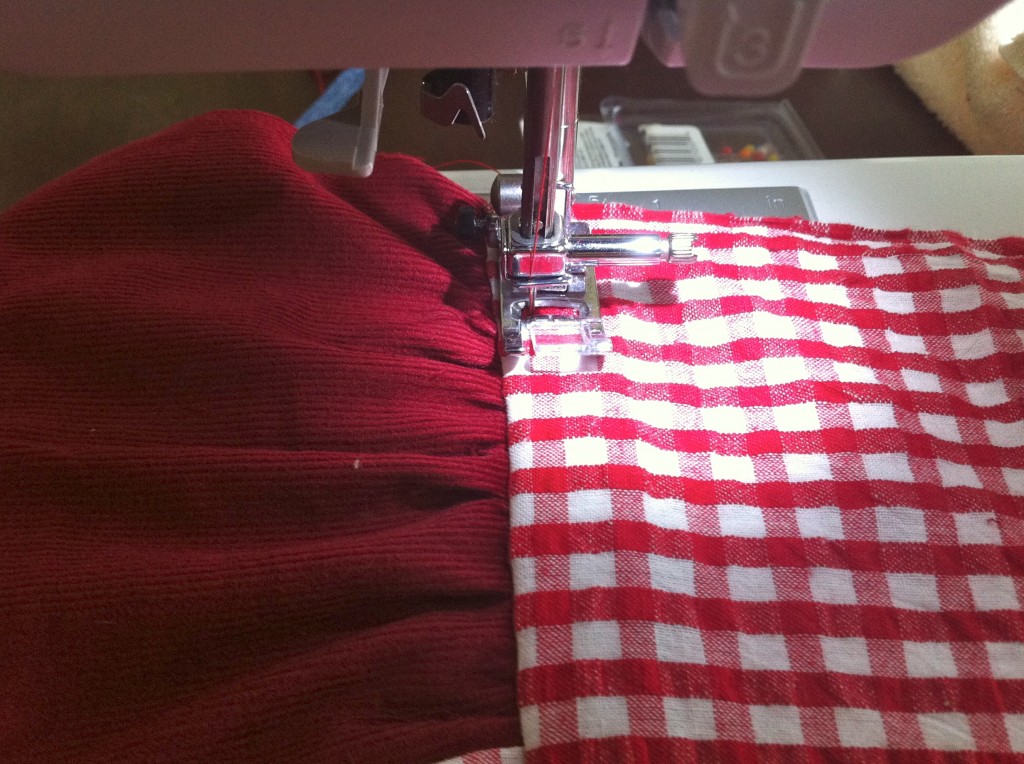 Step 7: Using an iron, press the bottom of the skirt up 1/4″ inch. Repeat and sew in place to create a hem.
Step 8: Press the top of the skirt down 1/4″ and then 1″ to create a pocket for the elastic. Sew in place. Depending on the child's size, cut the elastic accordingly because the skirt itself is the same pattern regardless. It will be longer on smaller children (below the knee) and shorter for larger children (at the knee). Insert the elastic and sew in place. I went over the elastic several times with a short stitch to ensure it will not come apart.
Step 9: Right sides together, close the seam to finish the skirt!
To create the flower to attach to the tank top:
Step 1: Cut a strip of fabric about 18″ x 3″. Fold in half and press.
Step 2: Sew a basting stitch along the open end. Simultaneously gather and rotate to create the outer portion of the flower. Fold/tuck the open ends to hide them.
Step 3: Cut 3 concentric circles of coordinating fabric. Place on top of the gathered flower. Place a small button top of that. Sew through the button and two different fabric.
Step 4: I also added a circle of felt to the bottom to cover the thread and give it a complete look. Pin to the tank top to finish!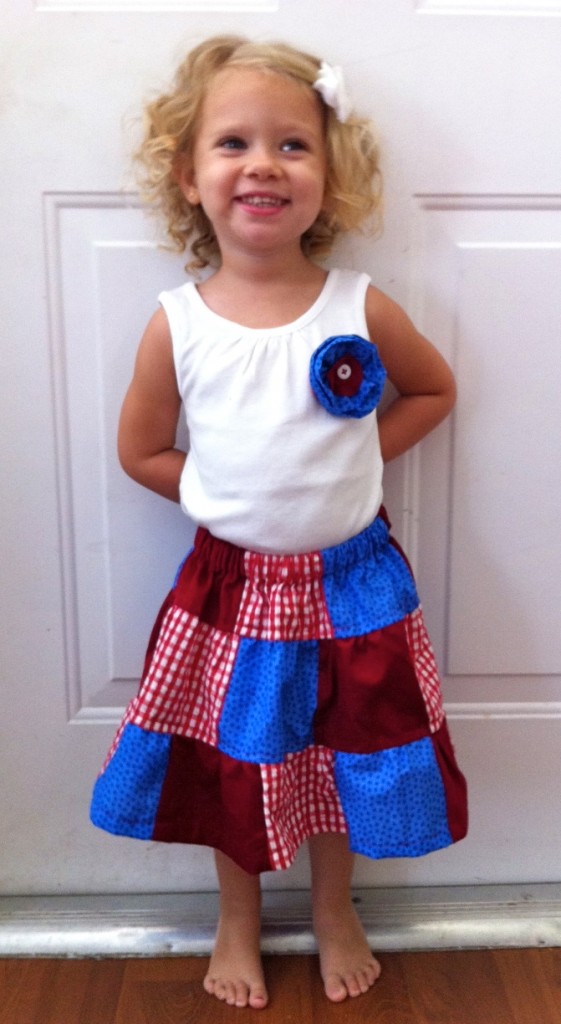 And after creating these skirts, for just $5 each, I went to Gymboree, and found this skirt for $29.95. I think I did a pretty good job recreating something without even knowing it and at a fraction of the cost!