This #BackYourSnack shop has been compensated by Collective Bias, Inc. and its advertiser. All opinions are mine alone. #CollectiveBias
Have you seen all of the beautiful party posts I've had on my blog recently? I love entertaining at my home. But there's a trick to entertaining a crowd that allows you to actually enjoy yourself, too. I'll let you in — Keep things simple! It's okay to purchase pre-made decorations and easy-to-assemble snacks. That way, you don't have to stress too much beforehand and you can actually have fun at your own event. Here's an easy recipe you can make to please a crowd, and it has some of my favorite ingredients: tomatoes, cheese, and fresh herbs. So why not combine all three + Mozzarella Bites to create a delicious appetizer, perfect as a party appetizer or after school snack? Check out my Mozzarella Bite Caprese Skewers! If you have your own simple recipe idea for entertaining (that includes a Farm Rich product and one fresh ingredient from Walmart), you can enter to win a $10,000 prize. Details below.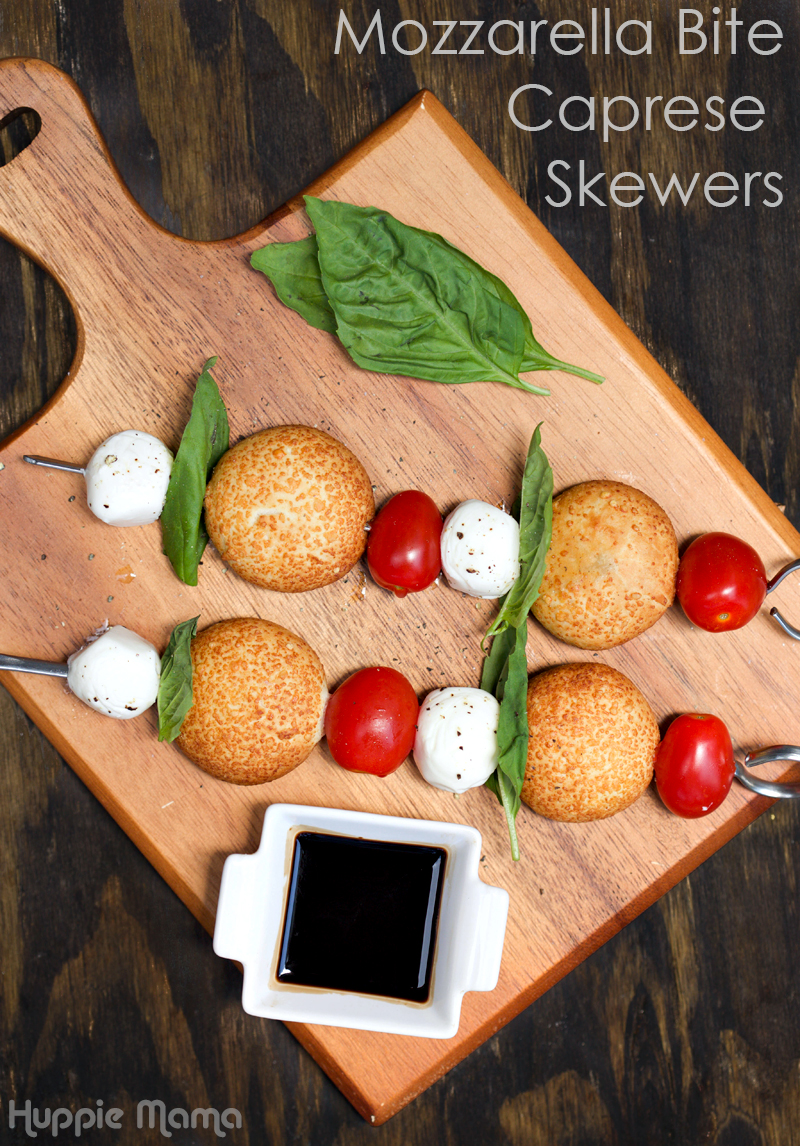 Ingredients:
1 package Farm Rich Mozzarella Bites
1 pint organic grape tomatoes
1 package fresh basil
1 container bite-sized mozzarella balls
1/2 cup balsamic vinegar
Directions:
Begin by preparing the Mozzarella Bites according to the directions on the package. In less than 15 minutes, you can preheat the oven and heat these through. The mozzarella bites taste almost like mini calzones, oozy cheese surrounded by pizza crust. On their own, they are quite tasty, but even better when made into these skewers.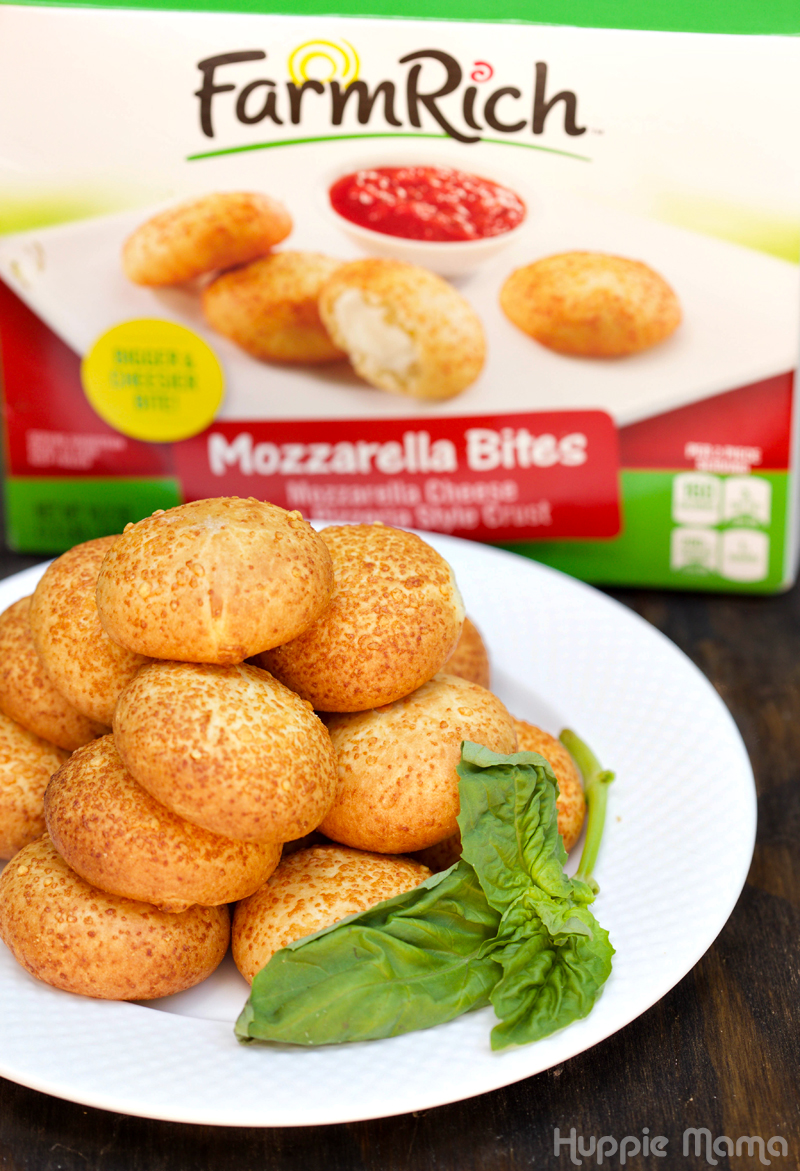 Next, gather your fresh ingredients. I absolutely love a standard caprese salad: sliced tomatoes, sliced mozzarella, and fresh basil leaves. But since this is a spin on the classic, I used mini mozzarella balls, organic grape tomatoes, and fresh basil.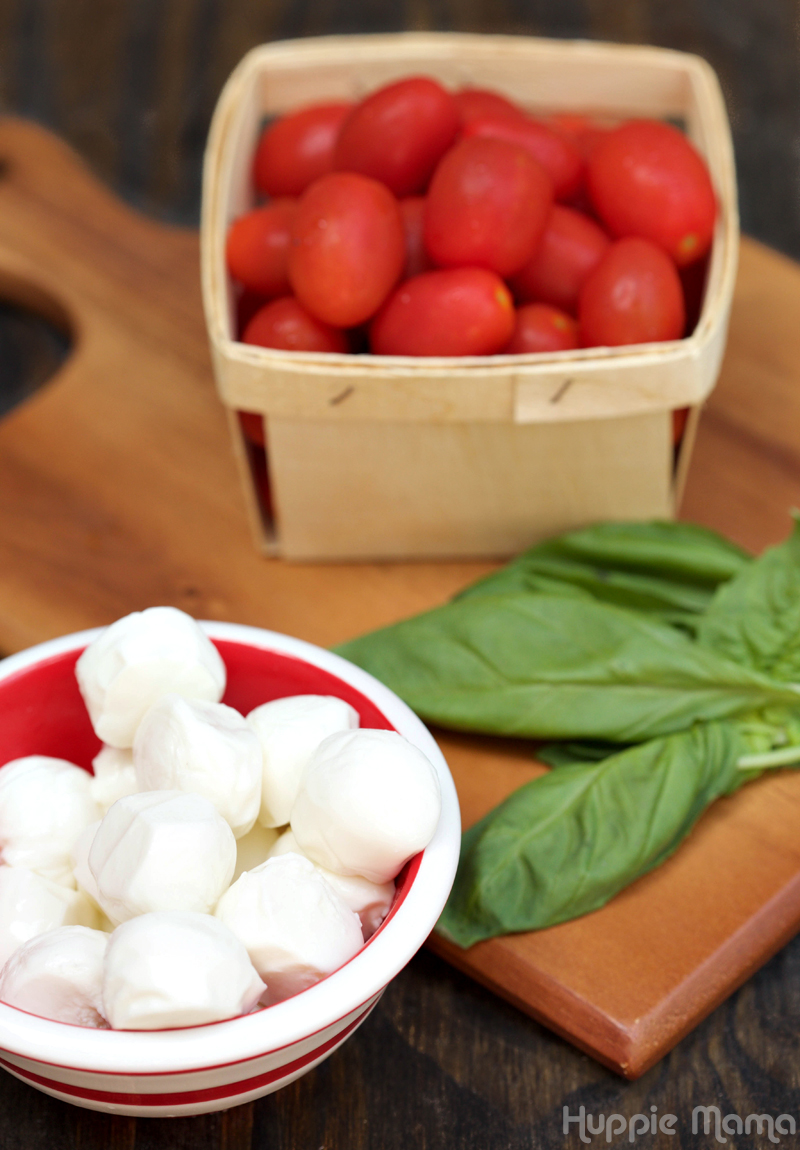 To make the skewers, simply create a pattern of cheese, basil leaf, Mozzarella Bite, grape tomato. I was able to repeat this pattern twice on each 10″ skewer. The metal skewers are great because you can wash them and reuse them again. Plus, no splinters like the wooden kind!
I love this recipe served with a balsamic reduction. Simply place 1/2 cup of balsamic vinegar in a salute pan. Simmer over a medium heat until half of the vinegar has evaporated. This creates a concentrated syrup you can drizzle over the top of your caprese skewers or serve on the side.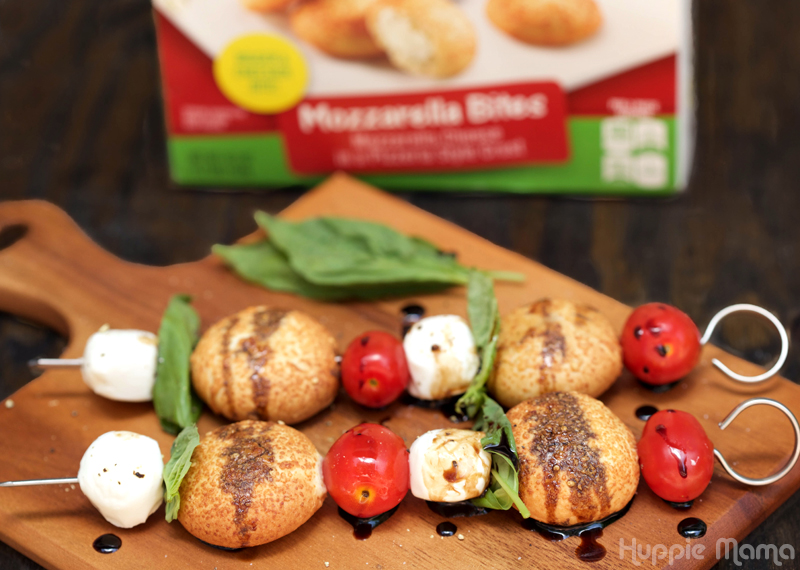 Looking to create this super-simple Mozzarella Bite Caprese Skewers appetizer recipe at home? Visit your local Walmart to purchase the Farm Rich Mozzarella Bites in the frozen section and organic grape tomatoes and fresh basil in the produce section. I love that Walmart has started to carry organic produce, including both fruits and vegetables.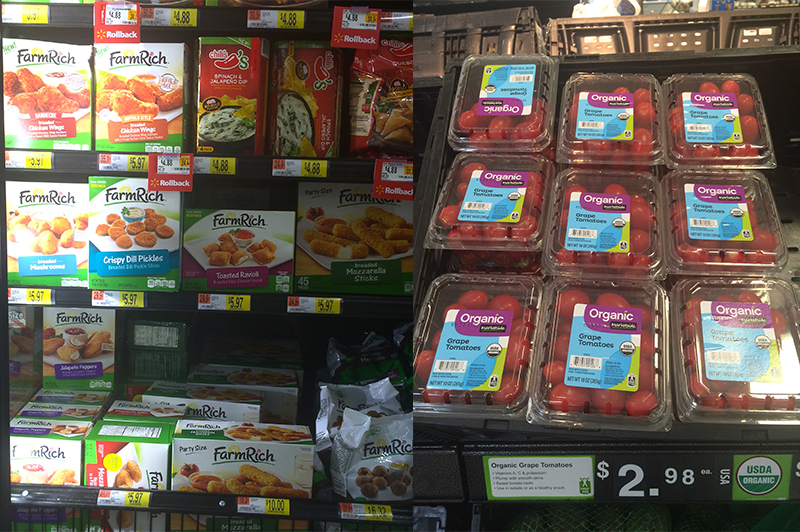 Remember that recipe contest I mentioned above? Well, here are the details! Enter a simple recipe that uses one Farm Rich product, one fresh ingredient from Walmart, and up to 4 additional ingredients. Submit your recipe here! (*Click here for all of the contest rules). The contest ends 8/23, but if you'd like to check out some of the semi-finalists, visit a demo at your local Walmart store on 9/19 – 9/20 and the finalists on 10/9 and 10/11.