This shop has been compensated by Collective Bias, Inc. and its advertiser. All opinions are mine alone. #CentrumFunFlavors #CollectiveBias
The past few months have been a challenge for me. Nothing huge has happened, but lots of small things building up, and they have really affected me. And while it's been tough, it's also been a great opportunity for self-reflection. What can I do to feel more balanced? More satisfied? More fulfilled? I read this great article recently about how life can get too busy. It made me recognize just how important it is to pause sometimes, recognize all I have to feel great about, and take a moment to just enjoy life. Giving myself time to be creative, enjoy tasty bites, and spend time with friends… those are a few of the things that make me feel good. They led me to plan this Mint and Raspberry Party, perfect for a relaxing day with friends. Sometimes we get so caught up in our social media lives, we forget just how important it is to engage in face-to-face communications with our friends.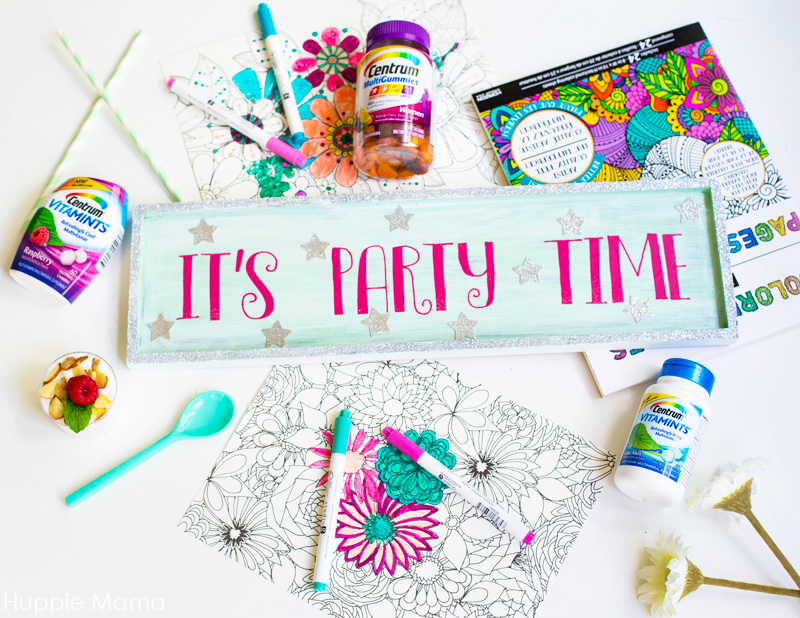 So let me tell you all about this party. First off, I am absolutely obsessed with the color mint. My new office walls are a light aqua-mint, my new cart for the office is mint, and I purchased a new cake stand and lots of other fun accessories in mint for this party. I even read recently that mint is the new recommended wedding color.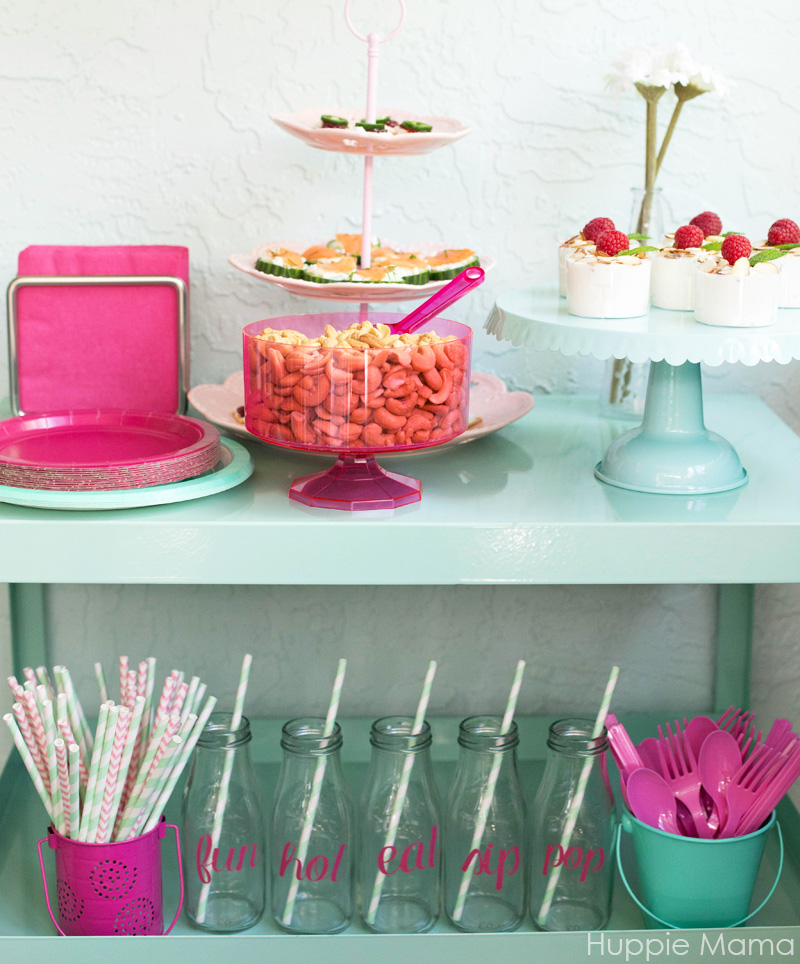 On to my party ideas! This was such a fun one to plan. I decided to pair this beautiful mint color with raspberry. Mint and raspberry are perfect for summer. Using hot pink vinyl cut with my Silhouette Cameo, I created the "It's Party Time" sign on a piece of wood. Mint, white, and black paint and a little silver glitter, and my sign was complete!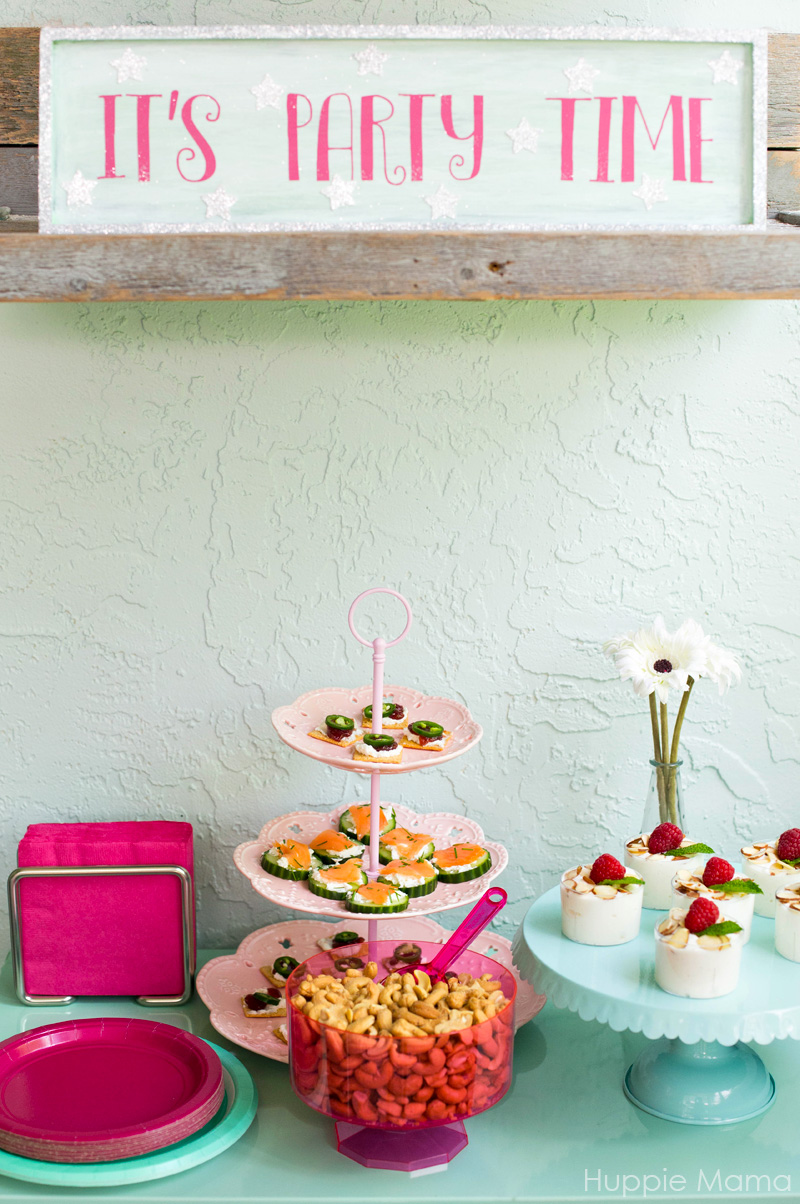 I used a similar technique to decorate glass bottles with fun three-letter words like "sip" and "eat" cut out of hot pink vinyl. A striped white-and-mint paper straw, and my bottles were ready for drinks. I'll tell you more about that below!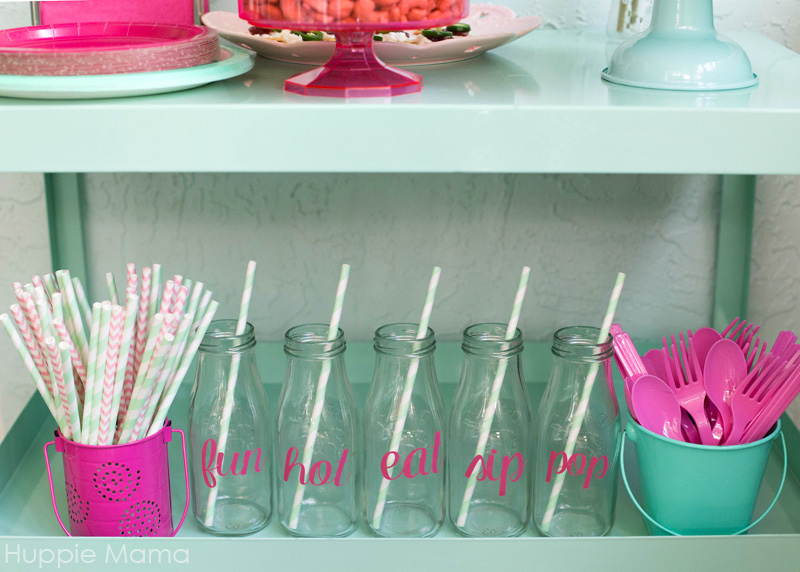 The food. That can possibly be the most important part of a party, right? I just wanted simple, light bites I could enjoy with friends. I also wanted to stick with the mint and raspberry party theme/colors, so here were my snack ideas:
Greek yogurt topped with sliced almonds, a raspberry, and a mint leaf
Crackers with cream cheese, raspberry jam, and a sliced jalapeno
Sliced cucumbers topped with cream cheese, salmon, and fresh chives
A bowl of cashews, my favorite nuts to snack on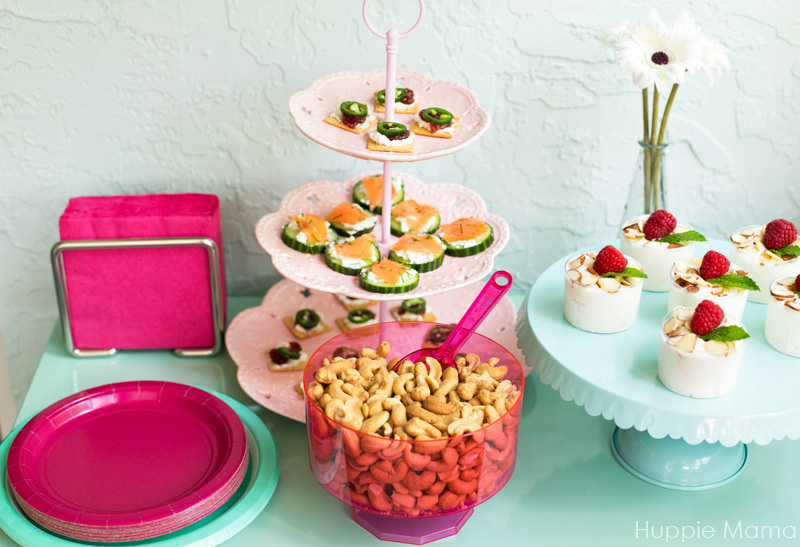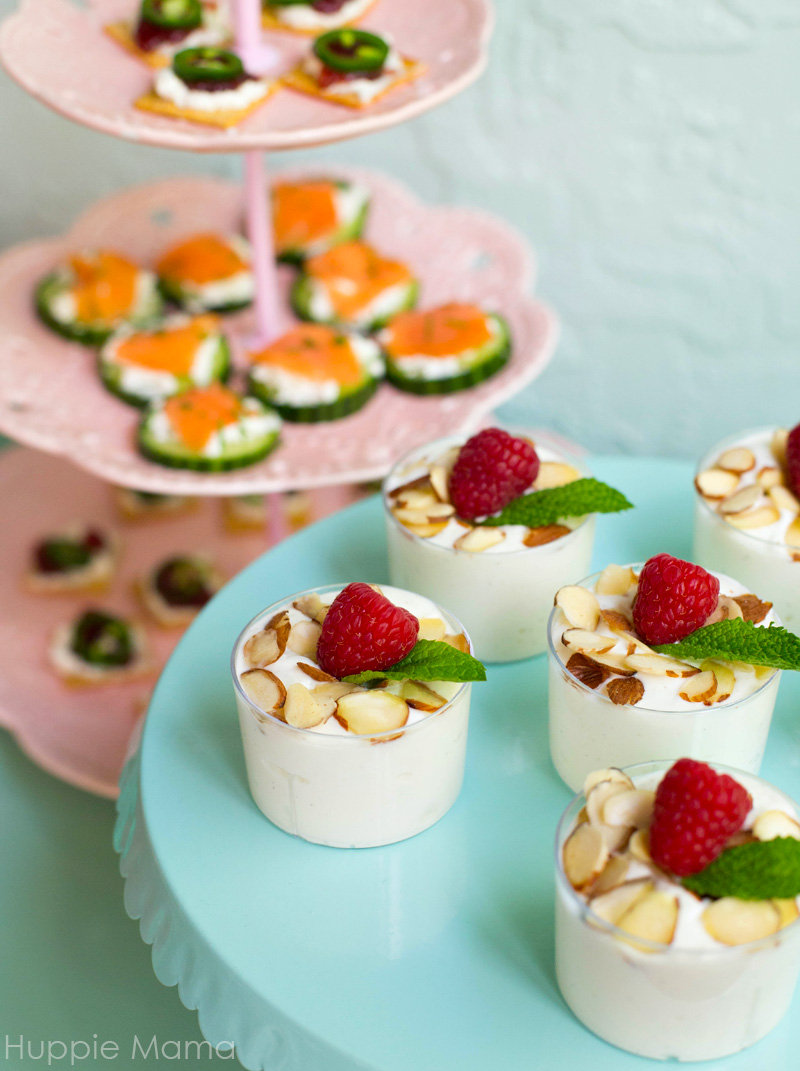 In addition to tasty bites, I decided to plan a fun activity: coloring. Adult coloring seems to be the current trend, and honestly, I think it's kinda fun. It allows you to escape the everyday "to do lists" and random tasks that we seem to always be busy attempting to complete. It's relaxing and therapeutic, a fun hobby to indulge in sometimes.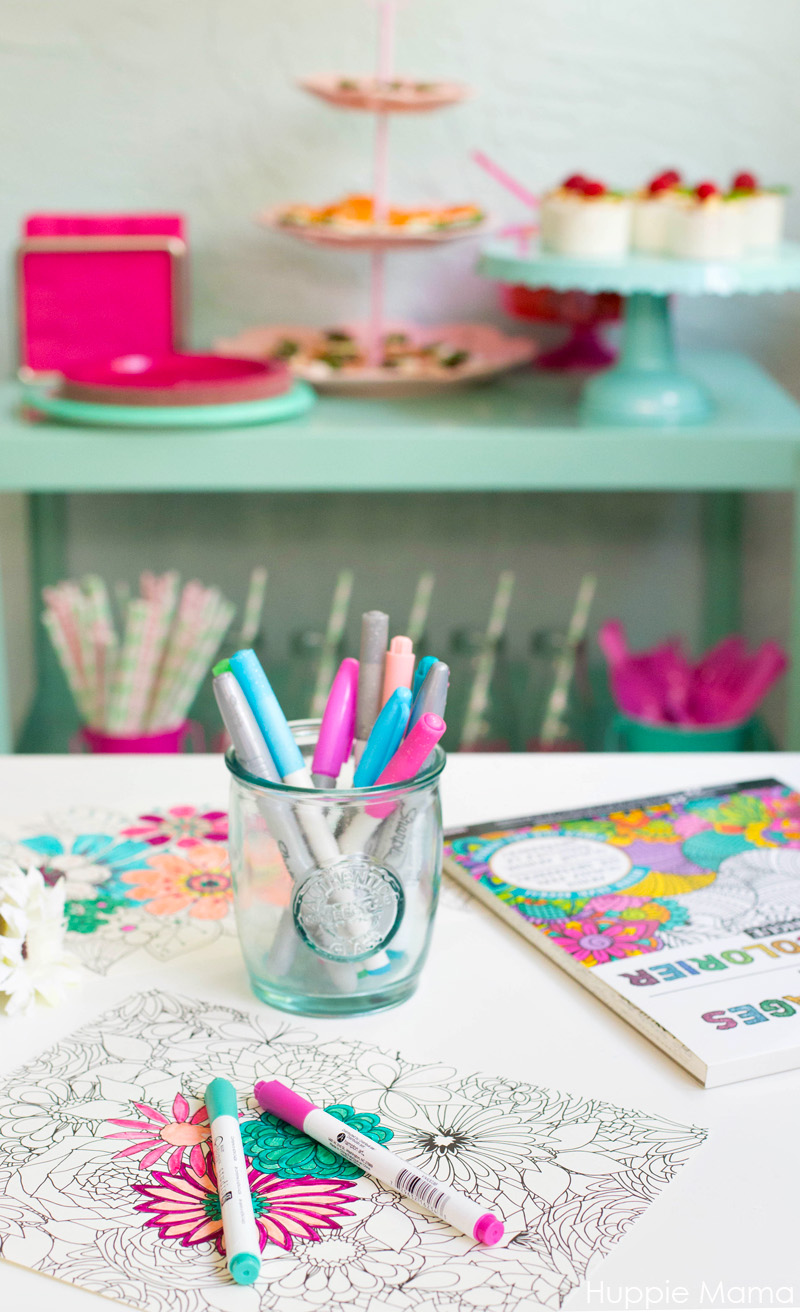 I really liked the botanical images, and I purchased mint and raspberry colored markers to color all the pretty flowers. Sitting with girlfriends, talking, coloring, eating… what a relaxing afternoon!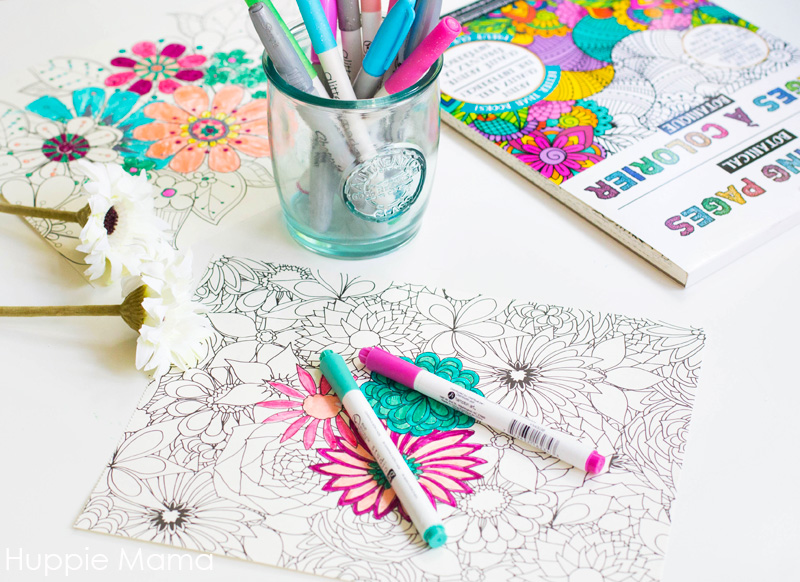 Remember I mentioned a drink above? This is a simple one to make! In glass milk bottles, I placed a few whole raspberries, chopped fresh mint, and two small scoops of raspberry sorbet. I topped it off with key lime seltzer to make a refreshing summertime beverage.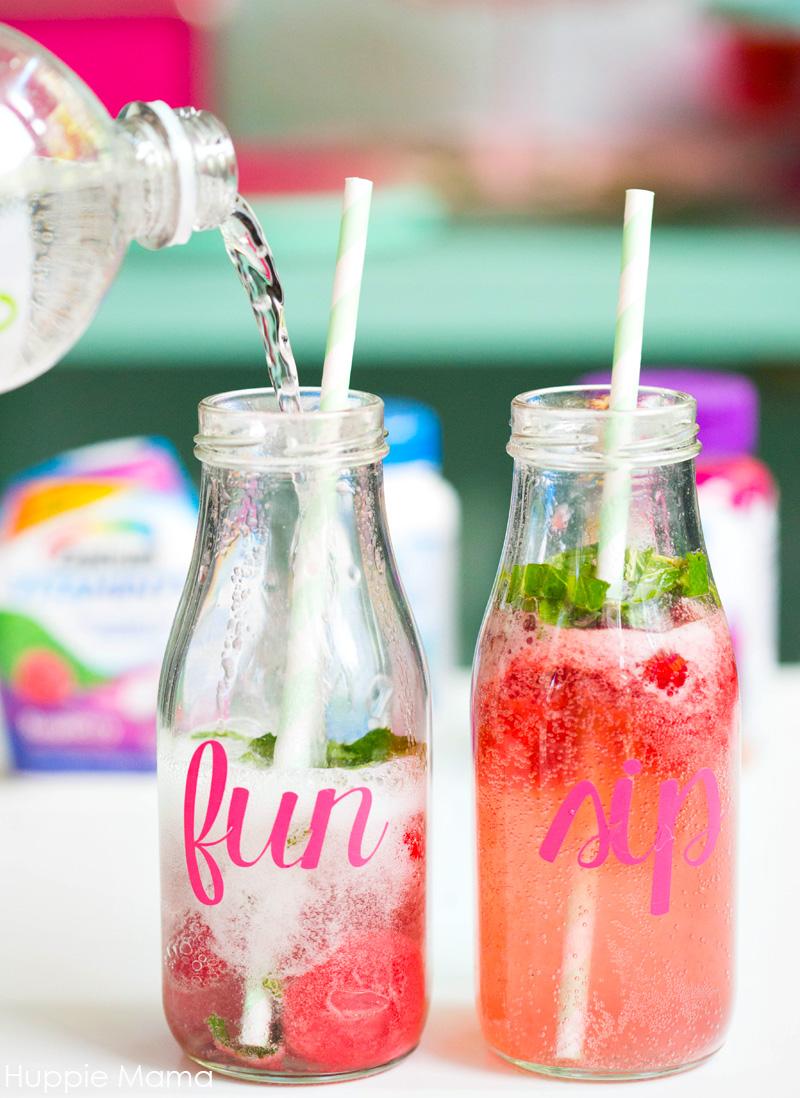 I couldn't send my friends on their way without goody bags. I purchased small mint-colored paper bags and sparkly raspberry tissue paper. Each bag can be filled with fun gifts you think your girlfriends will love – a new lip balm, nail file, hand lotion, some markers (so they can color at home), and NEW Centrum Vitamints Raspberry, Centrum Vitamints Cool Mint, or Centrum Gummies. Centrum Vitamints and Gummies can be taken to promote overall health. Can you see the inspiration for my party theme now?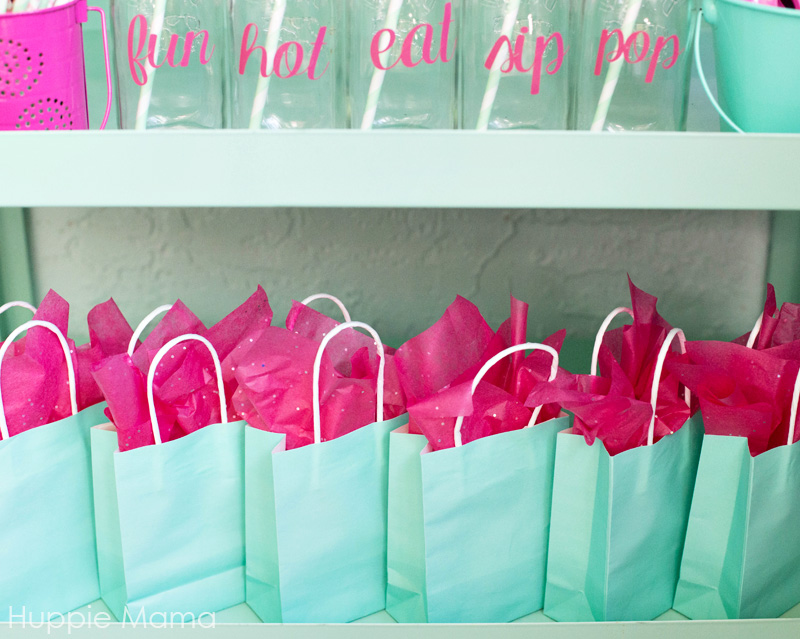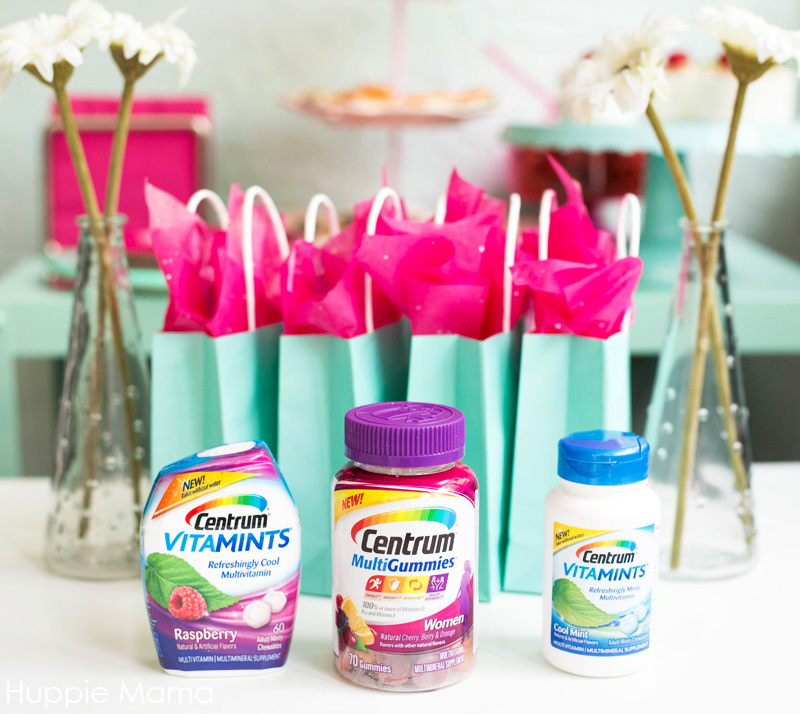 Looking to plan a fun Mint and Raspberry party at home to enjoy with your girlfriends? Head to Walmart to grab most of these party supplies, along with Centrum Vitamints and Gummies next to the pharmacy aisle. (*These statements have not been evaluated by the food and drug administration. This product is not intended to diagnose, treat, cure or prevent any disease.) Enjoy staying healthy with simple solutions like Centrum Gummies and Vitamints. Use this coupon to save!
What kind of parties are you planning this summer?