This shop has been compensated by Collective Bias, Inc. and its advertiser. All opinions are mine alone. #MinionsMovieNight #CollectiveBias
Living in South Florida, we tend to get left out of all the winter fun, so I decided – since we have Christmas in July – why not celebrate summer in winter with a fun minions party? We saw the Minions movie in the theater with some of our blogger buddies last summer, so it reminds us of fun times in the warm summer weather. Here are my ideas for a fun Minions Beach Party.
To achieve this beach-inspired look, I purchased a beige tablecloth (to mimic sand) and a blue fishing net. I placed a large treasure chest toward the center of the table and added three minions toys, two of which go perfectly with this theme. For the 5th night of Chanukah, we decided to get the kids Minions © 2015 Universal Studios. All rights reserved. I purchased the Blu-Ray/DVD combo pack. Check out the Minions movie website to purchase your copy. But why just watch a movie? Why not celebrate with a party? So I combined tasty treats and fun crafts for this Minions Beach Party.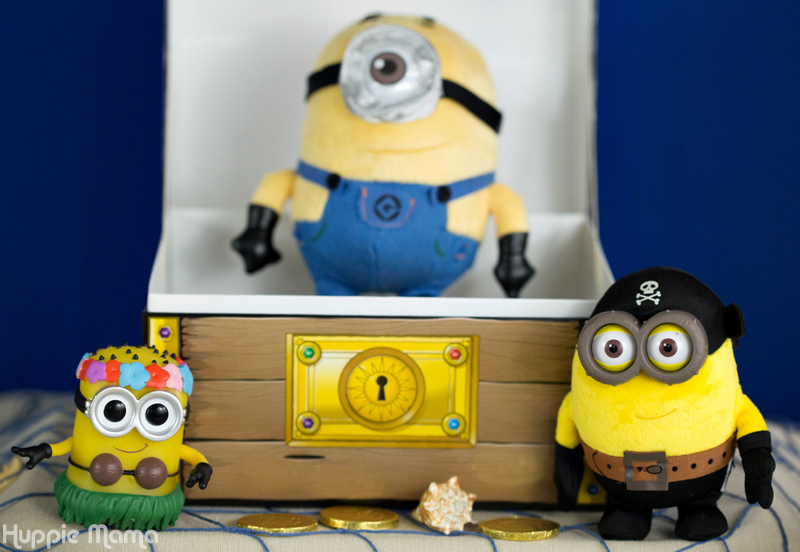 I will begin with the craft ideas, starting with our minions sand bottles. These are so much fun for children to make, and each child can do theirs a little differently. Illumination Entertainment's Minions movie is the inspiration for both crafts below!
I began by decorating the bottles. I purchased these small milk bottles with corks because they reminded me of ships in a bottle or messages in a bottle, great beach-related themes. I cut minion goggles from glittery silver craft foam and added wiggly eyes. I set out the decorated bottles, two bowls of colored sand (blue and yellow), spoons, and a funnel. Lydia began by adding a layer of blue sand to represent the minion overalls and a layer of yellow sand for their skin. We placed a cork in the top, and our sand bottle craft was complete.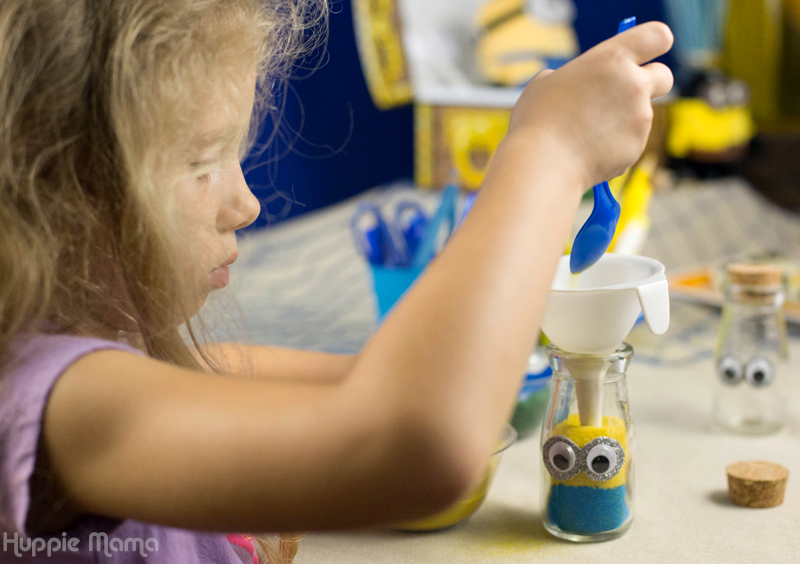 Next, we made some minions artwork. I created this printable Minions Coloring Sheet and printed one for each child. I set out all types of yellow and blue writing utensils, like crayons, markers, and colored pencils.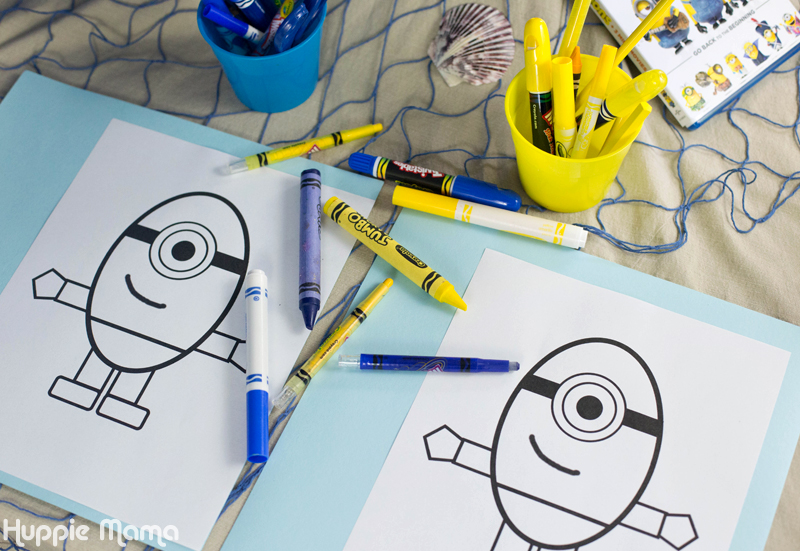 The children had fun designing their own minions. Lydia made hers a girl by drawing a hula skirt and Bryce made a very blue minion. I love how artwork allows them to display their individual ideas.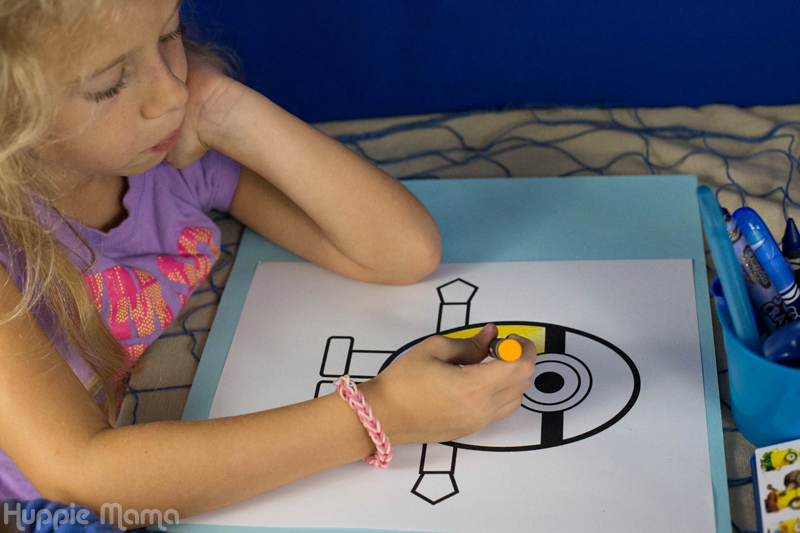 Next, the kids cut out their minions.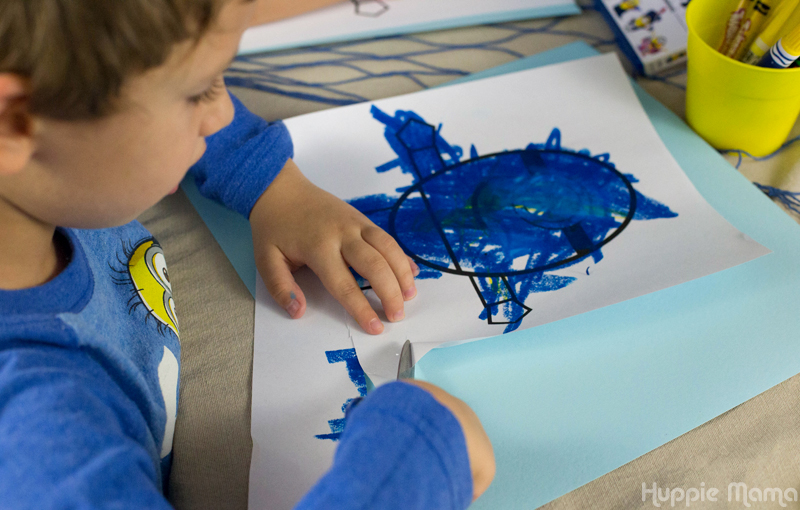 They each colored backgrounds on light blue pieces of card stock. Lydia did a great job with her beach scene.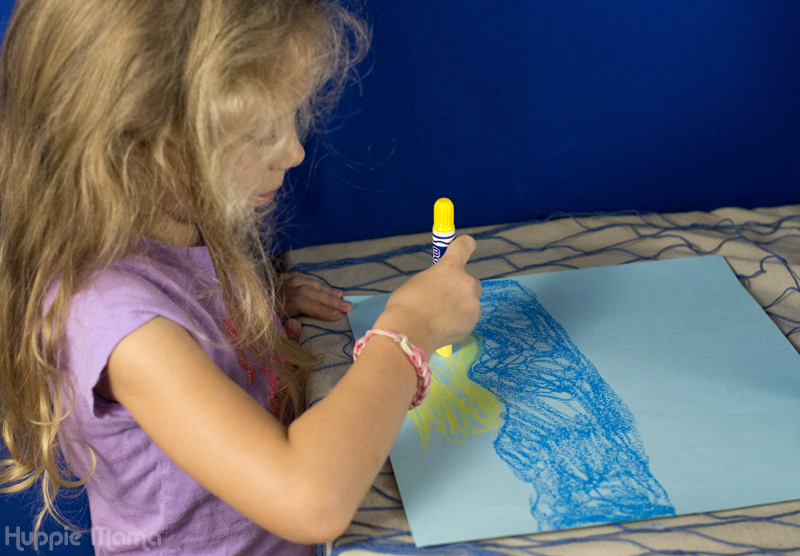 They glued their minions to the background pictures they drew, and the craft was complete. How cute are their works of art?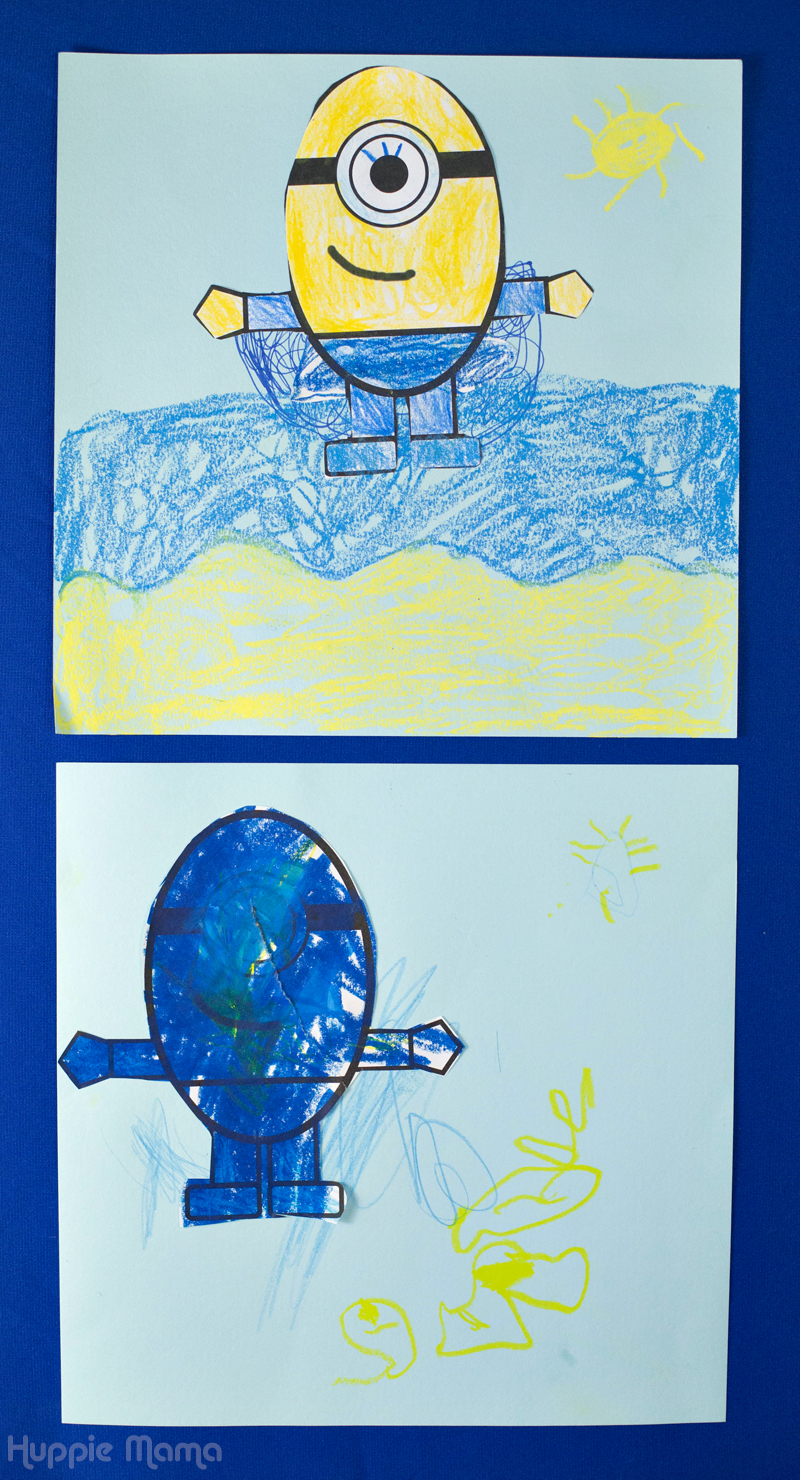 Next up? Minions food! First, we made minions pretzels, the perfect sweet and salty treat. Here's how you can make this fun treat with your kids.
Ingredients:
12 Pretzel sticks
1/2 cup white chocolate candy melts
yellow sprinkles
blue sprinkles
candy eyes
Directions:
Begin by melting your white chocolate candy pieces. This can be done quickly in a bowl in the microwave or a pot on the stove top. Allow the melted chocolate to cool so that your kids can safely handle it. Next, dip the pretzels in the white chocolate. Add a layer of blue sprinkles toward the bottom, yellow sprinkles toward the top. Dip a candy eye on the white chocolate and place within the yellow sprinkled portion of the pretzel. Place the pans on a cookie sheet covered in parchment paper, place them in the refrigerator so the white chocolate will solidify, and they are ready to eat!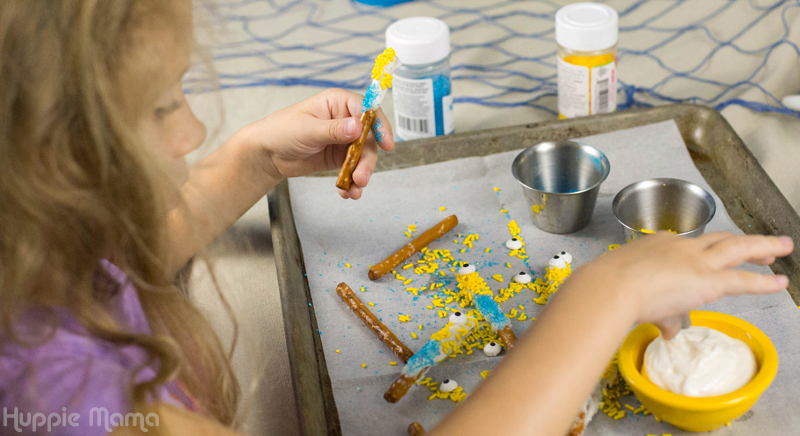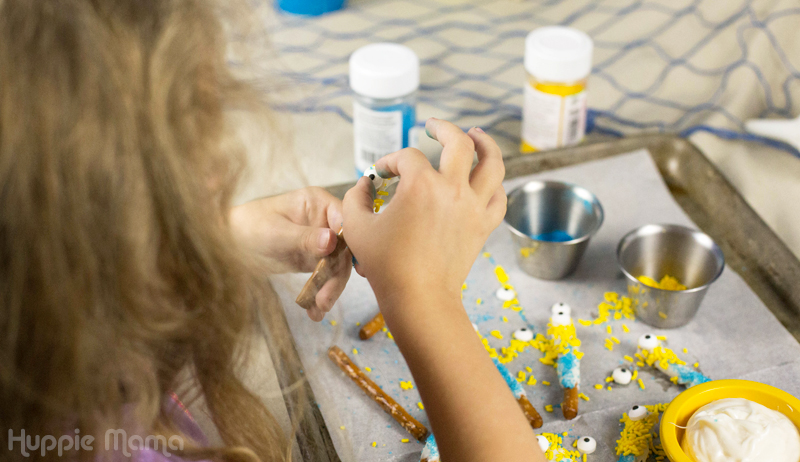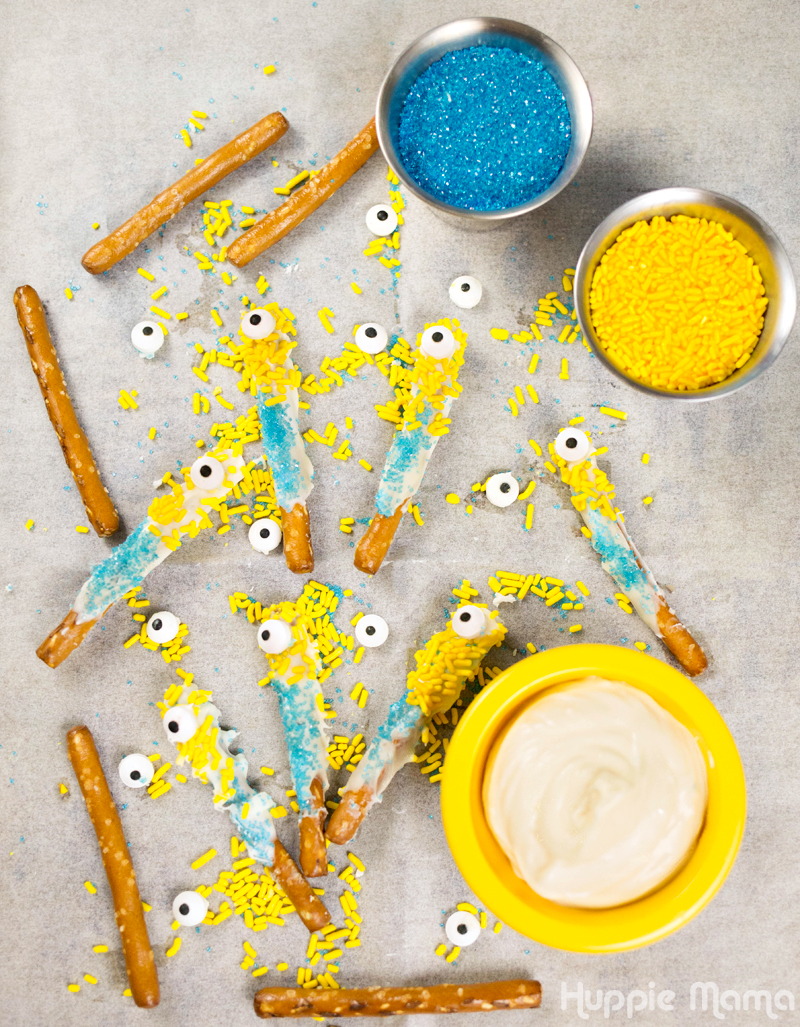 These minion eggs were so simple to make. Simply boil half a dozen eggs, allow them to cool, peel them, slice them in half, and add two olive slices as eyes. This is a great healthy treat for your minions beach party.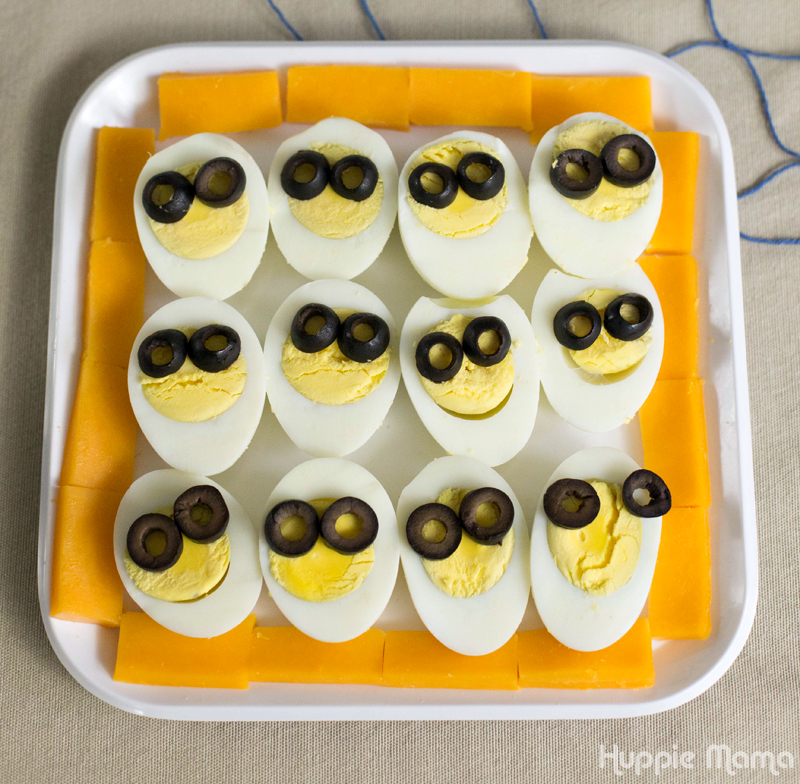 This minions fruit platter was easy to make and reminded me of a fun snack I would bring to the beach. I used a round platter. In the bottom portion, I placed blueberries. For the top portion, I used slices of mango and pineapple for the yellow, slices of cucumbers for the goggles, and black olives for the eyes. Yum!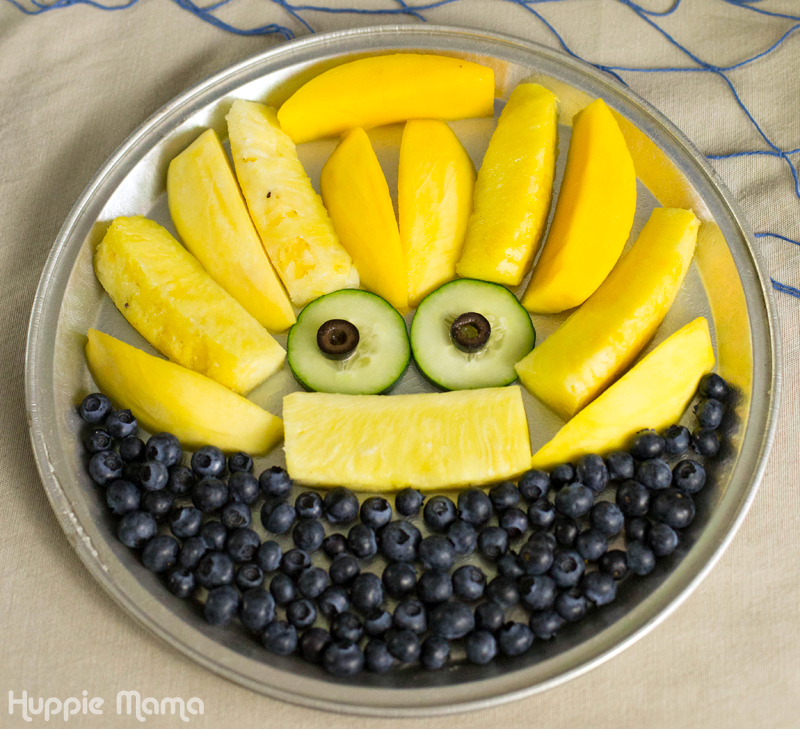 Looking for a decorative way to serve drinks at your minions party? Use a silver marker to draw goggles and a black marker to draw eyes on clear cups. Fill the cups with a yellow beverage of your choice – like a sports drink or lemonade – and you have minion drinks!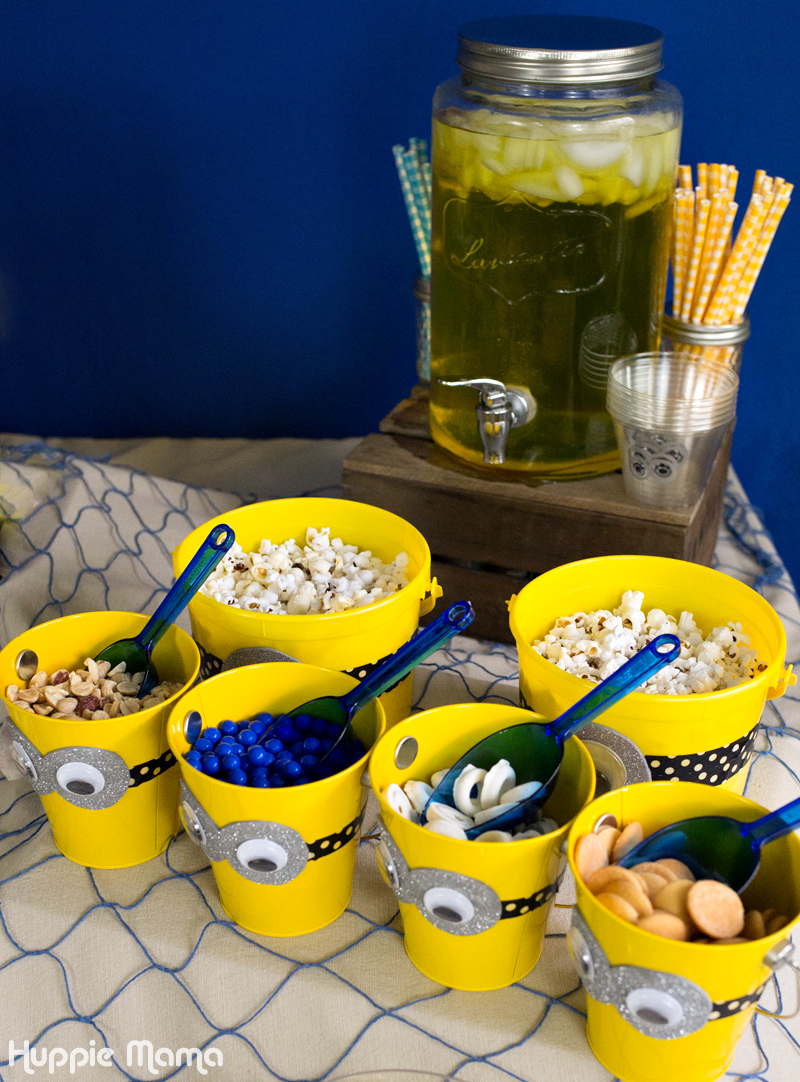 The final snack was a popcorn bar. This prepared us for watching the Minions movie. I gave each kid a large decorated popcorn bucket. I decorated the buckets with sparkly silver craft foam, wiggly eyes, and black-and-white polka dot paper tape.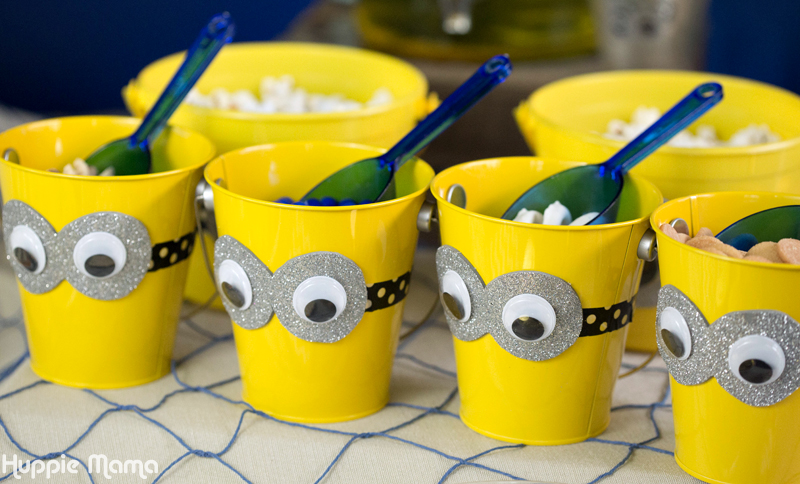 I also decorated four smaller yellow tins to look like minions. In each tin, I placed a special treat: peanuts, blue chocolate candies, yogurt pretzels, and small cookies. I added blue scoops, and the children were able to make their own popcorn treats to watch the movie.
After making their popcorn, the kids were ready to watch the Minions movie! How cute are those buckets? We may just have to bring them to the beach one day, too.
What is your child's favorite movie? How do you enjoy a family movie night at home?