This #SweepTheMess shop has been compensated by #CollectiveBias, Inc. and its advertiser. All opinions are mine alone.
I have a confession to make: My house is generally an extraordinary disaster. Between two young children, three dogs, two cats, and my own unfortunate inclination to keep pretty much everything, it is in a state of complete disarray on most days. And I've learned to be okay with that…usually. Why? Because there's beauty in my messy home. A mess means my children just completed an art project or played dress-up. It means my husband got a chance to work on some landscaping and dragged the leaves and dirt in the house or I prepared a scrumptious meal for my family (I am the world's messiest cook). My kids love to make crafts, do science experiments, and bring dirt into the house after playing outside. My floor is evidence of all we do inside and outside my home. I've joked that I will have made it big as a blogger when I can afford to hire someone to clean my house.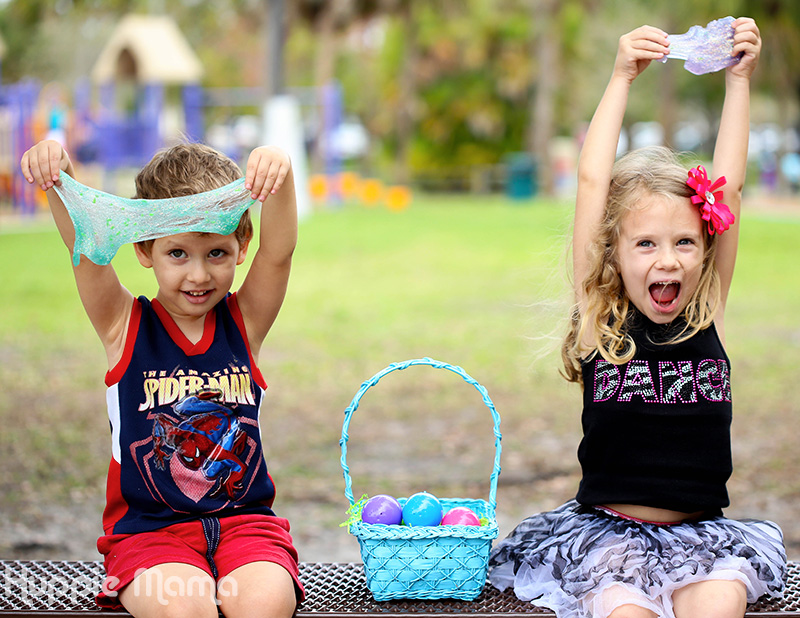 My son Bryce is 3 years old and is home with me still. My daughter Lydia is 5 and goes to school just 3 hours a day. That means both children are basically with me all day long. I need to plan fun activities to keep them active, learning, and having a good time. Sensory activities are always a hit in my home. I have made a dinosaur sensory bin, fall sensory bin, outer space sensory bin, gardening sensory bin, and most recently, a St. Patrick's Day sensory activity. The kids enjoy experiencing all different textures utilizing their fine motor skills. Recently, Bryce has been really into anything he calls "sticky" – think play dough, window clings, putty, mucous. To have some fun with this texture, we made Sparkly Slime in beautiful spring colors, right in our dining room (cue the mess!)
So here's our *family video debut*: How to Make Sparkly Slime
<insert applause for finally using my awesome camera to make a fun video>
We filled plastic eggs with the slime and my kids scattered those and lots of Easter basket grass all over the house. And you know what? That's okay! They had a blast experiencing different textures, hiding the eggs, and finding them. The video above showed you how to make three small batches of sparkly slime. The directions below show you how to make one larger quantity of sparkly slime.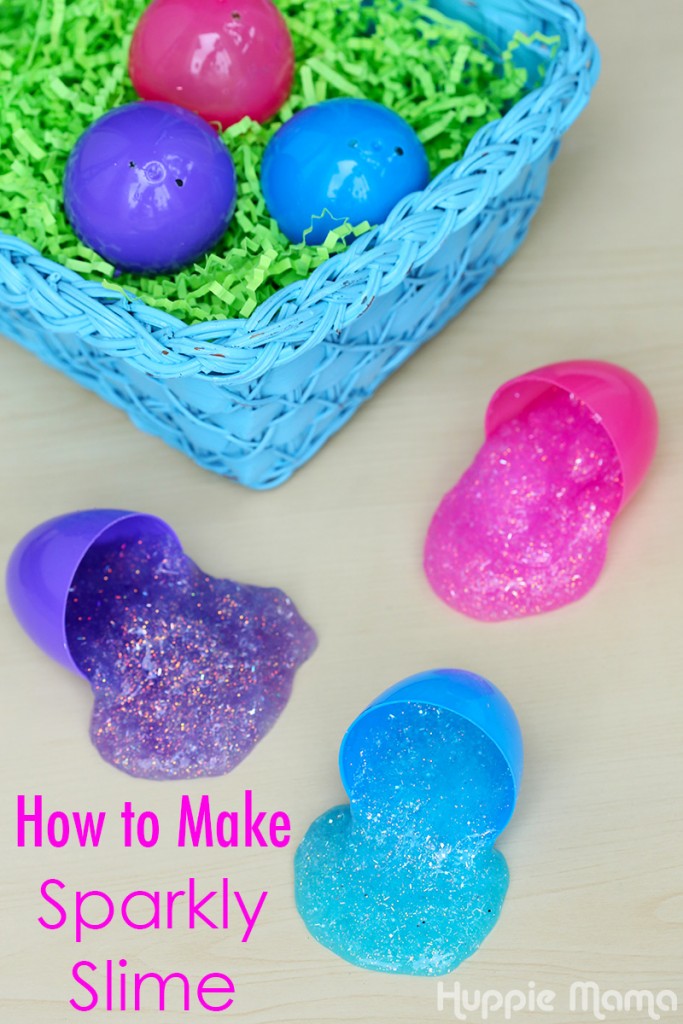 Materials:
One 4-ounce bottle of glitter glue
1 t borax
1 1/2 cups water
Directions:
This is so easy to make! Begin by pouring 4 ounces (one bottle) of glitter glue into a bowl. Add 1/2 cup water and stir to combine. I found glitter glue in these great spring colors at Walmart, but if you can only find clear, feel free to add your own food coloring and glitter.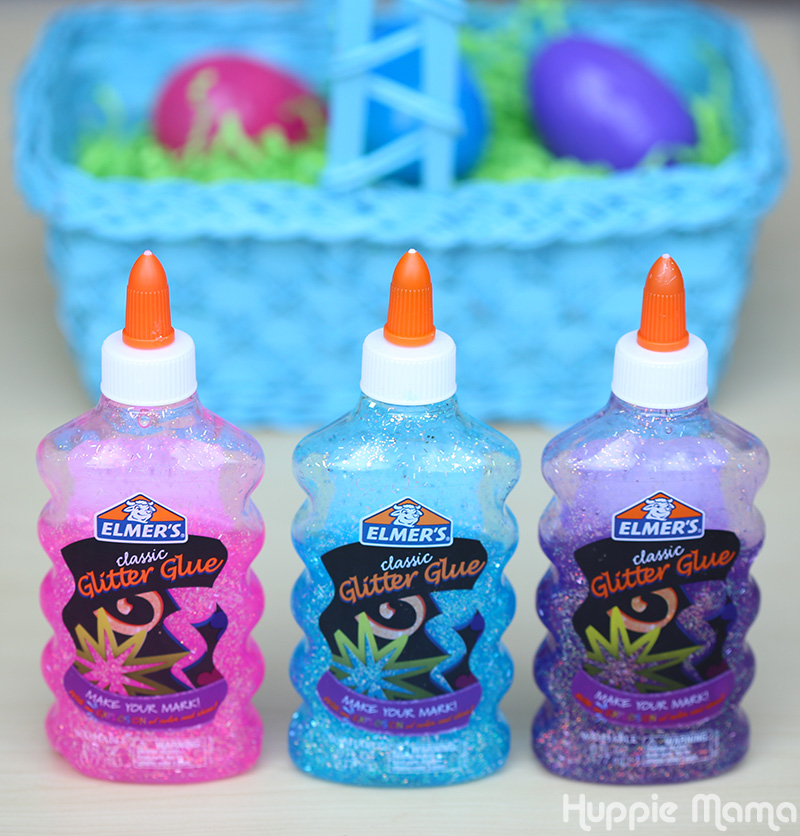 Next, in a separate bowl, mix 1 cup of water with 1 teaspoon of borax until it has dissolved. Pour the water and borax mixture into the bowl with the water and glue, and stir until a large ball of slime forms. Remove the slime from the excess water and manipulate it. As some of the water dries off, it will become a fun, glitter-filled slime. What's even more fun? Fill Easter plastic eggs with sparkly slime in coordinated colors. Your kids will love finding these Easter eggs! They remind me of the Silly Putty eggs of our childhood.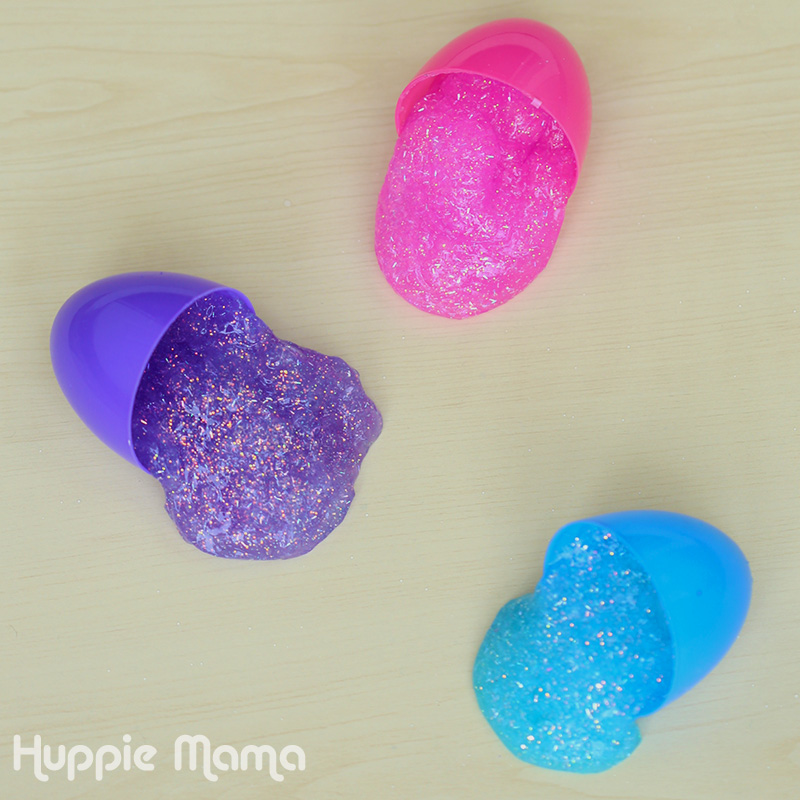 Get creative! Try adding stretchy worms or bugs, wiggly eyes in a variety of colors and sizes, or additional glitter. Let your kids have fun squeezing the sparkly slime and watching it ooze through their hands. When the kids are done making a huge mess with plastic eggs and Easter basket grass, it's time to clean up. The O-Cedar Angler Broom can help! O-Cedar brooms are eco-friendly, made mostly of recycled plastic. The dual bristle technology and angled edge make it ideal for getting into those hard-to-reach places, just in time for spring cleaning.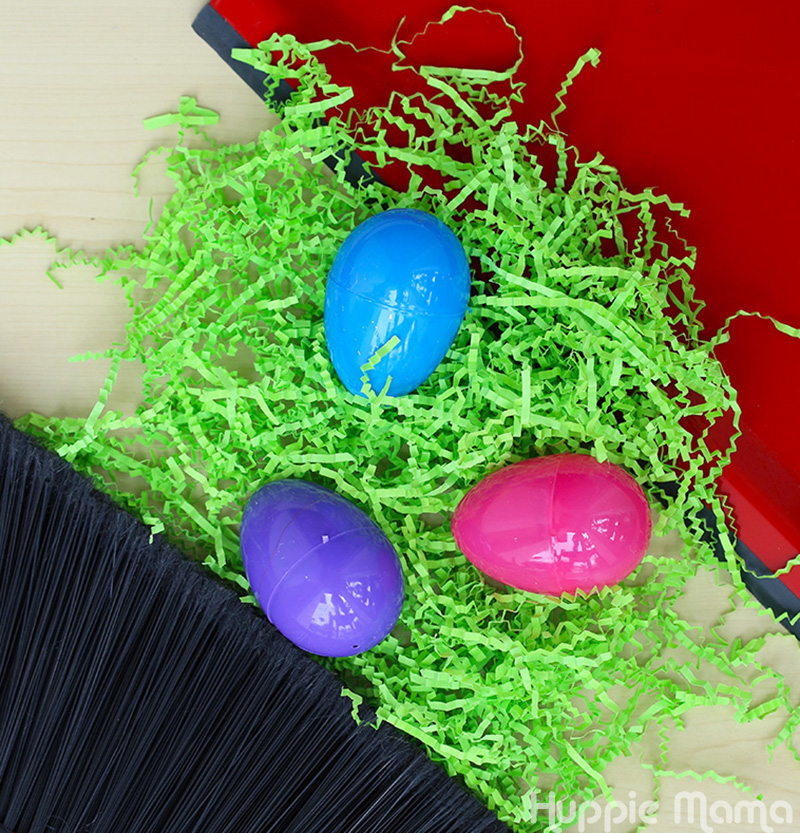 BUY IT! The O-Cedar Angler Broom can be found at your local Target, Walmart, Ace Hardware, or Amazon.com. Check the store locater to make sure it is available near you.
WIN IT! Enter below to win one of SIX gift cards.