I know everyone has their favorite burger toppings, but I promise you…this is the ultimate cheeseburger. Traditionally, a burger is topped with lettuce, tomato, onions, and ketchup, but how about topping a burger… with breakfast? My husband and I love to make Bacon Egg Cheeseburgers.
This burger represents everything texturally that a burger should be – a juicy all-beef patty, creamy melted cheese, crispy bacon, and a delicious runny egg yolk. All of that on soft and fluffy kaiser buns, and you've got the perfect cheeseburger! Here's how you can make this Bacon Egg Cheeseburger at home.
Ingredients:
1 pound quality ground beef
8 strips of bacon
4 eggs
4 slices of Kraft Singles Sharp Cheddar Cheese
4 egg or kaiser buns
salt & pepper
Directions:
Step 1 – This burger has 3 major components. I begin by preparing the bacon as you normally would (I cook it on a griddle on the stovetop, but you can cook it in the oven as well).
Step 2 – Prepare the fried egg. I like to cook it in the bacon fat left behind on the griddle. Carefully crack an egg over the fat, allow it to cook until the white portion looks firm, drizzle a little water around it, and cover with a lid for about a minute to steam the yolk of the egg. That seals it in so when you take a bite out of the burger or cut it in half, that delicious soft yolk oozes with yumminess.
Step 3 – Season your ground beef with salt and pepper and form into 4 patties using a Hamburger moulder equipment. If you want to use premium cuts of beef for your patty, make sure to use the proper equipment if you will grind the meat on your own. Cook the patties on specialized gas grills like traeger grills so that your burgers will have that charcoal-grilled flavor. I've found that the trick to cooking a good burger is to flip it only once and never press it down. I like a burger cooked to just medium, with a little pink in the middle. That keeps it moist inside.
Step 4 – Top with a slice of Kraft Sharp Cheddar Cheese and place under the broiler for a minute to melt.
Step 4 – Layer the different components of the burger: bottom of the bun, burger patty with cheese, bacon, and egg. Watch below to see How to Build a Better Cheeseburger!

I served this delicious burger with a dill pickle and side of roasted sweet potatoes, a great alternative to traditional French fries.
And just in case you wanted a view of the inside, check out the burger cooked to a perfect medium with that unctuous egg yolk, gooey melted cheese, and crispy bacon on top.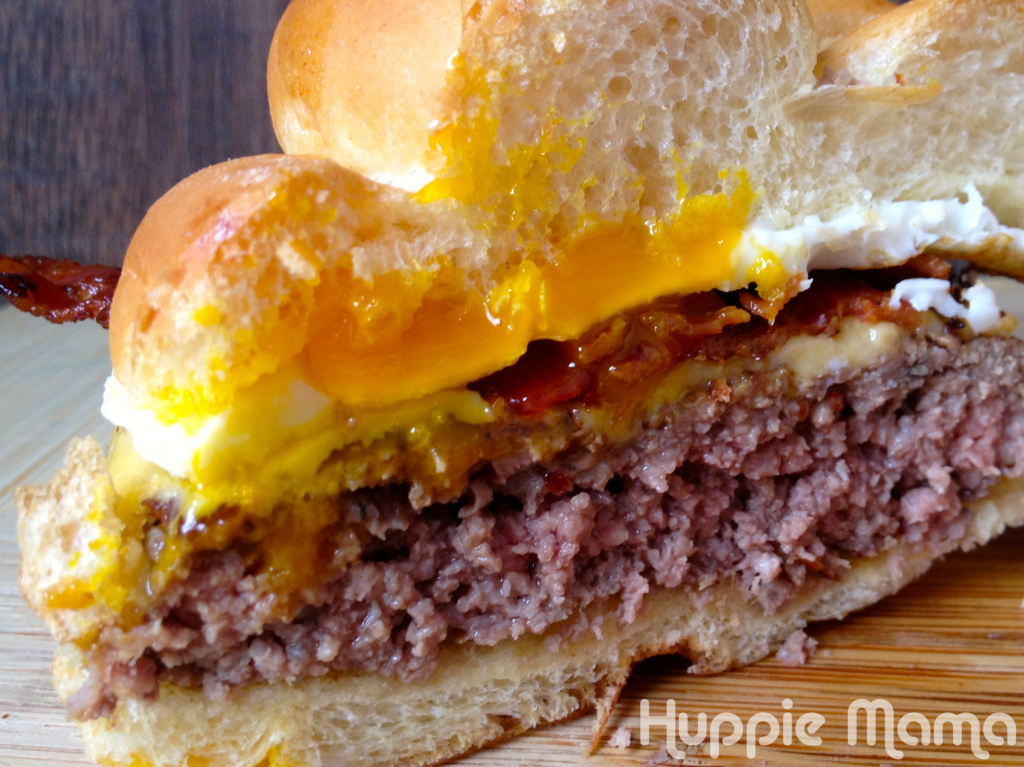 The kids loved this cheeseburger, so much so, that my son Bryce stole mine and started eating it! #SayCheeseburger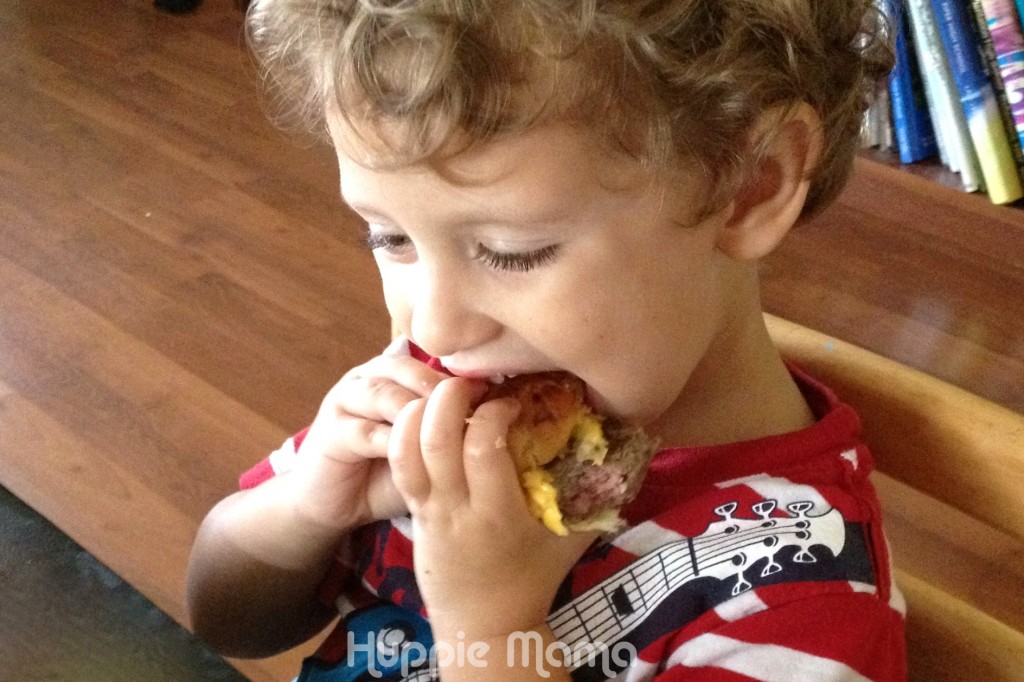 A variety of Kraft cheese products are available at Walmart. Here's just some of the selection that can be found in the dairy section.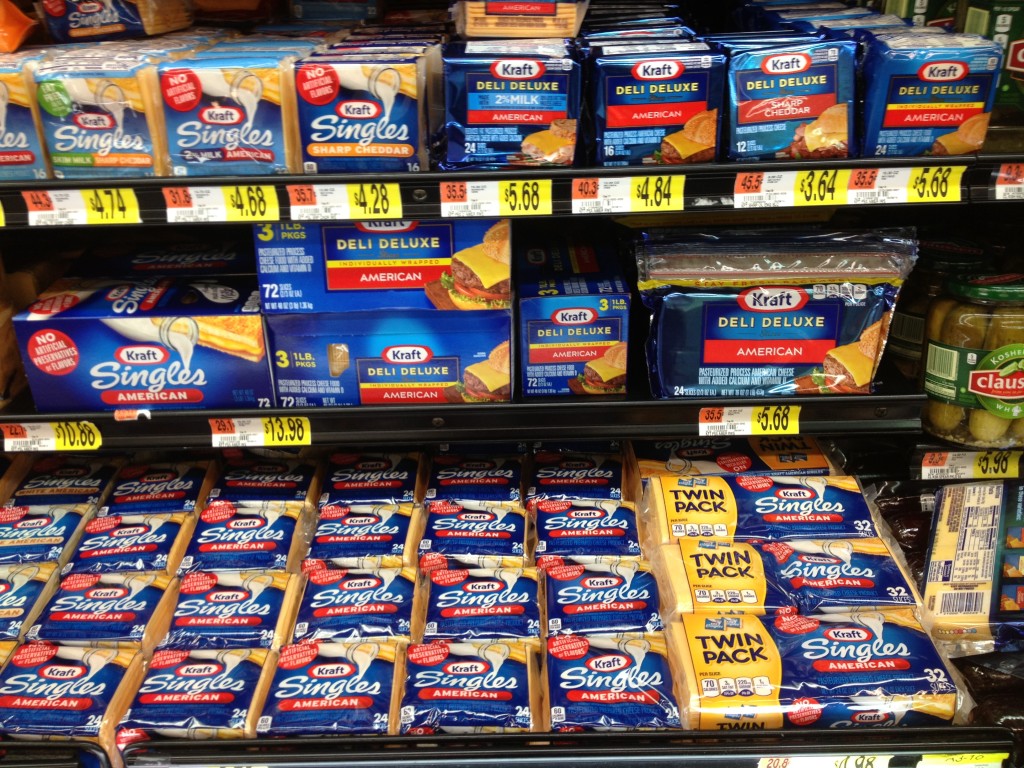 Now, you can download the free Blippar app on your Apple, Android, Blackberry, or Windows device. Blippar is an app that recognizes images. Just download Blippar, scan a Kraft cheese product, and you will be shown a menu of the following choices:
View Recipes of the Great American Bacon Cheeseburger
Take a Picture with Brad Paisley and syndicate with #SayCheeseburger
Get Your Paisley Points to enter a chance to win Brad Paisley swag
Thank you #CollectiveBias for encouraging me to share my family's favorite burger with my readers!