Host a Summer Luau Party your friends and family will love!
It's the first official week of summer (even if it's felt like summer since February in South Florida). This means, I don't care where you live, it's time to head outside for some backyard celebrations. What am I planning? A 4th of July Luau Party! Rather than the traditional stars and stripes Independence Day celebration, I'm celebrating our 50th state – Hawaii – with a summer luau party!
Summer Luau Party: Tablescape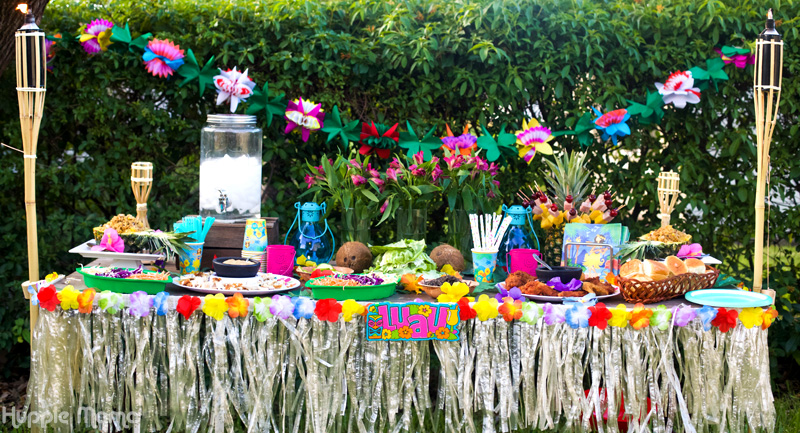 I have a lot of ideas for this type of party, so I'll go through everything step-by-step. Hosting a Luau is perfect for the 4th of July. Why? Because it's a great day-to-evening theme!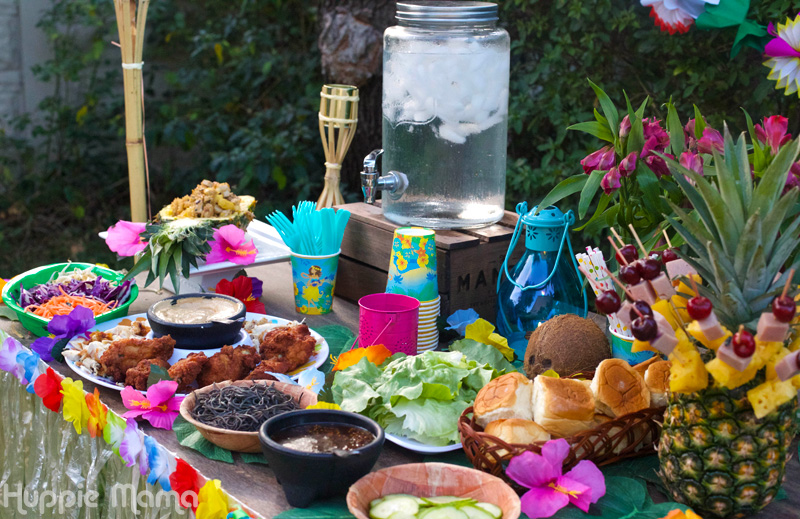 The most important element I was certain to include in this party was lighting – I purchased tiki torches to place in the ground, small tiki candles for the table, four colorful lanterns, and lots of tea lights to fill them. A good lighter is essential, too.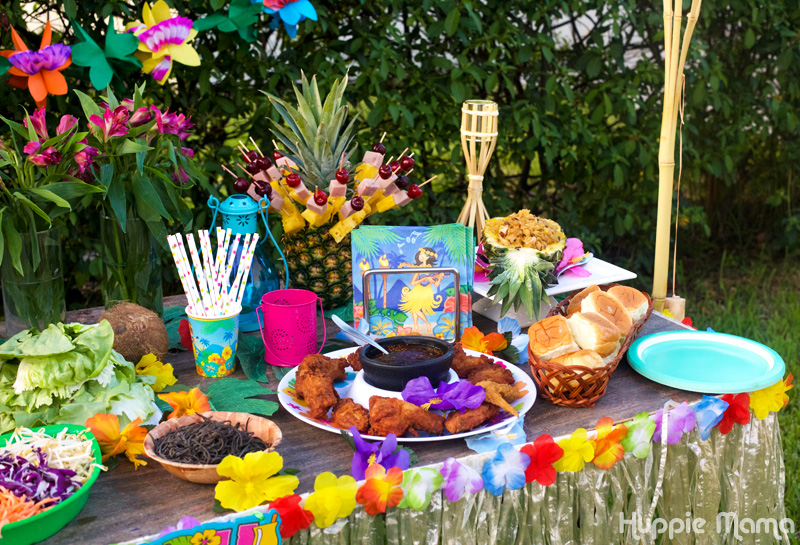 Summer Luau Party: Recipes
While decorating the table and background makes for a beautiful party, the heart of any party is in the food. The perfect food for a family-friendly event such as this? Fried chicken!
I purchased a bag of chicken wings and an 8-piece fried chicken from the Walmart deli. Walmart makes it super-convenient because you can buy any combination of individual pieces or large party platters.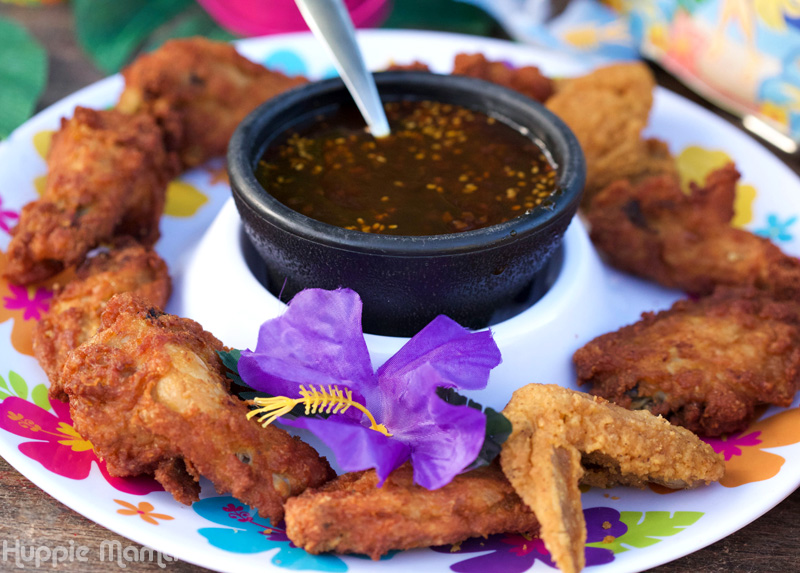 But rather than just purchasing the chicken and serving it as-is, I created two different dips and some ideas to make my Hawaiian-inspired lettuce wraps. The dips include Peanut Sauce and Teriyaki Sauce.
Peanut Sauce
Ingredients:
1 cup natural peanut butter
1 cup chicken broth
1/2 cup coconut milk
2 T soy sauce
2 cloves garlic, crushed
1/2 t freshly grated ginger
Directions:
Combine all ingredients in a blender until you have a smooth puree. Simmer in a sauce pan for about 5 minutes, just to heat through and remove the raw garlic flavor.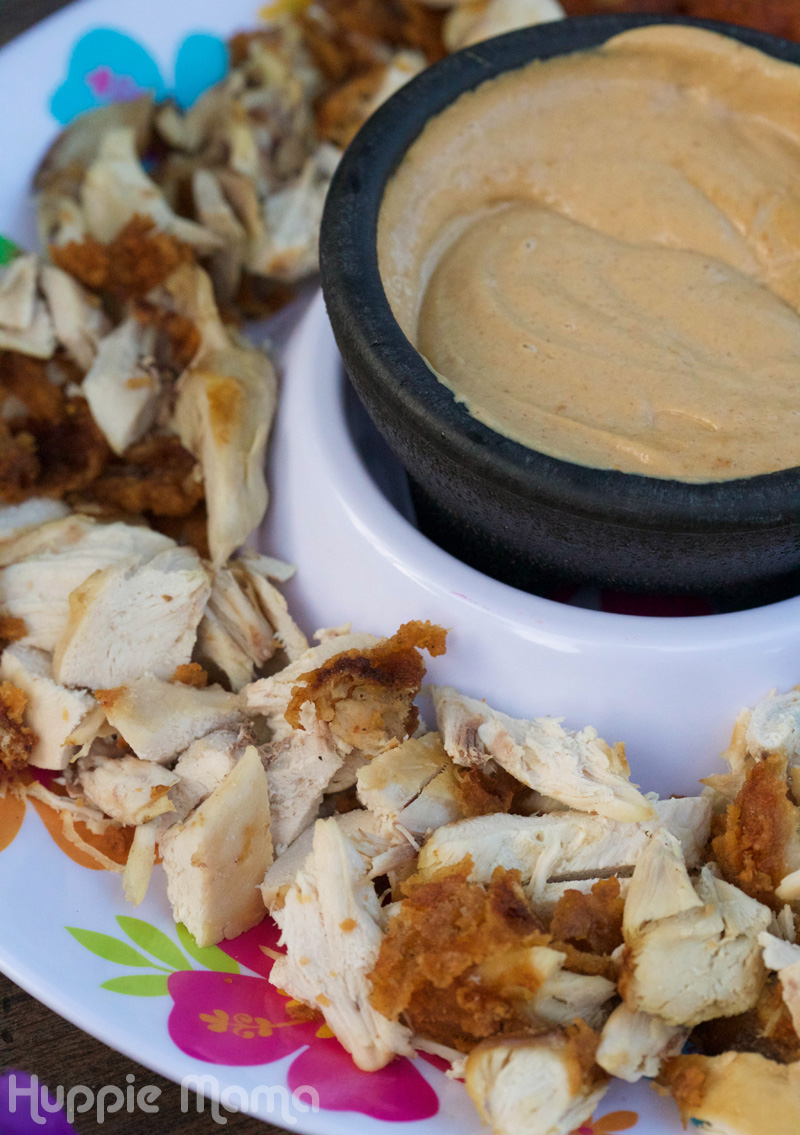 Teriyaki Sauce
Ingredients:
1 cup chicken stock
1/4 cup soy sauce
1/4 cup pineapple juice
3 T honey
2 slices fresh ginger
1 clove garlic, crushed
1 tsp sesame seeds
Directions:
Combine all ingredients in a small sauce pan. Simmer for 15 minutes. Remove the ginger slices before serving.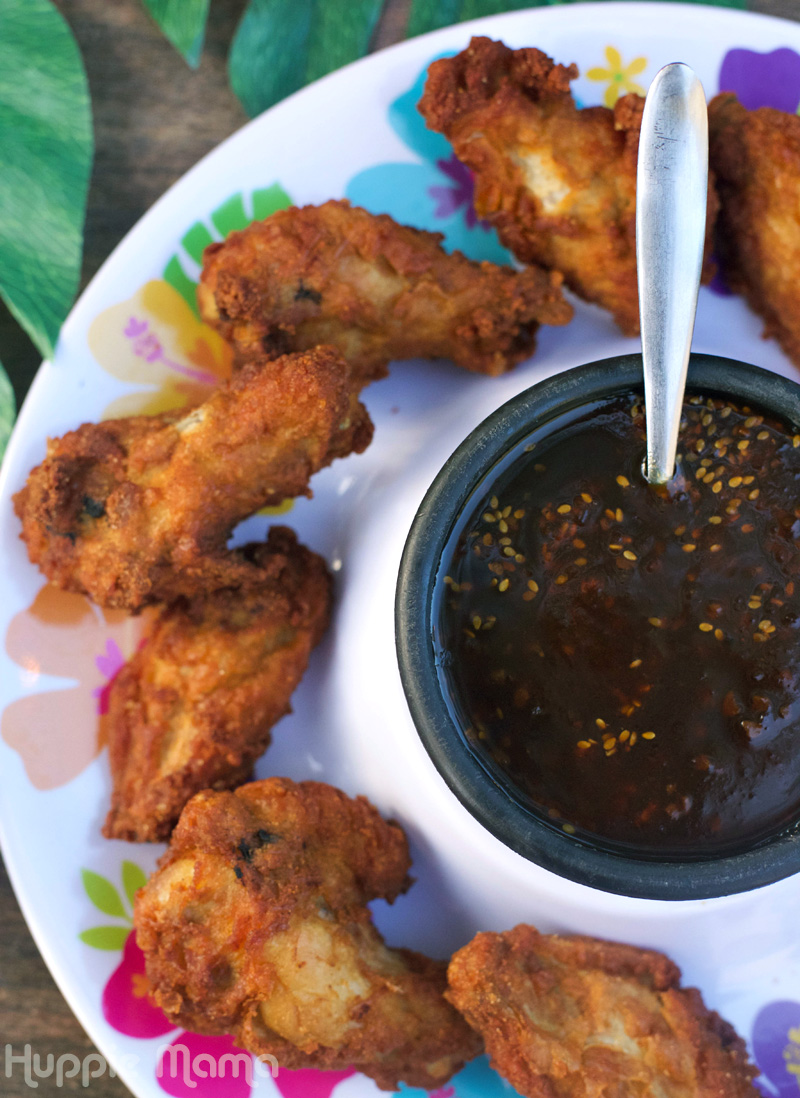 Once the sauces are made, gather all of the ingredients for your chicken wraps. I removed the fried chicken (the 8-piece package) from the bone and chopped it into bite-sized pieces. I also included a variety of toppings, like shredded carrots, shredded red cabbage, bean sprouts, sliced cucumbers, and cooked noodles (I used black bean noodles for some extra color).
To assemble the wraps, fill a large piece of Bibb or Boston lettuce with some of the shredded chicken. Add the vegetables and chilled noodles. Top with either of the sauces (or both) and fold over like a taco.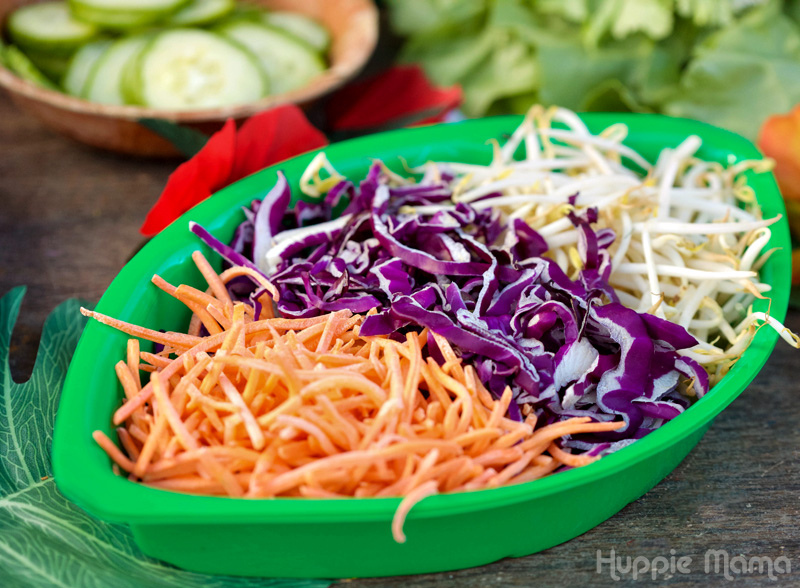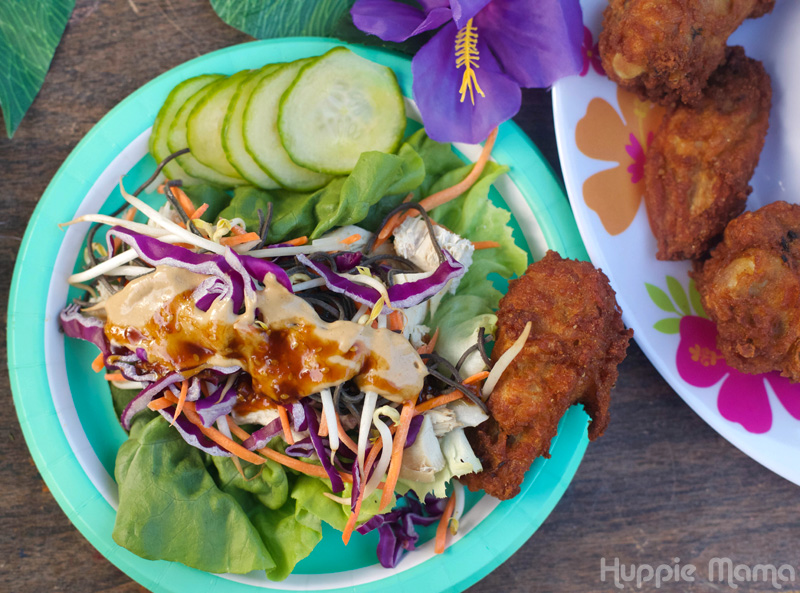 In addition to the Hawaiian-inspired lettuce wraps, I made this fun pineapple. Each skewer has one triangular-shaped piece of pineapple, a cube of ham, and cherry on top! I placed the skewers in two rows around the top of the pineapple. How fun is this pineapple centerpiece?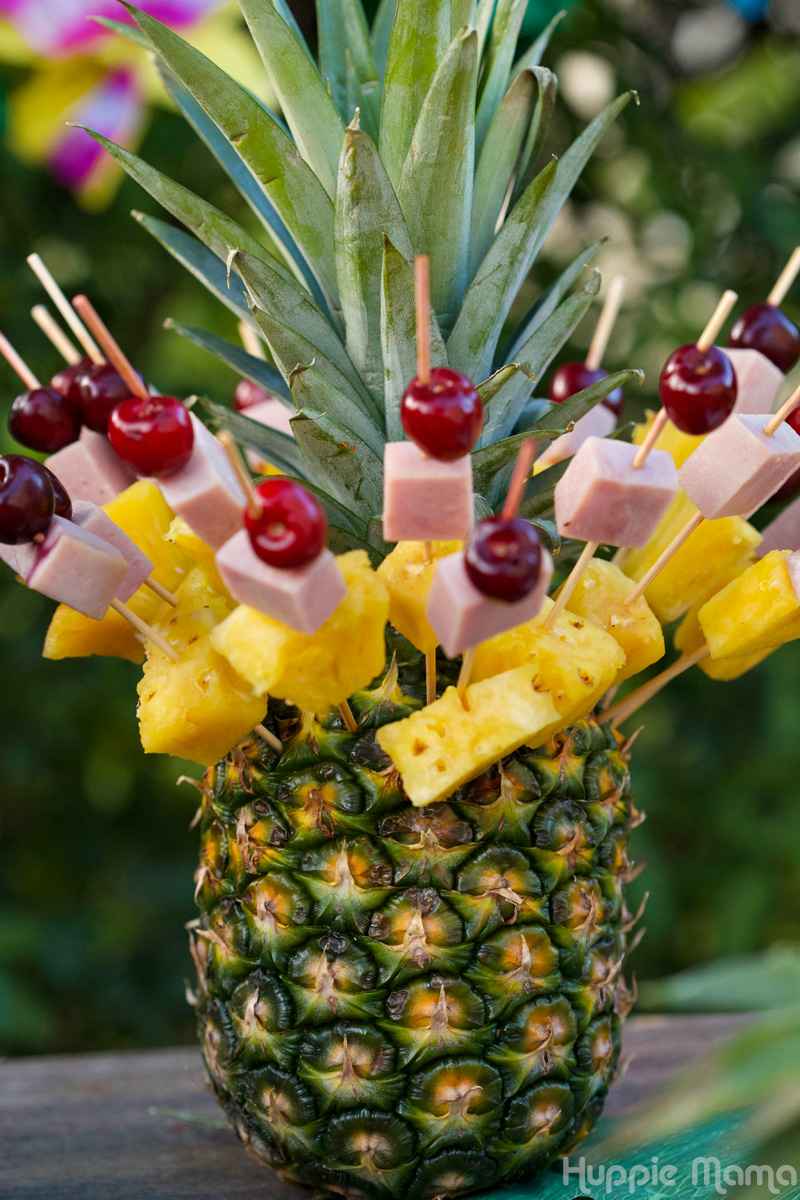 Another great way to celebrate pineapples is to make fried rice and serve it inside the pineapple itself. This fried rice contains chunks of roast pork, sautéed onions, garlic, ginger, and small bites of the pineapple that I removed from the center.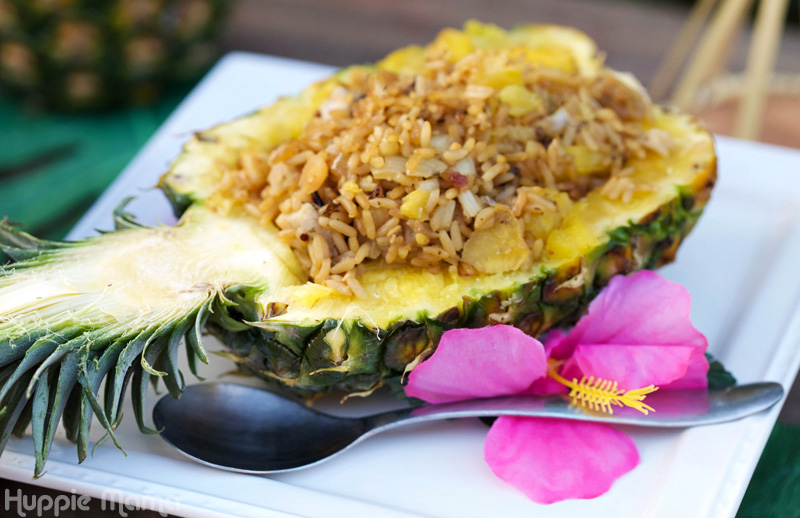 For the 4th of July, a sparkler is the perfect touch!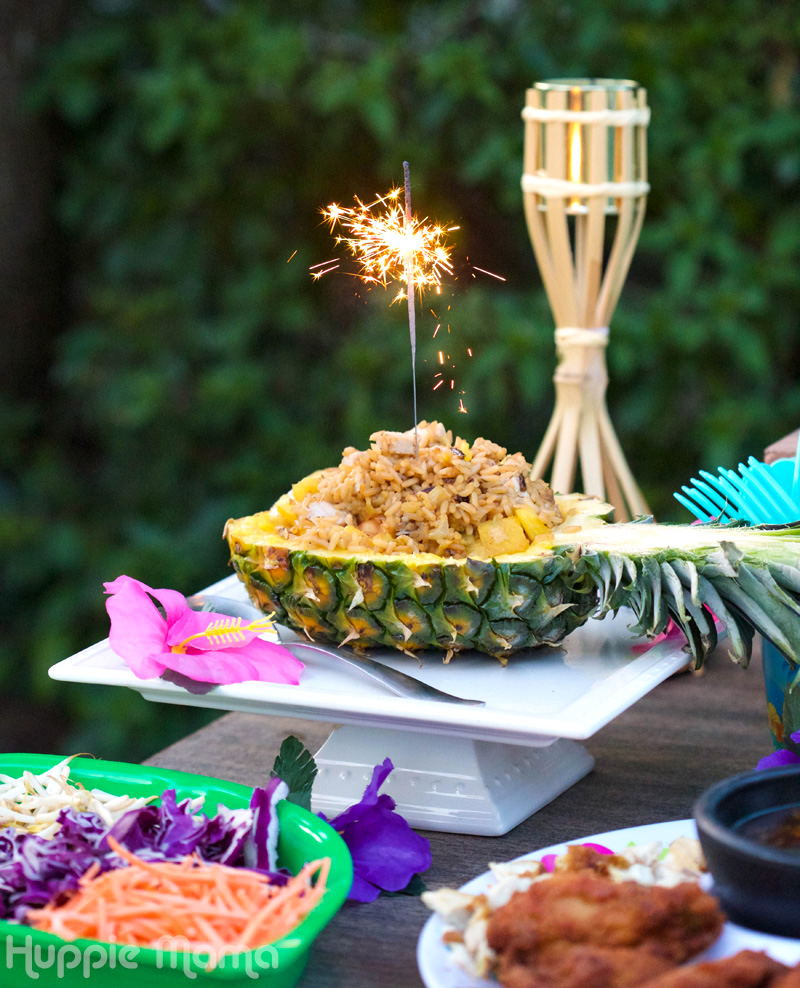 To keep things simple (and to keep everyone hydrated), I had a large cooler of water. You can add different fruits and herbs to make flavored water, like lemon-basil or pineapple-mint.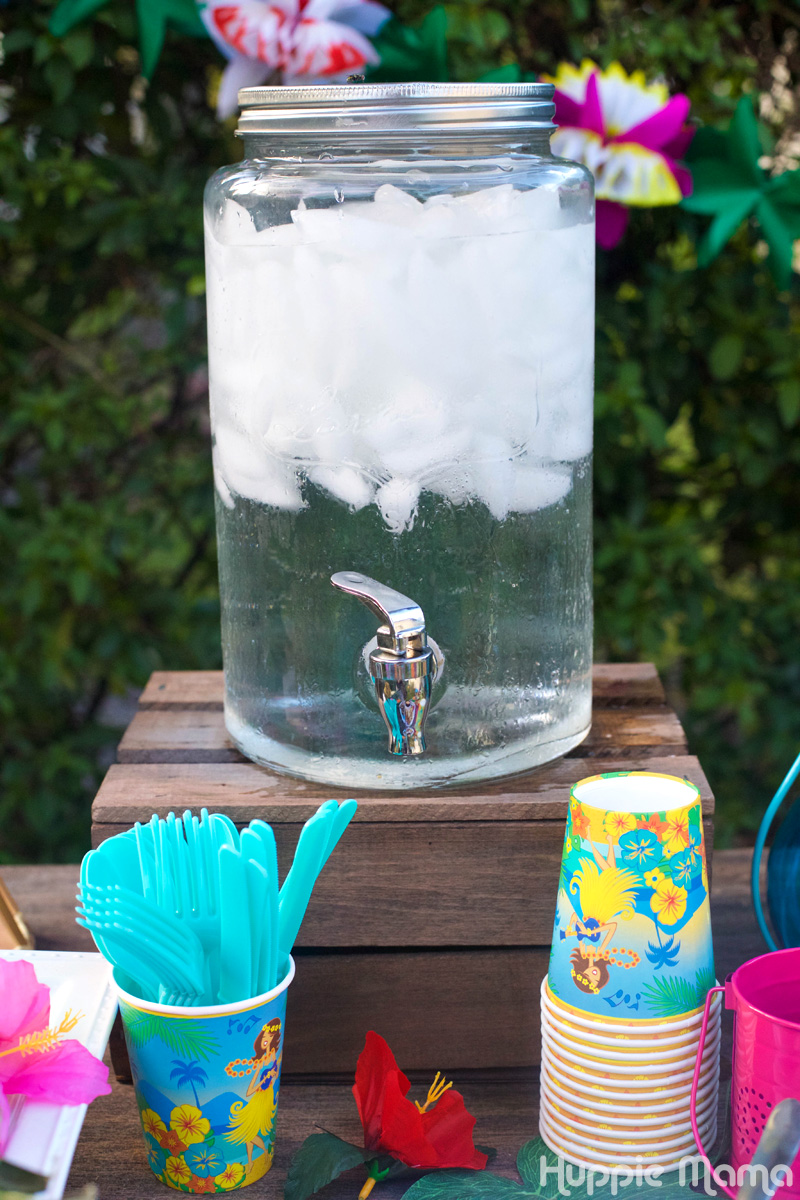 It started to get dark outside, but that's okay! That's what the torches are for, right? I like the different combination of lights and torches on and surrounding our tablescape.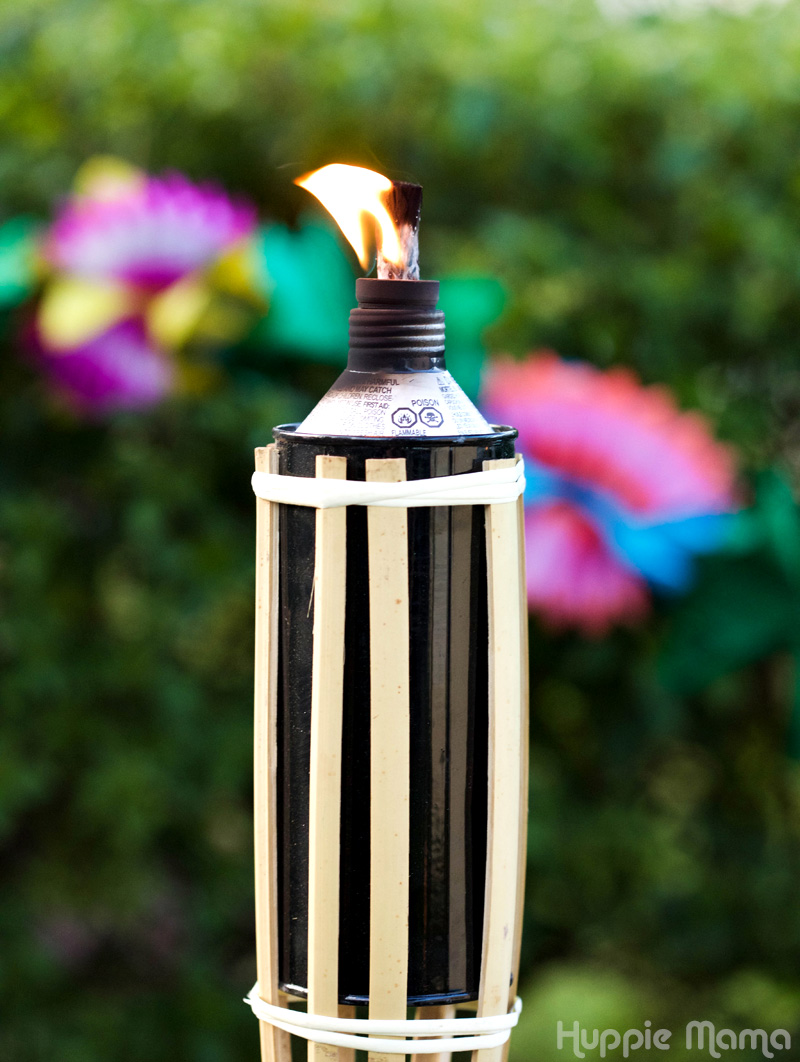 That also means, after all of that delicious food, it's time for a delicious (and simple) dessert! I purchased vanilla ice cream and made a topping of dried tropical fruits, shaved coconut, mini chocolate chips, and chopped macadamia nuts.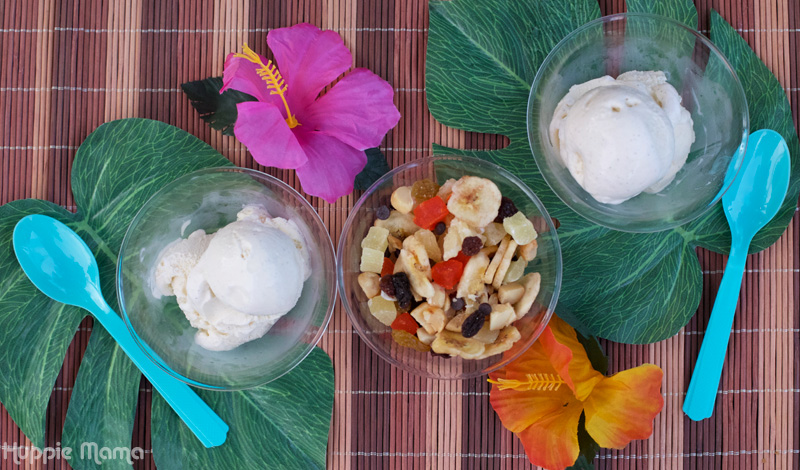 To make it extra festive, top with a sparkler. My kids thought this was awesome!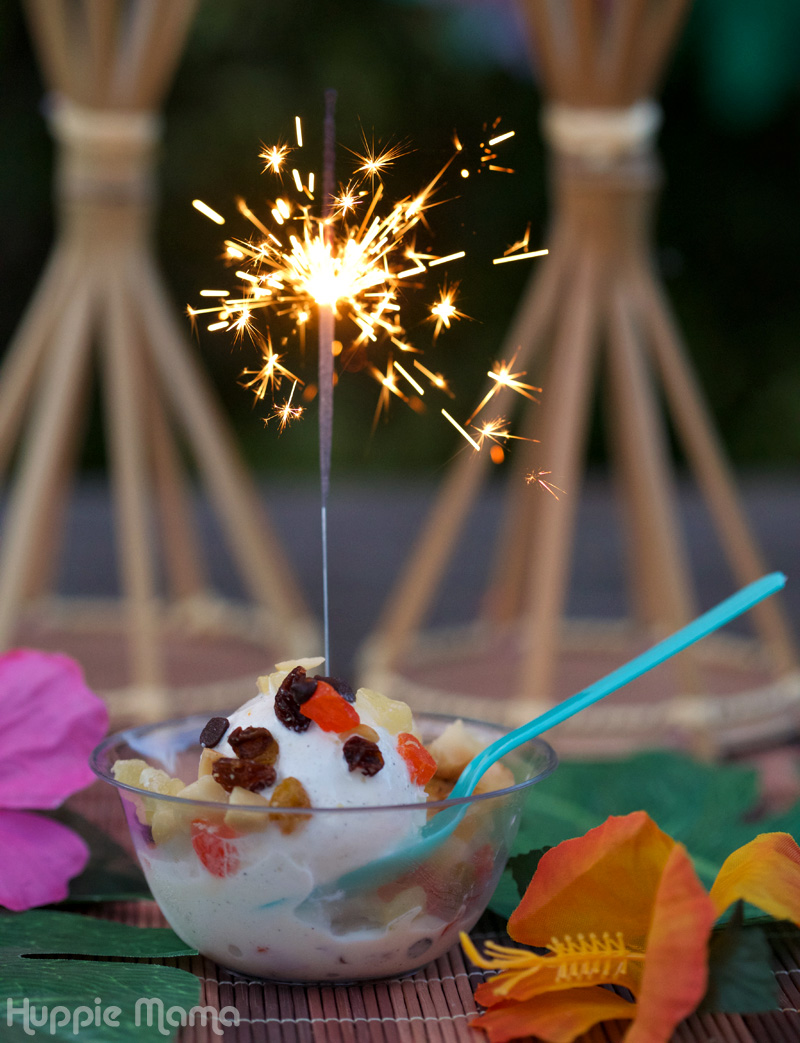 As it began to get darker, the kids enjoyed their ice cream treats. The great thing about this party is that each element was so simple to prepare. Why spend tons of time in the kitchen when you can be outside partying with friends and family?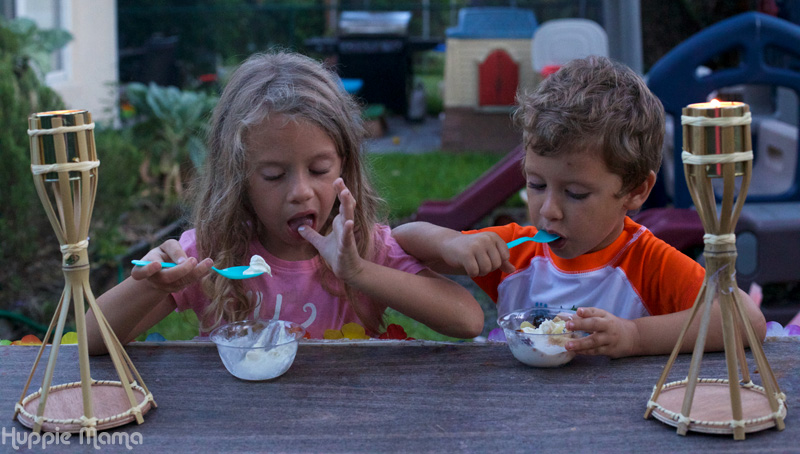 And when the kids were finished eating their Hawaiian ice cream sundaes, it was time to hula! I can't look at this picture without smiling. Lydia somehow started this hula hoop around her waste and got it to rotate upward and over her head. Silly girl!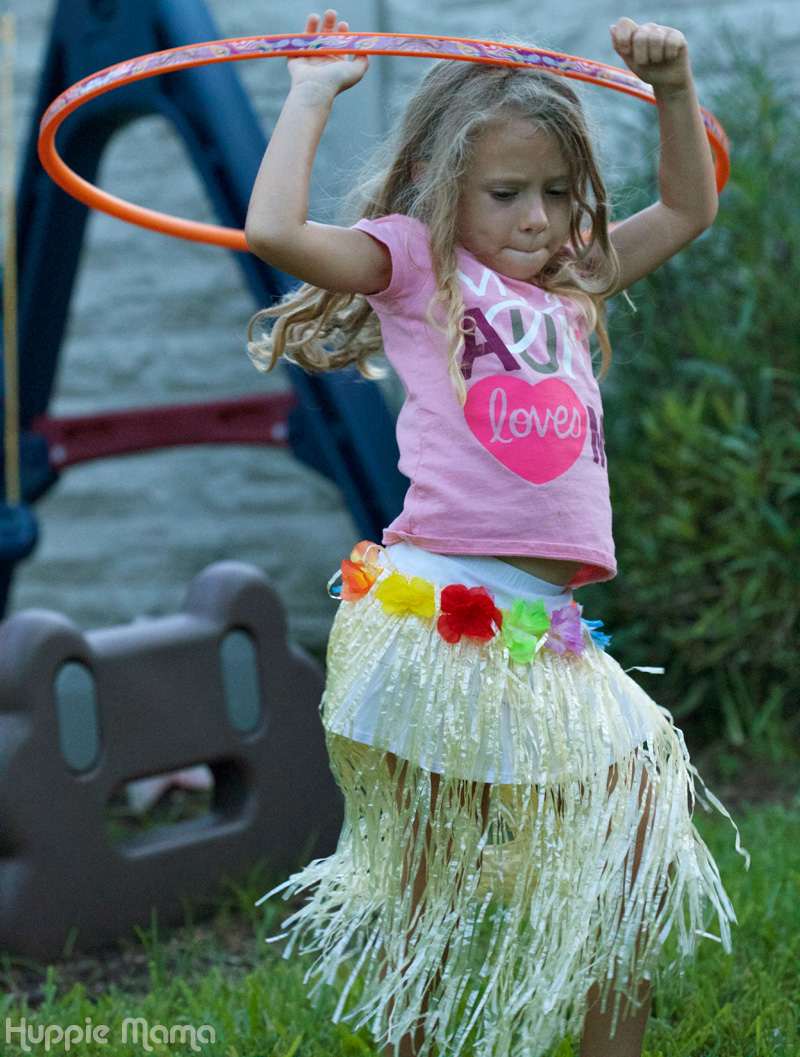 What summer celebrations do you have planned?
Pin this Summer Luau Party Image below!
Follow Huppie Mama's board Luau Party Ideas on Pinterest.