I'm usually not a big fan of fruit desserts, but this mixed berry spoon cake has long been an exception to the rule. I found this original recipe (with regular all-purpose flour) several years ago, and I've made it many times since. It's that easy go-to recipe you can bring to a potluck or modify to make a smaller cake for your family.
We have been seriously cutting back on the gluten in our home the past few months, so I thought I would make a gluten-free version of this recipe using Living NOW Foods gluten-free all-purpose flour. I also cut back on some of the sugar and switched out the lemon zest for Nielsen Massey orange extract.
The batter for this cake tastes almost like a really delicious pancake that's moist on the inside, crisp along the edges. The berries are all warm and juicy. Together, it's just yummy! And the awesome thing about it being a spoon cake is that you don't have to slice it nicely – you can just scoop it out.
Gluten-Free Mixed Berry Spoon Cake
(adapted from this recipe on Food and Wine)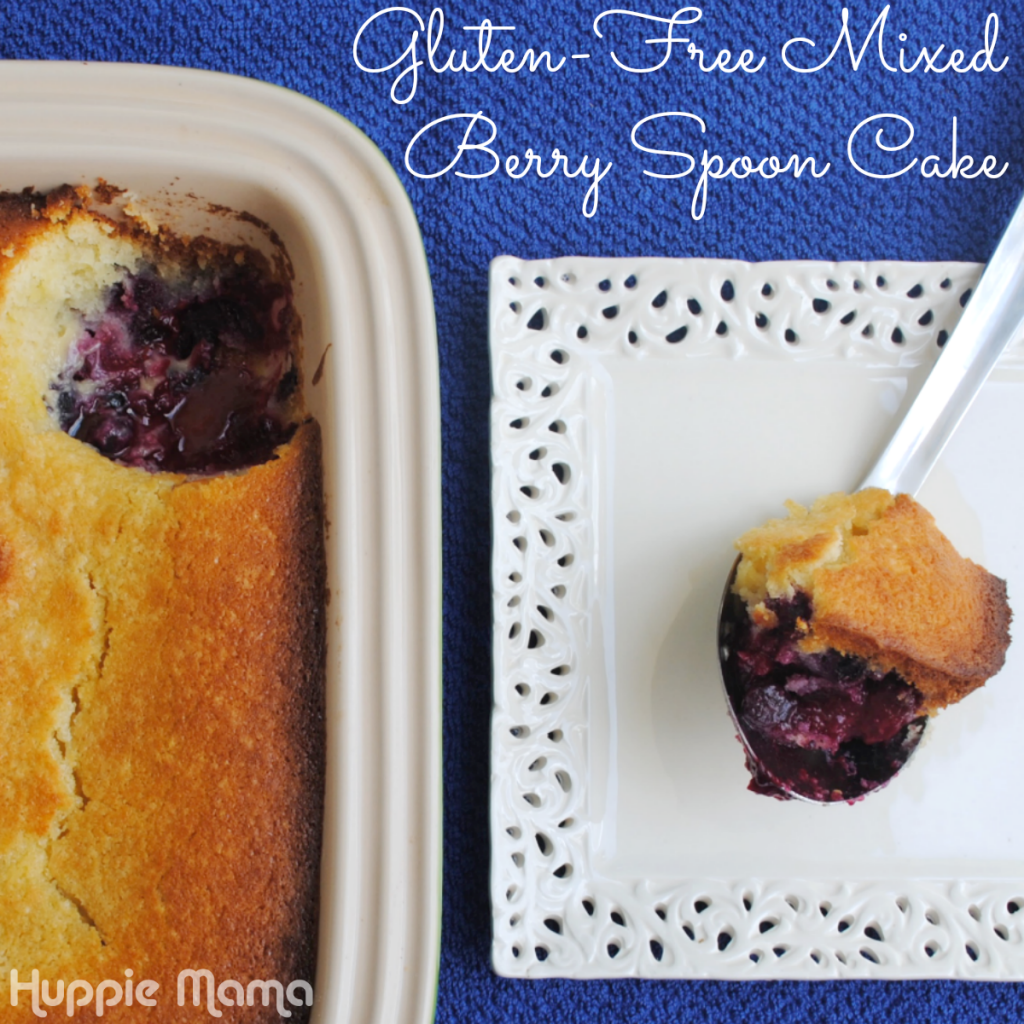 Ingredients:
Filling
10-ounce bag of frozen organic raspberries
10-ounce bag of frozen organic blueberries
1/2 cup sugar
2 T cornstarch
Batter
1 1/2 cups gluten-free all-purpose flour
1 cup sugar
1 1/2 t gluten-free baking powder
1/2 t salt
2 eggs
1/2 cup milk
1 1/2 sticks melted butter
1 t Nielsen-Massey Tahitian Pure Vanilla Extract

1/4 t Nielsen-Massey Pure Orange Extract
Directions:
Step 1 – Preheat oven to 375 degrees F. In a bowl, make the filling by tossing the frozen berries with the sugar and cornstarch. Let stand for 10 minutes.
Step 2 – In a medium bowl, whisk the gluten-free flour with the sugar, baking powder, and salt. In a small bowl, whisk the eggs, milk, vanilla extract, and orange extract. Add the liquid ingredients to the dry ingredients until evenly moistened. Then whisk in the melted butter until smooth.
Step 3 – Spread the berry filling in a 9-by-13 inch baking dish. Spoon the batter over the berries, leaving small gaps. Bake in the center of the oven for 60 – 75 minutes, until the fruit is bubbling and a toothpick inserted into the topping comes clean.
Best served warm. Makes about 8 servings.