This #MyDataMyWay shop has been compensated by #CollectiveBias, Inc. and its advertiser, Walmart Family Mobile. All opinions are mine alone.
We have several weeks of celebrations coming up in my family: my 10-year wedding anniversary, my sister's college graduation, my brother-in-law's college graduation, Mother's Day, and my sister's birthday. Wow! We have a lot going on!
With all of these celebrations, I need a few things:
Calendar to organize all the events
Camera that is easy to carry around and takes quality pictures
Social media accessibility to post photos from all of the events
Email access to follow-up on any details about each event
Text messages and phone so I can easily communicate with family and friends
Directions to unfamiliar locations
If I told you that for $29.88 you can have all of that and more for an entire month, would you believe me? It's true! With Walmart Family Mobile and the Samsung Galaxy Avant (RV $149.99), you can get unlimited talk, text, and 500MB of 4G LTE data for just $29.88/month for the first line.
Many of my friends and blog followers would probably assume Facebook is my preferred social media platform because of my high level of engagement, but my favorite is actually Instagram. I am a very visual person, so I love scrolling through my Instagram feed to find images of crafts, recipes, travel, family, and friends. It was easy to download Instagram on to my new Samsung Galaxy Avant using Google Play.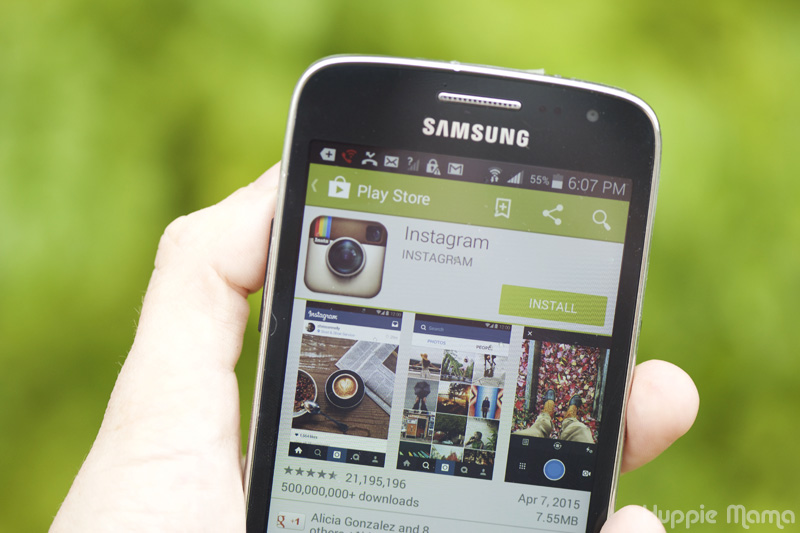 I tend to take a ton of photos on my phone and share many of them to Instagram and Facebook, but after some shares and comments, I don't do too much with them. I searched my Pinterest app for ideas for a great Instagram photo craft and felt inspired to create these Instagram Photo Coasters. It's a fun project you can do with your Instagram photos that would be great to give as a gift for a graduation, birthday, or Mother's Day.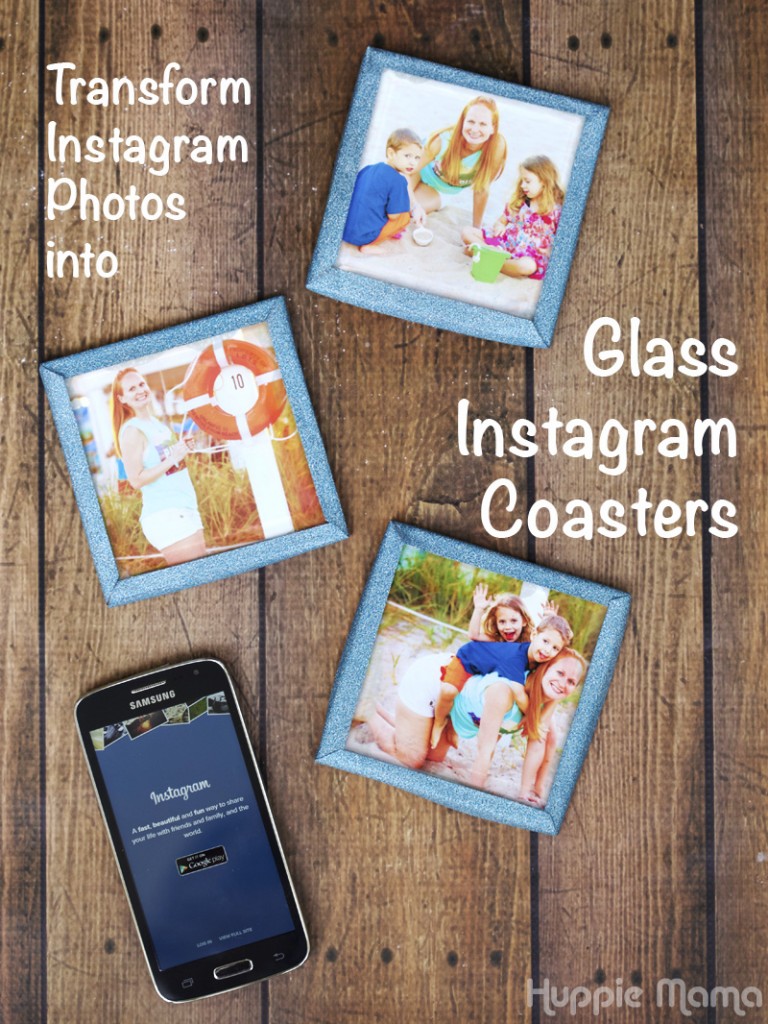 Materials:
Directions:
Begin by selecting and printing some of your favorite Instagram photos. I created a small white border around the edges. This project will be for my sister who is graduating from Nurse Practitioner school on May 1st. (You can check out the photo project I made for her birthday last year.) I selected recent pictures of her with my daughter Lydia and son Bryce at the Ft. Lauderdale beach. I printed each picture so that they would be 4″ x 4″.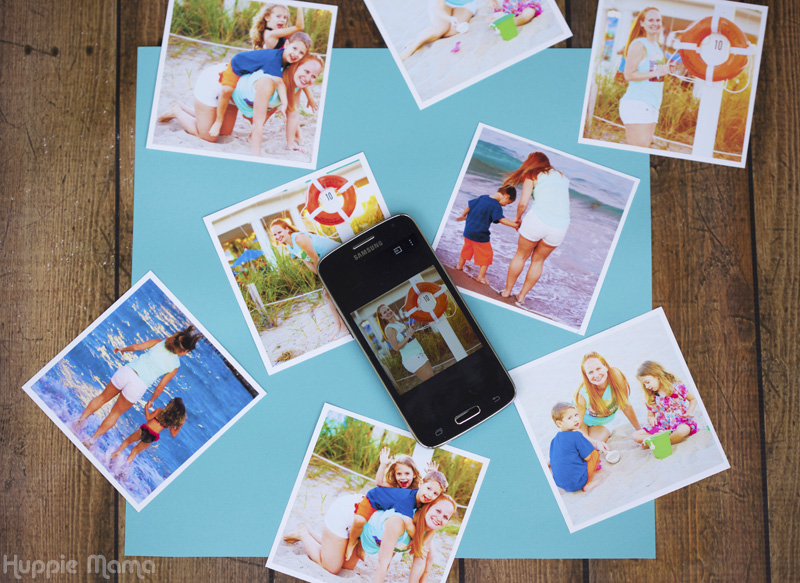 Next, I gathered the remainder of the materials and selected my top three favorite printed images. I chose blue sparkly ribbon tape to coordinate with the beach theme of the photographs. This tape will be used to cover up the edges of the glass tiles. (After creating this project, I recommend using regular ribbon tape, not glitter. The glitter tape is stiffer than others and was difficult to manage.)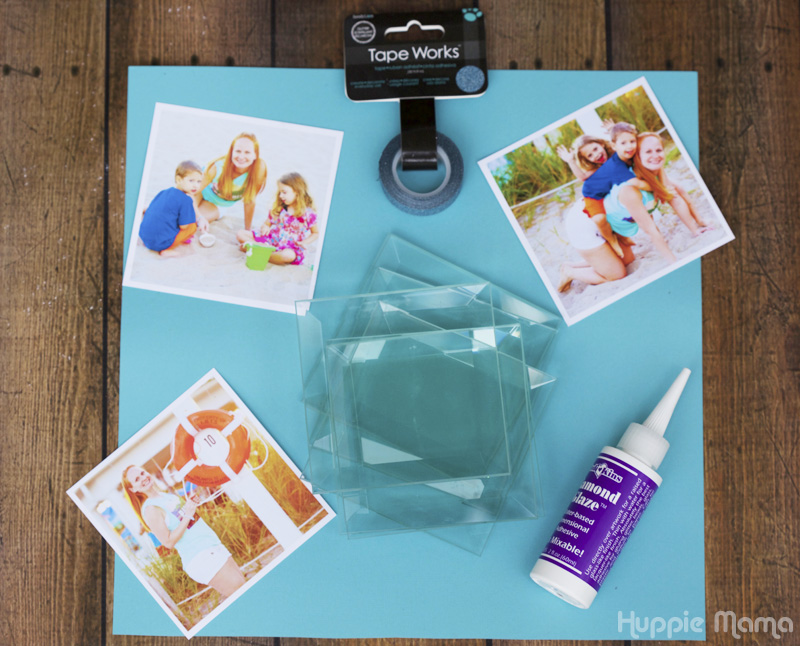 To make the coasters, place the beveled edge down on a clean surface. Add a thin layer of Diamond Glaze around the edges of the tile and place a photograph on top. Add another thin layer of Diamond Glaze around the edges of the photograph, and place the top tile beveled side up. When the glue has dried, use ribbon tape around the edges as decoration and to give each coaster a finished look.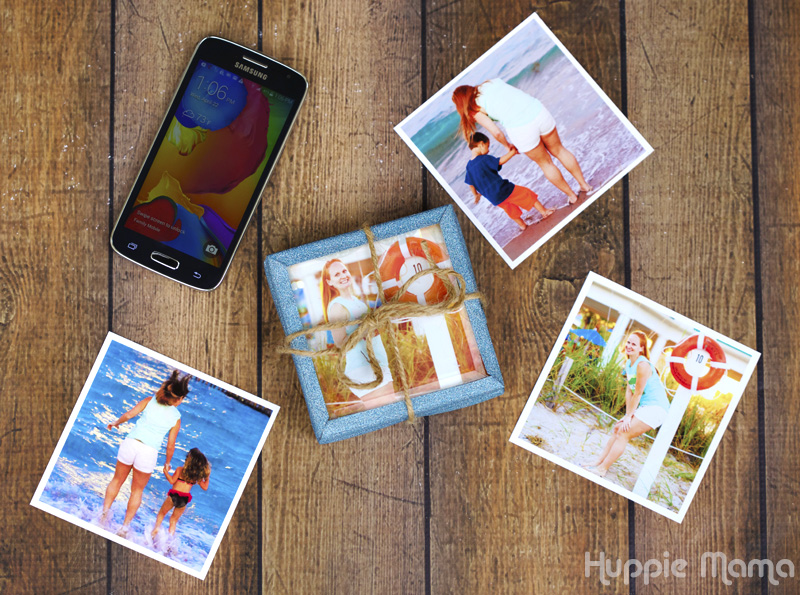 These Instagram coasters are such a fun gift! I'm happy to have enough data to spend some time on my Instagram and Pinterest apps searching for ideas of something special to create. As a blogger, I tend to use a lot of data each month, so I need a plan that allows me to use my apps and the Internet often without charging ridiculous fees to do so. For more information about this phone and monthly plan, visit the Walmart Family Mobile website or your local Walmart store.