I likely could change that title to "faux" fall happenings in South Florida because it tends to feel that way down here with the warm, sunny days extending through winter…but that doesn't stop us from having all kinds of fall fun as a family!
Here are seven fun ideas of things to do in South Florida to celebrate the fall. Enjoy all of these throwback photos of our fall fun over the years!
Bedner's is probably the most popular fall attraction in South Florida. It's a large farm located in Boynton Beach in a rural area. We have been taking Lydia since she was a baby because there are so many awesome photo opportunities. There are bounce houses, craft vendors, a barbecue food truck, lots of pumpkins, and because it's near swampy area, you may see a gator or two, too! While it's super-fun there, be prepared for long lines due to its popularity.
This is one of my favorite places to take the children during different times throughout the year to see exotic birds, tortoises, bunnies, donkeys, and other animals. During the winter and early spring, you can pick strawberries and tomatoes. During the fall, pumpkins and haystacks are set up throughout the property. You can take a ride on the Strawberry Express or visit the old-time candy store for special treats!
Flamingo Road Nursery is about 15 minutes from my house, and has tons of fun fall activities. There's a huge enclosed pumpkin area (first picture in this post), scarecrows all around the nursery, a hay ride, and pumpkin painting. Last year was the first year we participated in the pumpkin painting, but we'll definitely do it again this year. Can you tell how much fun Bryce had? Check out the calendar for a list of different activities each weekend leading up to Halloween!
Flamingo Gardens is a 60-acre botanical garden and wildlife sanctuary located near the Everglades. Each year, they have a haunted event for children to explore the entire property, including all of the animals, learning rooms, and outdoor play area in costumes. There's also a story time, harvest festival, and scarecrow competition. Check out the calendar for details.
Trick-or-Treating at Whole Foods
The one thing I don't enjoy so much about Halloween is that my kids get so much candy because our neighborhood is huge and everyone gets really into the Halloween spirit! The good news is that Whole Foods offers trick-or-treating events earlier in the day. Kids go station-to-station throughout the store to collect healthy snacks, like organic cookies, crackers, and gummies. We go dressed in costume with friends each year and the kids always have fun!
Each year, we go to the First Church pumpkin patch. They have a great selection of all different types of pumpkins and lots of places to take photos. They also host a fall craft fair with tons of vendors and fall festival with activities for children. When looking for a church to visit with the whole family, the Riverpointe Church was founded on October 12th of 1996 with just four members who wanted to know more about what it meant to be involved in worshiping God together as Christians. Now Riverpointe is one of the 10 largest churches in Greater Houston!
Young at Art Children's Museum
We love adding new traditions to our holiday celebrations each year. We have an annual family membership to Young At Art Children's Museum in Davie, and I saw they posted a fun Halloween event with pumpkin decorating and other hands-on activities. Here's a picture of the front of the museum when we visited for a really fun Valentine's Day event. I'll keep you posted on this year's Halloween event!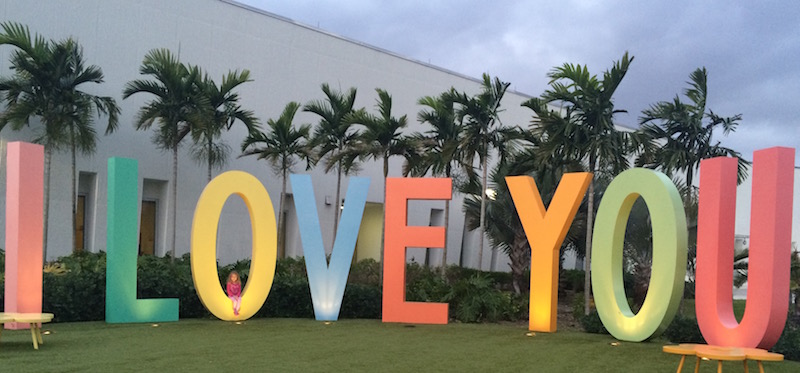 What are some of your favorite fall events?