This post is sponsored by Tyson Foods, Inc, but the content and opinions expressed here are my own.
Celebrate the season with this Fall Apple Party!
While the weather may still be hot for the next month or so, I am definitely ready to say "hello" to Fall! Pumpkin patches, fields of sunflowers, jeans and boots, hot coffee, hay rides, trips to the farm – Fall is my absolutely favorite season! Last year, we went apple picking in the mountains of Northern Georgia. Since we aren't doing that this year, I thought I'd bring the apple excitement to our home with this Fall Apple Party. Check out the ideas for recipes and decorations below!
>> Shop for the ingredients for the recipe below <<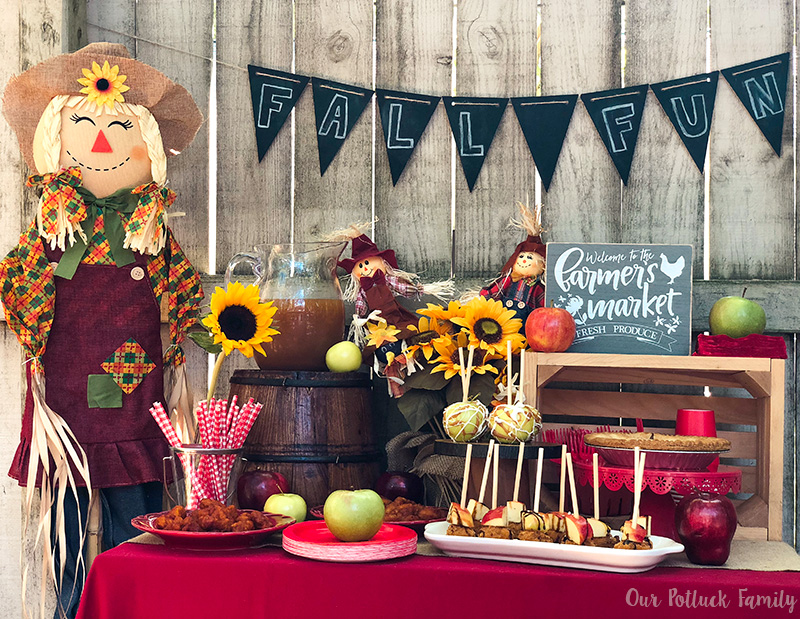 Fall Apple Party Tablescape
The first step in party planning is to set up your tablescape. While I sometimes do very large spreads for parties, I decided to keep this one simple by really focusing on a specific theme and making sure all of the decorations complemented one another. Obviously apples were my inspiration, so I pulled from the colors red, yellow, and green to select my decorations. To keep with the Fall harvest theme, I included the following:
Fresh apples
Gingham lined basic
A wooden barrel
Sunflowers, both real and faux
Scarecrows
Produce baskets
Burlap table runner
Red tablecloth
Red disposable cup, plates, spoons, paper straws
"Welcome to the Farmer's Market" sign
Decorative cake stands
Fall fun pennant banner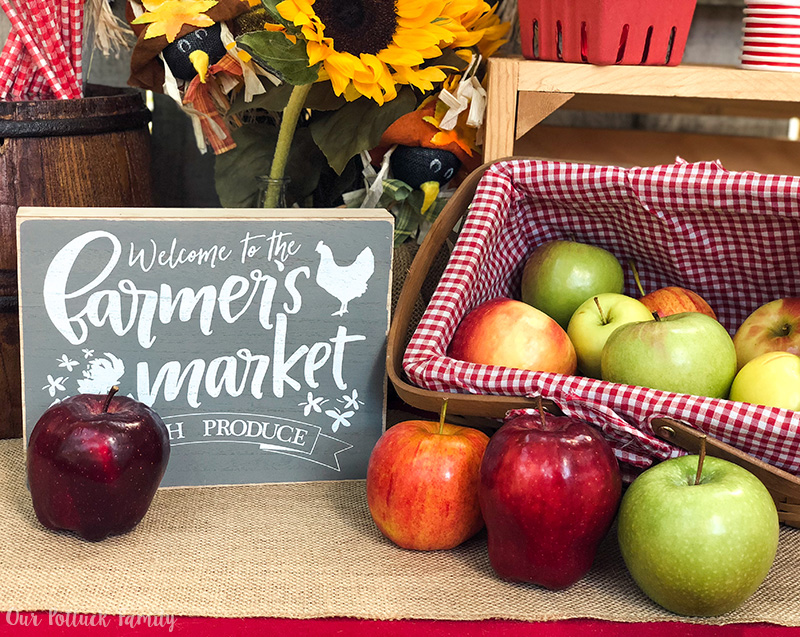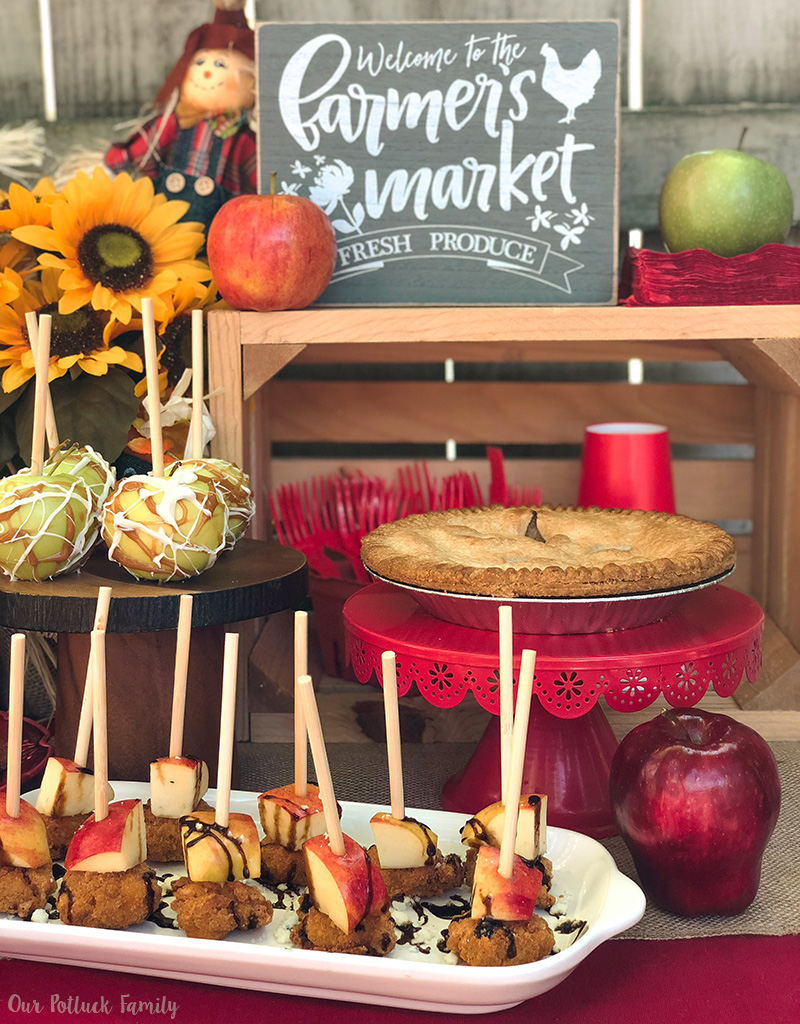 Fall Apple Party Food
With this being a smaller party, I kept the food really simple.  I prepared three varieties of Tyson® Any'tizers® and used one of them to create a new recipe. One of my favorite salads to prepare contains delicious ingredients, like apples, crispy chicken, and blue cheese, with a balsamic vinaigrette. I decided to rework these tasty ingredients into a one-bite appetizer. Here's how!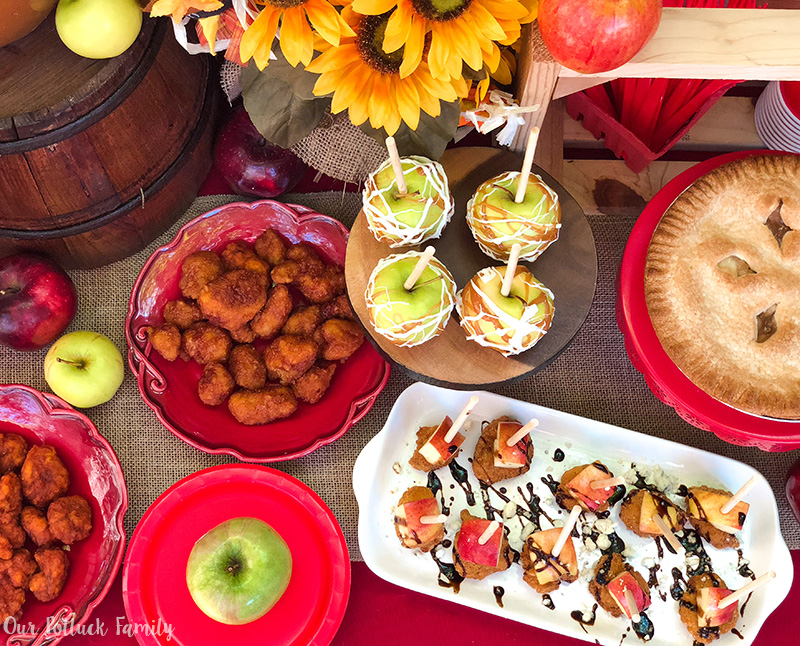 One-Bite Apple Chicken Appetizer ingredients:
One-Bite Apple Chicken Appetizer directions:
Begin by preparing the Tyson® Any'tizers® Popcorn Chicken according to the directions on the package. I actually ended up making all three varieties, including Tyson® Any'tizers® Boneless Chicken Bites (Honey BBQ Flavored) and Tyson® Any'tizers® Boneless Chicken Bites (Buffalo Style), and serving the other flavors as stand-alone appetizers.
Next, cube apples into large pieces, about 1-inch cubes. When the chicken is finished cooking, remove from the oven and allow to cool so that the pieces can be handled. Take a short skewer and push it through the apple then chicken. Repeat until you reach the desired number of One-Bite Apple Chicken Appetizers, and place them on a platter.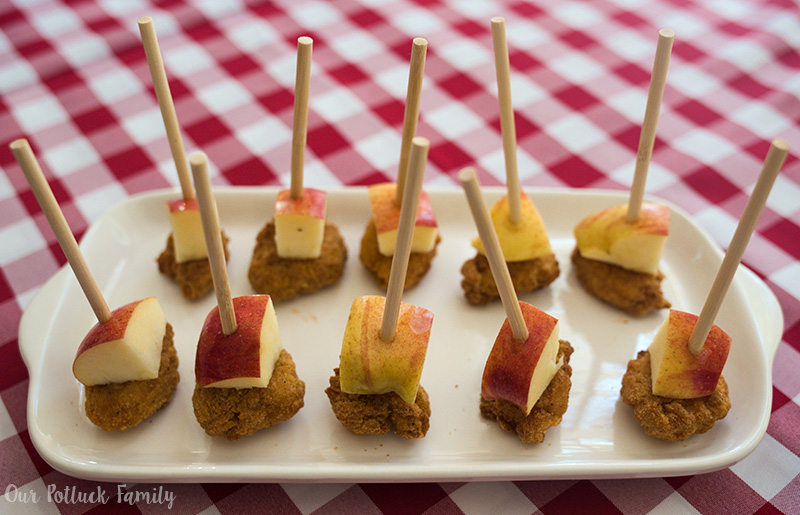 Drizzle with the 2 tablespoons of balsamic glaze, which is just a thickened, reduced balsamic vinegar, and sprinkle with the blue cheese crumbles. Your One-Bite Chicken Apple Appetizers are ready to serve!
In addition to the chicken described above, I had lots of plain apples out to nosh on along with apples that my children helped me to decorate. To make the decorated apples, I melted soft caramels in one bowl and white chocolate in a second bowl. I used small green apples, cleaned them, pierced with a wooden stick, and drizzled the caramel and white chocolate around the outside. They set up immediately and were ready to serve! I also purchased a pre-made apple pie at Walmart because every apple-themed party needs to feature a classic apple pie. And what to drink? Apple cider, over course! My spread was now complete, and my kids enjoyed tasting everything.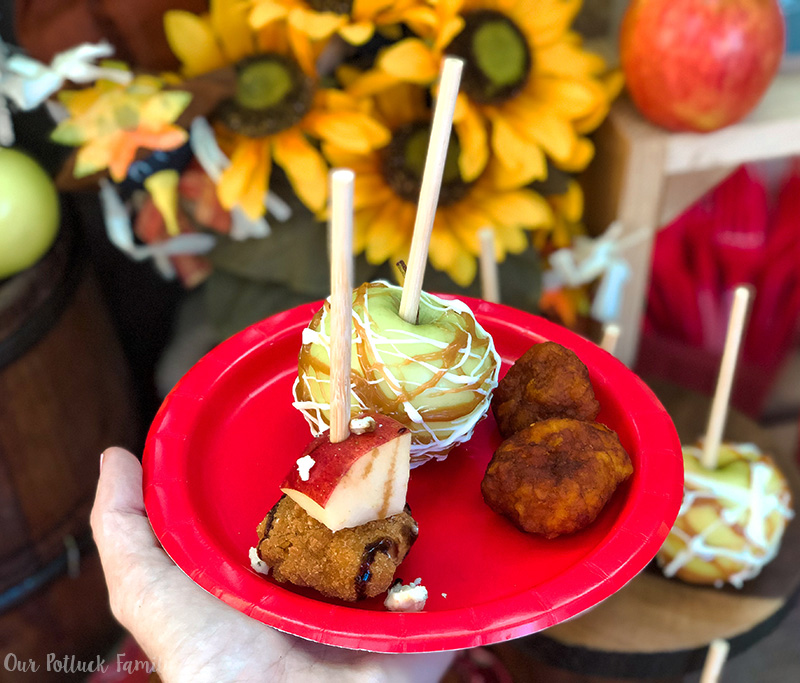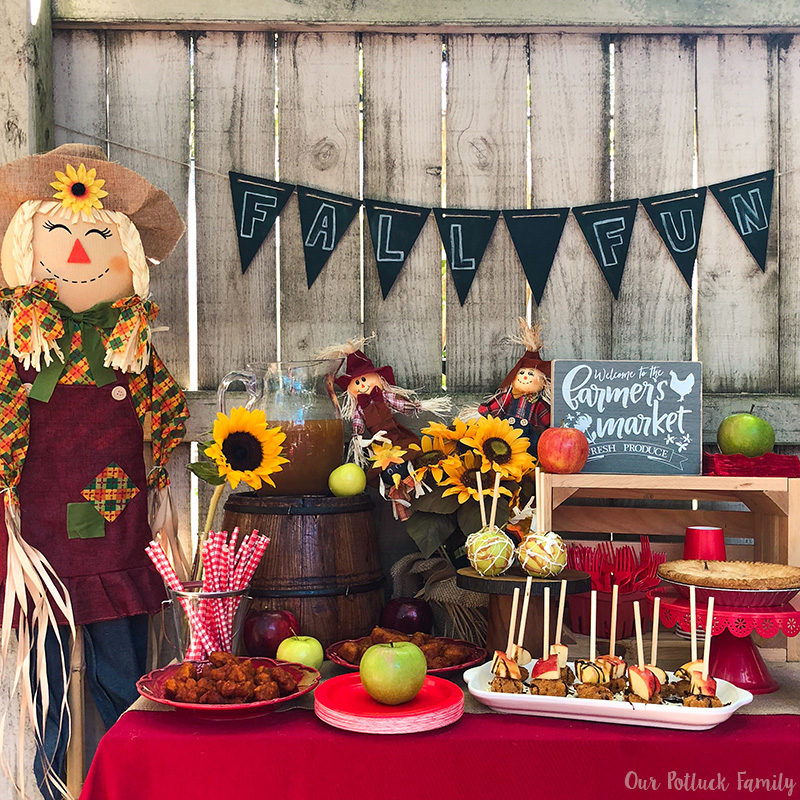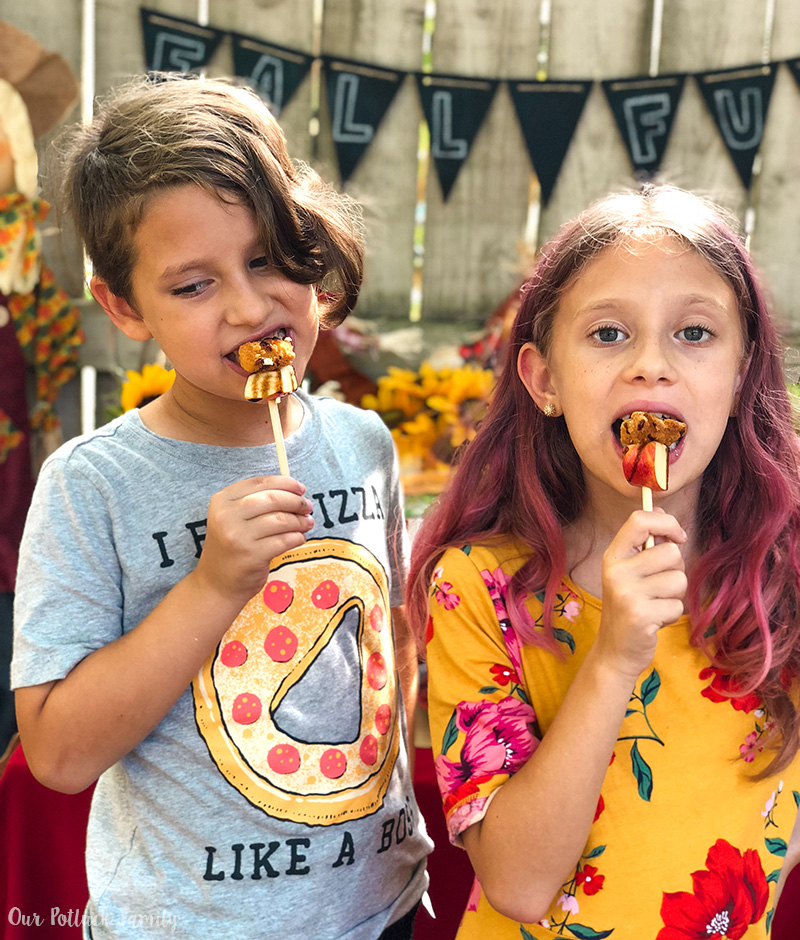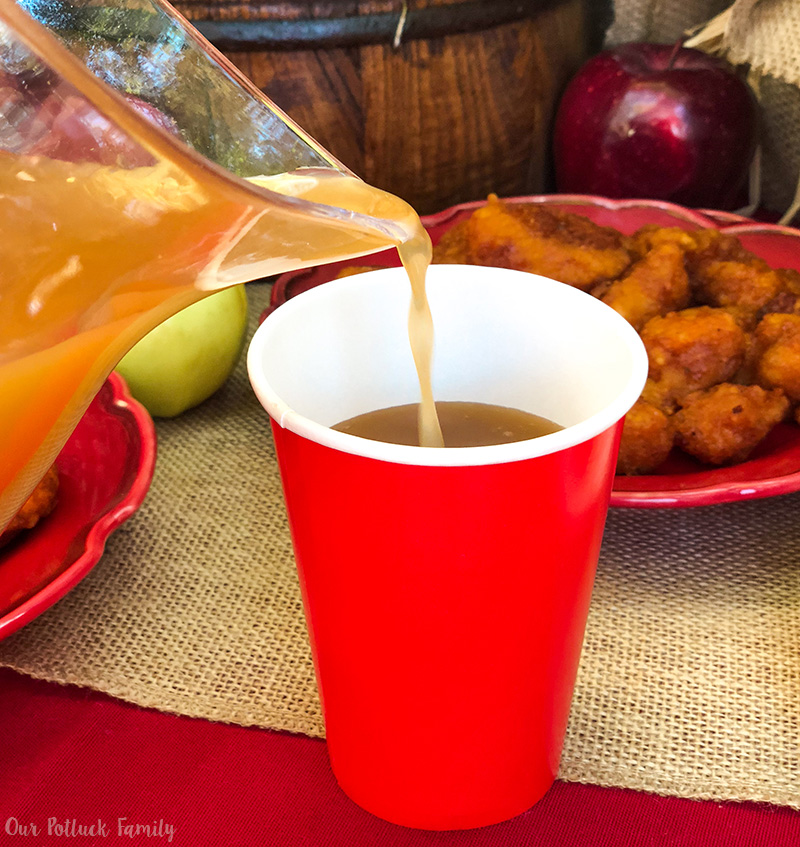 Head to Walmart where you can find all of the ingredients to recreate these recipes at home, including Tyson® Any'tizers® Popcorn Chicken, Tyson® Any'tizers® Boneless Chicken Bites (Honey BBQ Flavored), and Tyson® Any'tizers® Boneless Chicken Bites (Buffalo Style) down the frozen foods aisle. You can also find many Fall decorations to create your own apple themed party down the Halloween aisle.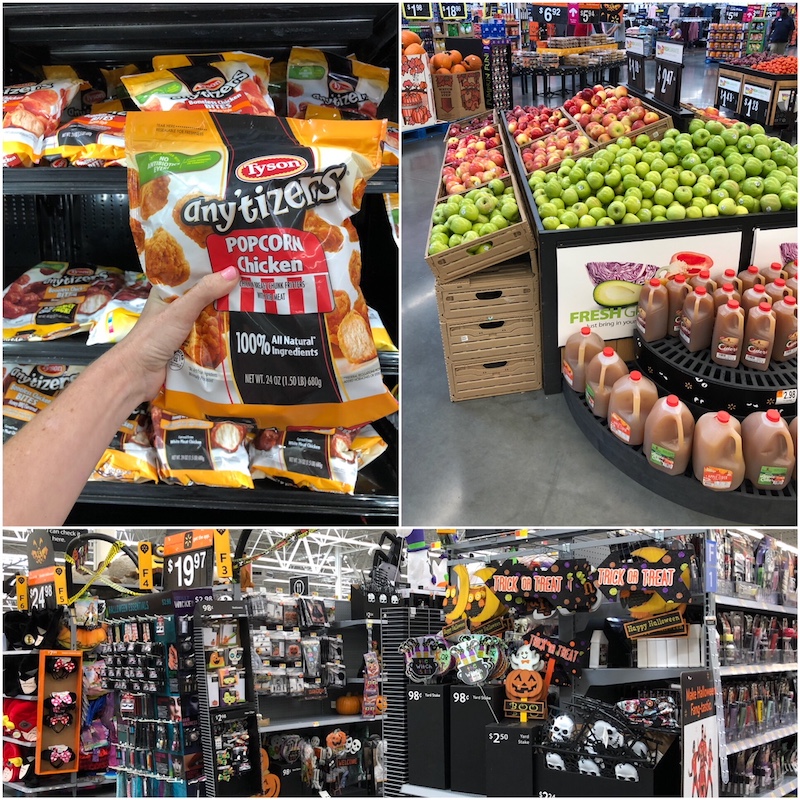 What are you favorite ways to celebrate the fall?
Pin the Fall Apple Party Ideas image below!