This Fabulous Fall Tissue Holder is a fun throwback craft project using colorful yarn to do needlepoint.
Even though we don't experience real seasons in South Florida, fall marks the beginning of that October-November-December holiday season, beginning with my favorite holiday — Halloween! This is also the time of year when I seem to be incapable of taking enough photographs. I mean, seriously, can you ever have enough pictures of your children holding pumpkins or sitting in a pile of hay? Not really.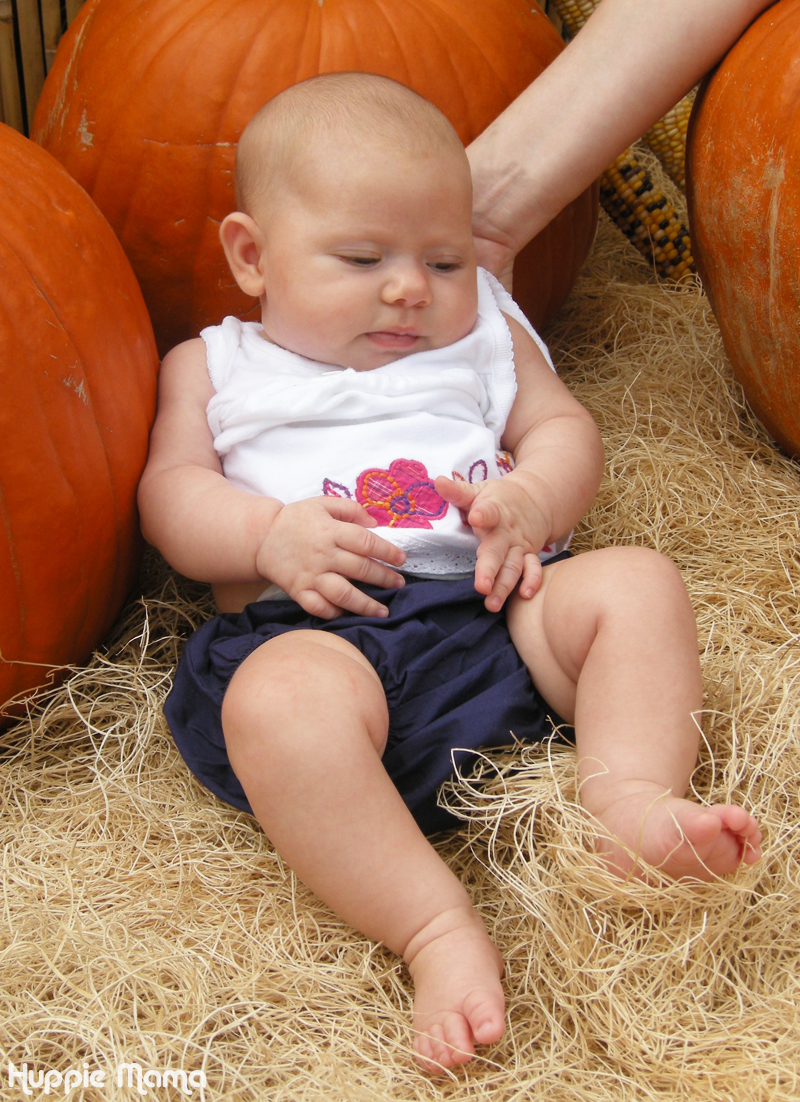 We began our fall pumpkin patch traditions in 2009, the year Lydia was born. She wasn't even two months old, but I have pictures at all different pumpkin patches – some sleeping, some crying, and some just relaxing like the picture above.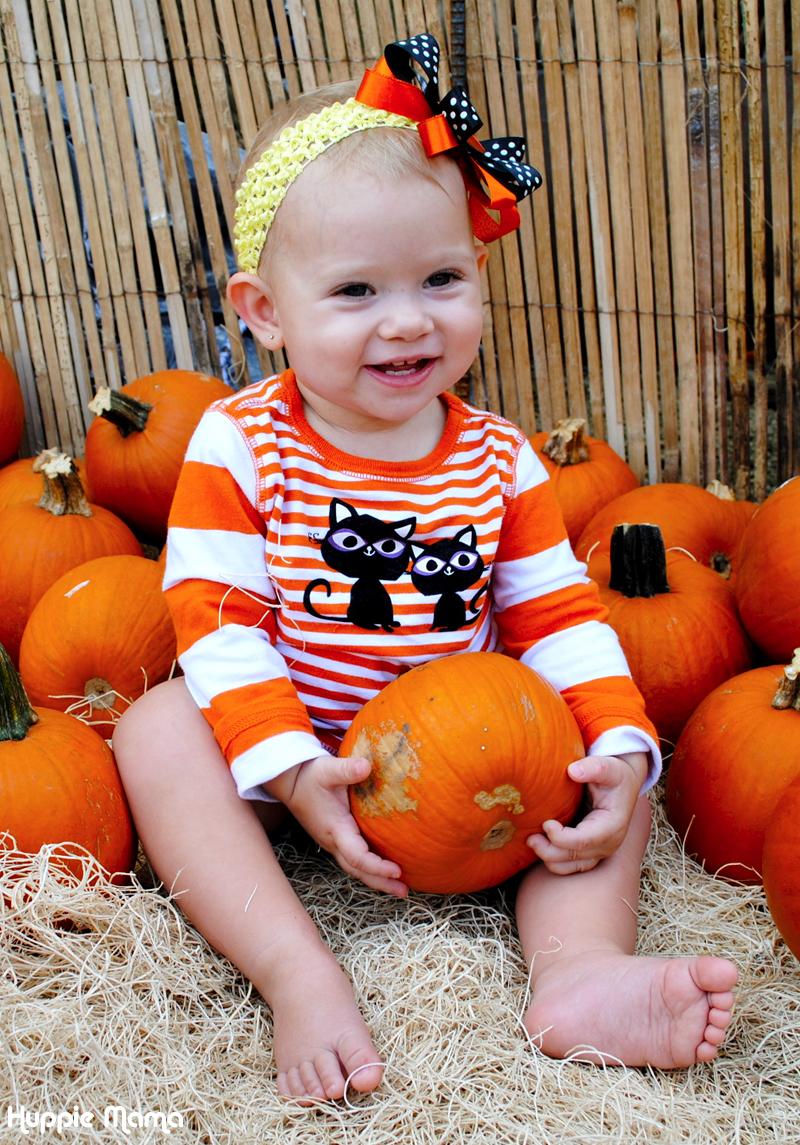 The 2010 pictures show this bright-eyed one-year-old sitting perfectly, standing, and cruising while holding on to pumpkins. Photography is so awesome! It allows us to capture all of those amazing milestones.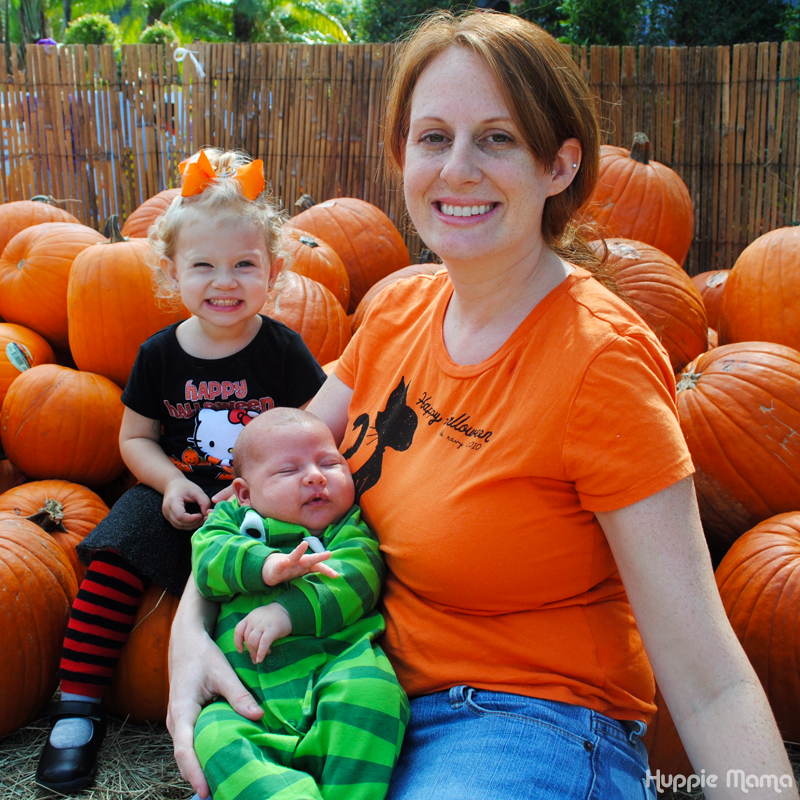 And then — It was 2011, with the arrival of baby Bryce, who was just a month old here. He was as chubby and snuggly as could be, weighing in at 13 pounds of pure love! And seriously, Lydia's 2-year old naughty/goofy face could not be any cuter!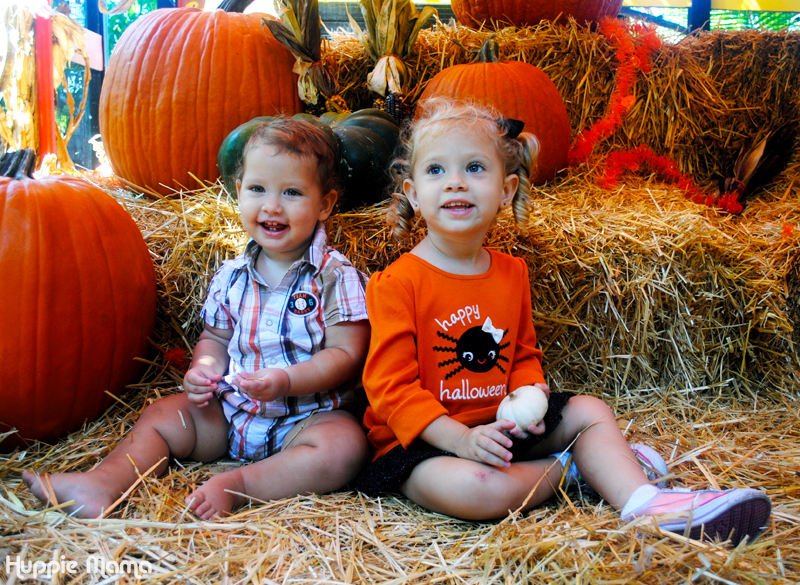 They were really starting to look like big kids in 2013. Bryce was sitting, standing, and cruising. Lydia had long pigtails, spoke in sentences, and really started to lose that 'baby' look.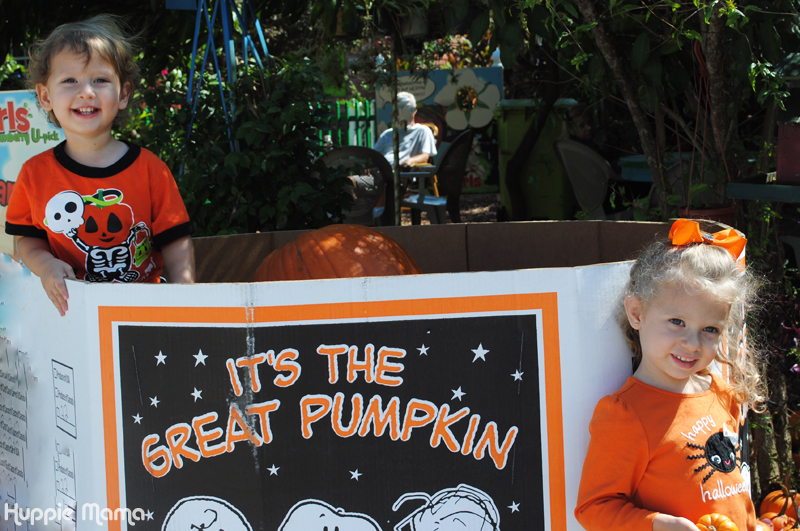 And before I knew it, I had a 2-year old son and a 4-year old daughter. It happens so quickly! They were able to run around together at the pumpkin patch, pick out mini pumpkins to take home along with a big one to carve. And then, they were really big kids – a 5-year old girl and a 3-year old son! In 2014, the kids were able to paint pumpkins, climb through (on) all of the pumpkins, and have fun together running around the pumpkin patch.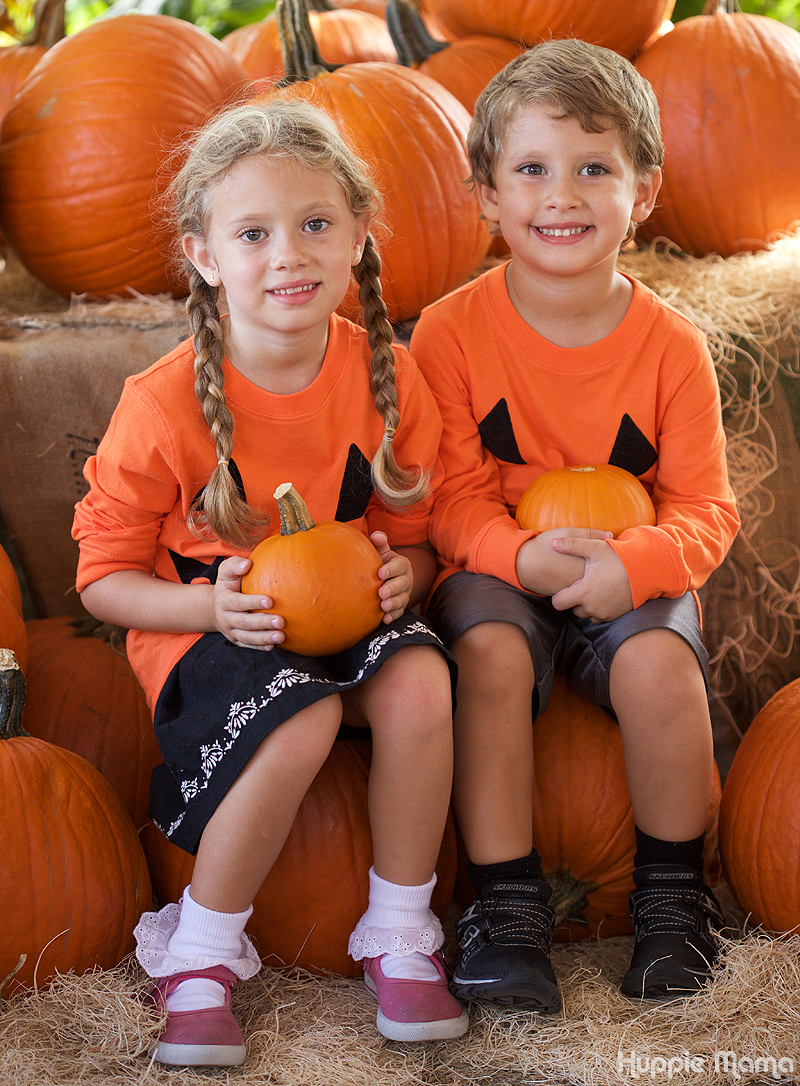 And now? Wow! It's just incredible to see how much they have grown. Look how long Lydia's braids are — and she even lost her first tooth! Bryce is getting so big, he's as tall as Lydia now (and weighs about 5 pounds more). It's so bittersweet, watching your kids mature from babies into school-aged children. Sometimes, you need to grab a Kleenex to wipe away those tears of joy. And why have a plain tissue box when you can have a fabulous fall tissue holder?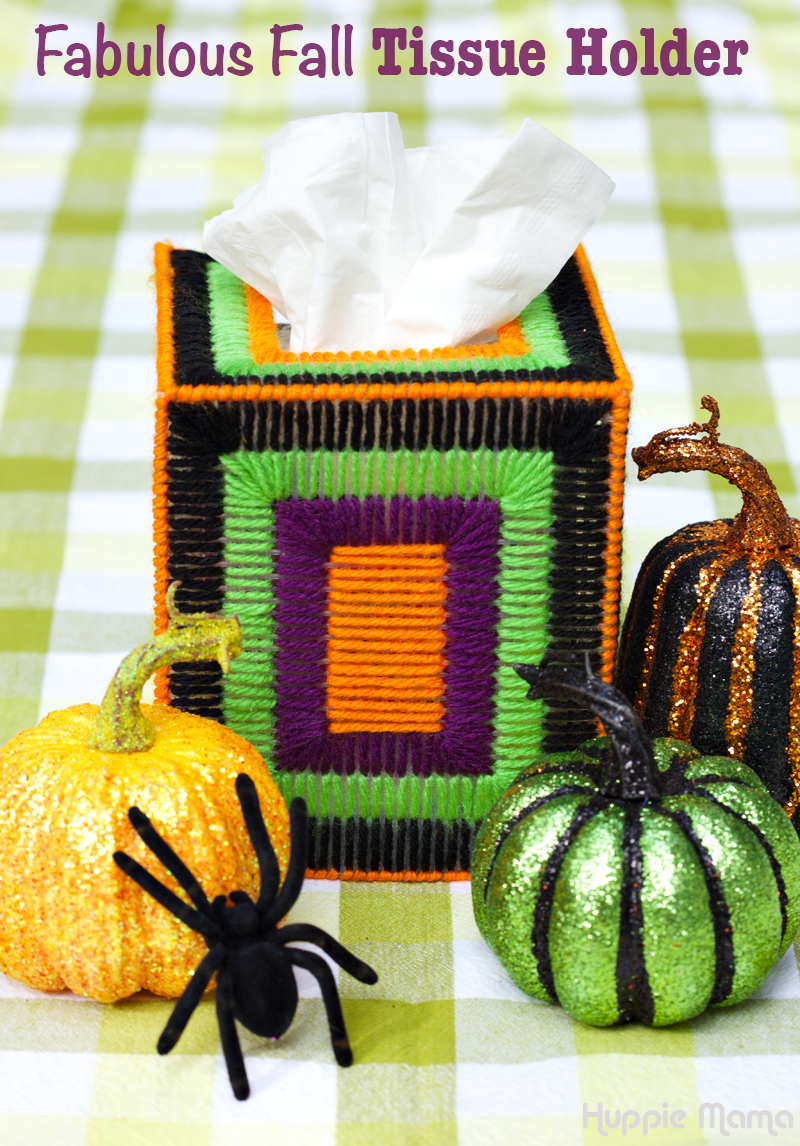 Materials:
2 pieces of plastic needlepoint canvas
yarn needle
yarn in your favorite colors
fun fall decorations (optional)
Directions:
Begin by selecting your yarn colors. I chose purple, orange, green, and black to make a fabulous fall tissue holder. Cut 4 side panels from your plastic canvas and one top panel. I used my tissue box to measure these, about a 1/2-inch larger than the box so it fits over it easily. Cut a square in the top panel so the tissues can fit through.
Decide what type of pattern you'd like to create. I started out with one pattern, but it got too complex. Then I tried a second pattern, and it was also too complex. Then I went with this simple frame-like design, and it was perfect! Remember to make all four panels (you can make them the same or do some variations) and then make a coordinating top panel.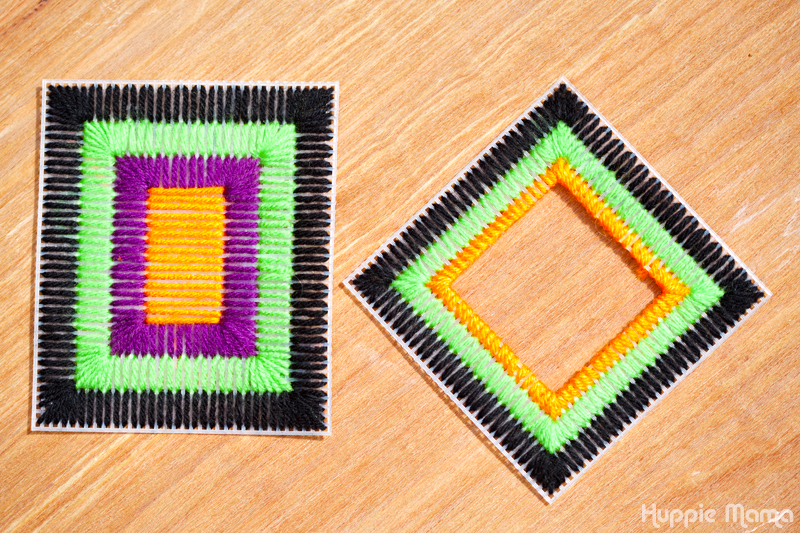 And now, it's time to assemble. Loop through two panels at a time to attach them. Be sure to go along the bottom as well to give it a finished look. This project takes several hours, so you will need to either set aside time to complete it or work on it a little at a time.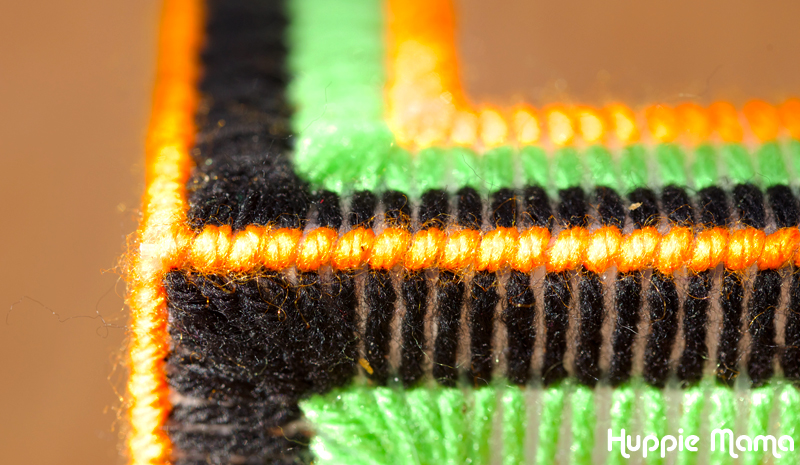 And here's the completed look. I slide the tissue holder over the Kleenex Tissue box, then arranged pumpkins and spiders around it to compliment the fabulous fall tissue holder.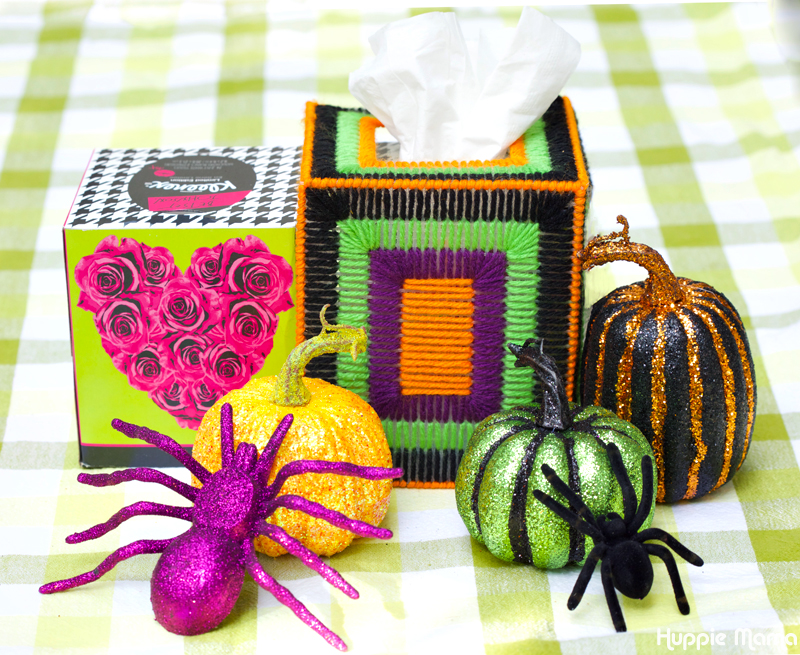 When you're an emotional person like me, it's important to keep Kleenex Tissues handy. The passing of time, maturation of our children, watching them grow from babies into toddlers and then strong, confident young children is incredible. Head to Walgreens to stock up on Kleenex Tissues. Check out this $0.75 off coupon from Ibotta to save on your purchase. You can also purchase fun Halloween decorations, like the spiders and pumpkins I included!
What special moments require you to carry a few extra Kleenex Tissues?