Have family fun with these Spider Superhero Halloween Party Ideas!
To celebrate the release of MARVEL's The Avengers: Age of Ultron on Blu-ray/DVD, we hosted a Spider Superhero Halloween Party! Can I just say that this party was so fun to plan? I wanted to pick a theme that captured MARVEL comics in a way that was different than my previous Avengers party, so I focused on two MARVEL characters: Black Widow and Spider-Man. I decided the best way to do that is by creating a spider-themed tablescape.
I brought together lots of different elements to put together this movie-watching party. Usually I save tutorials for the end of the post, but I'm going to cut to the chase because these spider cupcakes are just awesome!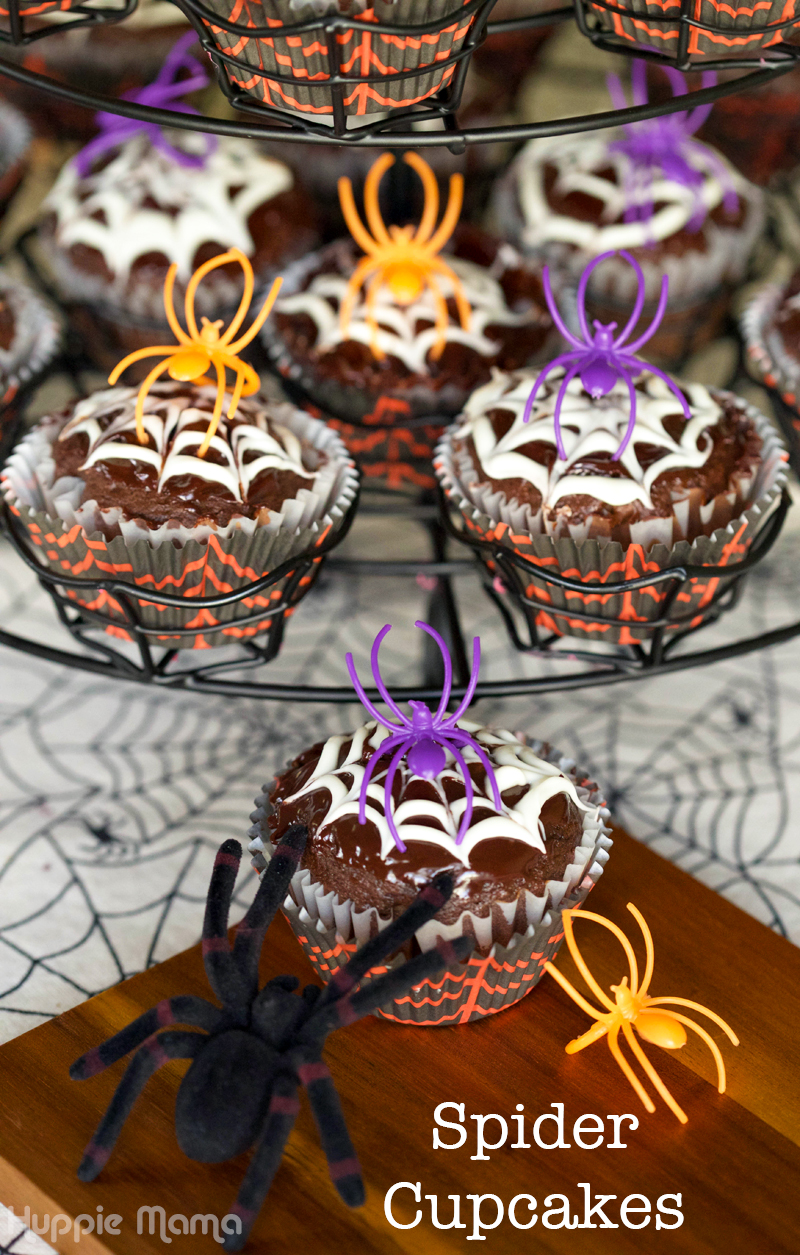 Ingredients:
Boxed chocolate cupcake mix
1 cup dark chocolate chips
1/2 cup heavy cream
1/2 cup which chocolate chips
Directions:
Begin by purchasing a chocolate cupcake box mix and prepare according to the directions on the package. Make the dark chocolate ganache by combining the dark chocolate chips and heavy cream in a sauce pan over a low heat. Stir continually until the chocolate has melted and the ganache is a consistent texture. Dip the cupcakes into the ganache while it's still hot.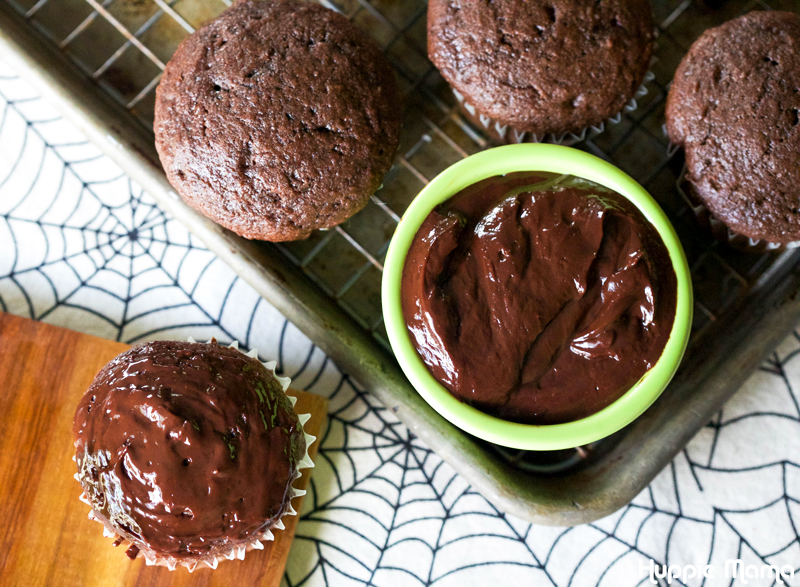 As you can see, it's okay if the cupcakes are a little sloppy. They will look awesome anyway! Melt the white chocolate chips (you can do this quickly in the microwave), and pour the white chocolate into a zipper bag. Snip one corner off the bag with scissors. Use the white chocolate to draw three concentric circles on each cupcake.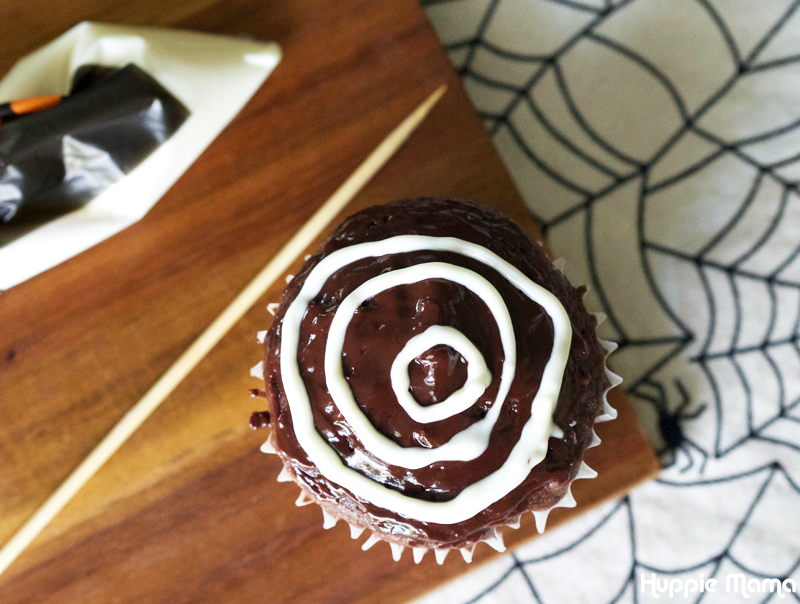 Using a skewer, begin in the center and draw lines to the outer circle all the way around (about 8 lines per cupcake). This will make 24 awesome spider cupcakes. Just add a cool spider ring to each cupcake as a topper.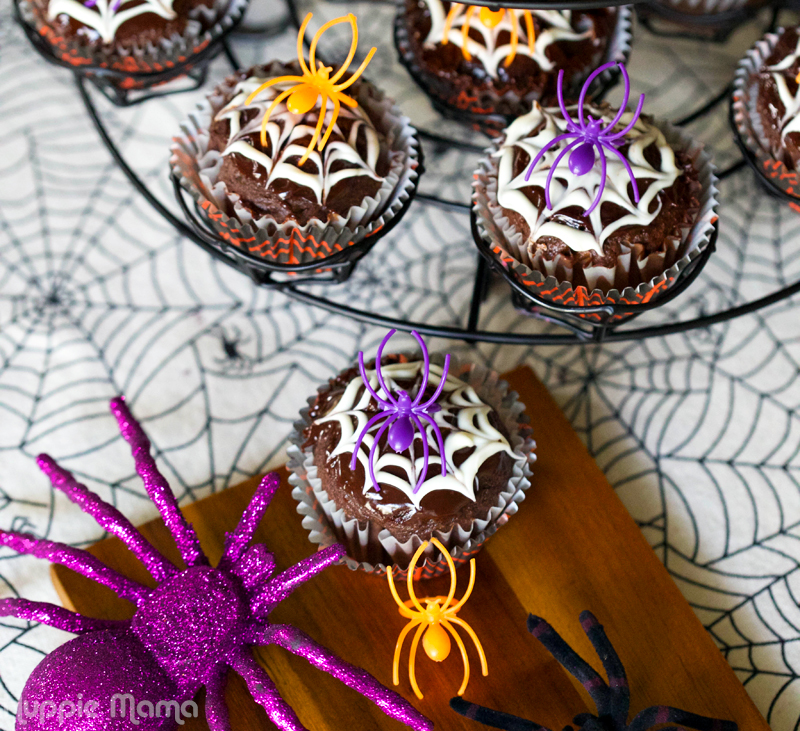 Arrange the spider cupcakes in a cupcake stand. How cool is this spiderweb cupcake stand, perfect for this party's theme?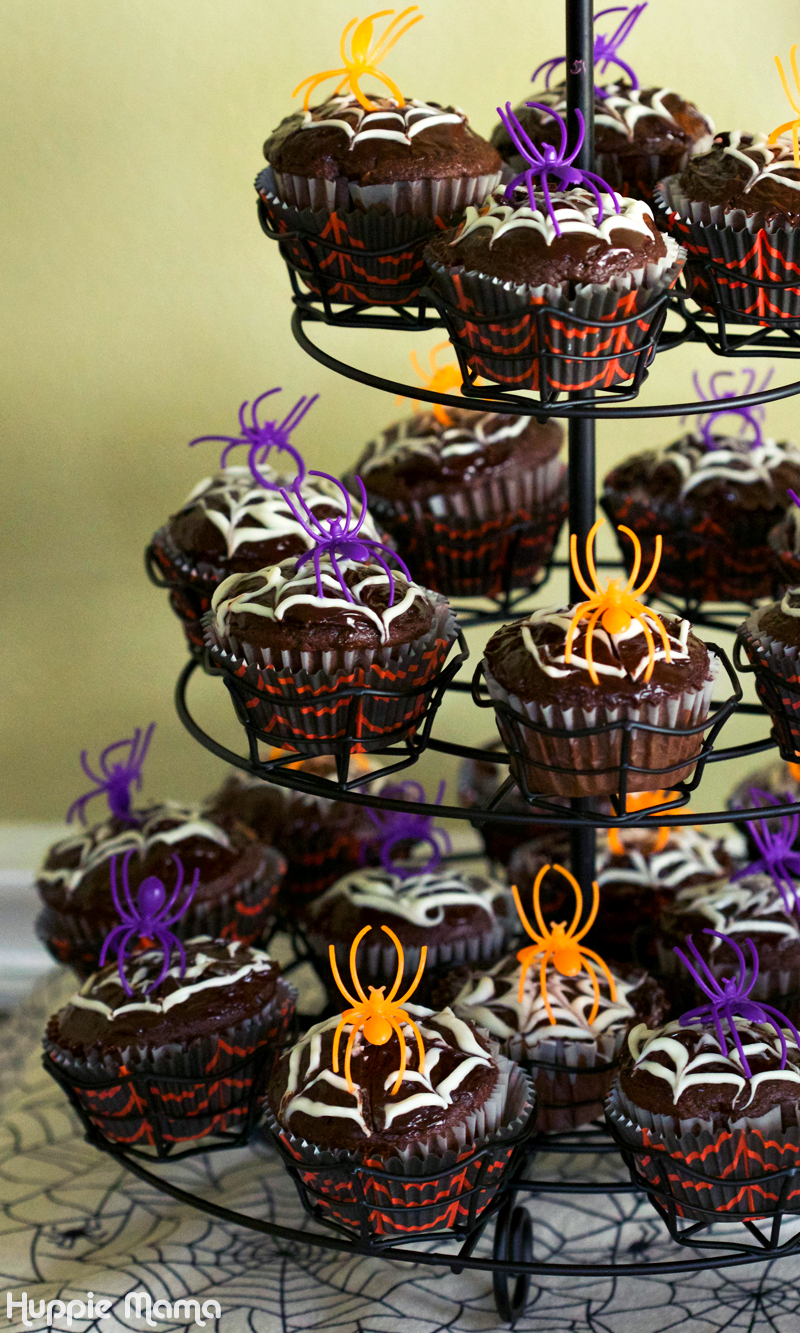 And even better is enjoying these cupcakes in MARVEL superhero costumes, specifically Black Widow and Spider-Man! You've gotta love those built-in muscles. I think they are hilarious on Bryce!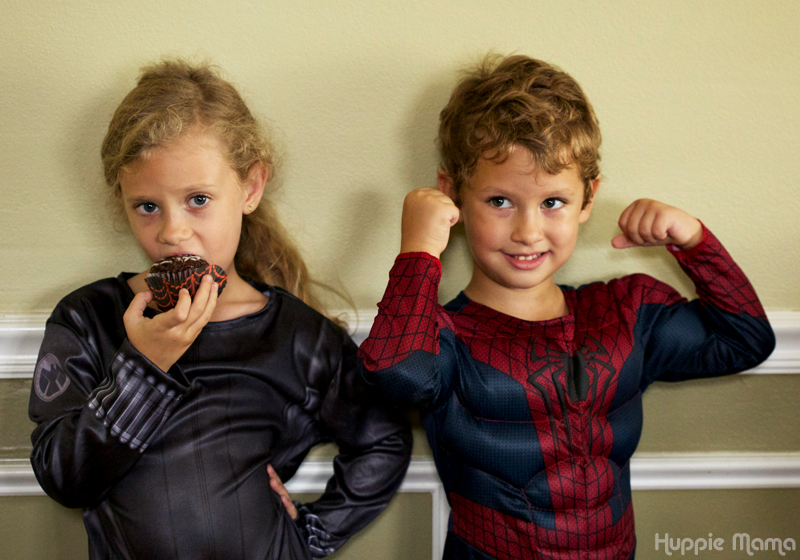 So now to the rest of the table. This spider treat was very fun to make, too. Purchase fun size candy bars (a variety that has a soft center). Insert four pretzels on each side, add a two drops of melted chocolate toward the front, and add candy eyes.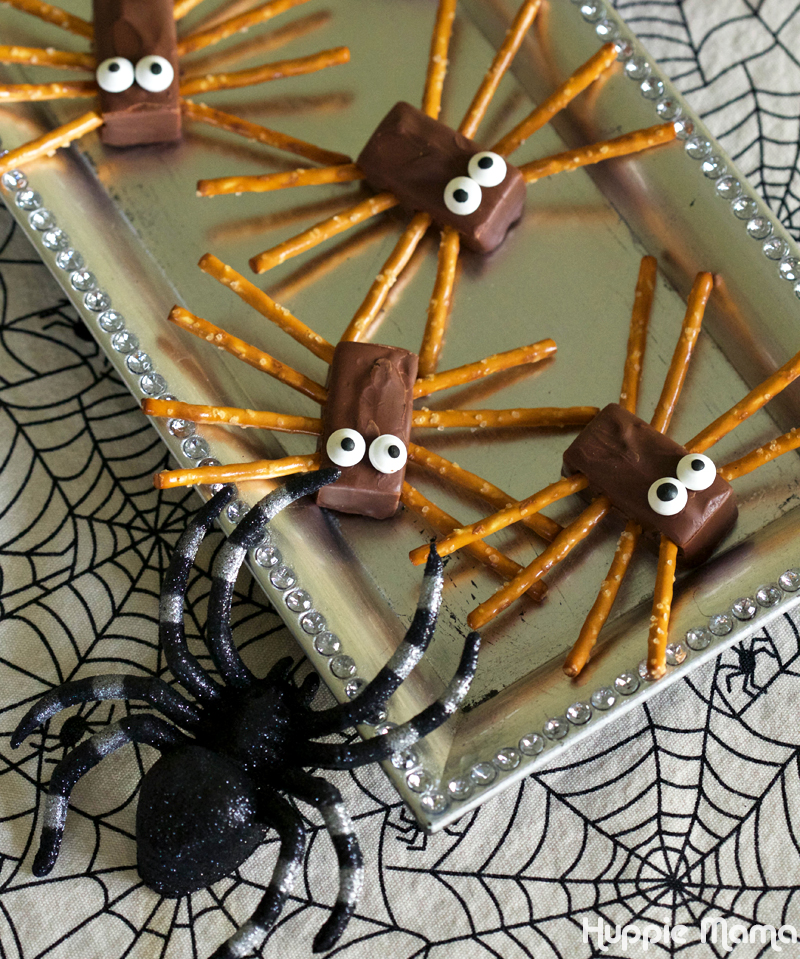 Arrange the chocolate pretzel spiders on a tray and serve alongside all of your other fun party treats and decorations.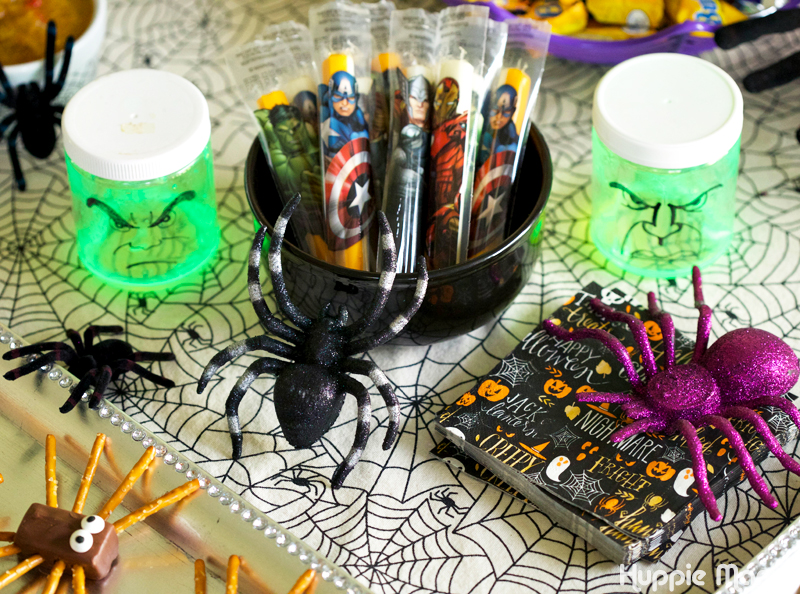 Did you notice the glowing Hulk jars? To make these jars, use a permanent marker to sketch Hulk faces. I just did a quick Google search for inspiration. Next, cut open one glow stick for each jar. The inside of a glow stick is made of class and the glow mixture can pour out easily, so be sure to do this carefully with a serrated blade over a paper towel. Pour the contents of the glow sticks into the jars and shake. These will glow for several hours while you watch your new MARVEL's The Avengers: Age of Ultron movie.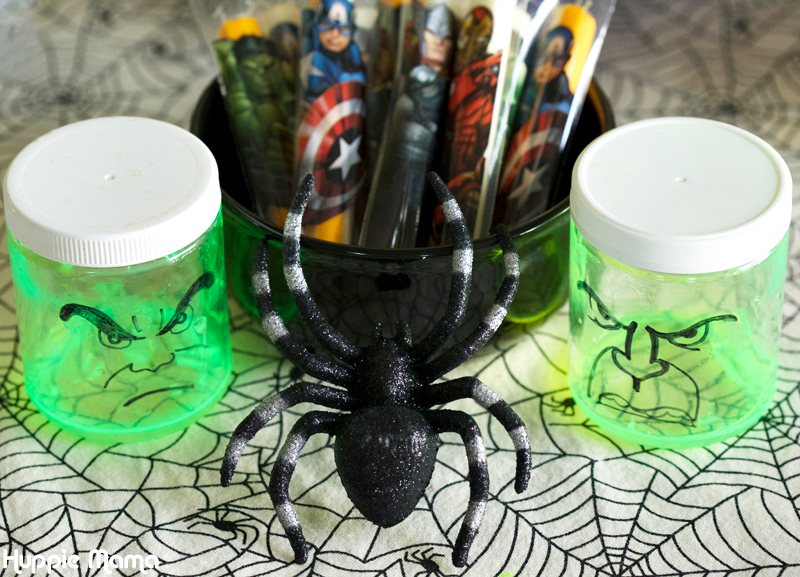 Here's another easy idea, a cheese ball pumpkin. Purchase a prepared cheese ball from the deli section at Walmart. Add either a scallion or piece of celery to the top to make it look like a pumpkin. Surround with your favorite crackers and serve.
And to drink? Hulk water! This pitcher contains regular ice water, chopped fresh mint, and slices of lime. It's so deliciously refreshing.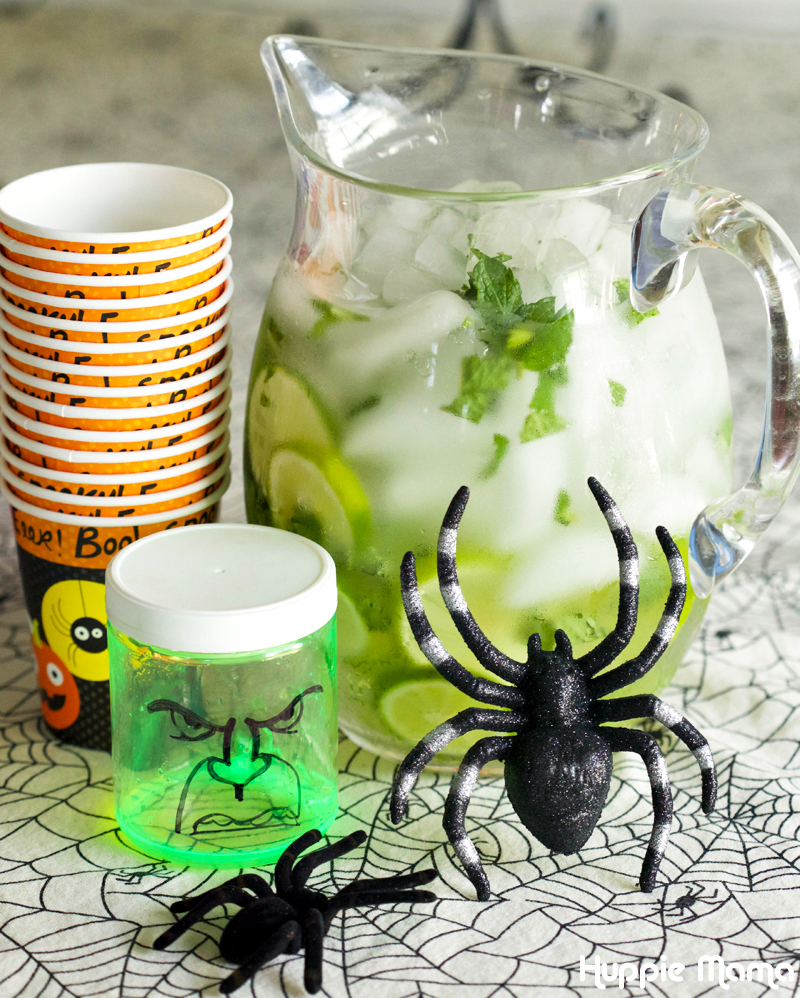 Chips and salsa are always great for parties. I selected one mild salsa for the kids and one spicier salsa for me and my husband. You can also prepare a quest dip or guacamole to serve with chips.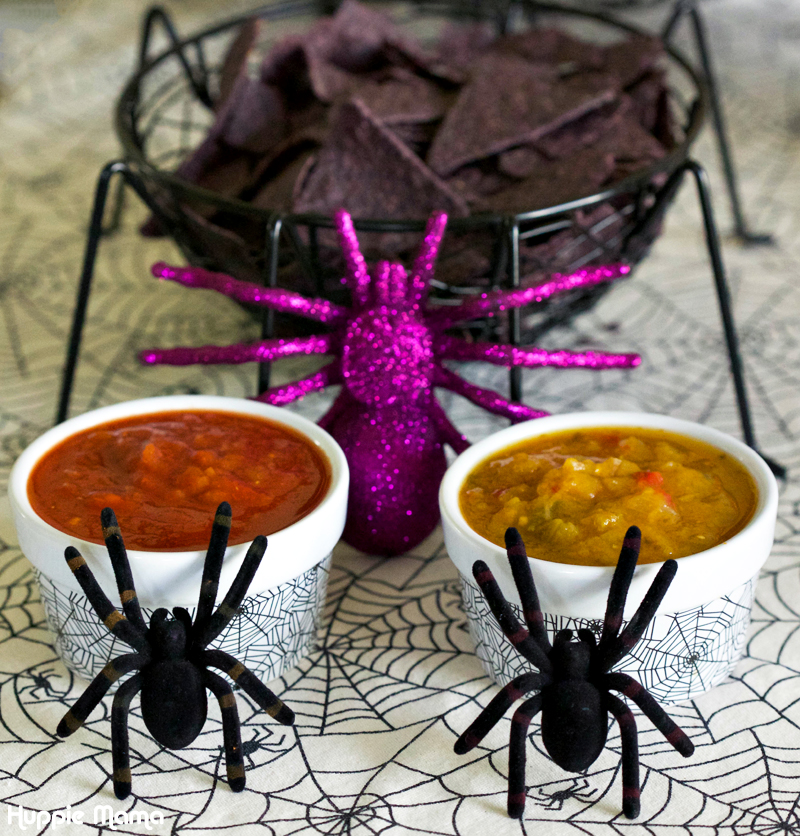 And of course, don't forget the candy. A few bit size pieces of candy in a perfectly spider-y bowl complete the snacks for this movie-watching party.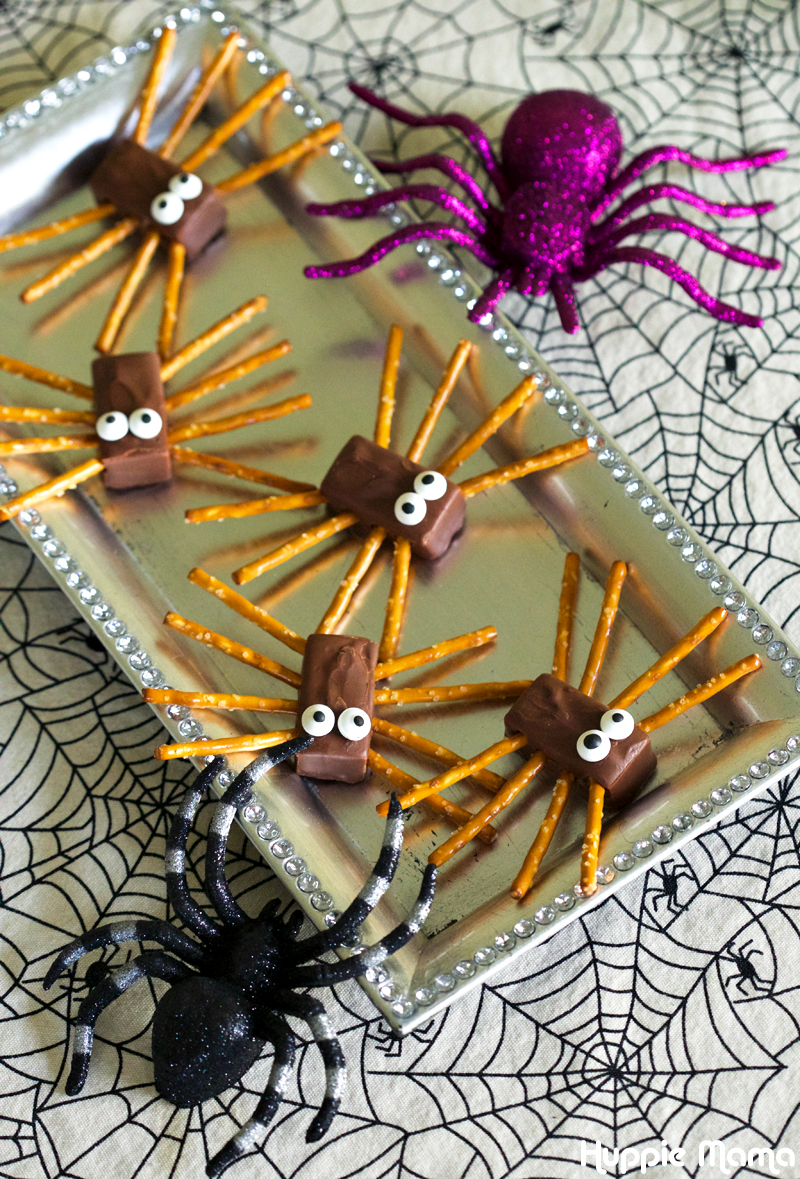 And since this is a family-oriented party and not just a kids' party, spooky adult touches like candles are fun. You can always get the little LED tea lights instead of actual candles.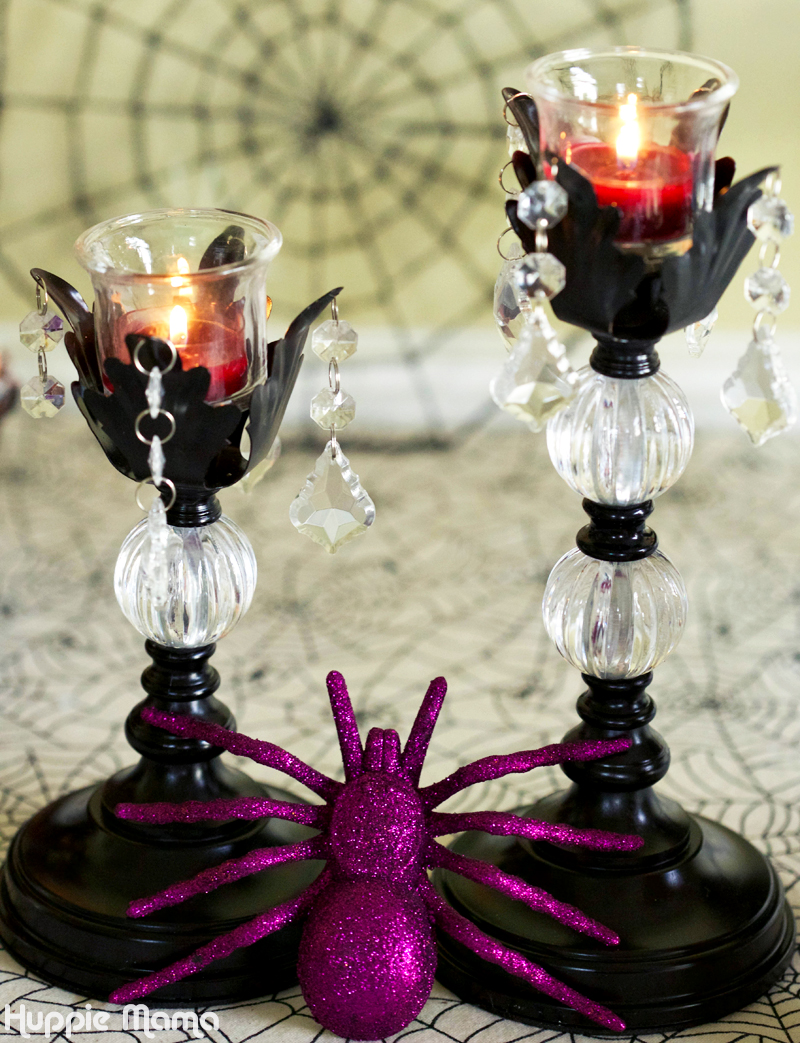 Set the stage for your movie night with friends and family with a Spider Superhero Halloween Party! Have fun together enjoying great snacks and a superhero movie!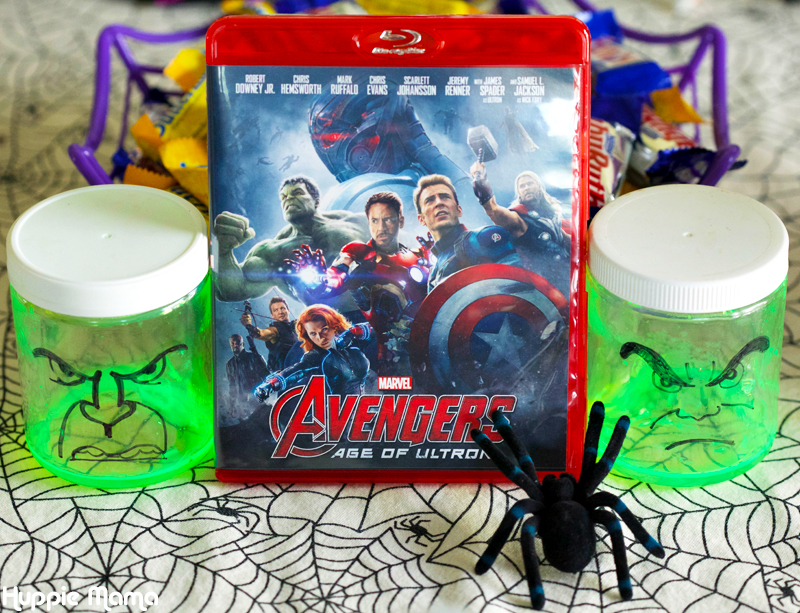 When it's time to go trick-or-treating, make sure you put on your best superhero costume, grab your pumpkin bucket, and hit the town!

MARVEL's The Avengers: Age of Ultron on Blu-ray/DVD and MARVEL costumes (including all your favorites like Hulk, Black Widow, Thor, Captain America, Ultron, Vision, Iron Man, Spider-Man, and Hawk Eye) can be purchased at Walmart. I was surprised to see that the movie display was tucked far back in the movie section of the store, so just look carefully or ask an employee for assistance.
How do you prepare for a movie watching party with your favorite superheroes?