Looking for the perfect easy-to-prepare recipe for your Easter celebration? Try this Easter Brunch Casserole with ham and cheese!
Brunch just happens to be my favorite meal of the day – It's actually quite unfortunate that we usually only serve brunch or Saturday or Sunday. I'm not an early breakfast eater, but by 10:30 am, I'm ready for a hearty meal, tasty beverage, and time spent with family and friends. Recently, I started making breakfast casseroles with eggs, a variety of day-old bread or baked goods, different vegetables, cheeses, meats. There are so many variations! This Easter Brunch Casserole is made with cheddar cheese and Hatfield ham, a delicious springtime combination.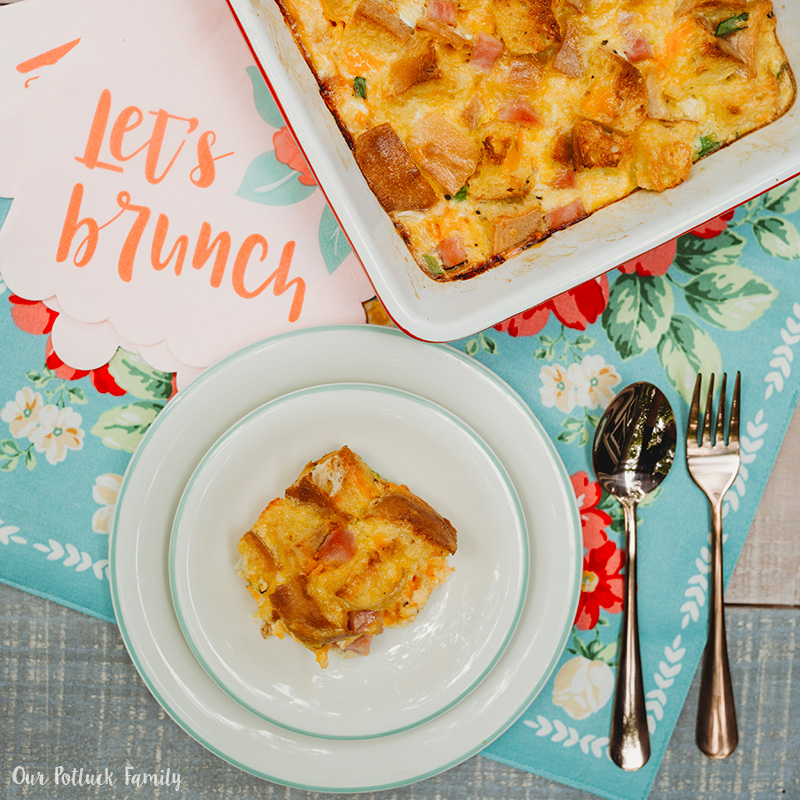 Easter Brunch Casserole Ingredients:
10 eggs
4 cups of bread, cut into 1″ cubes
1 Hatfield Ham Steak, cubed
2 cups shredded cheddar cheese
1/4 cup cream
2 green onions, chopped
1 t butter
salt & pepper to taste
Easter Brunch Casserole Directions:
This recipe has become my new favorite breakfast/brunch dish! The best thing about it? You can really throw in whatever you like – your favorite cheese, breakfast meat, vegetables, type of bread, etc. and it will be equally as delicious. I kept things simple here with Hatfield Ham Steak, cheddar cheese, and green onions. Whether you are new to cooking or a pro in the kitchen, Hatfield products are great for so many of your favorite holiday recipes! Hatfield is family-owned, American-made, and ethically-raised.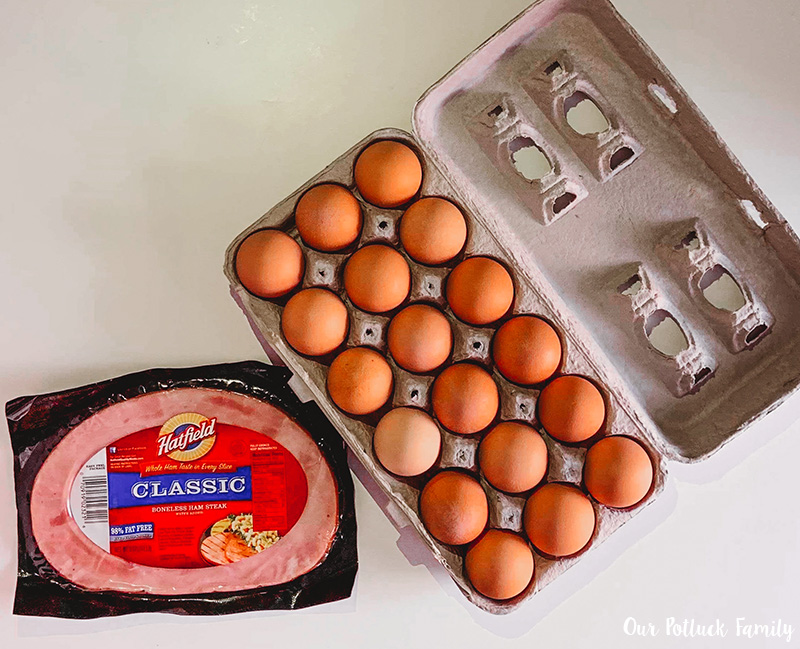 For a limited time only, receive a $2 Rebate with purchase of any Hatfield® Uncured Ham.
To begin, preheat your oven to 375 degrees F. Cut your bread into cubes that are about 1-inch each. This is a great way to use up day-old bread, biscuits, English muffins, croissants – really any baked goods will work here. I used a loaf of ciabatta bread. Lay 4 cups of cubed bread on a baking sheet and place in the oven for about 10 – 12 minutes until it begins to get toasted. Set out to cool.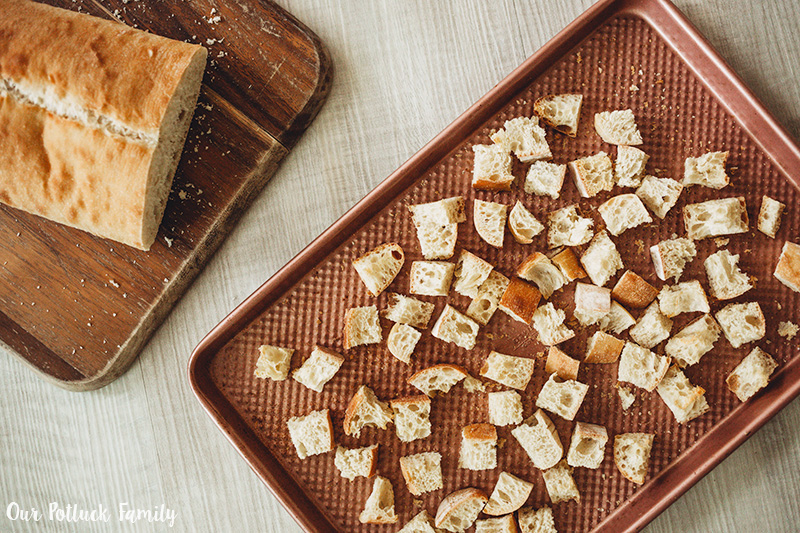 Gather the remainder of the ingredients and prepare them by dicing the ham steak, shredding the cheese, slicing the green onions, and cracking the eggs. My daughter loves to help crack the eggs, so this is a fun way to get your kids in the kitchen!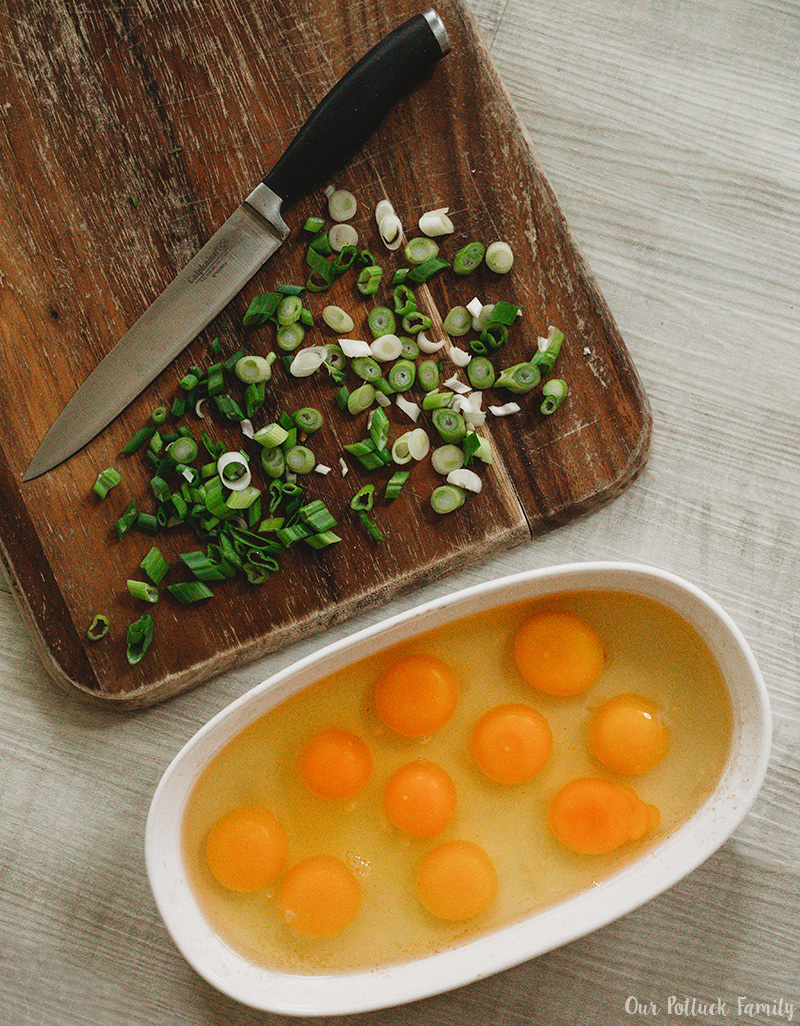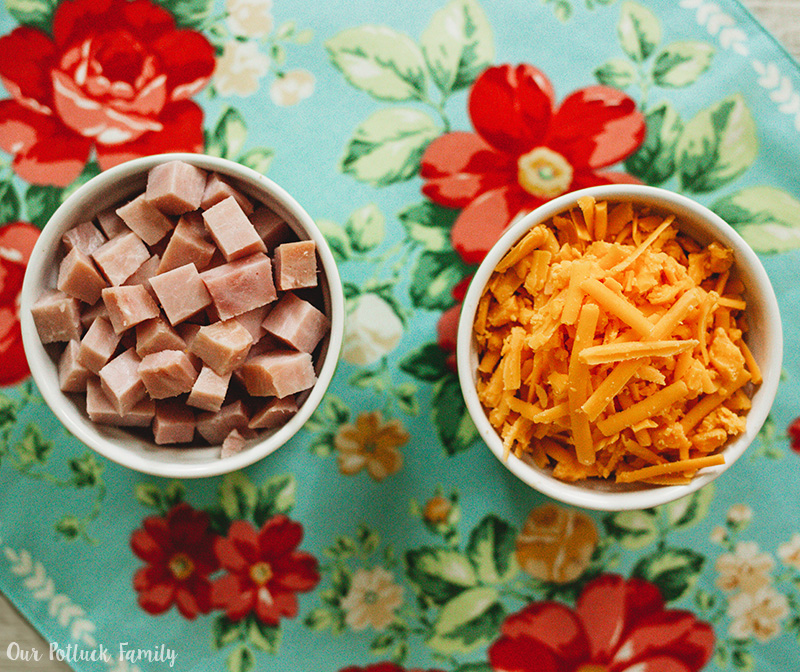 Butter a large casserole dish. Place the toasted bread at the bottom, add the ham, cheese, and green onions, and pour the egg over the top. Gently mix the ingredients together so that all the bread cubes are coated with egg. Season with salt and pepper, and bake for 30 minutes, until the eggs set. How easy is that?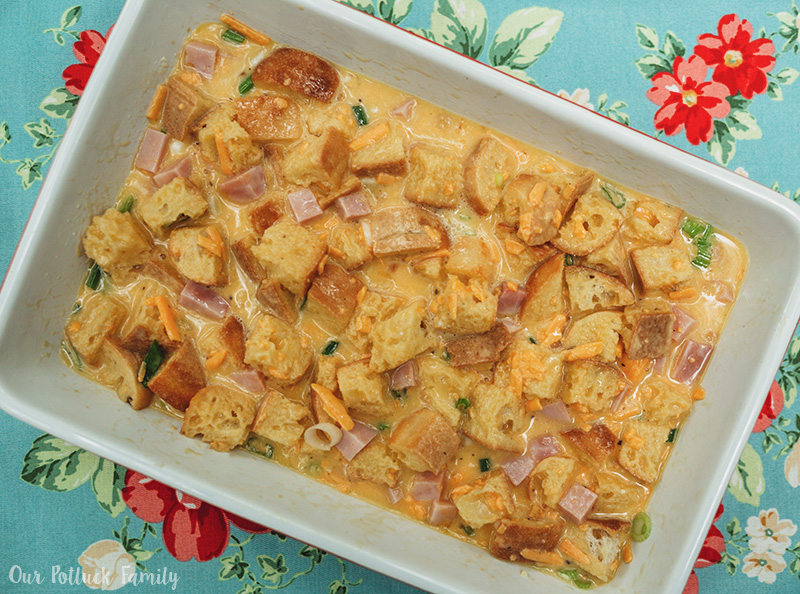 Serve this delicious Easter brunch casserole family-style with your favorite beverages, fresh fruit, pastries – Whatever your family loves! This dish is a great addition to any potluck-style breakfast or brunch. Remember, teacher appreciation week is coming up soon, too!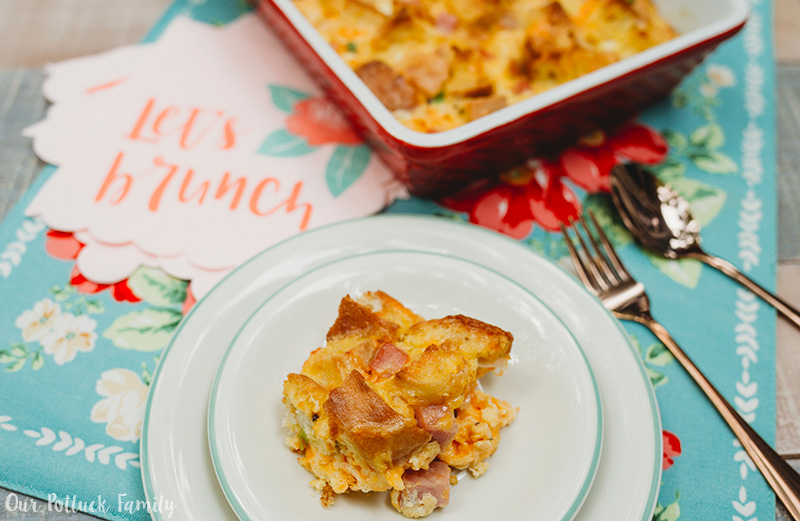 Head to Stop n Shop where you can purchase a variety of Hatfield products, like Ham Steak, Classic Ham, and Pre-sliced Ham. All of these products would be great for preparing your favorite Easter brunch recipes!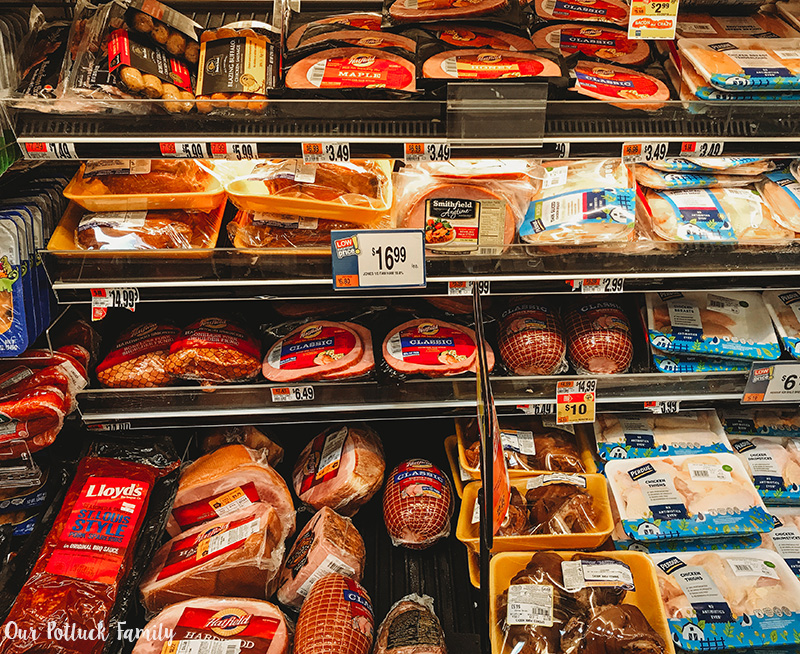 What's your favorite dish to serve at brunch?
Pin this Easter Brunch Casserole image below!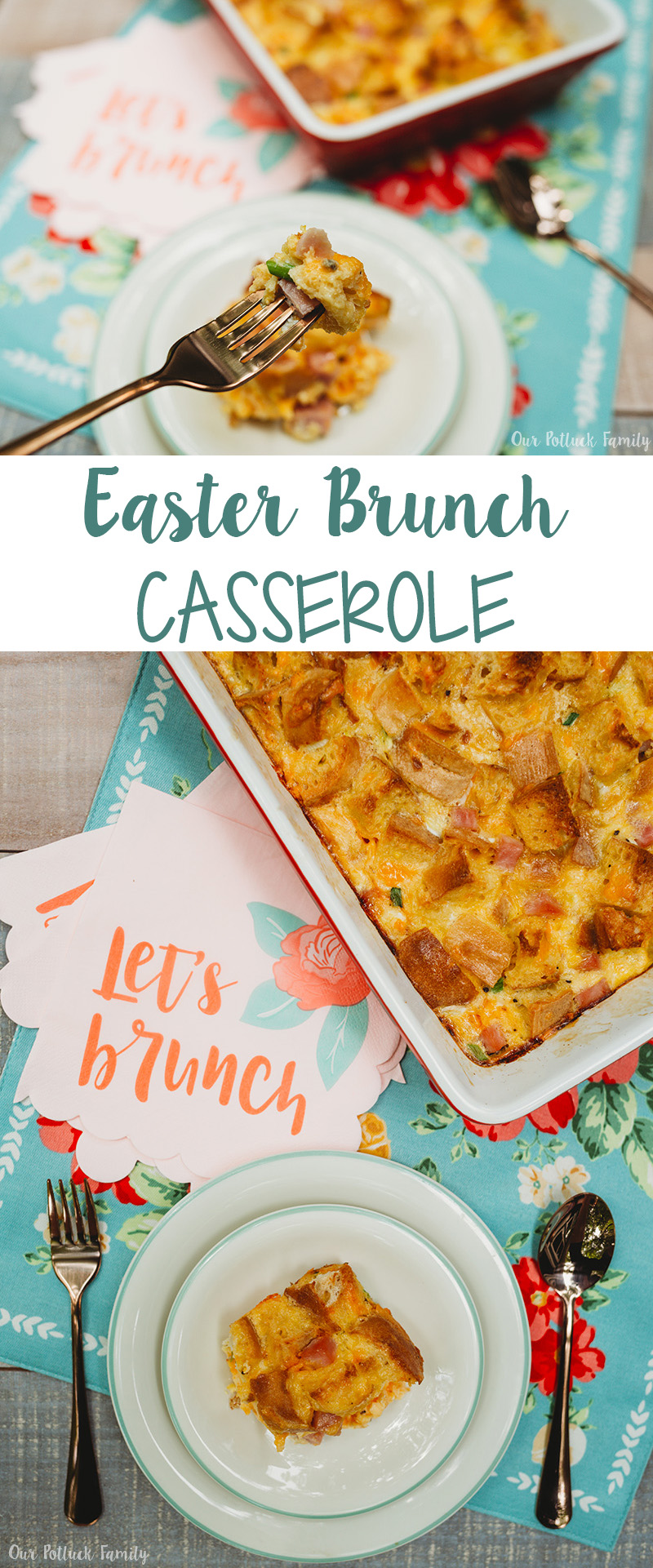 [tasty-recipe id="28576″]