A few nights ago, I went out to dinner with my parents, husband, children, mother-in-law, and brother-in-law to celebrate a belated Father's Day and my mom's birthday. Three generations laughing, sharing stories, and enjoying each others' company. Everyone had a wonderful time! My children fell asleep on the drive home, so when we arrived, I picked my daughter up out of her car seat to transfer her to her bed. In her sleep, she embraced my body and kissed my shoulder. When I placed her in her bed, she mumbled "I love you, mommy." That kind of love is more beautiful than any words I could ever write in this blog post can capture. As crazy and quirky as we may all be, my family is incredible!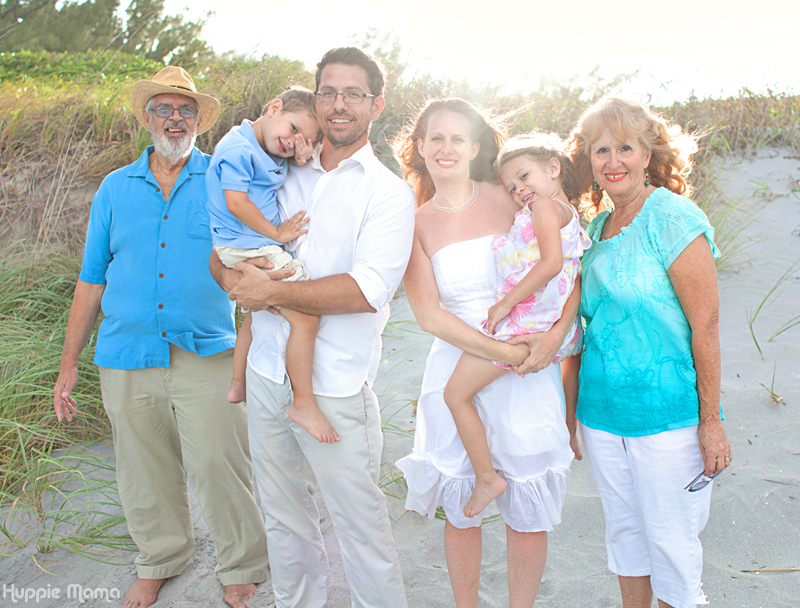 I have a tendency to feel like I'm never doing enough. Like I should be doing everything possible to create these amazing, unforgettable memories every day of my life. I also tend to get saddened by the passing of time, looking at old pictures and realizing my children will never be babies or toddlers again. To fight these feelings that can often be quite an emotional downward spiral of unnecessary tears and self-reflection, I've started to re-train my brain a little. I've learned to celebrate all that happens around me. Embrace my children growing because that means they're healthy, they're learning, and they're reaching new milestones. Embrace making new memories and look forward to our future together, rather than mourn the loss of the past.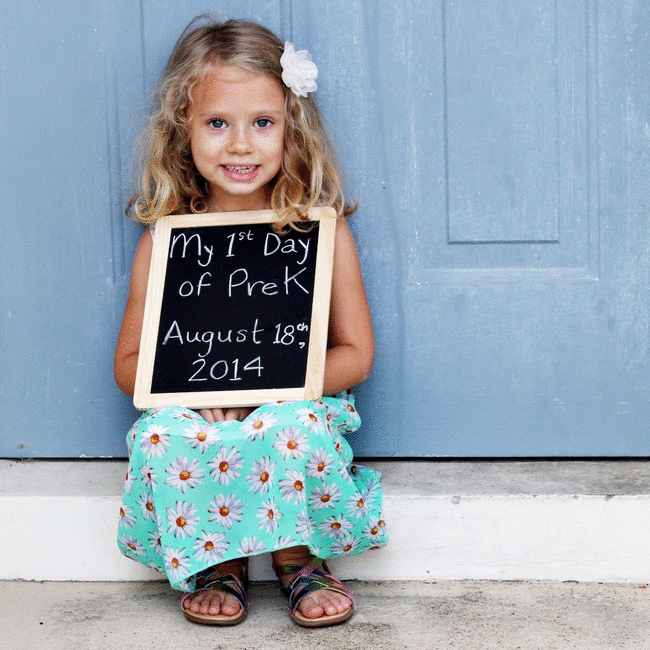 If you think about it, as women, we celebrate so many life-changing events within a short period of time. My adult life went something like this: celebrated graduating from high school and moving away to go to college shortly before turning 18, celebrated earning my Bachelor's degree at 22, celebrated getting married (the first time) at 22, celebrated earning my Master's degree at 23, (divorced at 24), celebrated buying my first home at 24, celebrated getting re-married at 25, celebrated earning my Doctorate at 28, celebrated my first pregnancy and birth of my daughter at 29, and celebrated the birth of my son at 31. And then, when I was finished having children, my celebrations sorta just stopped completely. Because it's not about me anymore. It is about my children now. It's a big shift that seems to greatly impact women, but we don't really talk about how women can survive these changes.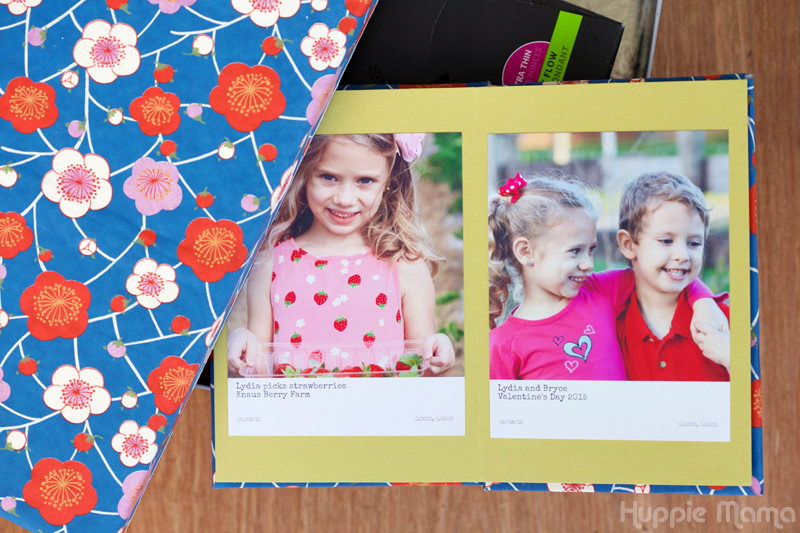 This upcoming school year is going to be a new journey for us as a family. Richard will return to teaching as usual in the Fall, but Lydia will begin Kindergarten and Bryce will begin Preschool. I'm so happy for both of my children because I know they will absolutely love school. But my life will be different now. I can begin to put myself first. I can create a more structured work schedule, maybe even take some time each day to put a little makeup on, shave my legs more often, actually style my hair. To help me with this new back-to-school lifestyle, I created a Decorated Memory Box to treasure all of the moments from last year, but embrace this shift toward putting myself first sometimes.
Materials:
Cardboard box
Large piece of patterned paper
Glue
X-acto knife
Directions:
Begin by gathering your materials. As I am a hoarder of memories, I am also a bit of a hoarder of things. Which, in this case, is a plus. This box is actually from a gift I gave my husband this Father's Day and this paper was in a cardboard tube with all sorts of decorative papers that I got about 7 or 8 years ago while traveling. I wanted a pattern that showed the beauty of womanhood… and these beautiful blossoms certainly capture that for me.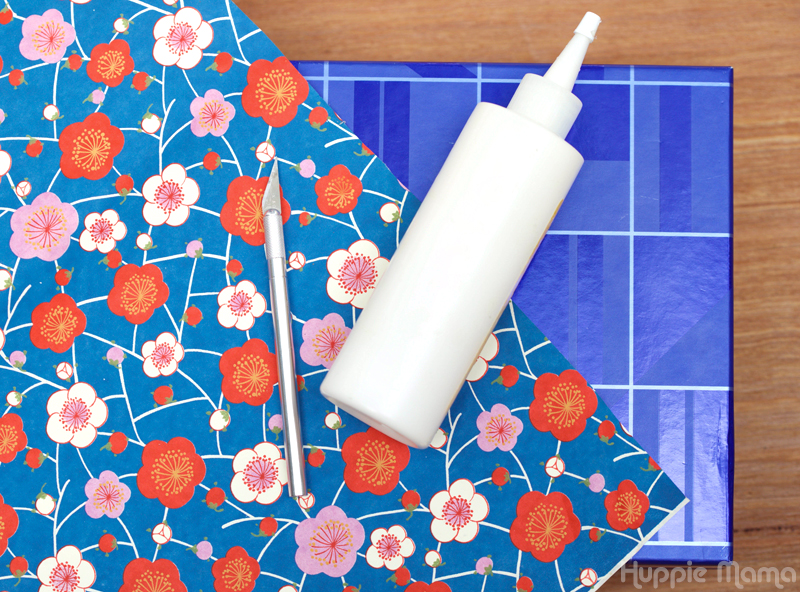 I decided just to decorate the top of the box since the bottom was a neutral grey color, but you could do the top and the bottom. Place the box top over the paper. Cut the corners all around to remove small squares. This will allow you to fold the paper over the edges of the box without them overlapping.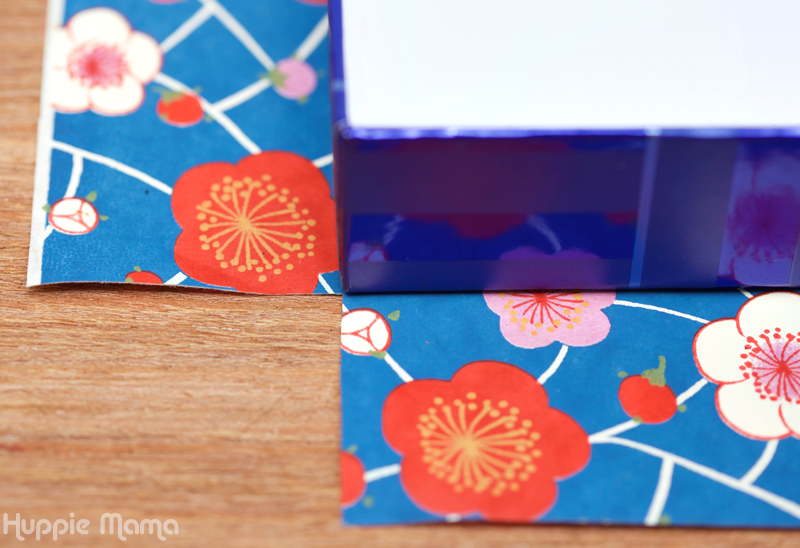 Cover your box, including the edges, with a generous portion of glue.  I used a glue that is designed for paper crafts so that it wouldn't warp or damage the paper in any way. Flip the paper over so the right side is facing down, place the box lid on the paper, and gently work your way around, pressing as you go. I then used the side of my X-acto knife to smooth out the paper all around.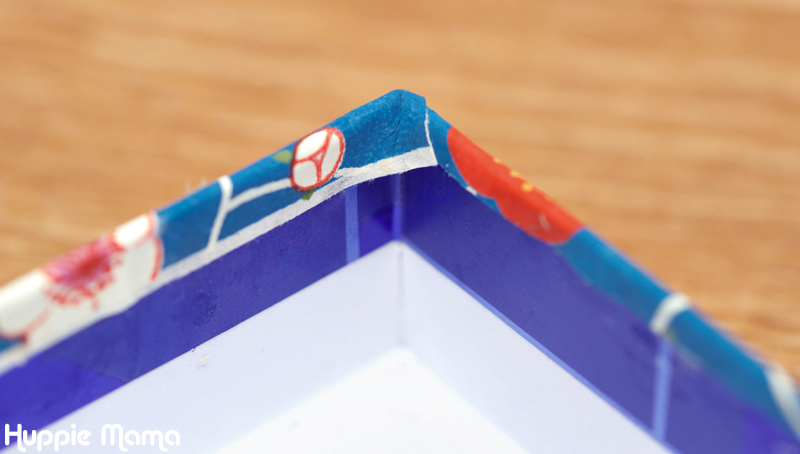 My beautiful blossom-covered box is complete, but I wasn't quite done yet. Now I wanted something special to go with it!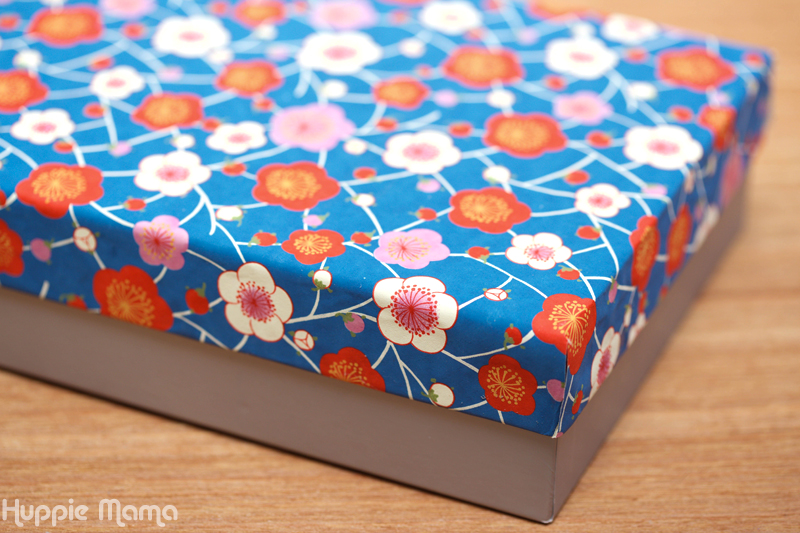 I began by printing some of my favorite photographs from the last year. This included pictures from Lydia's first day of preschool and graduation, family celebrations like Christmas and Easter, and Bryce's new haircut. Special memories I want to treasure forever.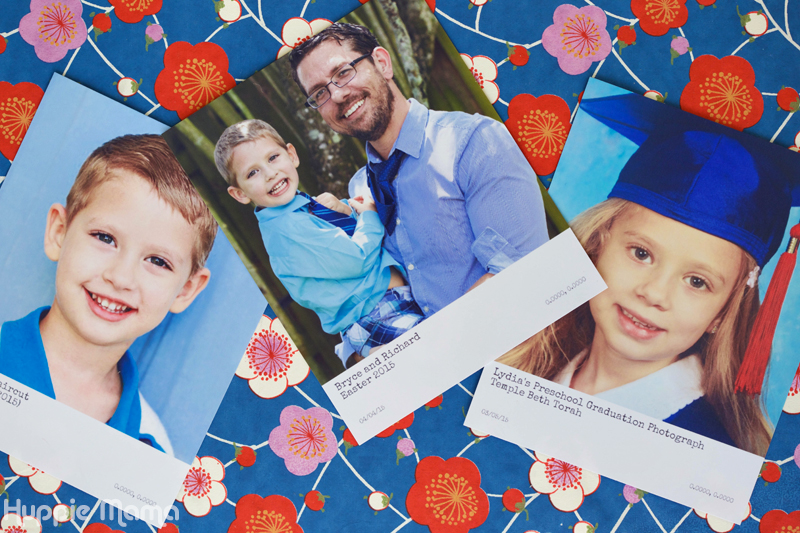 I even made a coordinating scrapbook. This is easy to do with a kit from Paper Source. I must admit, I had no idea I had this little accordion scrapbook. I probably bought this about 7 or 8 years ago, too. Gotta love finding hidden treasures in your own home!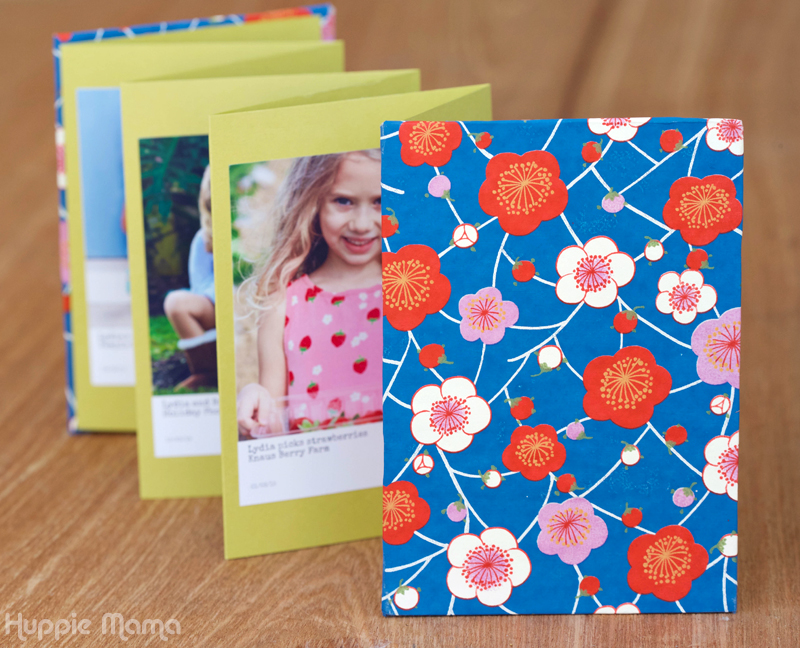 Then I purchased items to fill my box. A new pack of razors (the nice kind, too!), a new lip balm, tissues to wipe away the tears of joy as we make new memories as a family, and sanitary napkins to keep up with my cycle. I removed all of the items from their packaging, lined the box with tissue paper, and placed my little accordion scrapbook inside the box. My back-to-school memories box is prepared to store old memories, add new memories, and embrace the changes we will be making as a family that will allow me to have more time to myself.
How will you celebrate back-to-school with your family this coming school year?