This is a sponsored post written on behalf of Florida Prepaid College. The opinions are honest.
I graduated high school in June 1997 at the age of 17. Just 6 weeks later, my life changed forever when I headed 300 miles north to attend the University of Florida. From the outside, Gainesville is your quintessential college town. It's about 2 hours north of Orlando, nestled in a very rural area, surrounded by woods and farms. Miss a few stops on the highway, and you may pass it entirely. It's where I earned a Bachelor's degree and Master's degree in 5.5 years. But more than that for me, it was where I learned to become an adult. The college experience is an amazing journey that I try to share with my children often.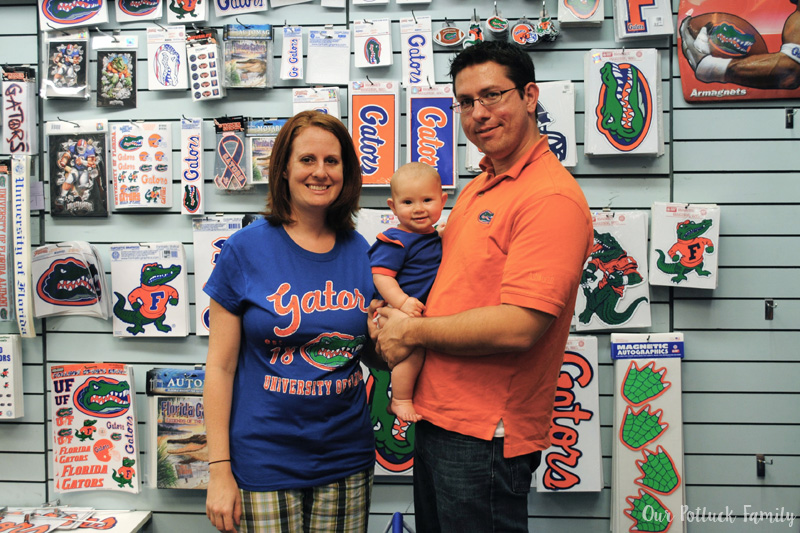 The first time we took Lydia to Gainesville she was just 6 months old. We got her all dressed up in her Gator onesies, took her for a tour of UF's campus, and showed her what college life is all about. While she was so young, I figured, why not start now? It's never too early to inspire a love for learning!
After Bryce was born, we took him to see the University of Florida as well (in Gators onesies, of course). Whenever I tell people I was a Florida Gator, I also tell them I wasn't just a UF-er, I was a Gainesville-er (this is a word, right?). I loved the cooler weather, hills, beautiful trees, local businesses, and everything else that Gainesville is all about. I took the children to the Florida Museum of Natural History on campus to enjoy the exhibits, took in the beautiful outdoors, and even took them to some of my favorite restaurants. Here's Bryce trying the guacamole at Burrito Brothers, my first job in Gainesville.
Each time we visited Gainesville, I found new places to share with them. When I needed time to myself in college, I used to walk around behind my apartment complex. There was a large natural area with sheep, cows, etc., used by the agricultural students. It was a peaceful area just to think and enjoy the outdoors.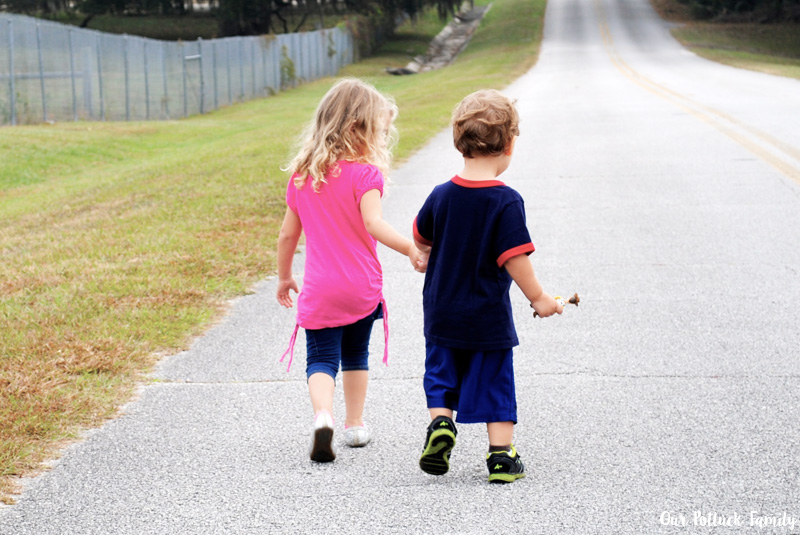 Each time we visit, we also discover new places nearby. A few years back, we visited Dudley Farm, about 10 miles west of UF's campus. It's a beautiful state park that has maintained elements of farm life from many, many years ago – animals and antiques galore!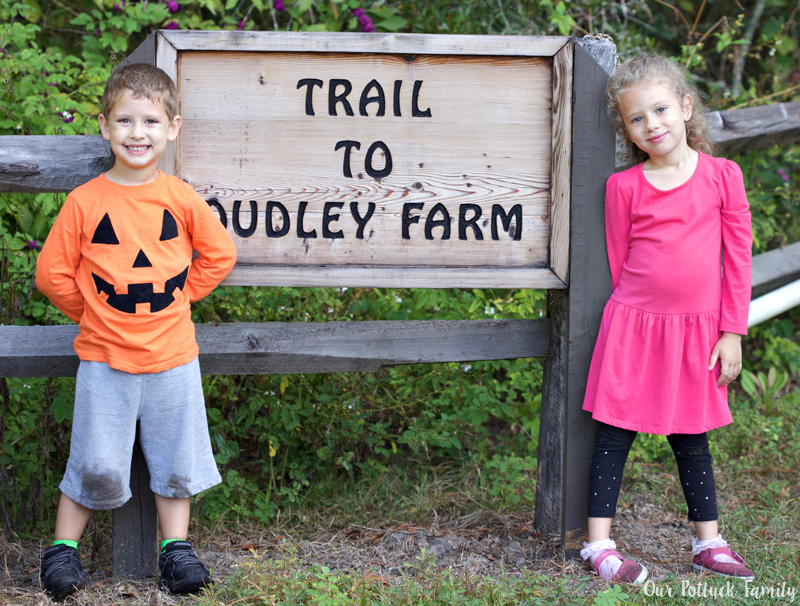 Speaking of antiques, one of my favorite places to visit was Micanopy, the neighboring town known for antique shopping. It was a fun mini-getaway for a few hours on a Saturday. The kids enjoyed walking through the main stretch of stores with us when we visited last December.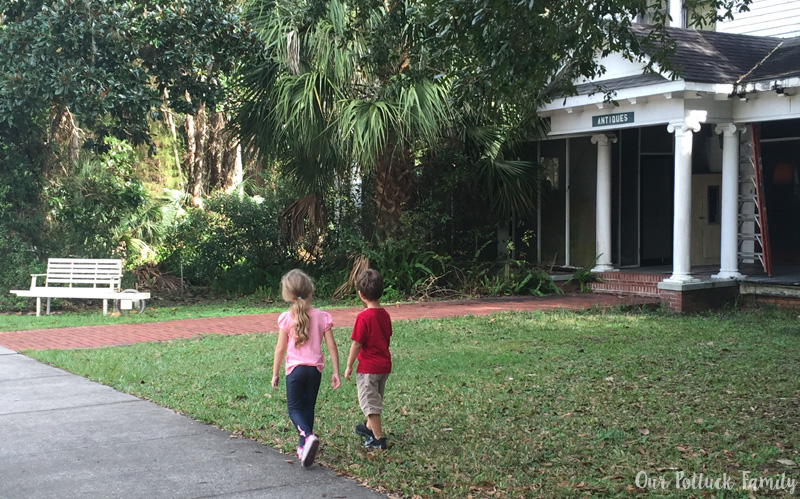 Gainesville has a culture of its own. It's the perfect mix of a small urban downtown, awesome suburban communities, and beautiful rural areas. One of our favorite things to do at sundown while visiting is see the bats emerging from the bat house on campus. So many people come out on a Friday night to experience this. It gives you a real sense of community.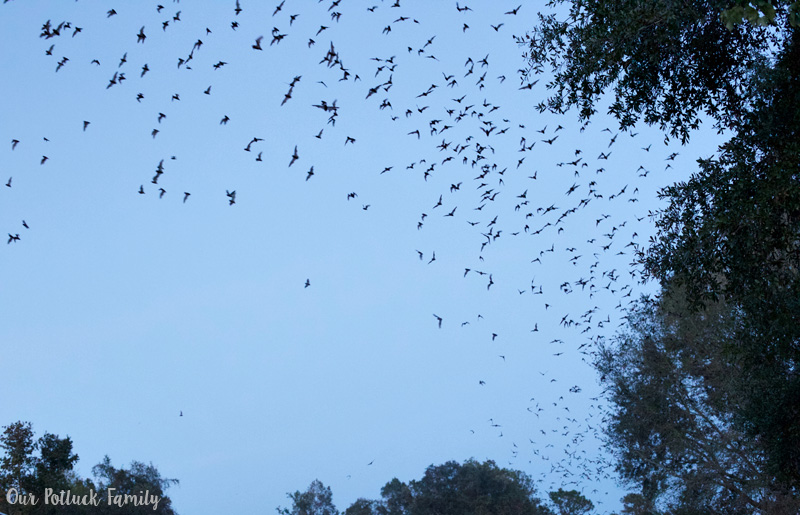 Attending the University of Florida was so much more than just taking classes and earning a degree. It was about discovering a new life for myself, learning how to be independent, and engaging in so many new experiences. But it's not only important for me to share my college experience with my children. It's also important that I provide them with all the resources available to attend a state college/university of their choosing as well.
When I was in elementary school, my parents purchased a Florida Prepaid College plan for me. This meant that when I was ready to leave for college, I didn't have to worry about financing it (earning a Bright Futures Scholarship helped as well). It gave me a great sense of financial security at a young age, allowing me to put the money I earned at the time toward rent, food, and other expenses.
I purchased each of my children Florida Prepaid Plans around the holidays the year they were born. Open enrollment is available now through February 28th. My parents purchased the 4-Year Florida University Plan. With this plan, your child will complete a program at one of Florida's 12 state universities. If your child decides to start at a college (typically less expensive), the unused funds from this plan can be applied to a post-secondary degree or you can get the remaining money back. It was a wonderful investment in my future!
SAVE HERE: Use code BLOG1617 to receive 50% off your application fee (a savings of $25).
How do you share your college experience with your kids and plan for their future?