This #LoveAmericanHome shop has been compensated by Collective Bias, Inc. and its advertiser. All opinions are mine alone. #CollectiveBias
One of my favorite things to do since I was a child is antique-shopping. As young as I can remember, my dad and I would wander through thrift stores and visit flea markets, looking for hidden treasures. When I was in college, I actually earned a living (in part) by purchasing vintage toys, cleaning them up, and selling them on eBay. It was a pretty good gig! My favorite flea market is Webster Flea Market near the west coast of Florida. It's the oldest flea market in Florida, and it's only open on Mondays. The best day to go to a flea market that's only open on Monday? Labor Day!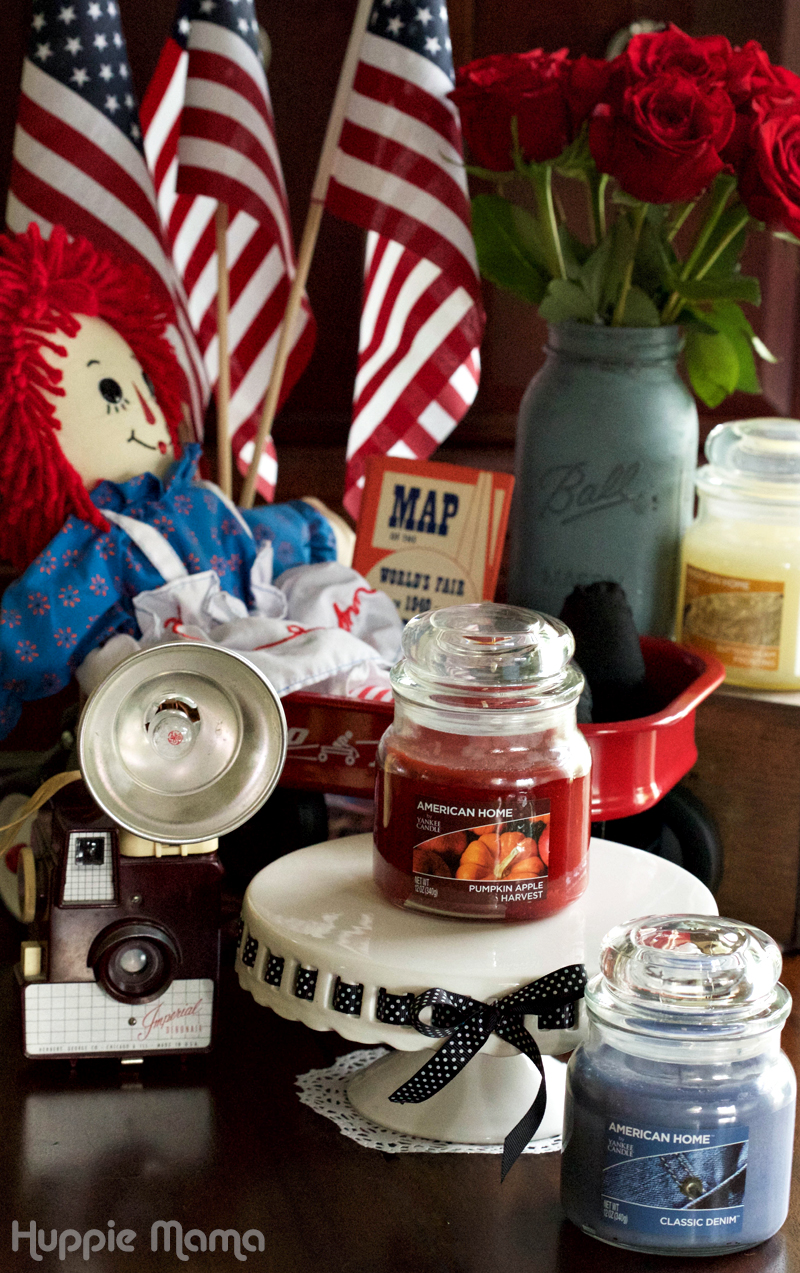 Working at home and being married to a teacher who gets the day off Labor Day, it's a great day to spend as a family. I thought about my passion for all things antique and vintage-inspired, and decided to celebrate my old tradition of antique-shopping on Labor Day by making a Classic American Centerpiece to display on my dining room table (the first thing you see when you enter my home). To create this Labor Day Classic American Centerpiece, I borrowed the wedding adage "Something old, something new, something borrowed, something blue."
Old: Lydia got this Raggedy Ann doll for her 2nd Christmas. Richard suggested recently that we donate it, but I just couldn't part with such a classic toy! She's a true American icon (the first doll was made in 1915). The red Radio Flyer wagon is another classic American toy (the first one was made in 1917). I thought they gave a whimsical look to my centerpiece.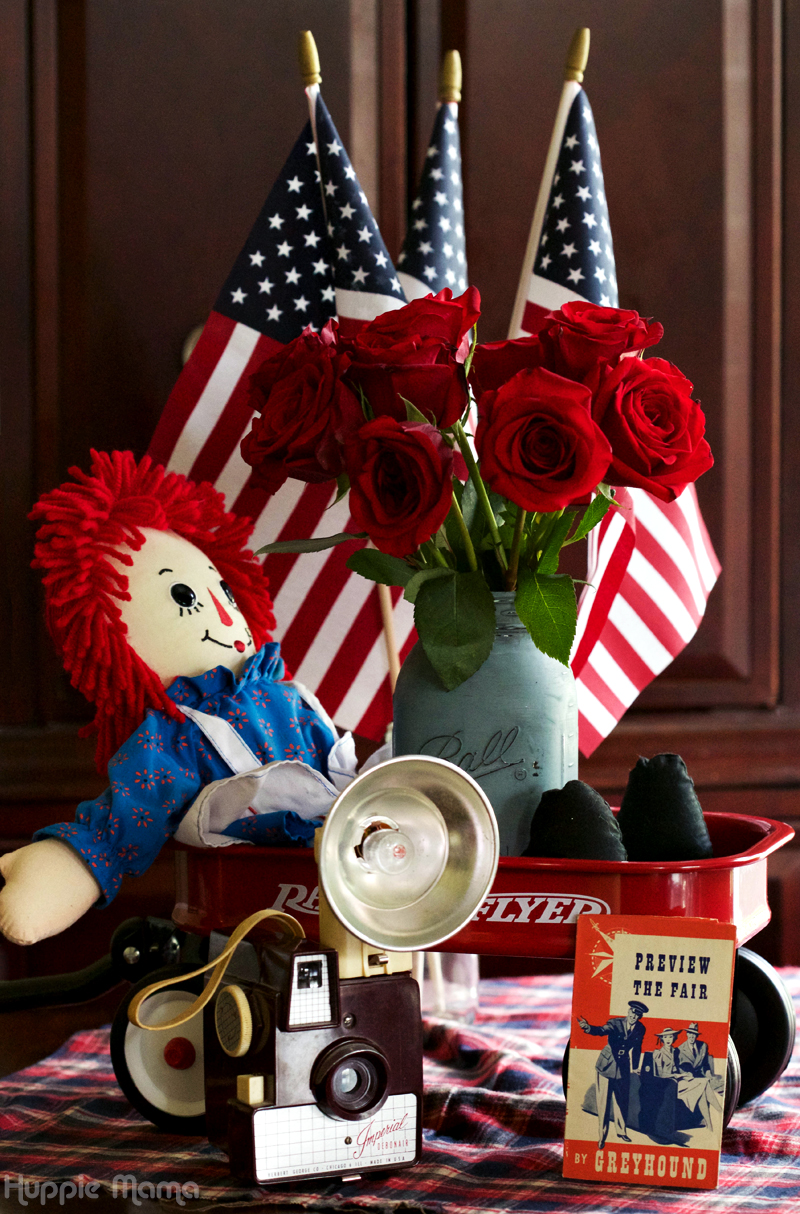 New: I purchased these American Home™ by Yankee Candle® jar candles as part of the centerpiece. Notice the red, white, and blue? They are now available at Walmart in a variety of fragrances and sizes (more information below). The American Flags were new, too.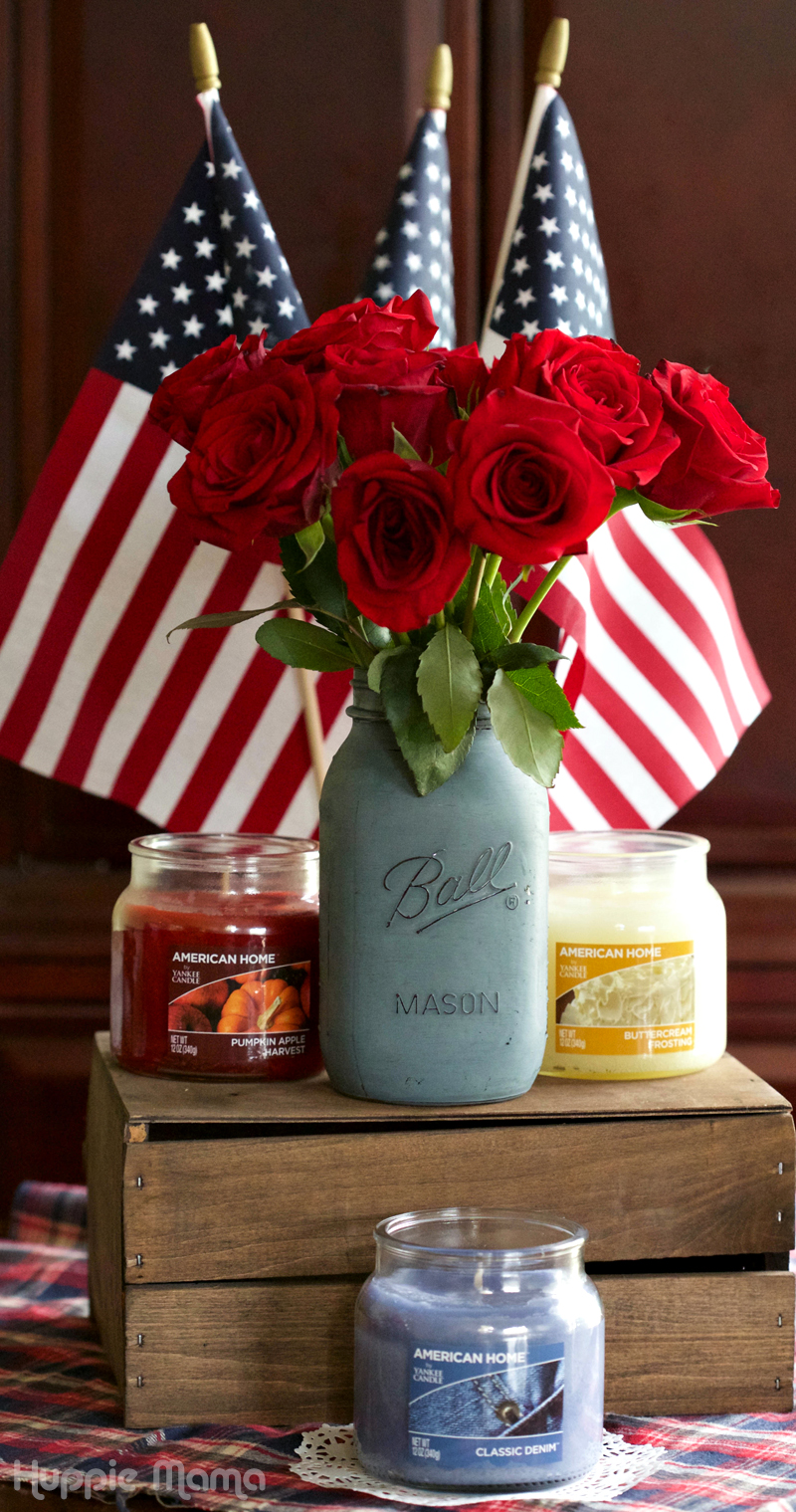 My favorite fragrance of the three was Pumpkin Apple Harvest. I tend to like fall fragrances, and this one captures those quintessential fall aromas, like nutmeg and cinnamon. I think I will keep this lit for the next few months until an evergreen/pine aroma arrives in stores. That's my winter favorite!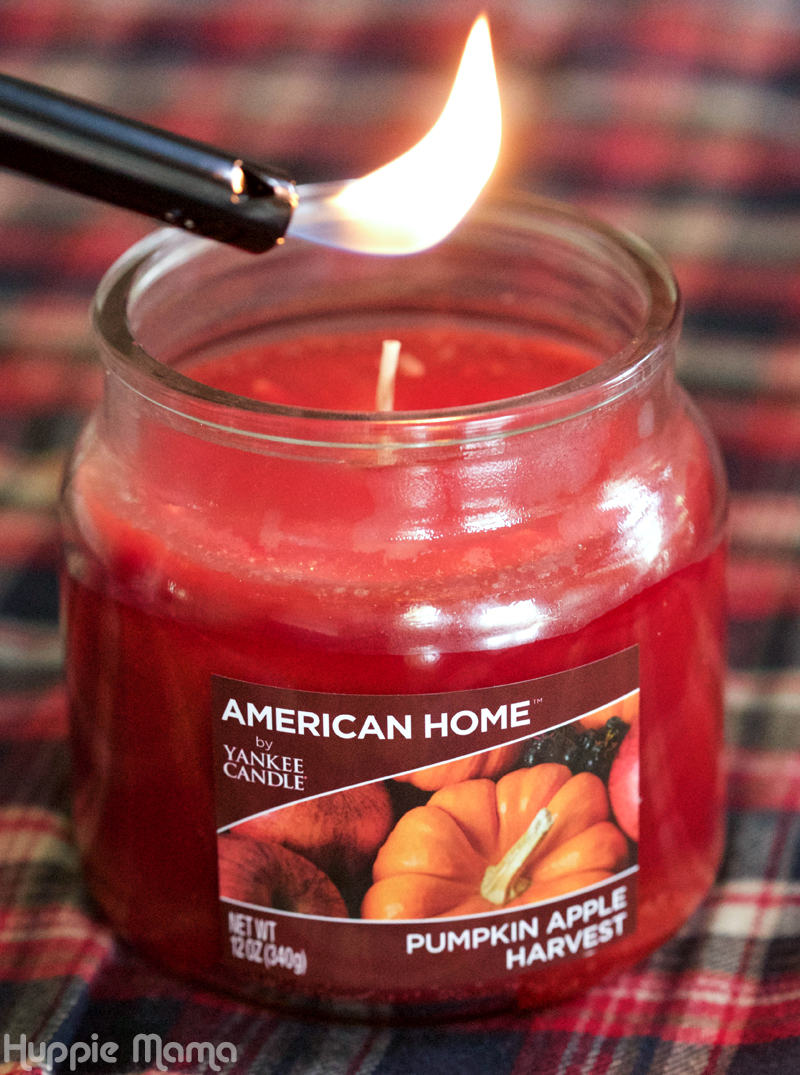 Borrowed: Like I said above, my dad loves to collect antiques, so I asked for his help with this project! Two of his favorite collections are 1940 World's Fair memorabilia and antique cameras, so I borrowed one piece from each collection. They captured the vintage feel I was looking for with this centerpiece.
Blue: I needed one more item to complete the look, so I made this antique-inspired blue vase for my roses out of a Mason jar and chalkboard paint. I mixed a light blue ultra matte chalkboard paint with a black chalkboard paint to create a color that would compliment the Classic Denim scented candle.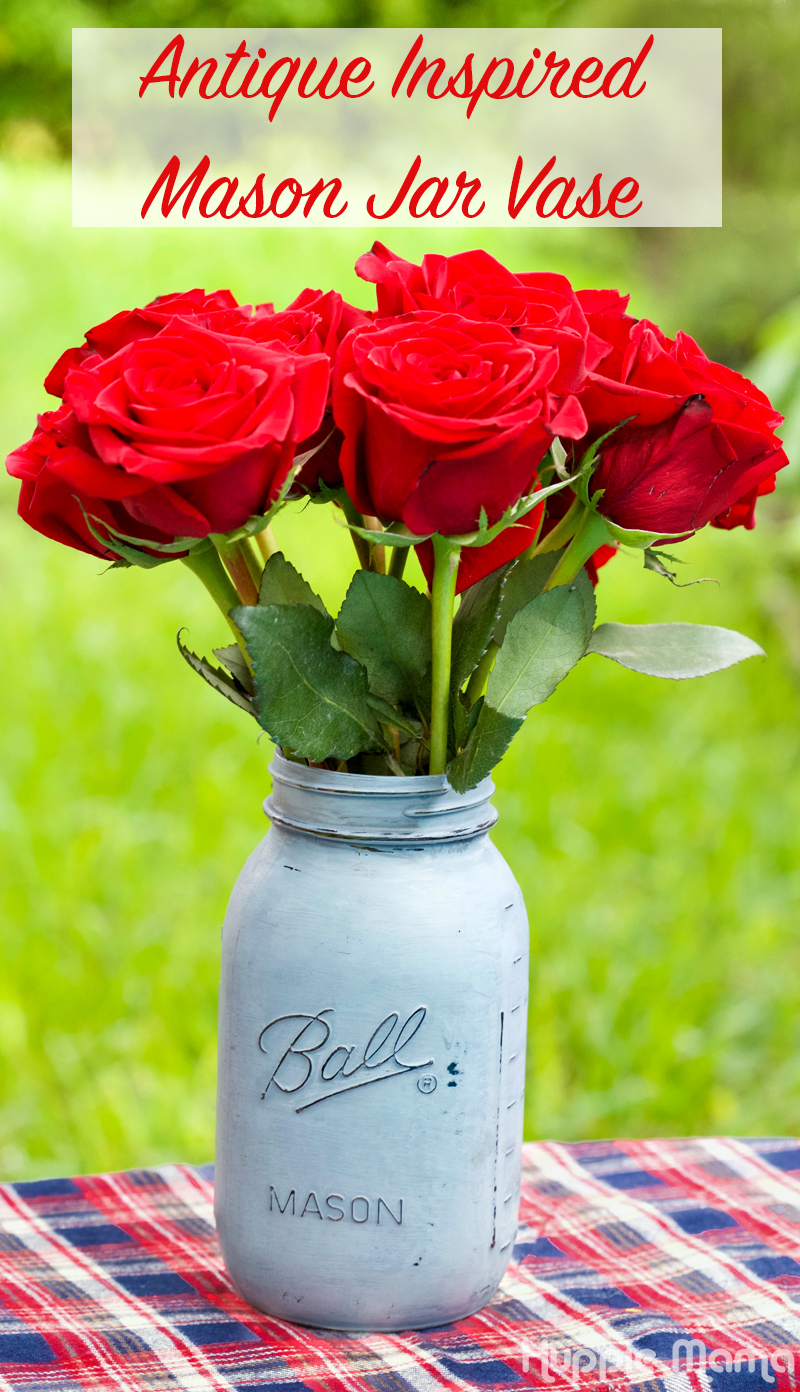 To make the vase, be certain to wash and dry your jar well. Apply two coats of the paint to the jar with a sponge brush. The coats do not have to be entirely even. Leaving streaks creates a more authentic, vintage feel. Allow the paint to dry overnight.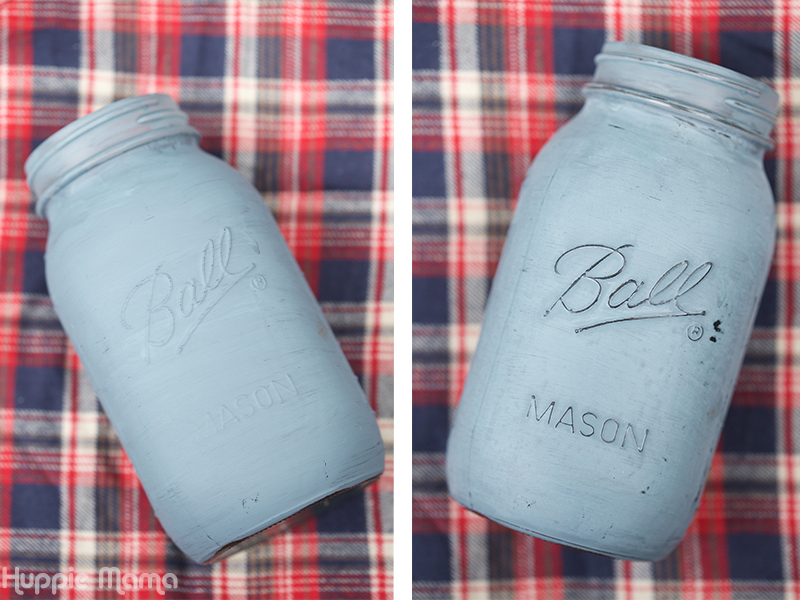 The next morning, use a nail file to file away at the paint. I made sure to really remove the paint over the areas with words. I love the final appearance! To complete the look, add a dozen fresh red roses. and a American Home™ by Yankee Candle® jar candle, of course.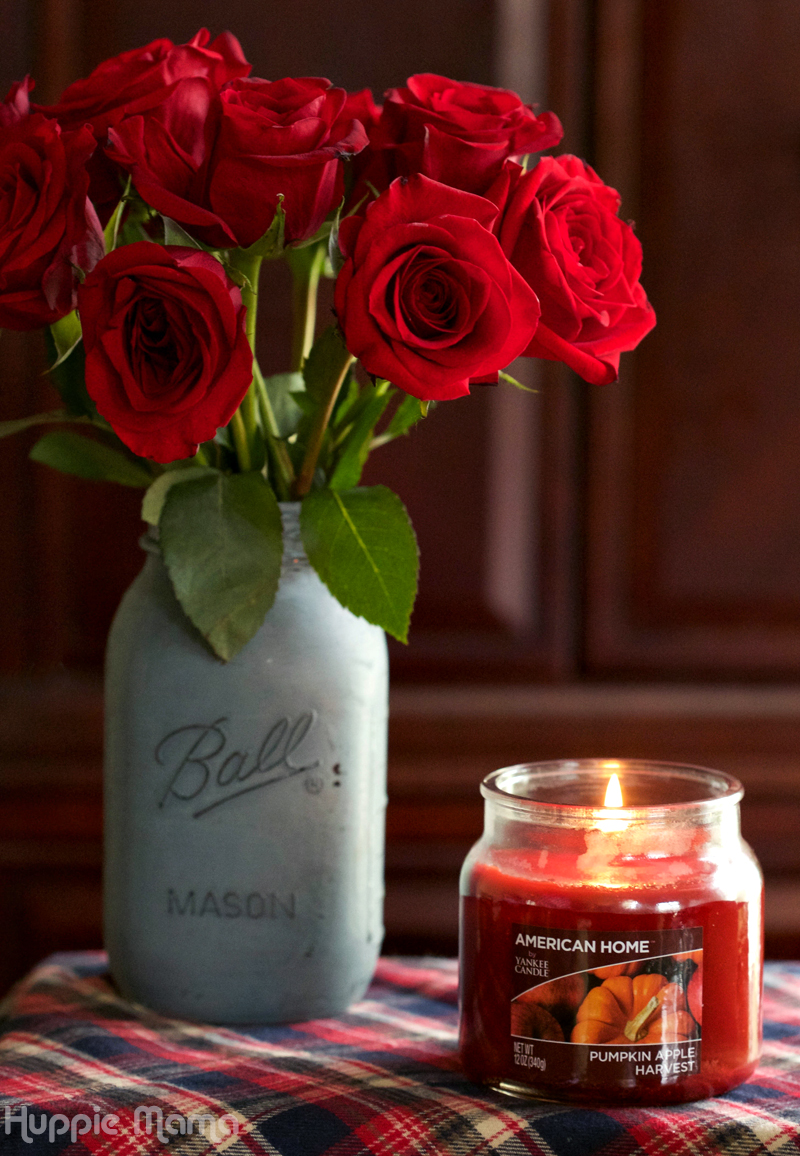 The American Home™ by Yankee Candle® products can be found at your local Walmart. At just $10.93 each, these 12-ounce Medium Apothecary Jar Candles make wonderful gifts. With all of the different colors and fragrances, they're a great addition to any upcoming seasonal and holiday celebrations. Be on the look out for the Walmart circular, which contains all of your Labor Day must-haves, including American Home™ by Yankee Candle® products!
American Home™ by Yankee Candle® products can be found in one of two places at your Walmart store: home fragrance department or candle department. Rather than being clustered together, the variety of fragrances and sizes are interspersed throughout the aisle. After purchasing American Home™ by Yankee Candle® products, please carefully follow all instructions on the packaging when using these candles in your home.
What ideas do you have for decorating your home with American Home™ by Yankee Candle® products?