A few years back, I started purchasing pasture-raised chickens. This means they are free to roam, eat a non-vegetarian diet of worms, grub, bugs, and grass (sometimes supplemented with nonGMO feed), and enjoy some fresh air and sunshine. Some people say this makes no difference, but I believe that what my food eats, I am eating. If chickens are stuck in cages in dimly-lit spaces, pumped with hormones, eating horrible GMO-feed, then that is what I'm putting into my body.
The chickens we get come straight from farms, and they generally cost $3.99/pound. That means an average chicken, with a weight of 3.5 pounds, costs $13.97 (roughly $14.00). This is when most people go "$14 for one chicken?? AND you still have to cook it?? That's insane!" And stated like that, yes, I get it. But then I consider what I get out of this one chicken..and for us, that's 18 meals. Yes, 18 separate portions/servings form just one chicken, eaten across 4 days. Here's how we do it!
Day 1 – Barbecue Chicken
Day 1, I made a barbecue rubbed chicken with baked beans (that I soaked and cooked) and cornbread. I used a recipe similar to this for the barbecue rub and this recipe for some extra barbecue sauce. Here's the chicken.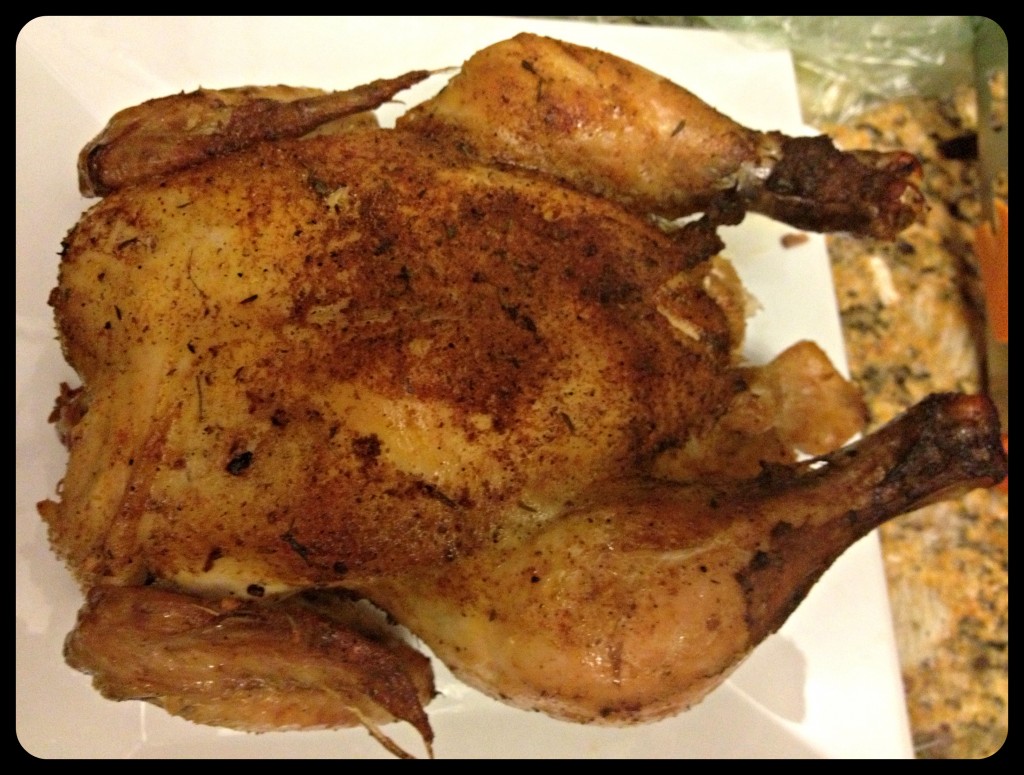 Here it is plated with the baked beans and cornbread.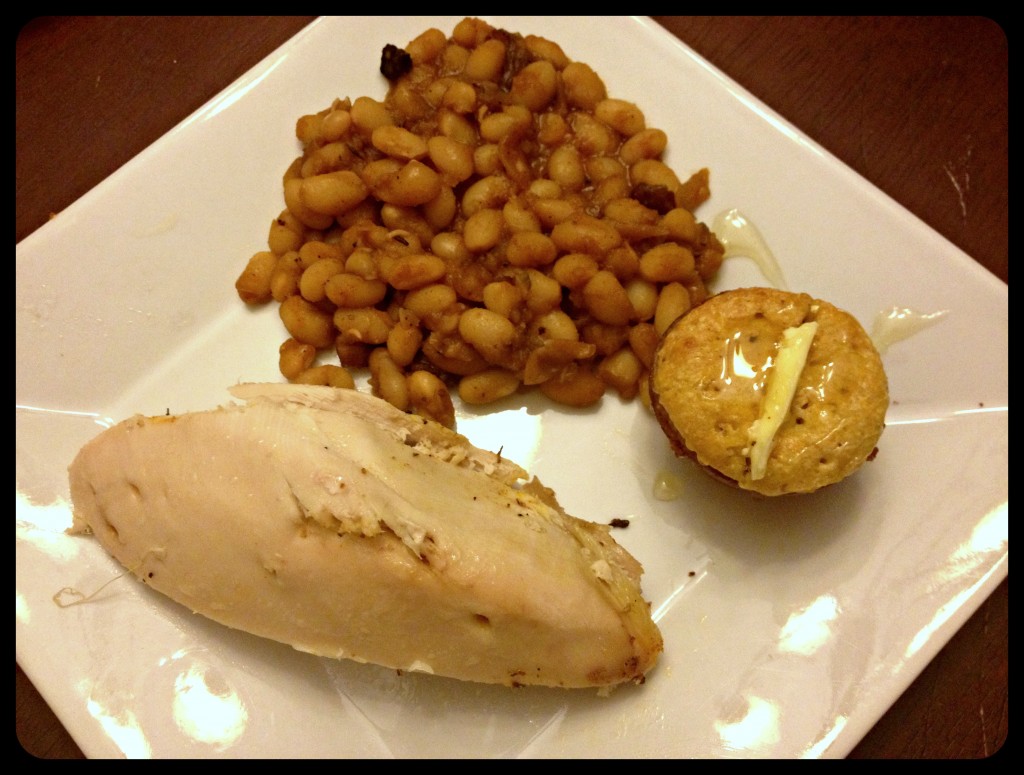 My sister came over for dinner, so there were 5 of us total. I packed up some of the chicken, beans, and cornbread for Richard to take to work the next day, bringing us to 6 meals.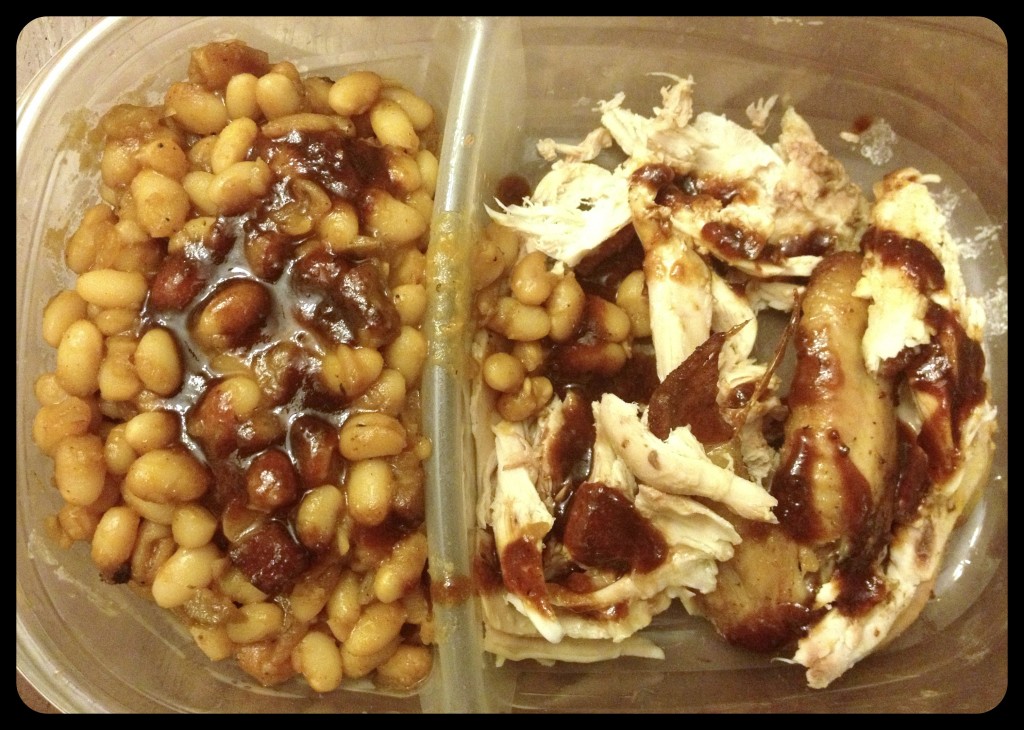 Day 2 – Barbecue Chicken Pizza
I still had a decent amount of chicken left over and some barbecue sauce, so I decided to make Barbecue Chicken Pizza for dinner the next day. I used this recipe for sourdough pizza crust, but any pizza dough recipe will work. You can even get the pre-made pizza dough available in grocery stores. I mixed the barbecue sauce with some plain tomato sauce. I spread the sauce on the dough, sprinkled the chicken on, and topped it with shredded cheddar cheese. I made two pizzas – one for the kids and one for the adults (this pizza also had sauteed onions).
This was the kid pizza.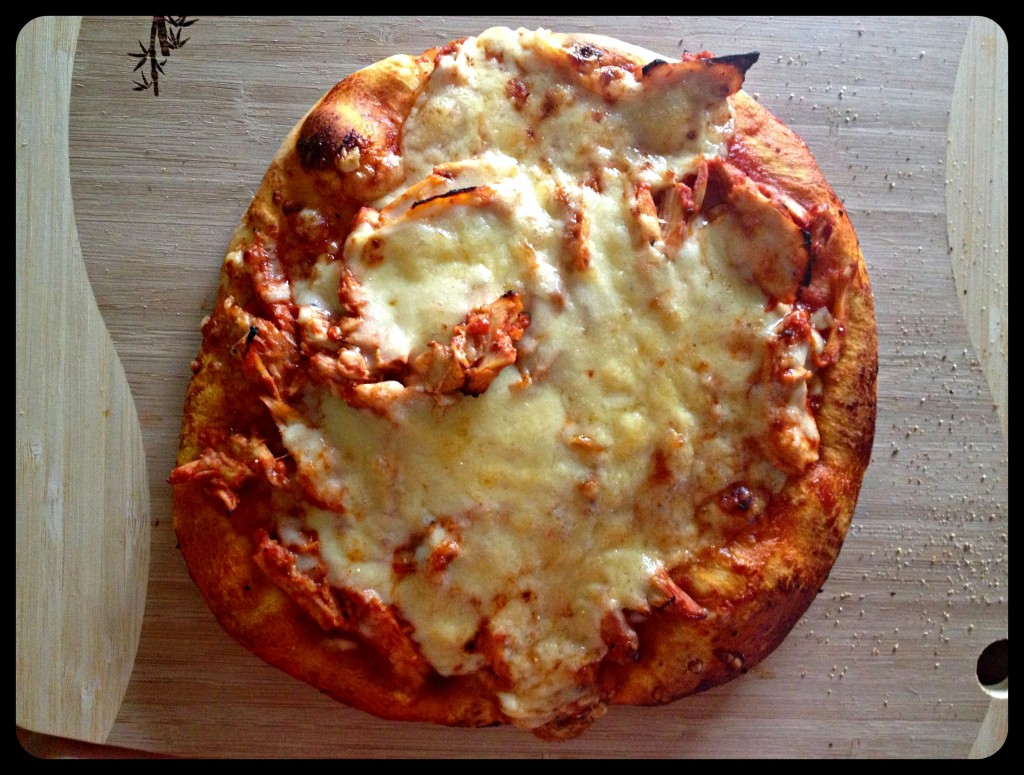 And this was the adult pizza.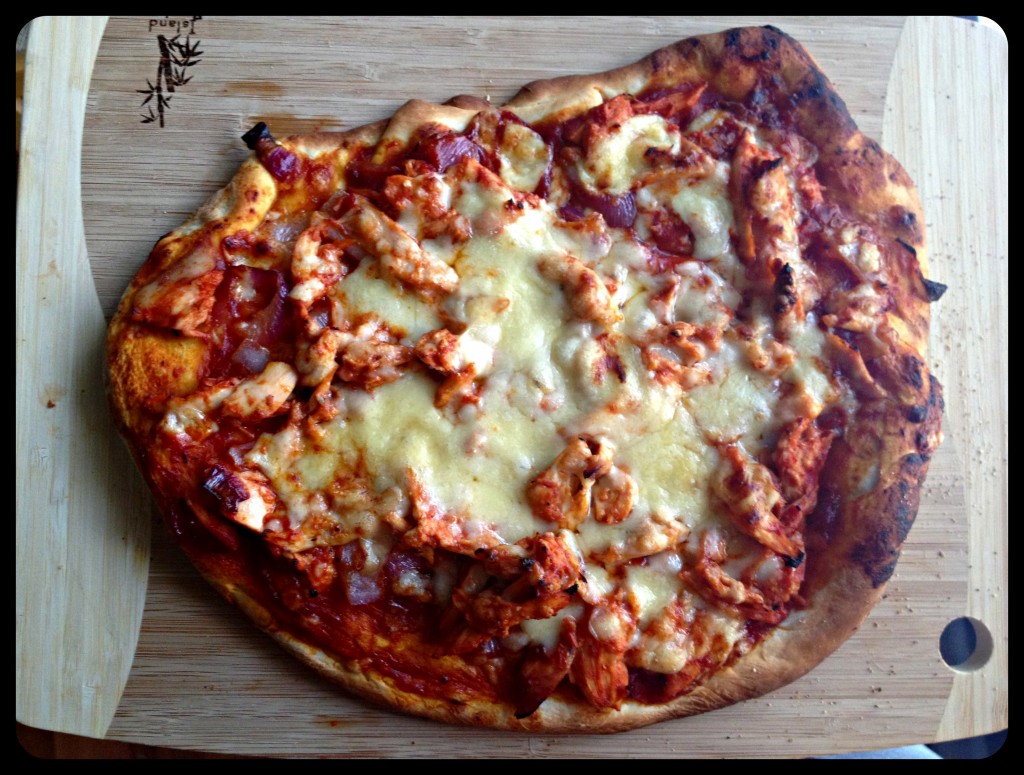 All 4 of us ate this pizza for dinner, bringing the total number of meals to 10.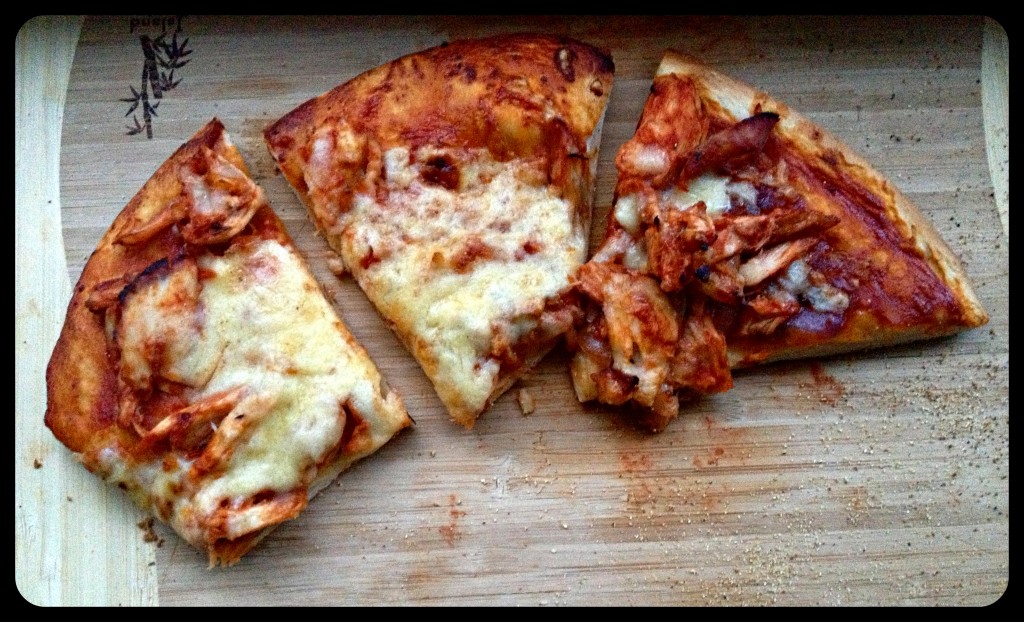 We had 3 leftover pieces of pizza. The kids and Richard each had  a slice for lunch 2 days later, bringing our total to 13.
Day 3 – Tortilla Soup
I saved all of the bones and pan drippings (along with the raw organ meat) from our Day 1 Barbecue Chicken and froze them. On Day 3, I placed them in a pot with water and cooked it all day long to make a delicious broth, flavored with the barbecue spices.
When I strained the broth, there were a lot of little chicken bits left, which is great. I then added chopped carrots, celery, garlic, and tomato sauce. I also added leftover baked beans from Day 1 and sauteed onions from Day 2.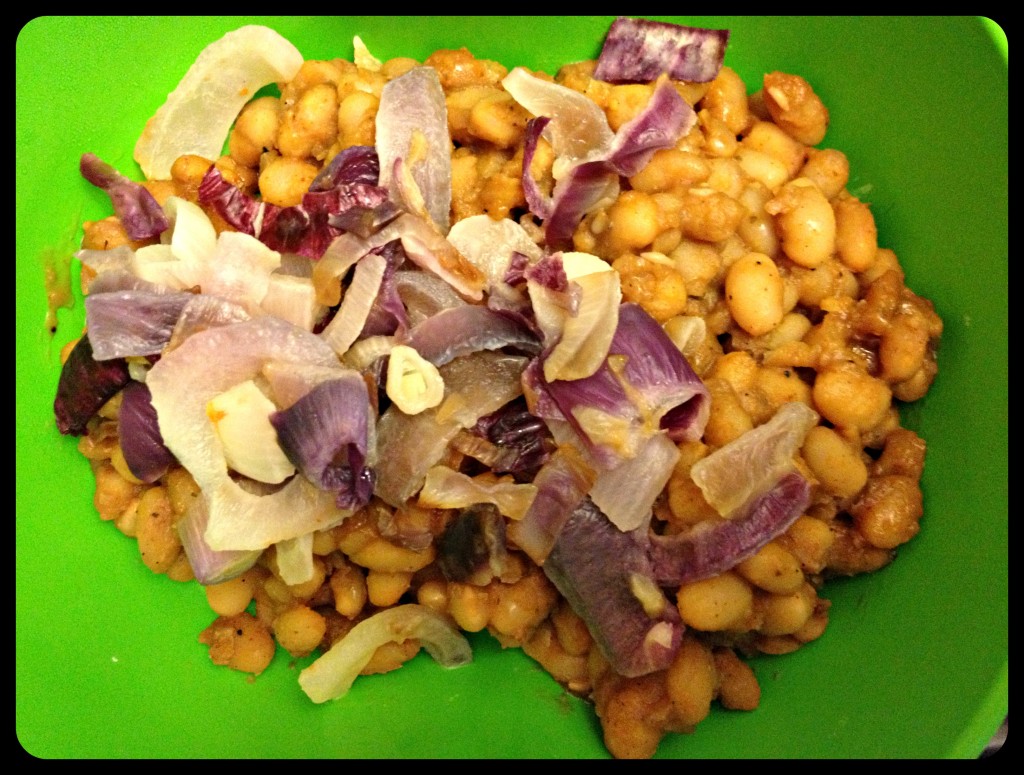 I placed about half of the soup in the blender to puree and added it back to the pot. I topped with sprouted tortilla chips, grated cheddar cheese, sour cream, and hot sauce.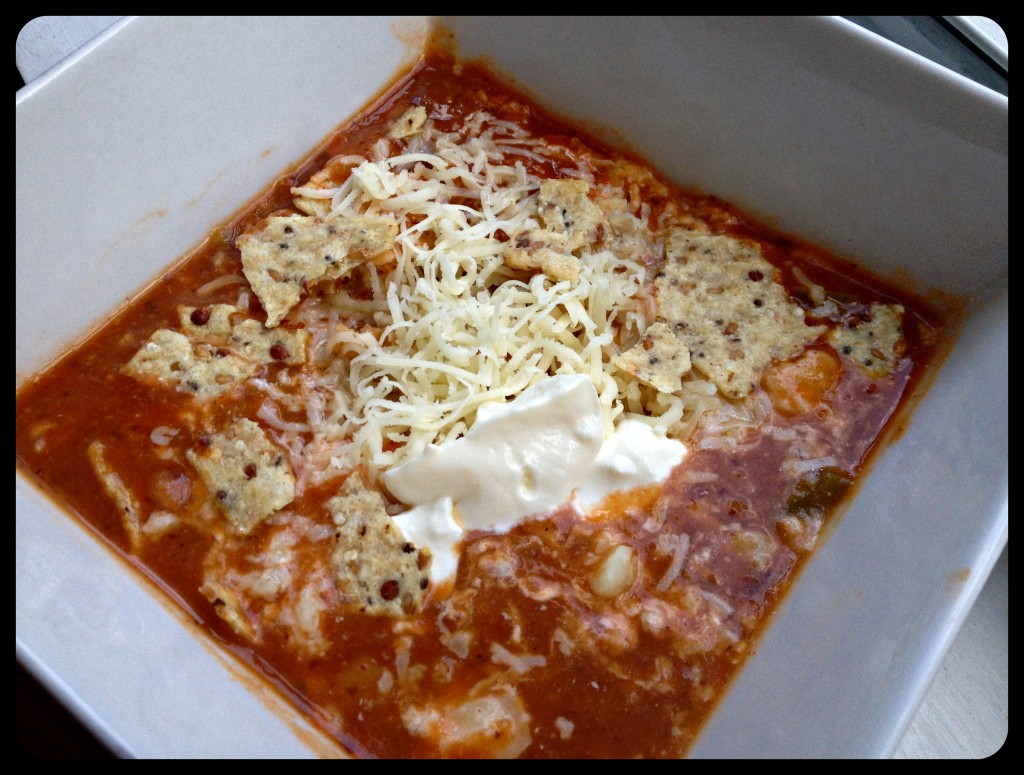 All 4 of us ate this for dinner, bringing the total to 18 meals. There were leftovers that Richard had for lunch with his slice of pizza (which I already counted above) and one extra serving for me.
So, one chicken = 18 meals in my house. I think that's pretty amazing! More than anything else, it honors the animal that gave its life up for our pleasure and health. We utilized and consumed almost every part of the chicken. This also means that at each meal, we spent less than $1 per person eating protein. Good-quality protein. That's much less than you'd spend getting poor-quality protein at any fast food restaurant. My one fear in doing this is that we'd get sick of eating chicken 4 days in a row, but the flavors were so varied and complex, each day offered us something new.
How do you stretch your healthy-eating budget??