As a recovering vegetarian, most meals contain some type of meat, but every so often, I opt for a quick & easy meat-free meal. The tricky part is making sure that it's filling, but not just because you're eating a huge bowl of carbohydrates. This takes about 15 minutes to make, contains lots of yummy vegetables and dairy, and is definitely filling. As you will see, there's a lot more vegetables than pasta. I've been making Alfredo sauce like this since I was about 20 years old, and I still love it. My daughter calls it "butter sauce" and requests it often. This recipe serves 2 adults, 2 children or 3 adults.
Broccoli & Cauliflower Pasta Alfredo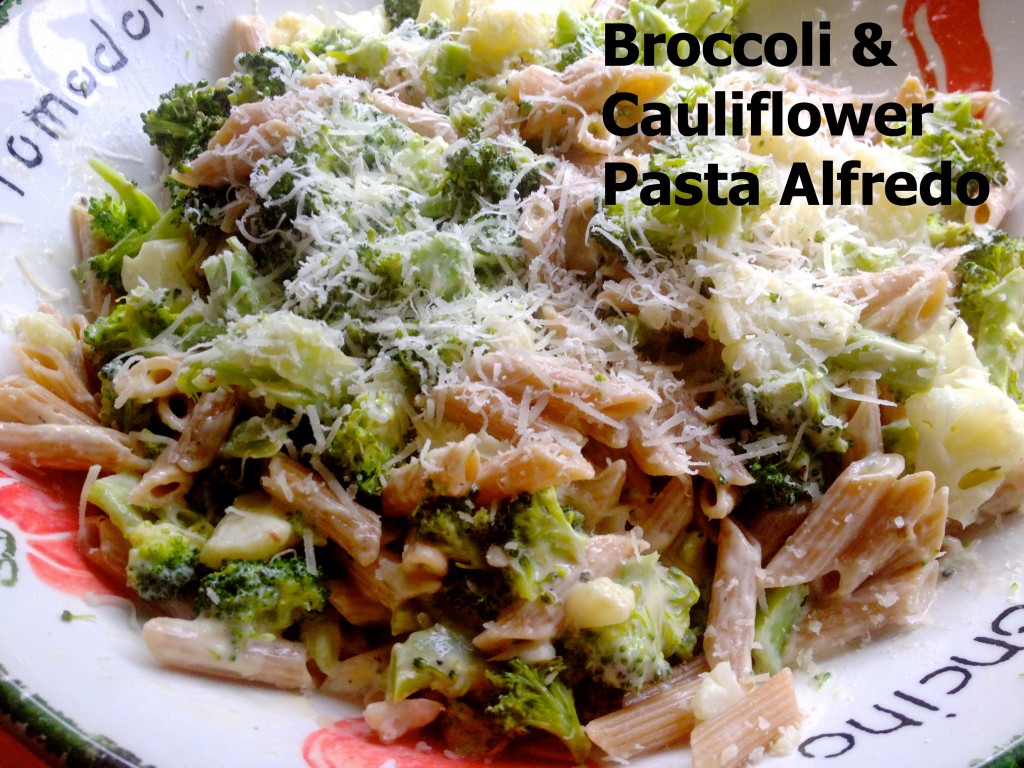 Ingredients:
2 cups fresh (organic) broccoli
2 cups fresh (organic) cauliflower
6 ounces pasta
1 cup heavy cream
4 T (1/2 stick) of butter
1/2 cup freshly-grated parmesan cheese (plus additional cheese on top)
salt & pepper to taste
Directions:
Chop your broccoli & cauliflower into bite-sized pieces and place into a pot that has a little bit of water on the bottom and a steamer basket inside. If you don't have a steamer basket, you could just boil it. Cook until al dente, making sure the broccoli has not lost its vibrant green color. 
Simultaneously, boil your water for your pasta. When the water is boiling, cook your pasta until al dente.
Pour the cup of heavy cream into a separate pan and bring to a simmer. You will see it just start to bubble along the edges. 
Add the butter and whisk it in until it is completely melted. In order to properly emulsify this sauce so that it thickens, make sure you are constantly whisking. 
Bring the sauce to a boil (keep whisking). 
Add the 1/2 cup grated parmesan cheese (and continue whisking). 
At this point, reduce the sauce to a low simmer and allow it to thicken (while whisking). Add salt and pepper to taste. 
Combine the pasta and steamed veggies in a large bowl and pour the Alfredo sauce over the top. Do you see how rich and creamy this sauce is?? 
Toss the pasta, sauce, and veggies and add extra cheese on top (optional). 
And the verdict? Child approved! She ate the entire bowl!