It is easy to brine and smoke fresh ham for all of your holiday celebrations, like Easter and Christmas.
I wrote last month about how we purchased 1/4 of a pasture-raised pig in Central Florida. Included in this portion of a pig was a ham that I knew we would be preparing for Christmas. I searched the internet trying to find recipes to brine, smoke, and cook a fresh ham, but I had little success. I hope this tutorial helps you prepare a delicious fresh ham for your family.

Fresh Ham Brine Ingredients:
10-pound fresh ham
1 gallon water
1 cup salt
1/2 cup brown sugar
1 t black peppercorns
1/2 t whole cloves
Fresh Ham Brine Directions:
Allow your ham to thoroughly thaw (assuming it's frozen). In a large pot, combine water, salt, brown sugar, peppercorns, and cloves. Cook just until sugar and salt dissolve. Allow to cool completely. Pour into a large container and place the ham inside. Cover completely. The container I used is actually a Rubbermaid cake holder flipped upside-down.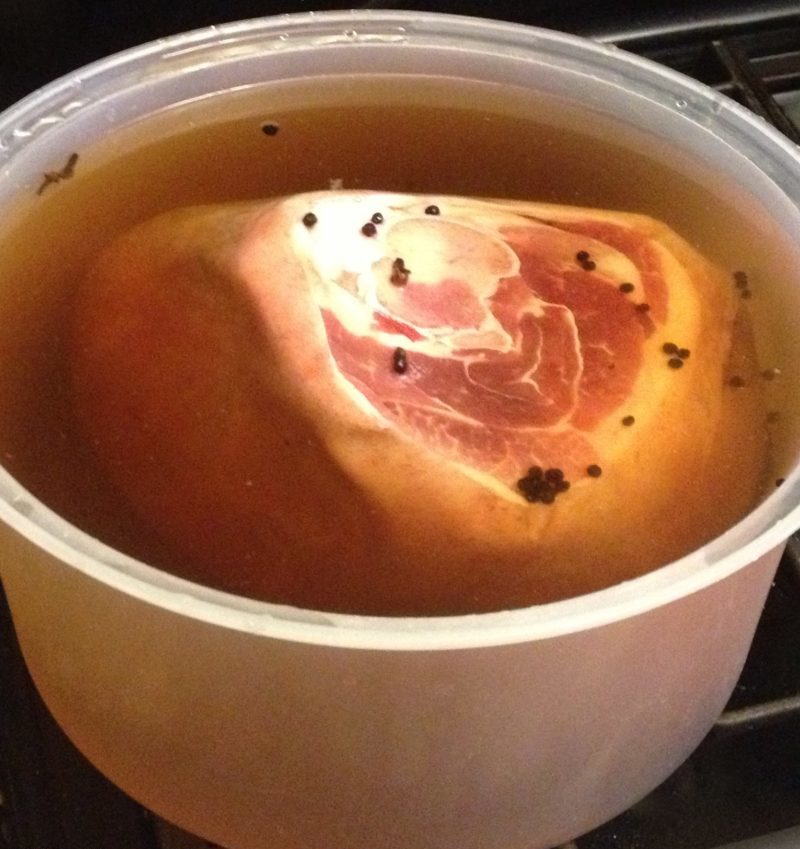 The fresh ham will brine in the refrigerator for 7 – 10 days. At that time, remove it from the large bowl.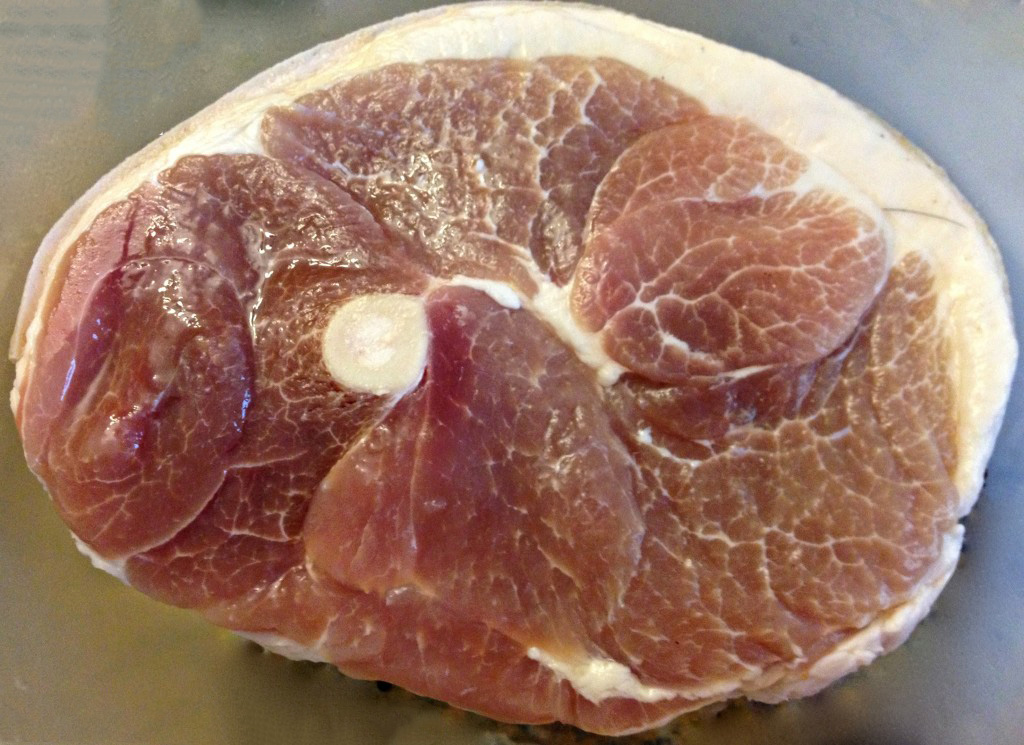 Place the ham in a smoker with four wood chips, whichever type you prefer. Smoke for about 7 hours at 170 degrees. At this time, remove the ham from your smoker. You can either refrigerate it until you are ready to cook it or complete the preparation.
Fresh Ham Glaze Ingredients:
3 T real maple syrup (preferably Grade B)
3 T butter
Fresh Ham Glaze Ingredients: 
When you are ready to cook your ham, preheat your oven to 400 degrees. Place the ham on a rack in a roasting pan. Create your glaze by melting 3 tablespoons of butter and 3 tablespoons of maple syrup in a small saucepan on the stove. Score your ham by creating crossmarks on the skin. Apply glaze to the exterior of the ham with a brush.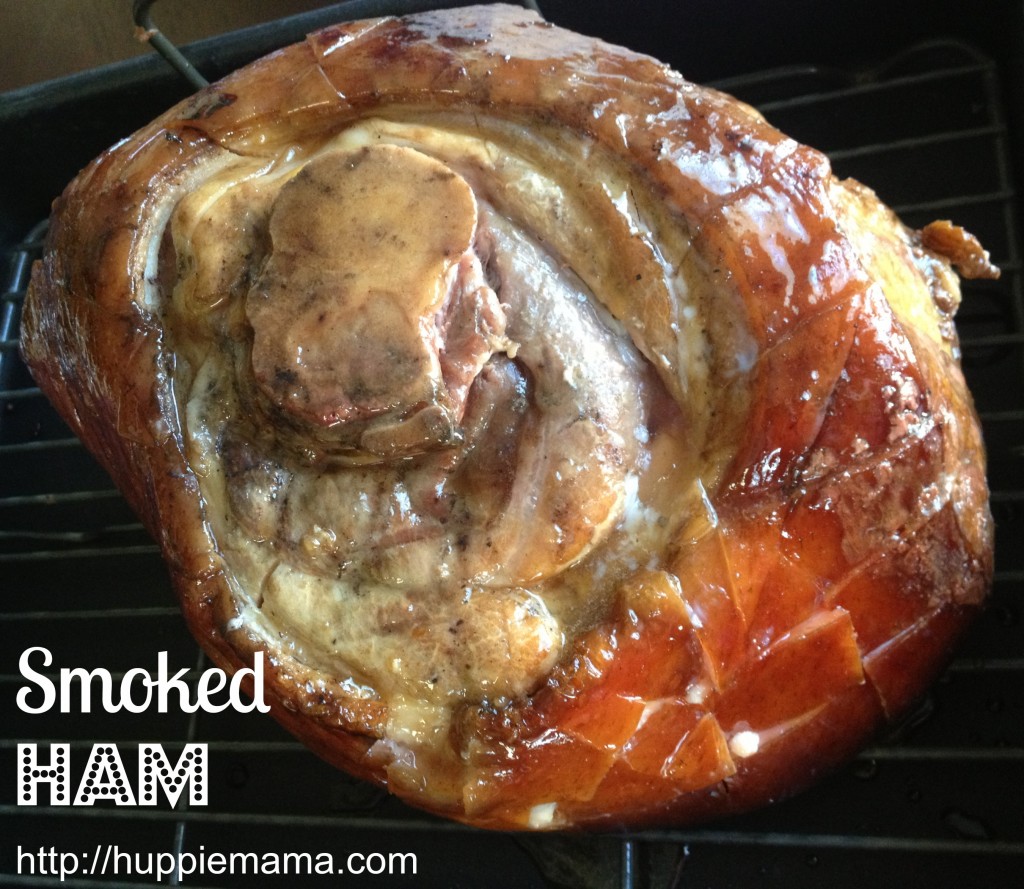 Cover the ham with foil and place in the preheated oven. Midway through cooking, remove the foil to crisp the skin. Cook time will depend upon the initial internal temperature of your ham. My ham was refrigerated for 4 days, so it took quite some time to come back to room temperature. Use a meat thermometer to register the internal temperature. It is cooked at 160 degrees F. I cooked my ham for about 2.5 hours to reach completion.
Our fully-cooked ham was amazing! The crunchy skin on the outside was phenomenal. It tasted freshly-made, well-seasoned, perfectly-smoked, and still moist inside. What a delicious treat for my family for Christmas!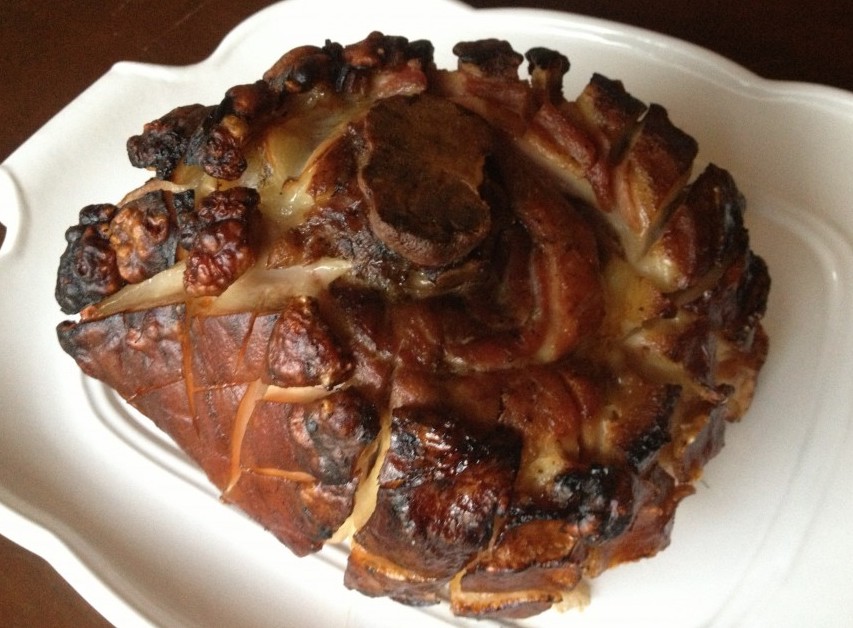 Want to Brine & Smoke your own fresh ham?
Pin this Brine & Smoke Fresh Ham image below!