Sew your first quilt in just hours following this Beginner's Quilt Sewing Tutorial.
I have just (almost) completed my 4th basic beginner's quilt. My first three include:
The first three were Wordless Wednesday posts, but I think I'm finally ready to create an actual sewing tutorial. Before you proceed, I must warn you – I don't know the first thing about real quilting. This is a really simple way to make a nice blanket using the least number of steps possible. Great project for a beginner!
*This tutorial will contain the best images from all 4 quilts. Follow the directions without being confused by the colors/patterns of the fabrics.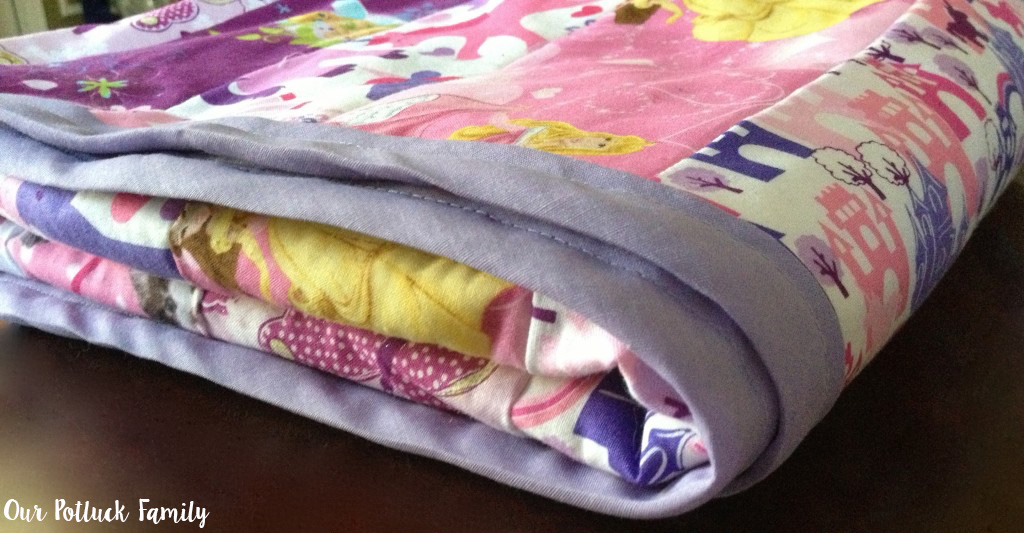 Materials:
6 ft of coordinating patterned fabric (I usually get one foot of 6 different patterns, but you can do 2 feet of 3 different patterns or even 3 feet of 2 different patterns)
2 packages of coordinating quilt binding
5 ft of solid-colored muslin (I do either white or ivory)
Warm & Natural Needled Cotton Batting – Baby size (45″ x 60″)
coordinating thread
Directions:
Begin by cutting your fabrics into strips that are 4″ x fabric width (usually about 45″). You should have a total of 18 strips. When I made my first quilt, I did strips of different thicknesses, but I found that consistency looks more attractive.

Lay the muslin on your surface first. Place the cotton batting directly on top. Choose your first fabric strip. Pin the right-side of the fabric strip down so that the edge of the fabric strip overlaps with the edge of the muslin + batting. Sew a straight line along the edge of your pinned fabric. Be sure to sew through all three layers.

Flip over fabric and iron down.

Pin the next fabric strip right-side down over the previous strip. Sew in place along the top edge.

Flip fabric strip up and iron. You have now created your first two rows.

Continue this process as you work your way toward the end of the muslin and batting. Pin strips in place, sew, iron, and repeat until you reach the far end.

At this point, you will probably find that your fabric strips were slightly different lengths, so the sides of the quilt appear uneven.

Trim around all four sides to create straight edges. This is what the back looks like after the edges have been trimmed.

Pin the quilt binding in place all around the quilt. The corners can get pretty tricky, so take your time. I find that it usually takes one entire package and about 3/4 of the second package. Sew around – and your quilt is complete!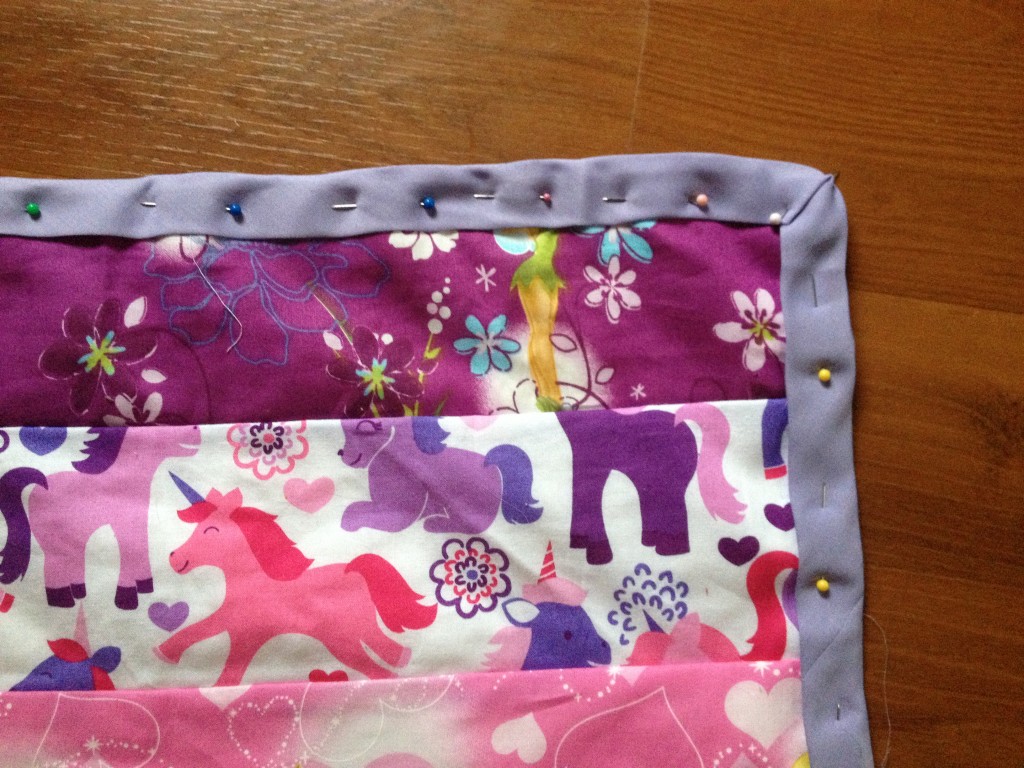 Here are four different themed quilts I created.
Beginner's Owl Quilt with Owl Pillow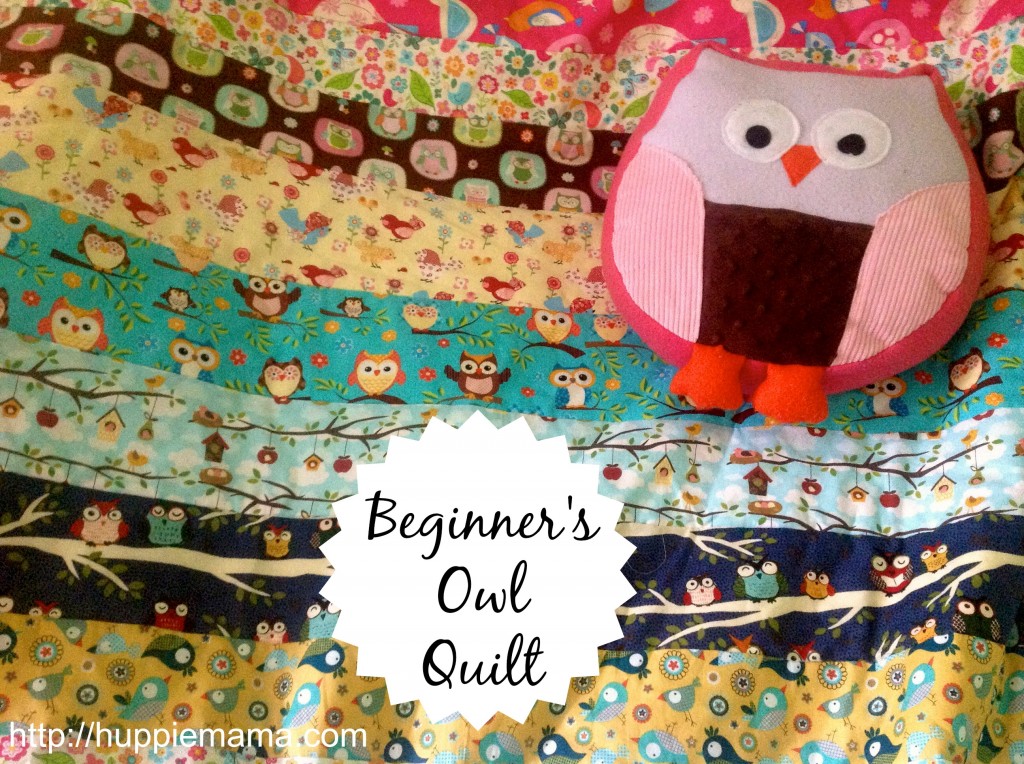 Beginner's Dog Quilt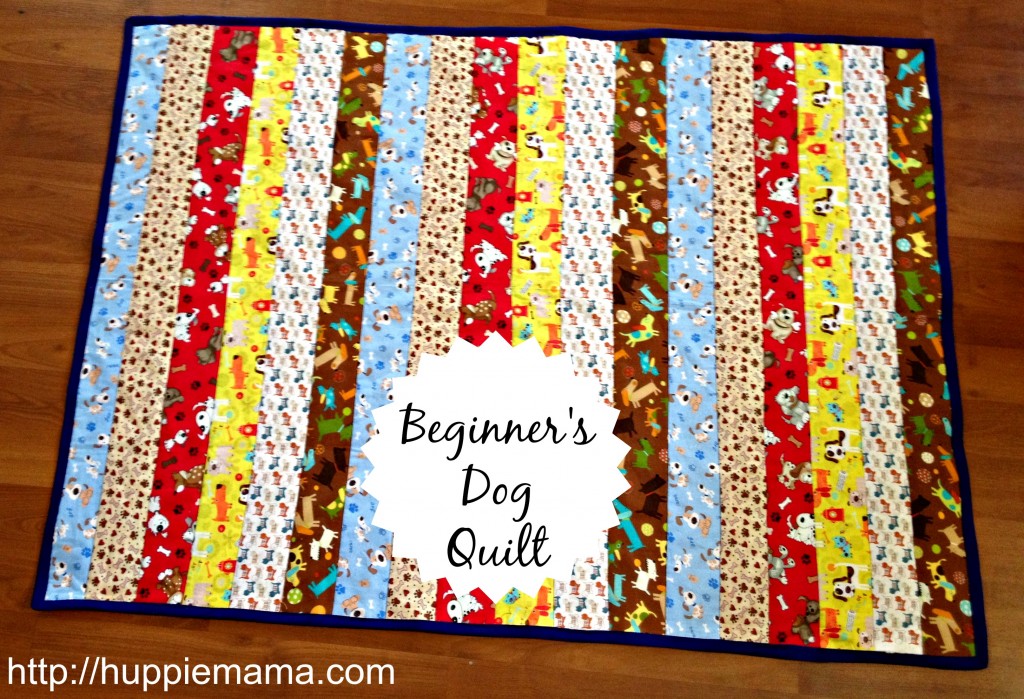 Beginner's Princess Quilt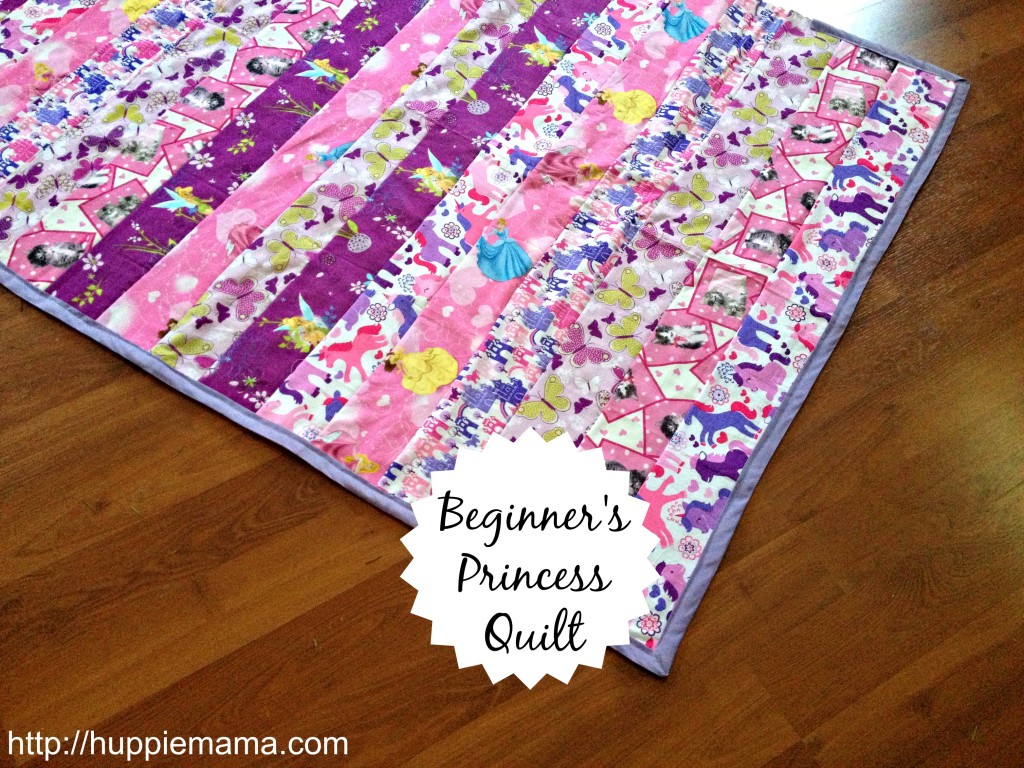 Beginner's Undersea Quilt