Blueberries are extremely healthy for you. You can learn more about the amazing health benefits here.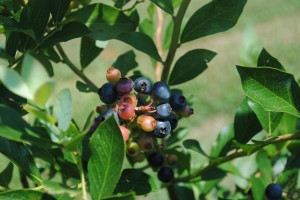 During the mid-summer months, blueberries are available to pick in Northern Georgia. We decided to visit the Cool Springs Blueberry Farm & Nursery in Gainesville, GA. In South Florida, we're able to pick strawberries during the cooler months, but this was the first time we picked blueberries. Lydia had so much fun!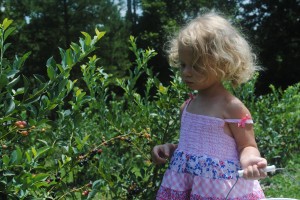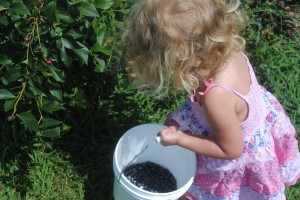 I think Bryce enjoyed being worn in our new Baby K'Tan.
These blueberries were so much better than any blueberries I have ever bought in a store (even a good farmer's market). The skin was very thin and the inside was juicy, sweet, and tart. So delicious! The next morning for breakfast, we made two different blueberry recipes that I'd like to share with my readers: blueberry scones and blueberry pancakes.
Blueberry Scones
(based on a recipe by Paula Deen)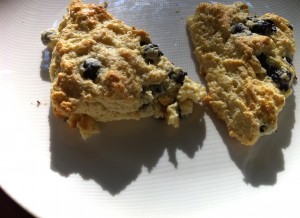 Ingredients:
2 cups unbleached flour, plus extra for dusting surface
3 T + 1/4 cup sugar
2 T baking powder
1 t baking soda
1/2 t salt
5 T butter, cubed
1 cup sour cream
1 egg, separated
1 cup blueberries
Directions:
Preheat oven to 400 degrees F.
Using a food processor or your hands, combine flour, 3 tablespoons sugar, baking powder, baking soda, and salt. Add butter and either pulse or cut using your hands/fork to incorporate butter until you have a crumb-like texture, with the butter distributed throughout.
Mix in sour cream, the egg yolk, and blueberry until just combined.
Turn sticky dough out onto a lightlyfloured surface. Shape until dough is about 3/4″ inch thick and cut into triangles, to create 16 equal-sized scones.
Brush each scone with the egg white, and sprinkle the top with the remaining 1/4 c of sugar.
Place the scones on a baking sheet with a silicone mat or parchment paper. Bake for 12 – 14 minutes, until golden brown.
Top with honey butter or maple butter (equal parts softened butter and either honey or maple syrup).
Makes 16 scones.
Blueberry Pancakes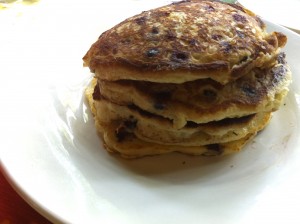 Ingredients:
3 ½ cups flour
1 t salt
3 T baking powder
6 T sugar
3 ½ cup milk
2 lemons (juice and zest)
3 eggs
1 ½ t vanilla extract
6 T melted butter (+ butter for pan)
3 cups blueberries
Directions: 
Sift dry ingredients together in a medium bowl and set aside.
In a large bowl, combine eggs, sugar, vanilla, melted butter, and milk.
Add dry ingredients into wet ingredients. Gently stir in fresh blueberries.
Place skillet/large pan on a medium burner. Lightly butter the pan. Pour mixture into pan to create pancakes 6″ in diameter. Cook until golden on one side, flip, cook on the second side.
Serve with pure maple syrup.
Makes approximately 18 large pancakes.