This #snacktalk shop has been compensated by #CollectiveBias, Inc. and its advertiser. All opinions are mine alone.
As a college student, I remember what most parties looked like. Everyone pitched in a few bucks to buy the cheapest pizza in town with the greasiest wings on the side. We would head over to someone's apartment and watch a game with a bunch of people I had never met before. It was always fun and made for some great memories a few years later (okay, more like 15 years later).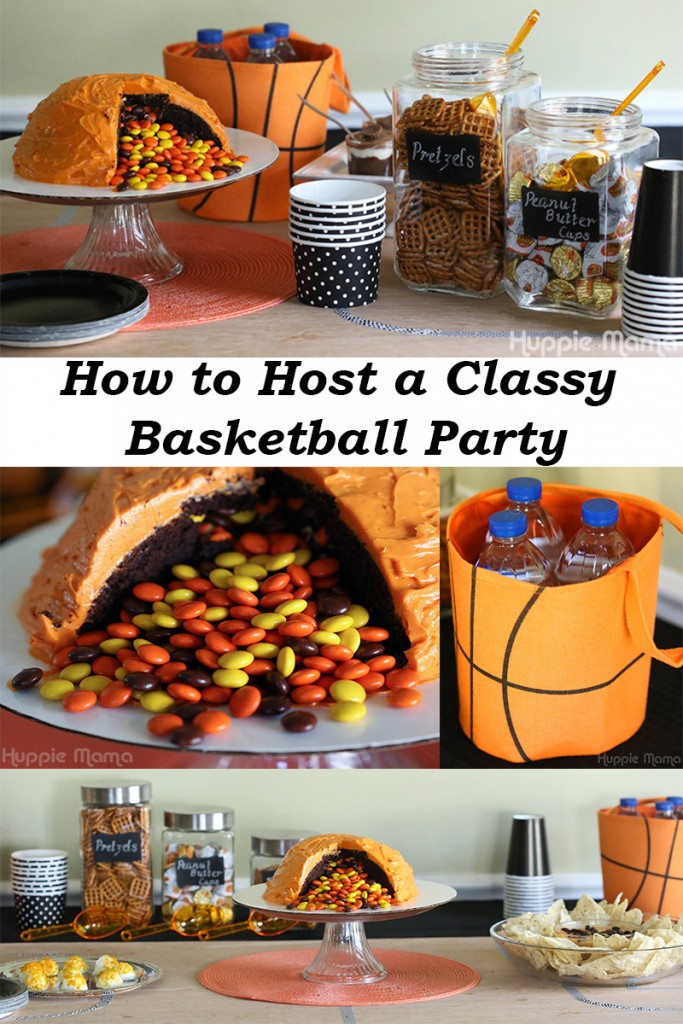 But sports-themed parties don't have to be just wings and pizza. You can host a classy basketball party by preparing a variety of tasty canape, light bites, and festive treats perfect for any basketball party-goer! The great thing about a party like this is that it combines my husband's love of sports with my passion for culinary arts. Here's our menu for watching a basketball tournament at home with friends:
Roasted red pepper hummus and chips
Mini buffalo chicken meatballs
Goat cheese balls with orange zest
Sweet & salty snack mix
Triple chocolate mousse cups
REESE'S pinata cake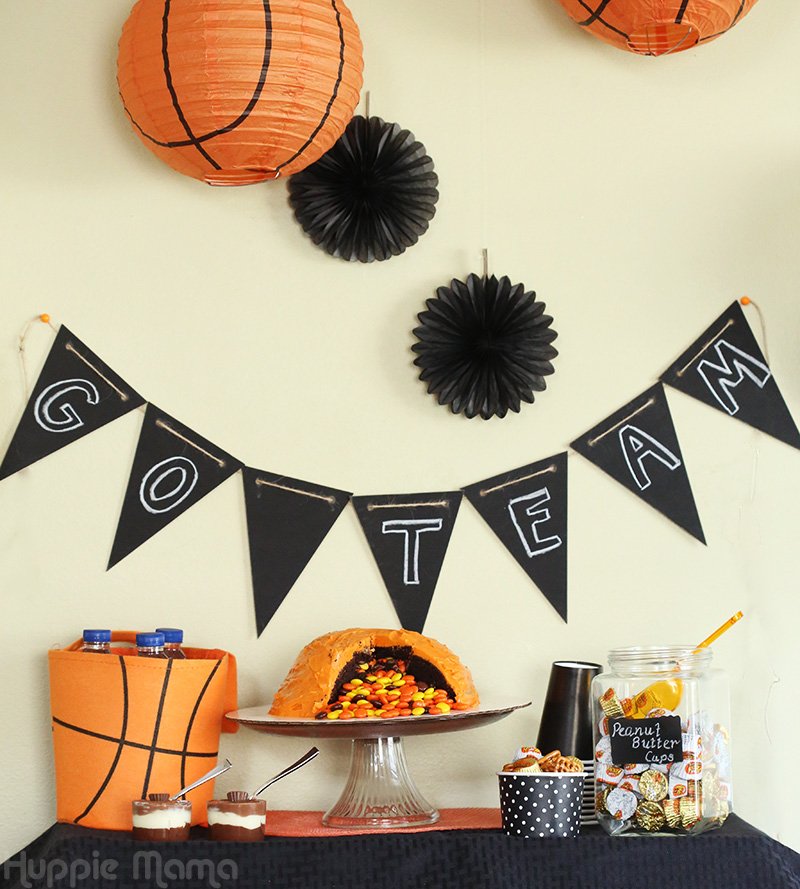 Let's start with the tablescape. I covered my table with a black tablecloth and created a fun basketball court design on a piece of plywood using black & white polka-dotted paper tape. I drew it out first using a tape measure so I had simple design to follow with the tape.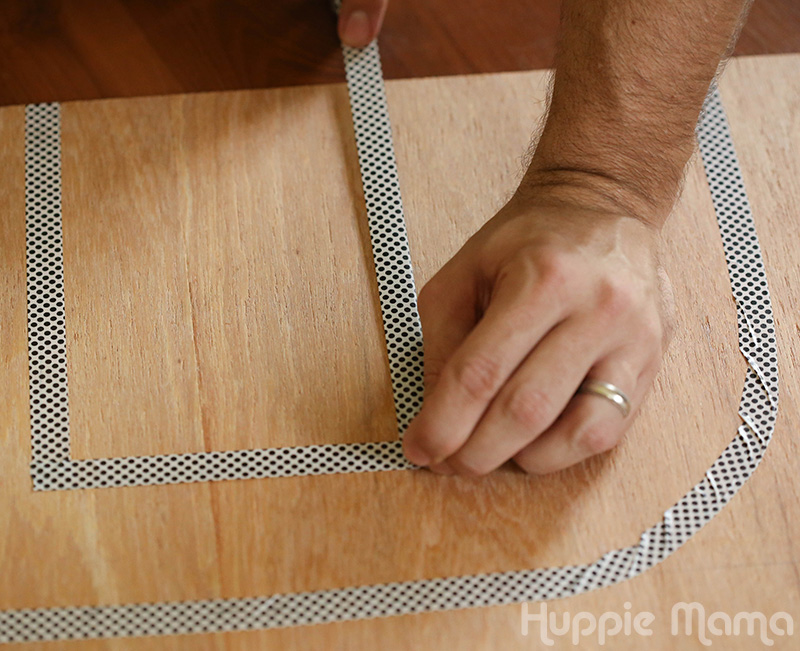 The plywood basketball court made the perfect surface for all of our party treats!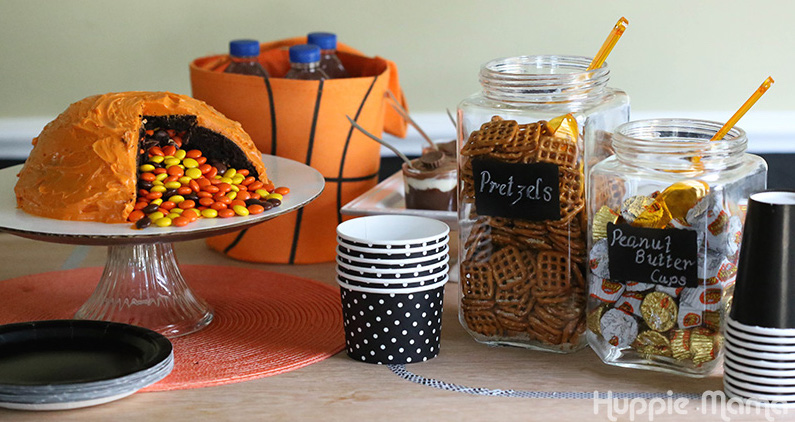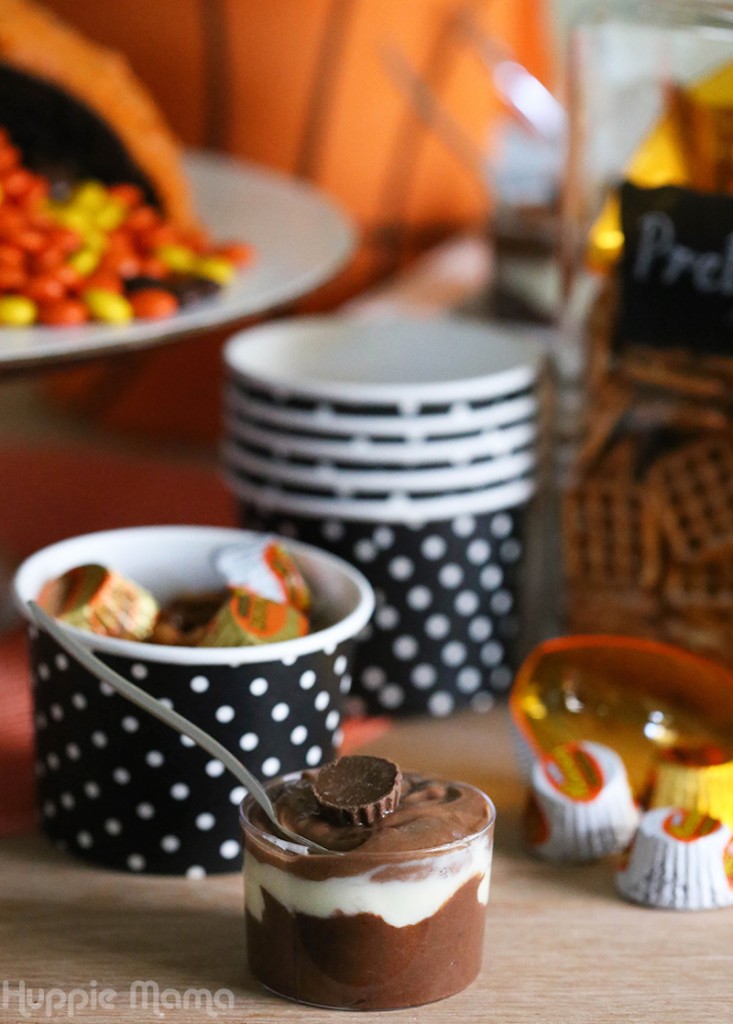 I knew I wanted to include a lot of orange in the image to accentuate both the color of basketballs and REESE'S packaging (and the actual REESE'S Pieces), and then I chose black, white, and some metallics to complete the look.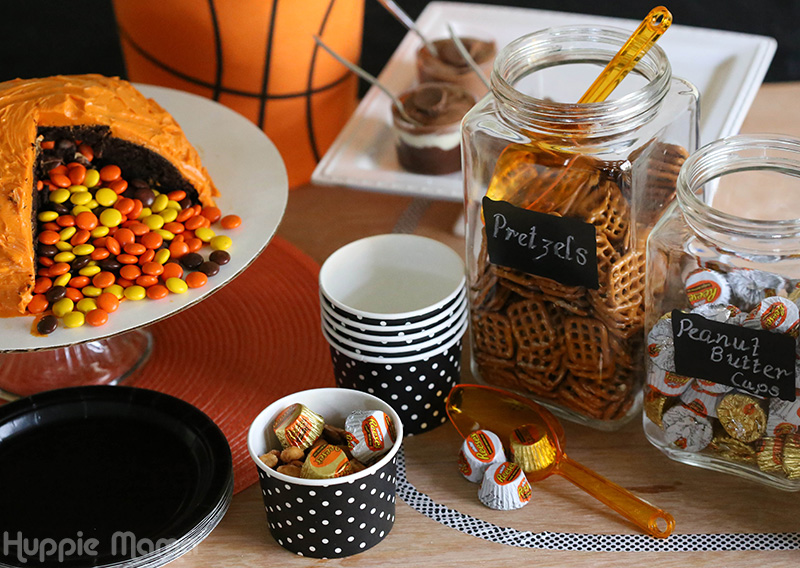 To highlight the basketball theme, I purchased basketball lanterns to hang and felt buckets to hold water bottles.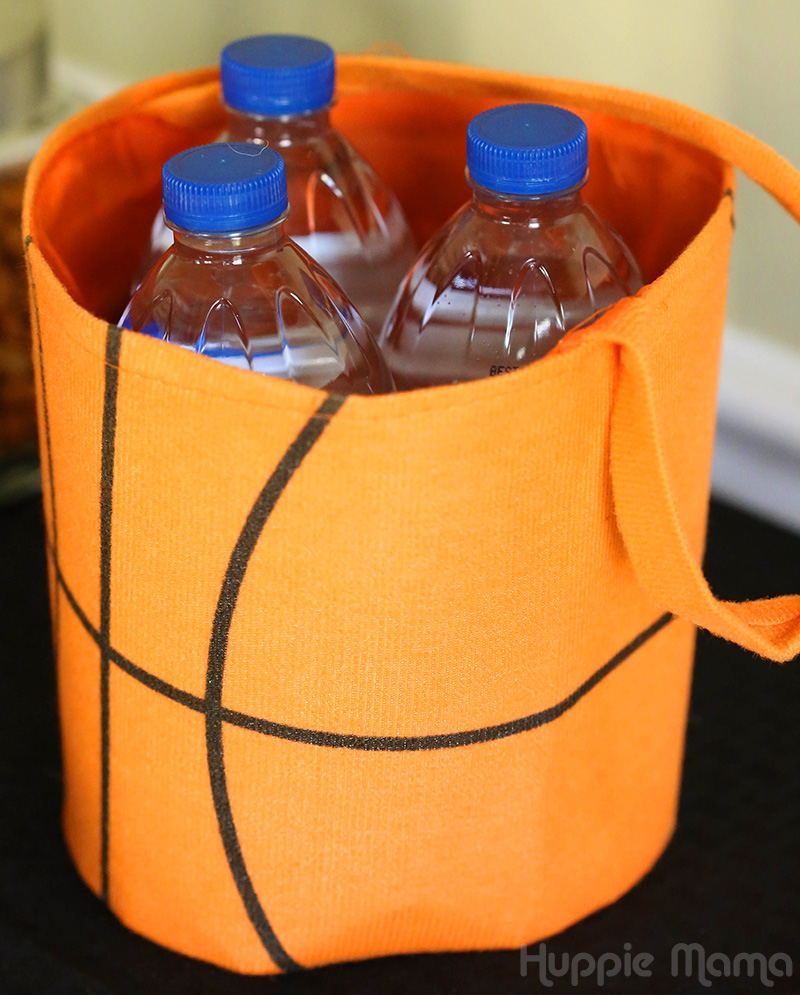 Now, on to the food! I like a nice combination of sweet and savory snacks at a party. I purchased pre-made buffalo chicken meatballs. Snacks like that are great for parties because you can just toss them in the oven to heat, and they are ready to serve. I made my own blue cheese dip, but you can use store-bought. I thought the orange color of these meatballs mimicked basketballs nicely. Make it even easier for guests to serve themselves by inserting small cocktail forks in each meatball!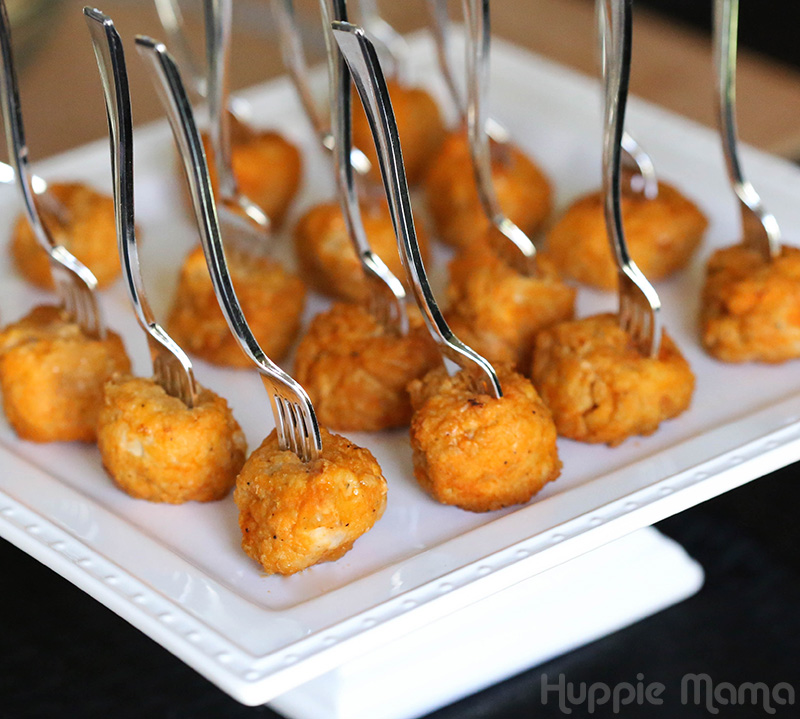 Another easy snack for a basketball party is roasted red pepper hummus. I mixed in the pureed red pepper that was at the top of the hummus completely to get a fun orange color. I then used black beans on top to create the appearance of a basketball. Serve with chips, crackers, or veggies for a delicious party food.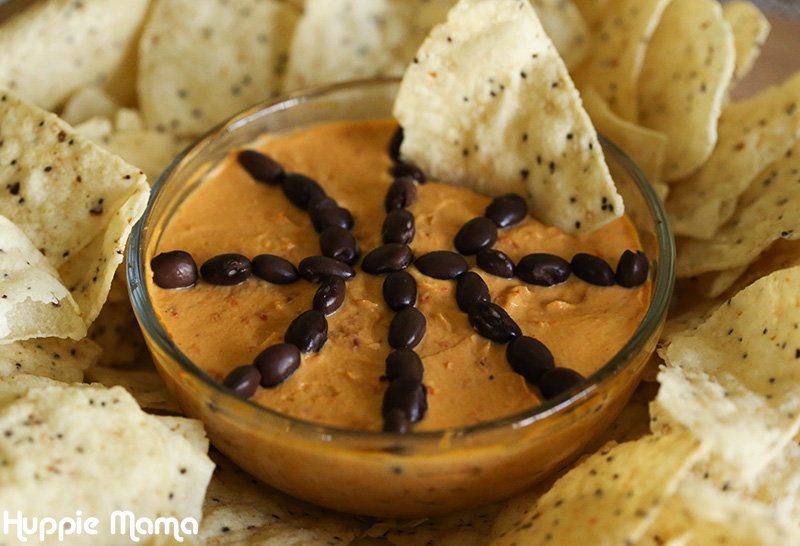 My final savory dish was goat cheese balls coated in orange zest. Freshly zest your oranges and sprinkle over goat cheese balls (I used a small melon baller to get them just right). Don't use too much zest as it's a very strong flavor, but just a little bit of orange zest over goat cheese is great served with crackers. And it looks like yummy little basketballs!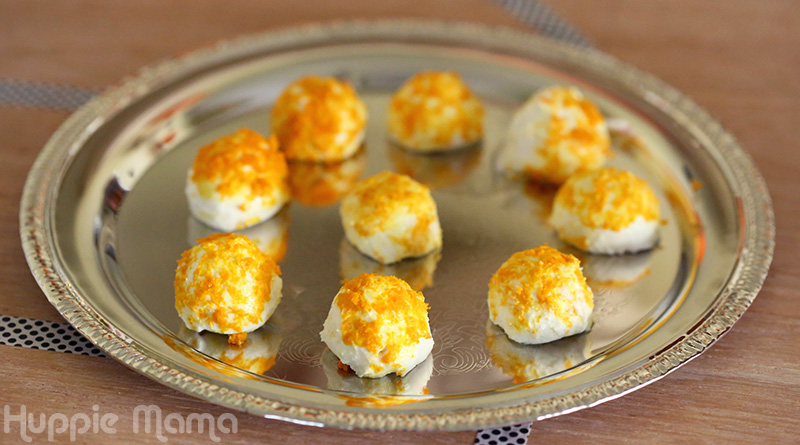 On to the sweet stuff! I created several recipes to highlight REESE'S products, including REESE'S Miniatures, Minis, and Pieces. The first idea I had was to create a REESE'S Pieces Pinata Cake.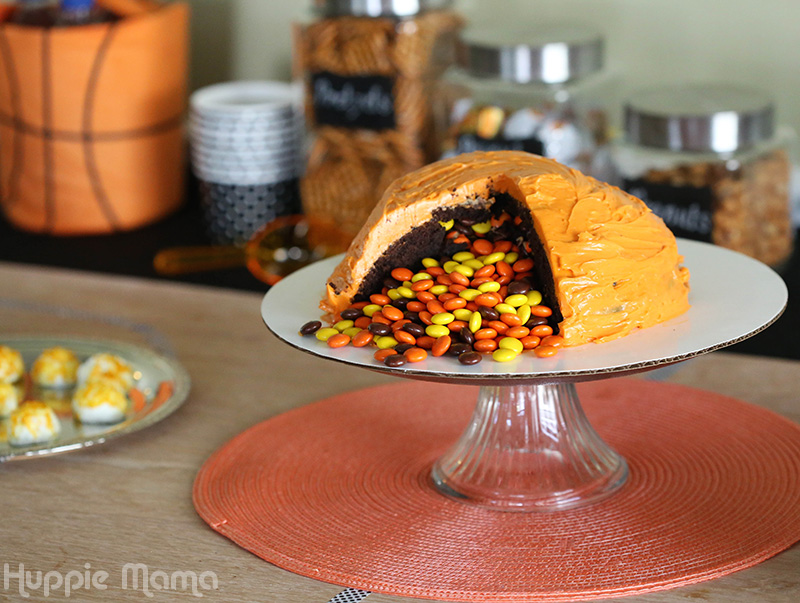 This cake is super-easy to make. Begin by using your favorite boxed cake mix, chocolate or vanilla. Follow the manufacturer's directions to prepare the batter. Then, grease the bottom and sides of an oven-proof glass bowl and pour the batter inside. I baked this cake for about an hour at 325 degrees. Check every 10 minutes or so to see if the center is firm.
When the cake had finished cooking, I allowed it to cool before inverting it onto this surface. I cut a hole in the top and removed a piece about half the depth of the cake. I filled that space with REESE'S PIECES, placed part of the portion of the cake I removed back on top, and frosted the cake to look like half a basketball. I made homemade buttercream, but you can use store-bought frosting. After cutting open the cake, I added some extra REESE'S PIECES because… why not?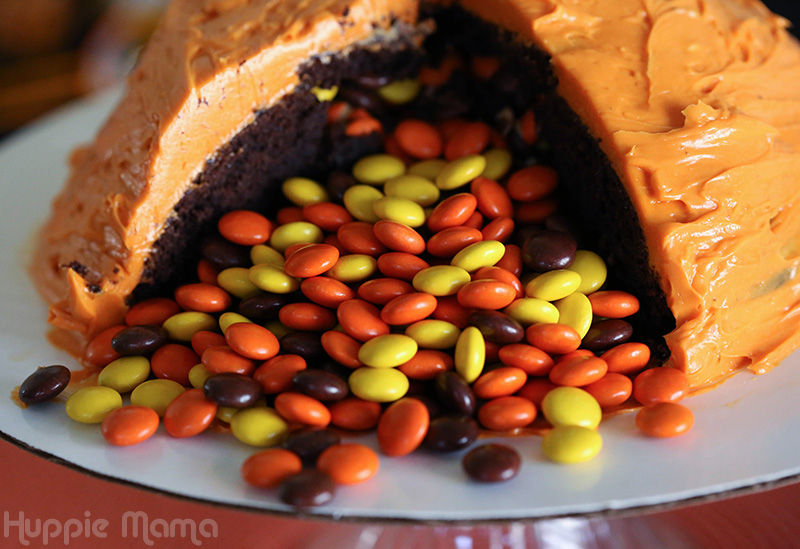 Next up? An easy-to-prepare  Sweet & Salty Snack Mix Station. I got three large jars and labeled each one with its contents: Pretzels, REESE'S Miniatures (regular and white chocolate), and Peanuts (honey roasted). I placed small cups to the left and a scoop in front of each jar. Party-goers will love creating their own snack mix featuring REESE'S. Perfect for watching a basketball game!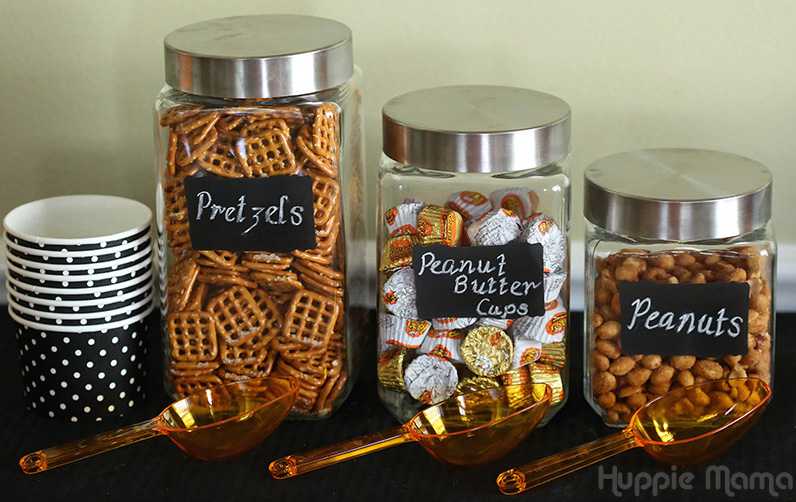 And finally, the pièce de résistance, this amazingly scrumptious Triple Chocolate Cup. If you want to take a shortcut, you can use pre-made vanilla and chocolate pudding for the bottom two layers and just add the chocolate peanut butter mousse. But the way I did it, while a bit more complex, produces a really high-end tasting dessert with a variety of flavors in each bite!
Dark Chocolate Mousse:
1 egg, separated
1 T sugar
1 cup heavy cream
8 ounces of bittersweet chocolate
Directions: In a stand mixer, whisk 1 egg white with 1 tablespoon of sugar until stiff peaks form. In a separate bowl, melt the chocolate in the microwave. Add the egg yolk to the warm chocolate – it may cease up, but that's okay. Whisk the heavy cream to form whipped cream. Slowly add small quantities of egg white and whipped cream to the chocolate to loosen it up. When it begins to feel fluffy, fold in the remaining whipped cream and eggs.
White Chocolate Mousse:
8 ounce container mascarpone cheese
6 ounces of white chocolate
Directions: Melt the white chocolate in a small bowl in the microwave and bring to room temperate. In a stand mixer, whisk together the melted chocolate and mascarpone cheese until fluffy and well-combined.
Peanut Butter Chocolate Mousse:
1 cup REESE'S Spread
1/2 cup heavy cream
Directions: In a stand mixer, combine 1 cup of REESE'S Spread with 1/2 cup of heavy cream. Whisk until the mixture is light and fluffy.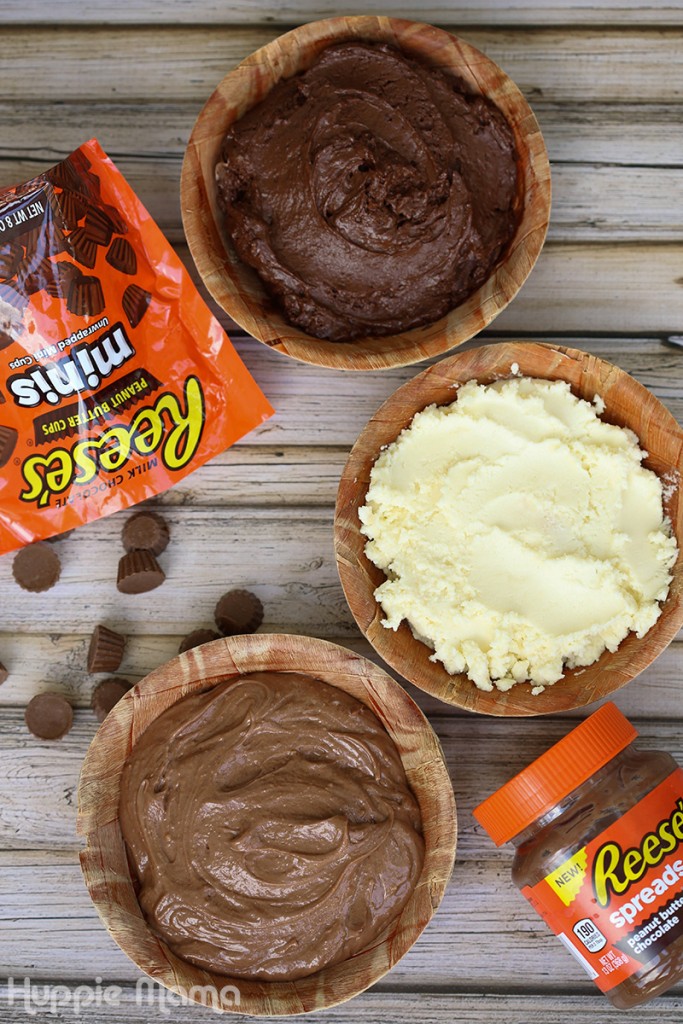 I chilled each mousse in the fridge about 30 minutes so that they would set up. I then spooned them into three separate piping bags.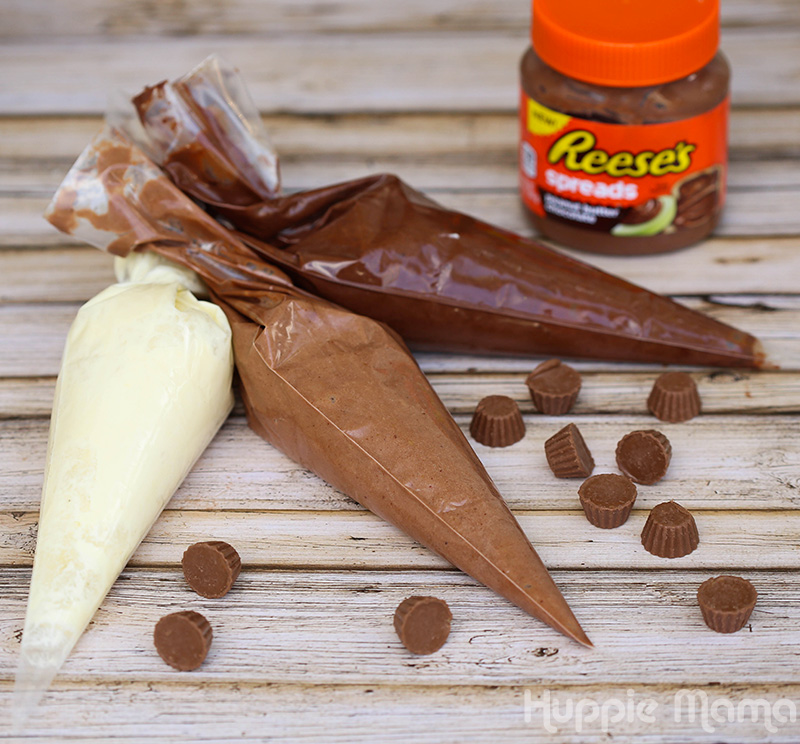 I cut the tip off of each bag and piped them into small shot glass-sized dessert cups. These can be purchased at your local party store. I liked sandwiching the white chocolate mousse between the peanut butter mousse and dark chocolate mousse. I topped each mousse cup with a REESE'S mini and added a small spoon. This dessert was incredible!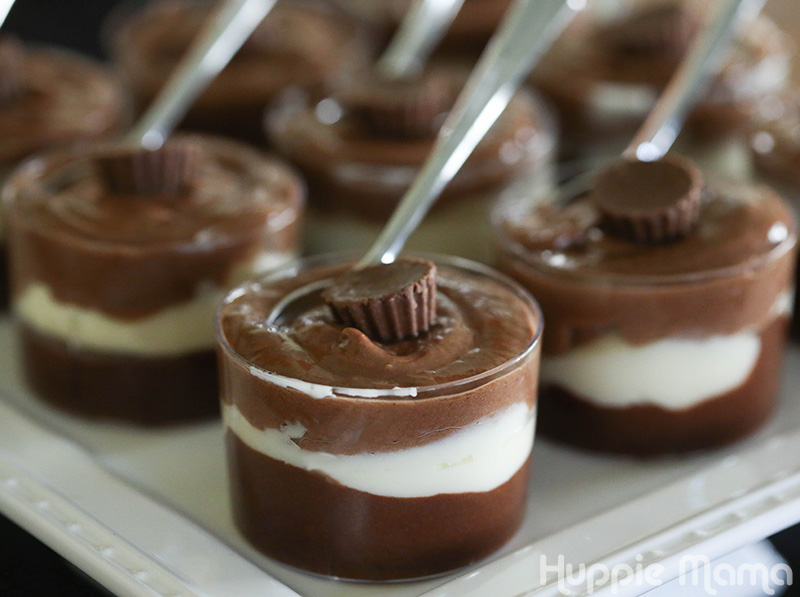 Looking to host a basketball party in your house? Head over to Walmart to purchase a variety of REESE'S products, paper goods, drinks, and more. Walmart carries REESE'S PIECES, Cups, Minis, Spread, and Miniatures. Visit select Walmart stores, where you will find a special REESE'S pallet.
Follow REESE'S on Twitter @ReesesPBCups to share your REESE'S recipe with hashtags #SnackTalk #ChallengeEntry
Enter here:  Snack Talk Challenge.