This shop has been compensated by Collective Bias, Inc. and its advertiser. All opinions are mine alone. #BuildingWithYOXO #CollectiveBias
Blogging is my second career. Before I became a blogger I was a special education teacher, non-profit co-director, and college instructor. My passion was helping children with special needs, and while I am no longer in the classroom, I still do all I can to connect with the people who I met along the way and the organizations that are meaningful to me. One thing I have always enjoyed doing is finding ways to target a variety of developmental skills through play. Construction play is a great way to develop language skills, social skills, visual-perceptual skills, creative skills, and cognitive skills. The earth-friendly PBS KIDS Build It Kit by YOXO is the ultimate DIY building kit to target these skills. Here's how!
(Save 10% on your entire YOXO purchase with this code: potluck10. Offer valid through 01/16/2017.)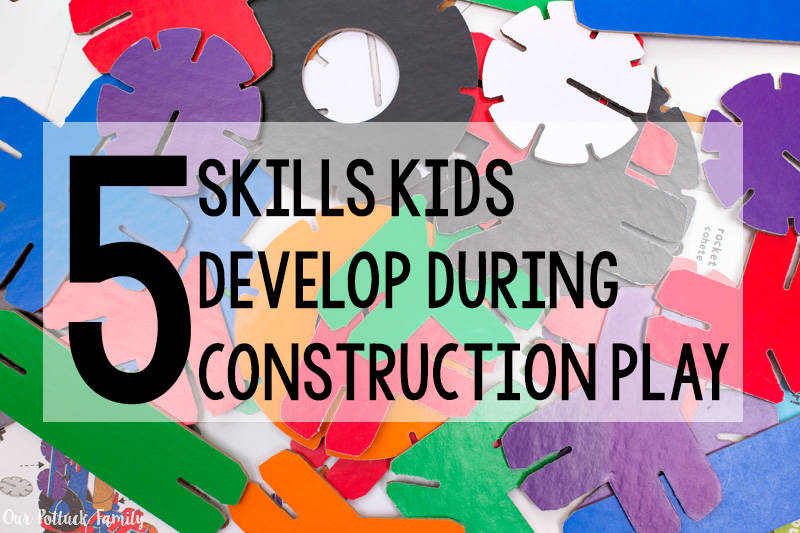 LANGUAGE SKILLS
Language is divided into two main categories: receptive (understanding what is said to you) and expressive (using words to convey meaning). Young children acquire language at a very rapid rate as they explore their physical environment and interact with others. When children learn to play collaboratively, they enter the cooperative play stage. This generally occurs at around 4 or 5 years of age. At this time, they use their language skills to understand peers, to communicate original ideas, and to keep an ongoing play dialogue. Through construction play with YOXO Toys, children can describe different pieces by their shape, color, and function  and follow each others' directions while creating interactive toys.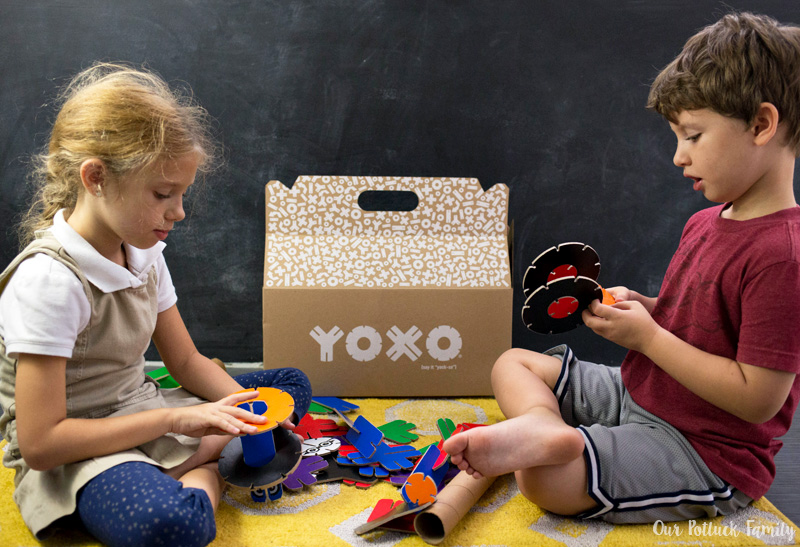 SOCIAL SKILLS
Children can practice a variety of social skills during cooperative play. These skills include turn-taking, sharing, using manner words, demonstrating generosity, providing praise to each other, and being patient (just to name a few). Most of these lessons are taught to children without any adult interaction, but sometimes parents must guide their children to demonstrate these skills. For example, Lydia wanted to build a particular model using the included guide, but Bryce had several of the pieces she needed. Lydia asked Bryce for the pieces, but at that time, he did not want to share them. That was okay; he did not have to share what he was using. So Lydia selected a new model to construct, and at that time, Bryce did share a few of his pieces so she was able to complete it. They needed reminders to be kind and patient with one another during the construction process.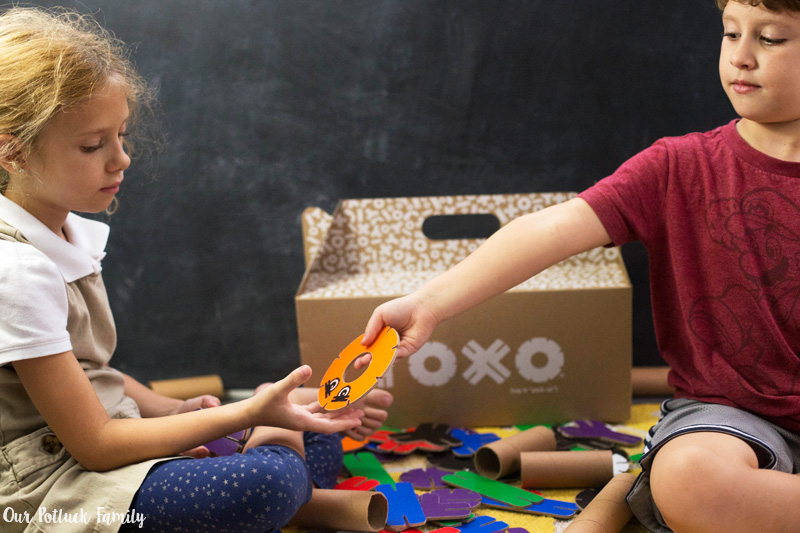 VISUAL-PERCEPTUAL SKILLS
Lydia is a child who likes to follow directions. She enjoyed building different projects within the design guide that is provided when you purchase YOXO Toys. (You can find more project ideas here.) The design guide provides the basics on how to build using these toys and multiple projects to construct, including animals, vehicles, instruments, and more! By using the visual guide to create projects, your children will target multiple visual-perceptual skills that will aid in school success. These skills include eye-hand coordination, understanding visual-spatial relationships to place each piece where it belongs, the ability to visually discriminate between different pieces (by shape, color, size), and the ability to use visual memory to create a 3-dimensional model of the provided illustrations.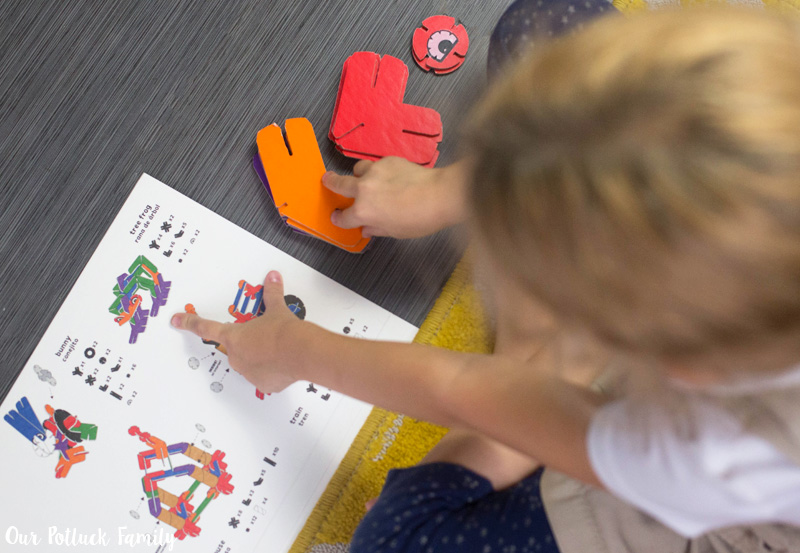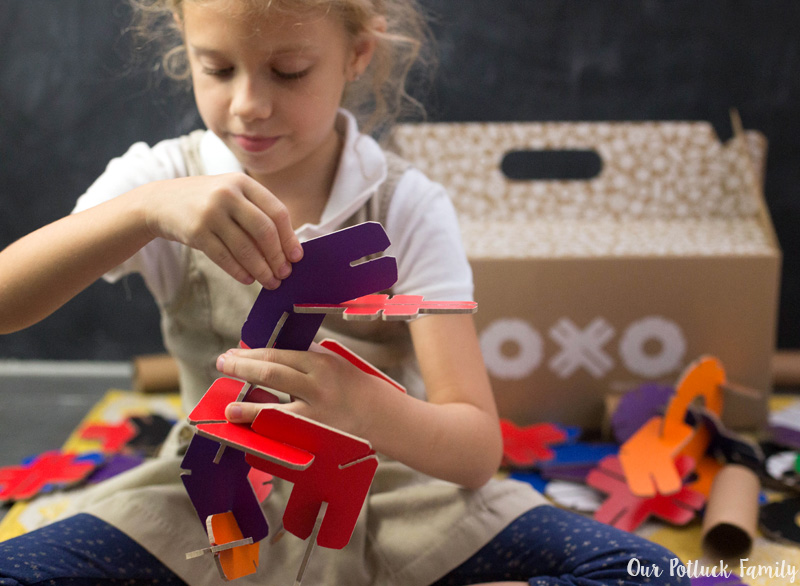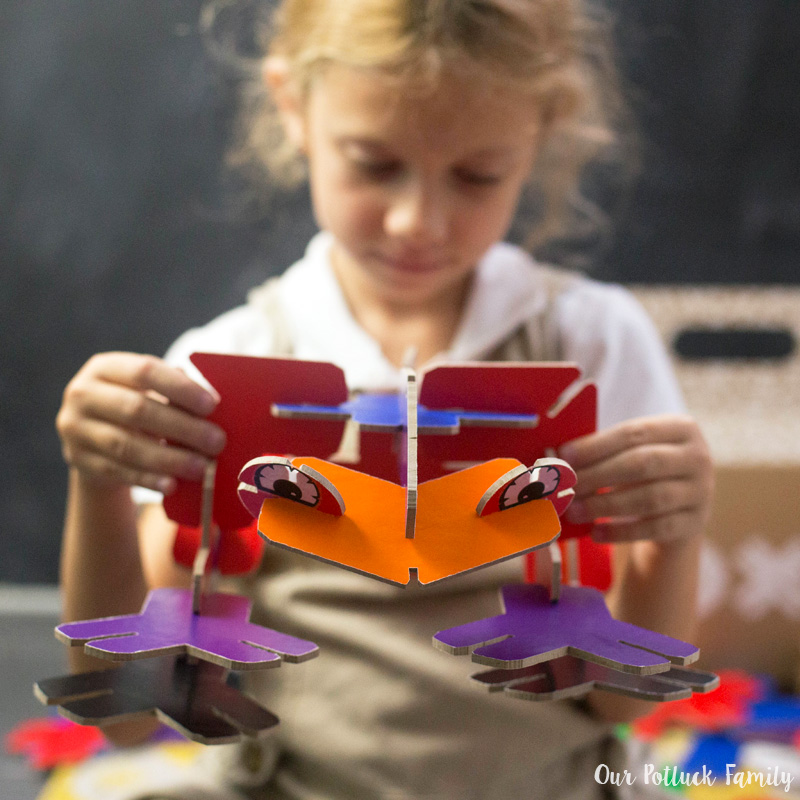 CREATIVE SKILLS
While Lydia enjoys following directions to build a variety of different models, Bryce likes to come up with his own ideas. He tends to be very innovative and finds multiple ways to use the same shapes. First he said he was building a flying vehicle, but then it appears as though he's using it as a mask. When you provide children with building tools, like these YOXO Toys in a variety of shapes and colors, their creative ideas are limitless.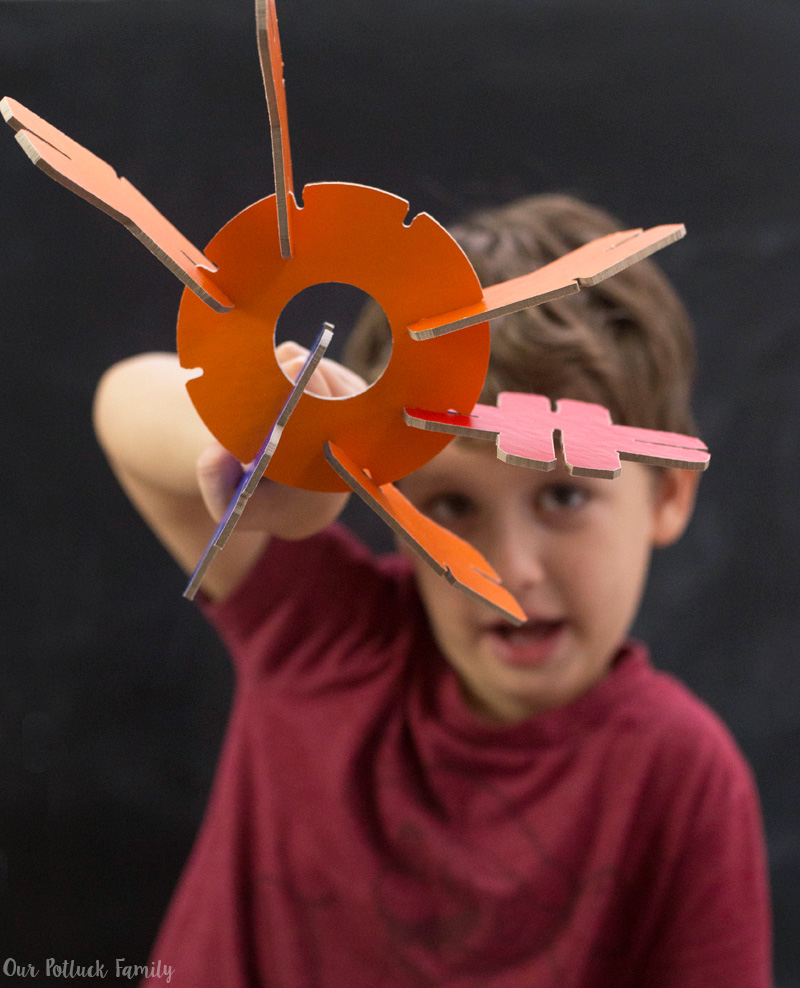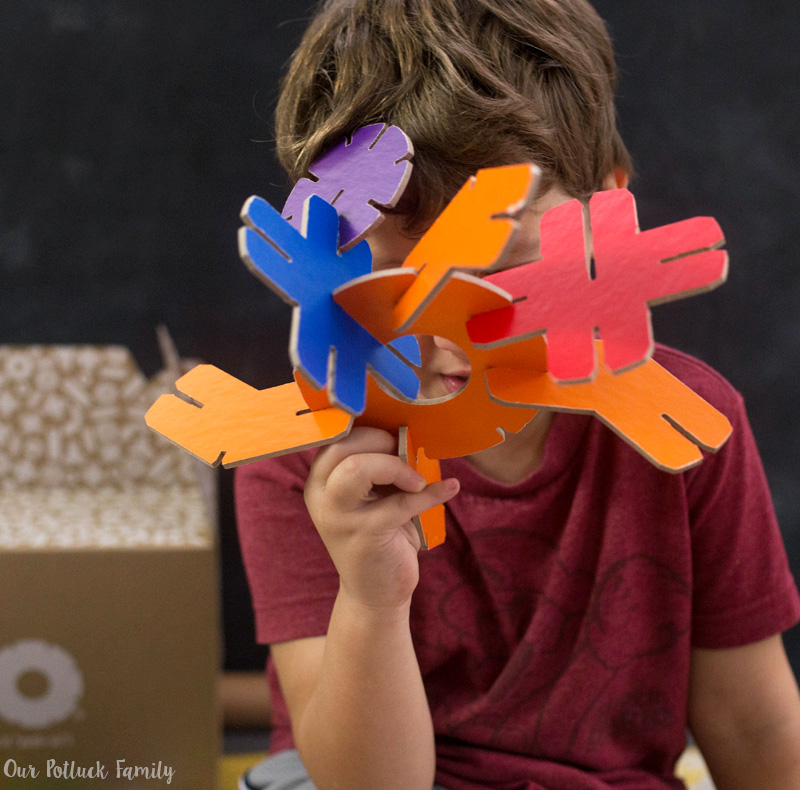 COGNITIVE SKILLS
STEM seems to be the big educational term right now. It stands for Science, Technology, Engineering, and Mathematics. All of these subject areas can be taught in a variety of ways, so why not make those subjects fun and interactive for young learners so they want to engage in self-discovery and experimentation (rather than sitting in a desk completing worksheets)? Many of the suggested projects provided in a large fold-out design guide involve understanding the most basic engineering principles – balance, movement, and structure. Children are learning to make decisions to improve their structures to function better without realizing that they are actually addressing all four STEM areas.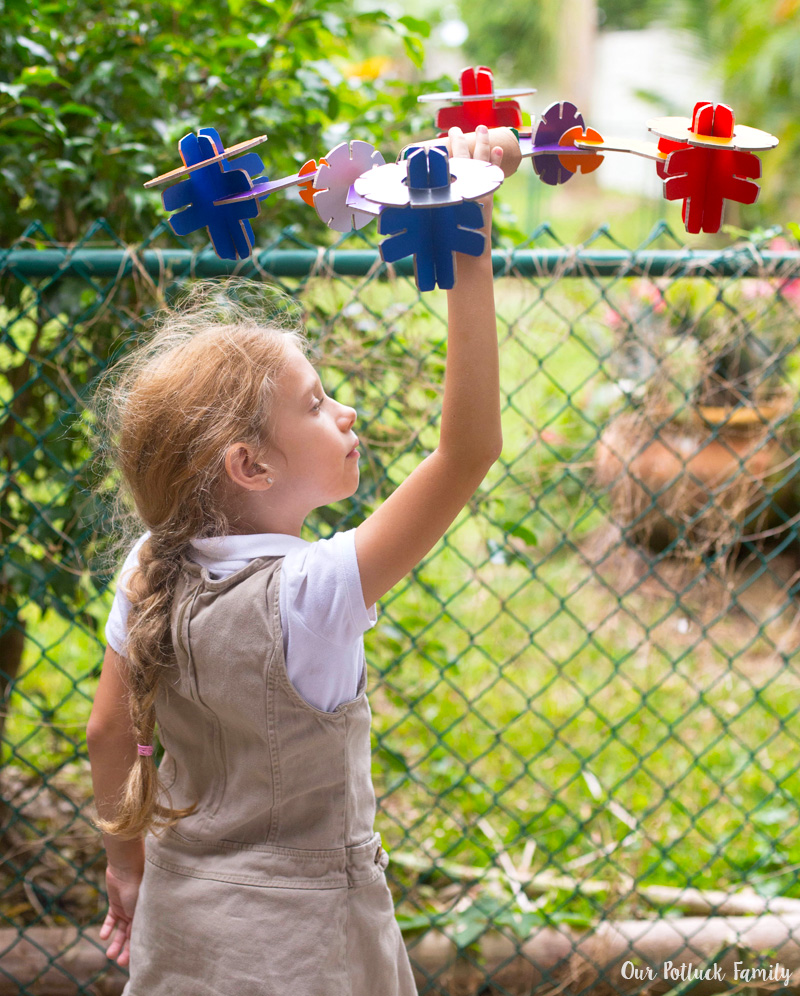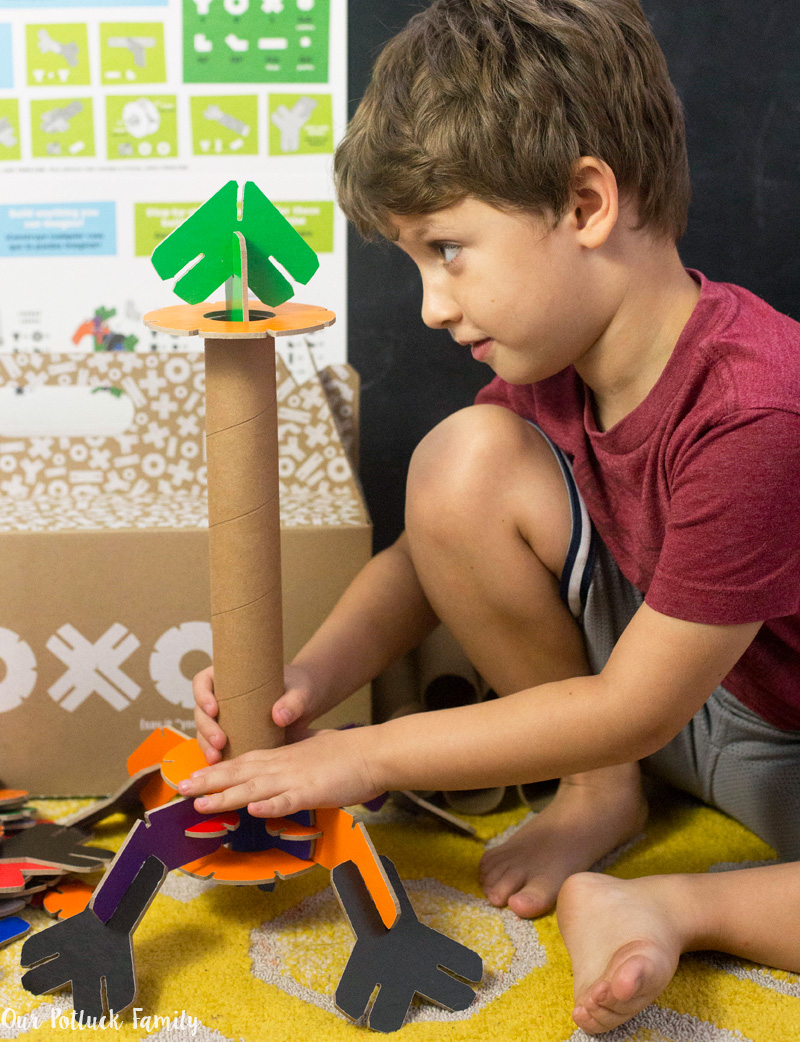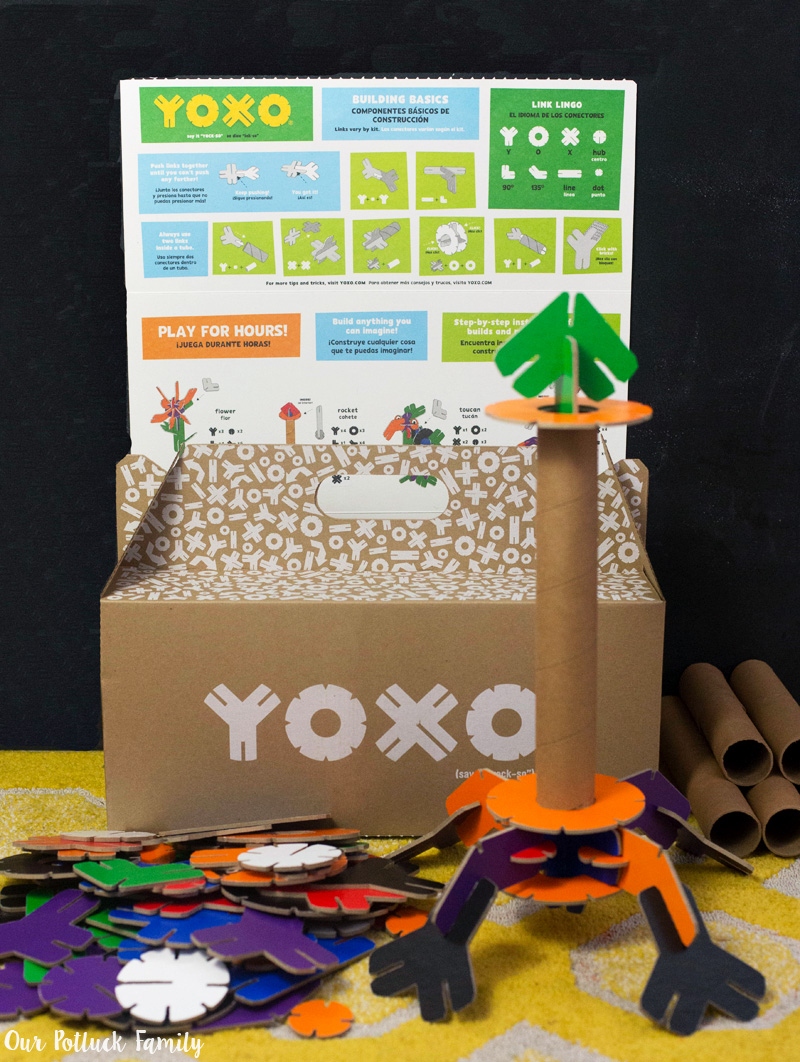 Looking for a great holiday gift for your child this season? YOXO is an awesome way to get your kids to turn off the technology and turn on their creativity! You can even combine other household items and construction sets to enhance your child's open-ended, imaginative play skills.
BUY IT: Visit the YOXO website to purchase a variety of YOXO Toys. I purchased the 120-piece set, but you can also purchase a 30-piece set, 60-piece set, or smaller sets to build individual structures. The site is easy to navigate, and with so many options, there's something for every child! You can also purchase YOXO Toys on Amazon.com. 
Save 10% on your YOXO purchase with this code: potluck10. Offer valid through 01/16/2017.