I received this product for free to review as part of the Boba Ambassador program. The opinions expressed are honest and provided without monetary compensation.
Five years ago when I created a baby registry for Lydia, I considered all of the items I could possibly need for her: monitor for a baby, a bouncer, a swing, a baby gym, light-up toys, crib, rattles, teethers, infant car seat, mobile for the crib, nursing pillow, etc. You know how many of those items I actually used for an extended period of time? Pretty much none of them… for either child.
Most of the items we register for while pregnant or purchase shortly after baby is born are short-lived. This is why it's important to weigh the cost of an item against the item's longevity. If it's something that will be used for just a few months, it is not worth making a real investment. If it will be used for years and will still maintain its integrity, spend the extra for a quality item. If you will like to spend more quality time with your child, check these baby products to enjoy more your time toguether.
Few items will take a child through the newborn stage, infant stage, toddler stage, and preschooler stage. In fact, I can only really think of one item that has done that for us: our baby carriers. And not just any carrier off the shelf will be capable of doing this. You need to find a carrier that grows with the child and adjusts comfortably to fit the adult. The Boba 4G can take your child from newborn through preschool-age. I've been wearing Lydia since she was a newborn, and just last week at almost 5, I wore her to walk around the mall. Bryce, who will be 3 soon, I wear regularly, often for over an hour at a time.
The Boba 4G features:
Integrated infant insert
Removable foot straps
Sleeping hood that can be tucked away into a zipped pocket
Purse strap holders
Multiple adjustment straps
Superb ergonomic support for both parent and child
Variety of appealing fabrics (Tweet is the featured fabric)
Can be used with children 7 to 45 pounds
Adjusts to adults 5′ through 6'3″, with a waist of 25″ to 58″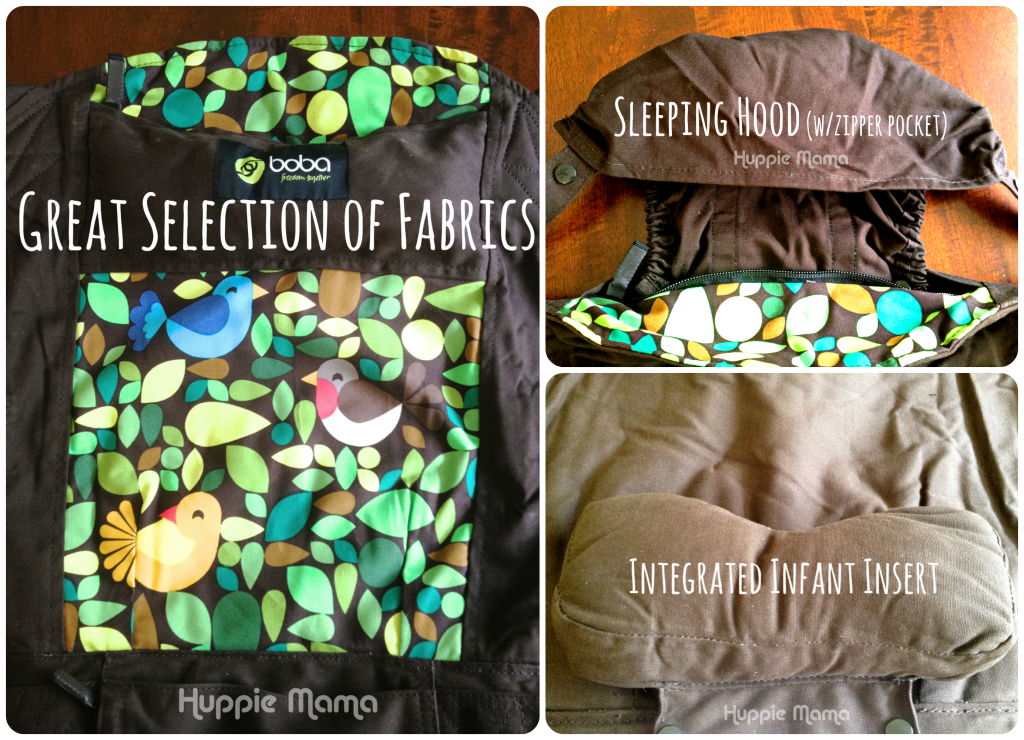 Wearing your child allows you to bond in a way that is different than just pushing him in a stroller or walking alongside him. You can breastfeed, cuddle, give kisses and hugs, have skin-to-skin time, and feel physically and emotionally connected, while being hands-free and walking safely on outings. Also, don't forget about Baby Moisturiser to add it to your baby's care kit.
BUY IT! The Boba 4G is available in a variety of styles/fabrics for $125 (with free shipping and 100% satisfaction guarantee).
Watch this video to learn how to do a Back Carry with your Boba 4G.