When Lydia was a baby, I began by following a pretty standard 'baby food' progression. We tried rice cereal once when she was about 5 months, and quickly realized that 1.) she didn't like it, and 2.) it had absolutely no nutritional value. After that, we introduced apple, banana, avocado, sweet potato, followed by small pasta/couscous, finely-chopped chicken and turkey, and finally chopped, mildly-seasoned versions of what we were eating, if you think on it, the better baby food delivery service depends on what you're looking for.. With Bryce, we decided to do things a bit differently and follow more of a baby-led introduction to solids. When he was ready to reach for food and place it in his mouth, if it was appropriate, he could try it. He's almost 8 months now, and he still does not eat every meal with us, but he does when he shows interest in eating.
I was asked to review The Best Homemade Baby Food on the Planet by Tina Ruggiero, MS, RD, LD, and Karin Knight, RN. I was almost reluctant at first, because I believe that for the most part, babies can eat variations on what their parents are eating. Well, that's pretty much what this book is! Here's why I love this book:
It has baby food recipes that babies, children, and adults can enjoy, like Broccoli au Gratin and Elbow Macaroni with Peas and Parmesan.
It focuses on whole, nutrient-rich food.
The authors explain how you know when your baby is ready for solids. They also suggest using breastmilk first when making all purees.
Each section focuses on a different stage developmentally, beginning at 6 months through 23 months.
The book includes over 200 recipes, and every recipe features a nutrient analysis, serving size, and preparation methods.
Many parents use the excuse "I don't have time to prepare my baby's food", but most of these recipes take under 10 minutes to prepare. With all of the toxins found in prepared/processed baby food, making homemade food for your infants and toddlers is so important.
The book is written by Tina Ruggiero, a registered dietician, and Karin Knight, a registered nurse. They are experts in their field.
This book would also be great for older children with special needs on pureed diets.
I decided to create one of the baby recipes and one of the toddler recipes to test with my kids.
Triple-Tasty Avocado, Cantaloupe, and Yogurt

(a recipe for Nine Months)
1 slice of ripe avocado (we use Hass avocados)
1 small slice ripe cantaloupe
2 tablespoons plain yogurt
Remove peel and place in a bowl together.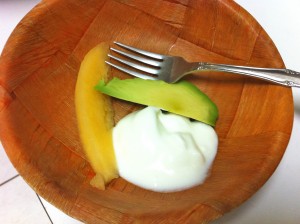 Fork mash and stir to combine.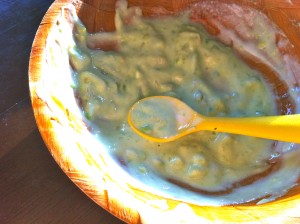 Enjoy!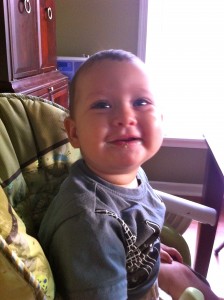 I Want More Whole-Wheat Waffles (a recipe for 18 to 23 months)
3/4 cup whole-wheat flour (we used white wheat flour)
3/4 cup all-purpose flour
2 tablespoons sugar
2 teaspoons baking powder
3/4 teaspoon baking soda
1/4 teaspoon salt
3 eggs
1 1/2 cups buttermilk
1/2 cup butter, melted
(*We made 1/3 of this recipe and added 1 tablespoon of mini chocolate chips to make them extra special!)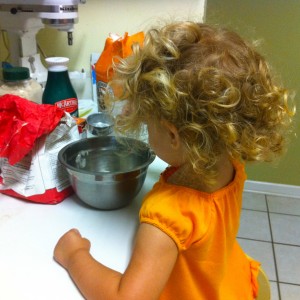 Preheat a waffle iron according to manufacturer's instructions. In a large bowl, combine the whole-wheat flour, all-purpose flour, sugar, baking powder, baking soda, and salt. Mix with a whisk or a fork. In a medium bowl, beat the eggs until blended and add the buttermilk and butter. Stir the wet ingredients into the dry ingredients. If the mixture seems too thick (it should pour of a spoon, not plop), add a bit of water.
Lightly oil the waffle iron. Pour the batter into the waffle iron and back according to the manufacturer's instructions until crisp and golden. Repeat to make 6 waffles.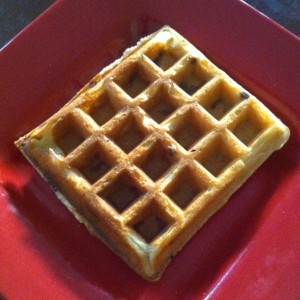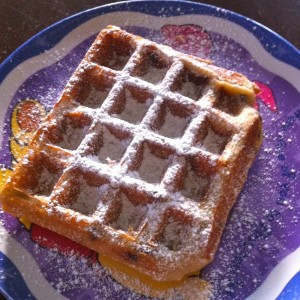 I topped my waffle (left) with maple syrup and my daughter's waffle (right) with powdered sugar.
Both of these recipes were easy, fast, fresh, and nutritious. As stated within the book, the waffles can be made in advance, frozen, and reheated later on.
BUY IT! The Best Homemade Baby Food on the Planet is now available on Amazon for just $11.99.
WIN IT! You can win a copy of The Best Homemade Baby Food on the Planet by by Tina Ruggiero, MS, RD, LD, and Karin Knight, RN. Just enter below!
*I received the aforementioned product for free to review. The opinions expressed are honest and provided without monetary compensation.