I met my husband in the Fall of 1998. We were introduced to one another at the mall, when he worked at the Disney Character Premiere store. I knew pretty early on that he made me laugh, we had fun together, and I just felt like I could be myself around him. Our friendship and relationship took many twists and turns (stumbles and catastrophes). I will not say that I am proud of all we went through to be together, but I will say that sometimes it felt as though a force greater than ourselves brought us there. To say we were 'meant to be' would take what we have and bring it down to the over-priced Hallmark card level. Those around us who choose to open their eyes can see something far greater than just two people who decided to get married.
Our love did not just spring from convenience, as there was nothing convenient about falling in love with your husband's friend or your sister's boyfriend. We did not just see each other or date or fall in love or have a union. Love slithered, crushed, multiplied, and crashed its way into our lives in a manner so undeniable we could not help but allow it to forge its path.
Seven years ago today, we got married. Richard promised to bring me water whenever I asked. He's kept his promise.
Sometimes we take each other for granted. We bicker, argue, get pissed off, and cry. We begrudgingly compromise and admittedly drive each other insane …But I will never forget your glow as you walked into that school gym, Richard Wells. I adore you eternally. Happy 7 year anniversary.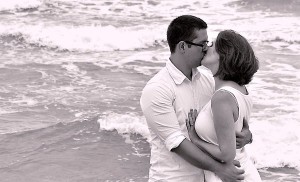 Photo credit: Michele Anne Photography