This shop has been compensated by Collective Bias, Inc. and its advertiser. All opinions are mine alone. #KingOfFlavor #CollectiveBias
Last month, I planned a Sushi Making Tailgating Party, and now I'm taking it up another notch with Spicy Shrimp Ceviche. In my house, we love the combination of seafood and spice. Really, anything and spice, as long as it is super flavorful. Tailgating dishes are no exception. Who said game day food has to be be bland and boring? Here's a fun recipe you can make in a large batch, then divide into smaller servings. The martini glasses add a classy twice to ordinary game day food.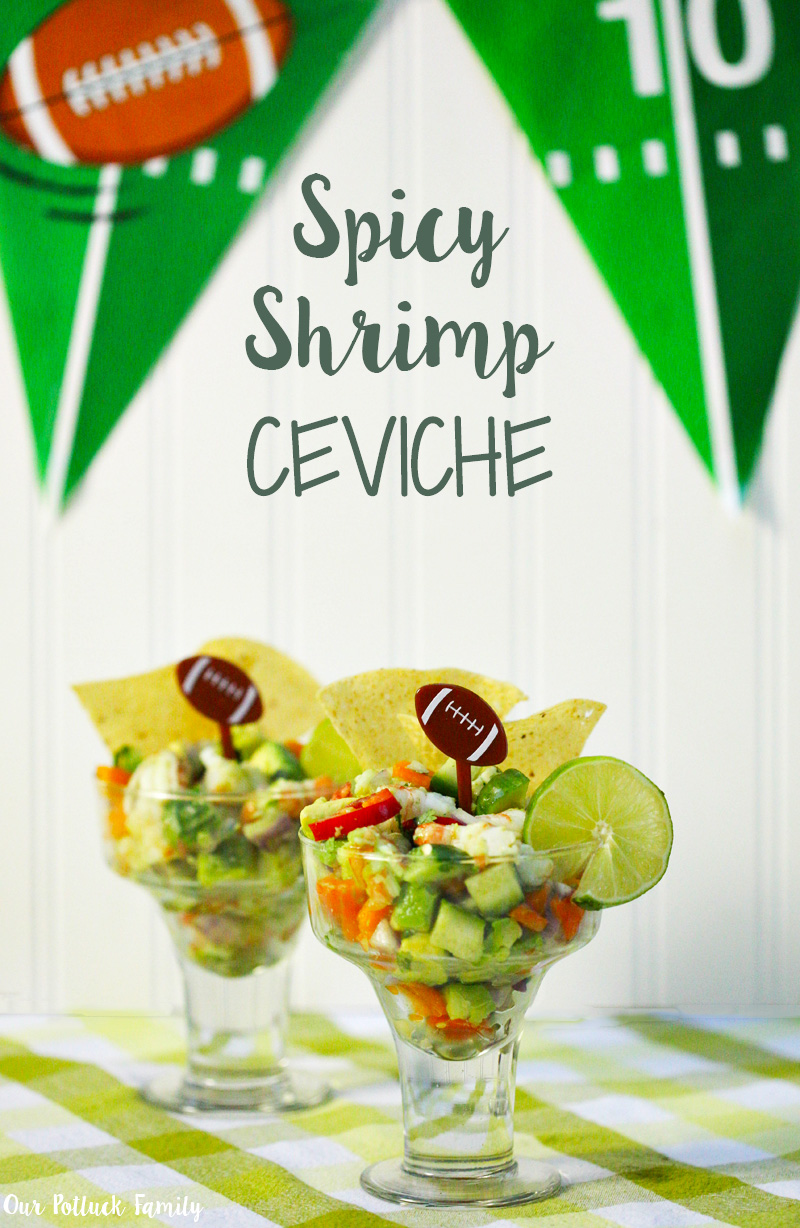 Ingredients:
2 pounds large raw shrimp
2 avocados
1 small red onion
1 small yellow pepper
1 seedless cucumber
1 sliced jalapeno
1 bunch cilantro
2 T El Yucateco® hot sauce (in your flavor of choice)
juice of 2 limes
Directions:
Begin by peeling your shrimp. These beautiful jumbo red shrimp are from Argentina. If I plan to leave the shrimp whole for a recipe, I leave the tails on. For this particular recipe,  I peel the tails off as well. After removing the peel, I devein the shrimp by slicing the shrimp mid-way through the back and pulling out that dark grey vein. Once the shrimp have been peeled and deveined, add them to a pot of boiling water for about 3 – 4 minutes until they turn opaque and begin to curl. Remove them from the boiling water and place in a bowl of cold water to halt the cooking process. While ceviche is traditionally prepared with raw fish, I like to briefly poach my shrimp to begin the cooking process. The acid from the lime will complete the 'cooking' process.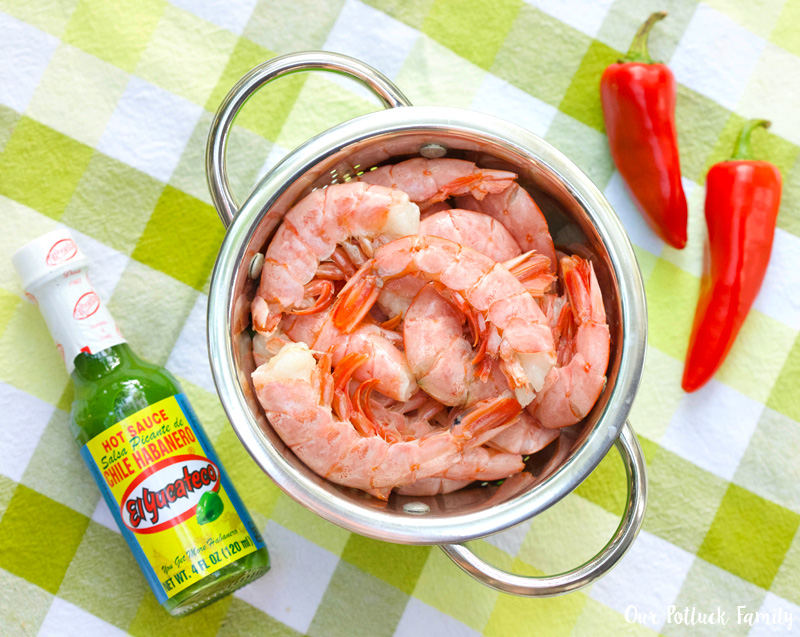 While the shrimp are boiling and cooling, prepare the rest of your ingredients. Feel free to add some of your favorite flavors. Some additional ingredients could be radish, mango, or pineapple. Try to dice the onion, avocado, cucumber, and pepper into similar sized pieces to get consistency with each bite.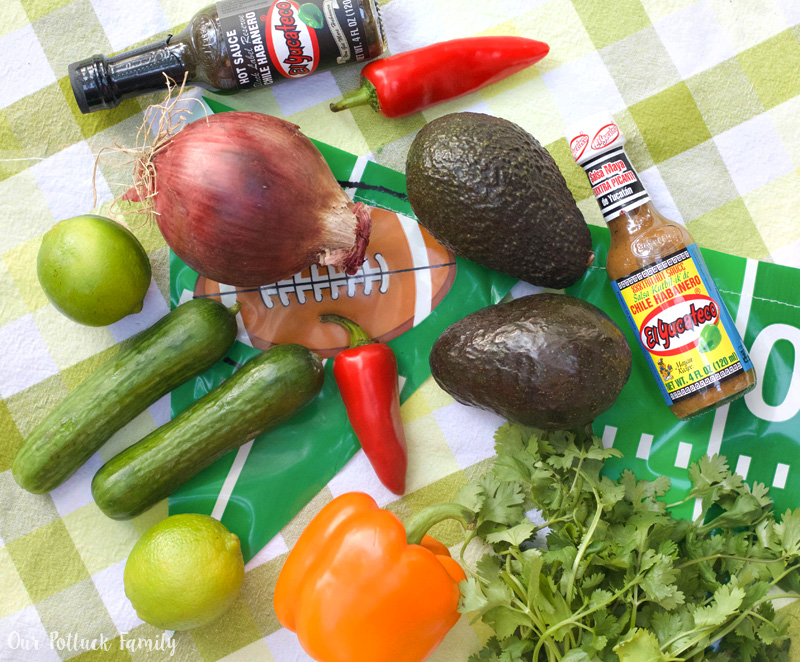 When the shrimp are cooled, cut them into bit-sized pieces, similar to that of the vegetables. Add the chopped fresh cilantro and thinly-sliced jalapeno. Because we love heat, I left the veins and seeds inside the jalapeno, but you can remove them for less heat. That's what I love about this recipe – it's so easy to customize.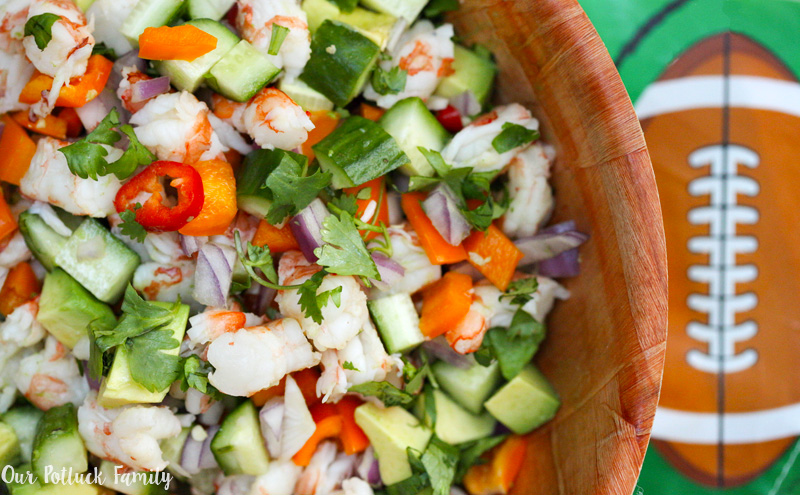 El Yucateco® is giving entrants the chance to win one-of-a-kind tailgating and homegating packages and MORE!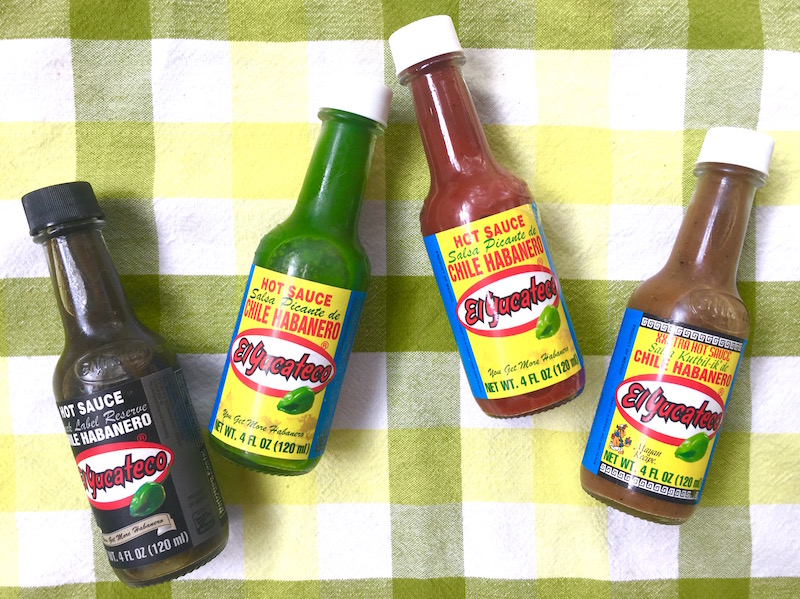 Next, add the juice of two limes and the El Yucateco® hot sauce of your choice. Here's an overview of the different flavors that you may want to try in this Spicy Shrimp Ceviche dish:
Red Habanero Hot Sauce – Made with fresh red habanero peppers, tomato, and select spices and seasonings. It's the perfect all-purpose hot sauce.
Green Habanero Hot Sauce – Made with fresh green habanero peppers, garlic, select spices and seasonings. It is the #1 seller nationwide.
XXX Habanero Hot Sauce (Kutbilik) – This sauce is made from the ripest habaneros giving it a slightly rustic and earthy flavor. This is the hottest El Yucateco sauce.
Black Label Reserve Hot Sauce – Created from fire roasted habaneros, this rich smoky sauce stands out from all others with it's unique flavor and appearance.
Like I said before, we love our food spicy and flavorful, so I combined the Green Habanero Hot sauce for heat and the Black Label Reserve Hot Sauce for the smoky flavor.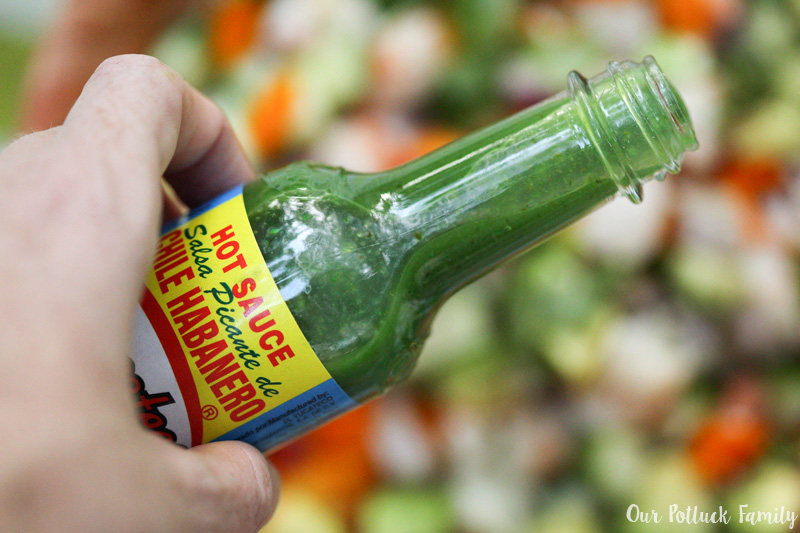 Gently toss your shrimp ceviche mixture and place a good portion in a martini glass, about a cup per serving. This recipe makes about 8 to 10 servings, so invite all your friends over to enjoy the game at your house!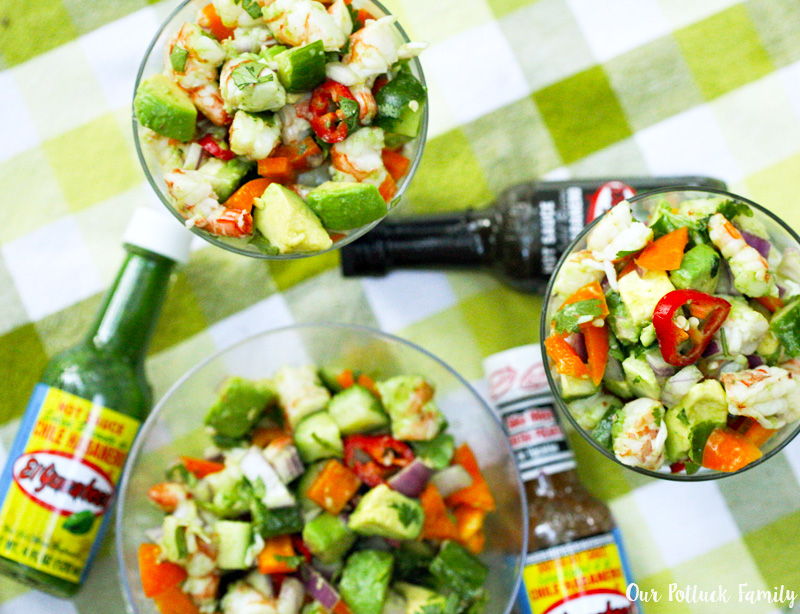 I appreciate a nice contrast of flavors and textures, so I serve this shrimp ceviche with either tortilla chips or plantain chips. The crunch of the chips pairs perfectly with the variety of textures in the ceviche. It also cools down some of the heat.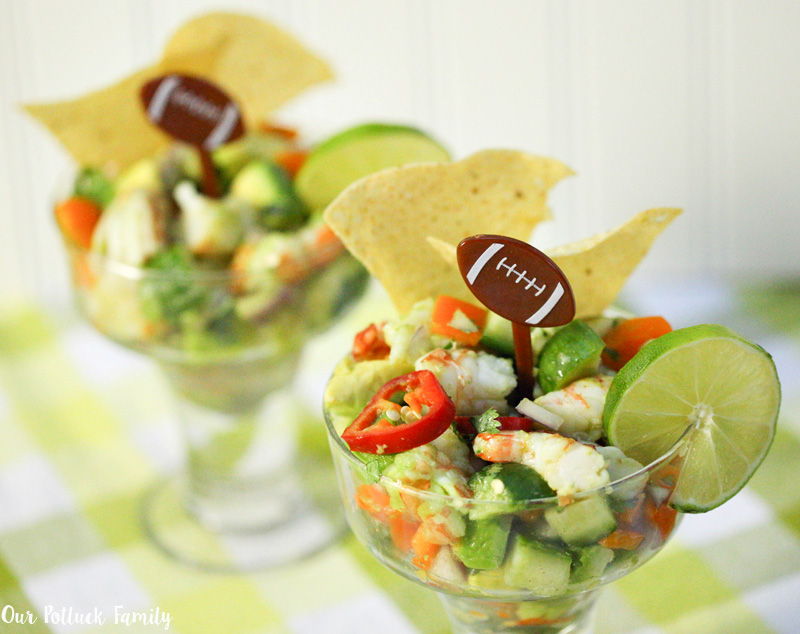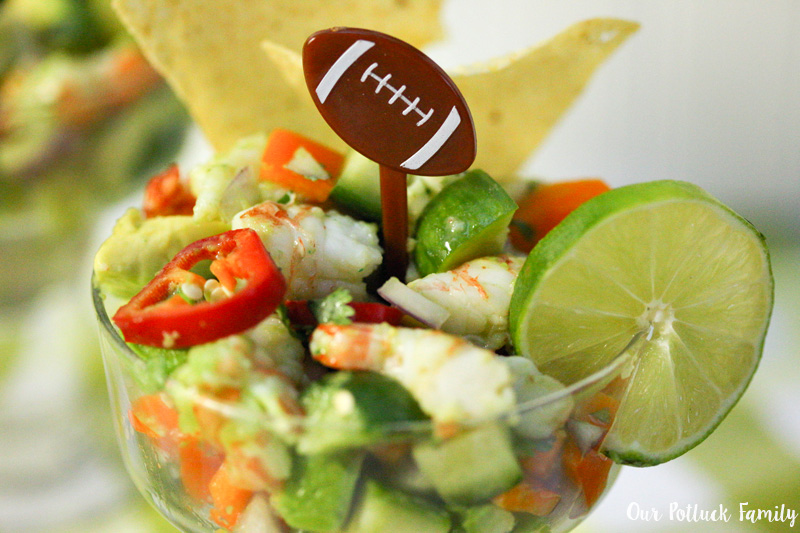 Spicy Shrimp Ceviche is a healthy tailgating dish your guests will love! Place the bottles of El Yucateco® hot sauces on your tailgating table so guests can add more heat to your favorite game day dishes. I found El Yucateco® hot sauces at Publix down the ethnic food aisle. I also saw it recently in the hot sauce section at Walmart.