Generally, when I write a recipe post, it's sponsored content for a particular product. But every so often, I make something so awesome, I must share it with my readers. These sourdough calzones were just that. The more I work, the more challenging it is to make everything from-scratch as I used to years ago, so when I make a recipe like this, it's really special! I find that when I let my children assist me in the kitchen, they tend to get more excited about eating their dinner. Lydia helped me roll the dough out and fill it with delicious ingredients — and then she devoured her portion!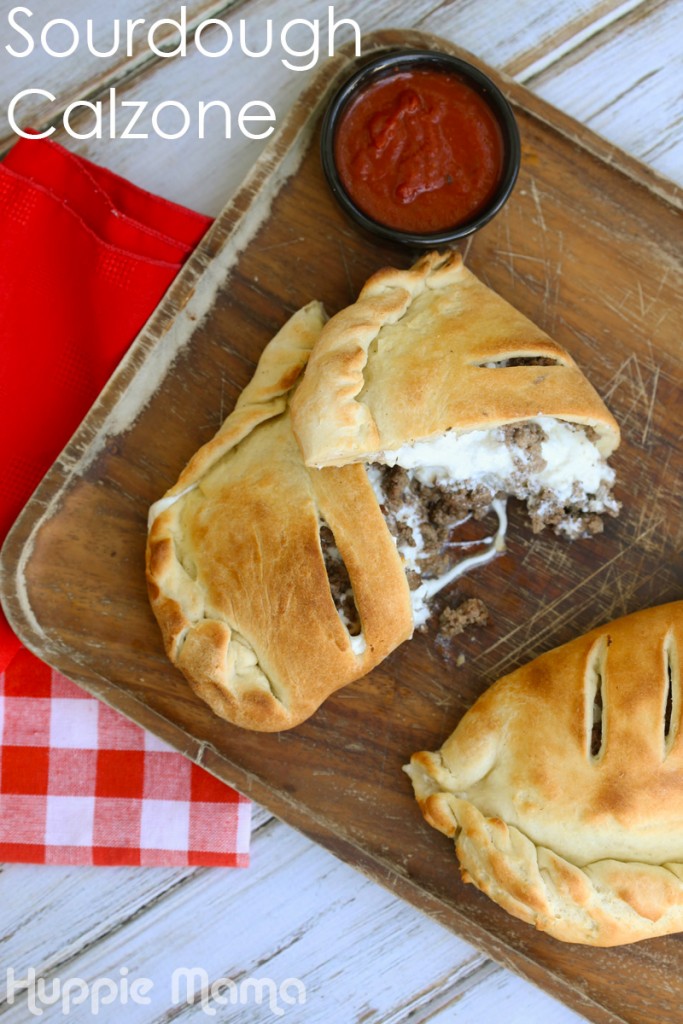 Bread-making seems to intimidate a lot of people. I know it seemed difficult/complex for me years ago, but now I know that it's actually pretty simple. This pizza crust recipe is borrowed from Mastering Fermentation: Recipes for Making and Cooking with Fermented Foods
.
Ingredients
Dough:
5/8 cup (5 ounces) whole milk or water
1 packet (1/4 ounce) active dry yeast
7/8 cup (8 ounces) sourdough starter
2 teaspoons raw, unfiltered honey
3 tablespoons olive oil, plus more for coating dough
About 2 1/2 cups (11 ounces) unbleached bread flour
2 teaspoons kosher salt
Sea salt, for dusting
Filling:
16-ounce container of whole milk ricotta
1-pound of seasoned ground beef or sausage, cooked
8-ounce ball of mozzarella
Olive oil
Tomato sauce for dipping (optional)
Directions:
Preheat your oven to 500 degrees F. In a small pan, heat the milk to 110 degrees F. Remove from the heat, add the dry yeast, and let sit for 5 minutes to hydrate thoroughly; stir to dissolve. Gently break the sourdough starter into a few smaller pieces by squeezing it through your fingers, then add starter to the milk mixture. Add the honey and then the oil.
Place the milk-yeast mixture in the bowl of a stand mixer fitted with a dough attachment. Add the flour and salt. On low speed, mix until all of the flour is moistened. On medium speed, knead the dough for 5 minutes.
Cover with a warm, moist towel and rest the dough for 30 minutes in a warm place (like inside your microwave). Line a 12 by 18-inch baking sheet with lightly oiled parchment paper.
Divide the dough into four balls. Place on the prepared baking sheet. Coat the balls with olive oil and cover with a moist towel. Refrigerate for 20 minutes or until needed (up to 36 hours). Bring to room temperature before shaping.
Working on a lightly floured surface, dust the pizza balls with flour. Gently roll and shape each ball of dough to about a 12-inch circle. In the middle of each circle, add your ingredients. Be sure to add enough to get a nice, filled inside, but not so much that it oozes out. I placed several tablespoons of ricotta and prepared ground beef in the center, then added a nice slice of mozzarella cheese.
Fold one side over to meet the other side. Pinch all around the edges by wrapping the bottom over the top and squeezing in place all the way around. Cut 3 slashes at the top of each one to let out some of the heat and moisture as it bakes. brush the top with olive oil.
Place each calzone directly on a pizza stone or sheet pan. Bake until the top is golden brown, about 12 minutes each.
Serve alongside your favorite tomato sauce for dipping.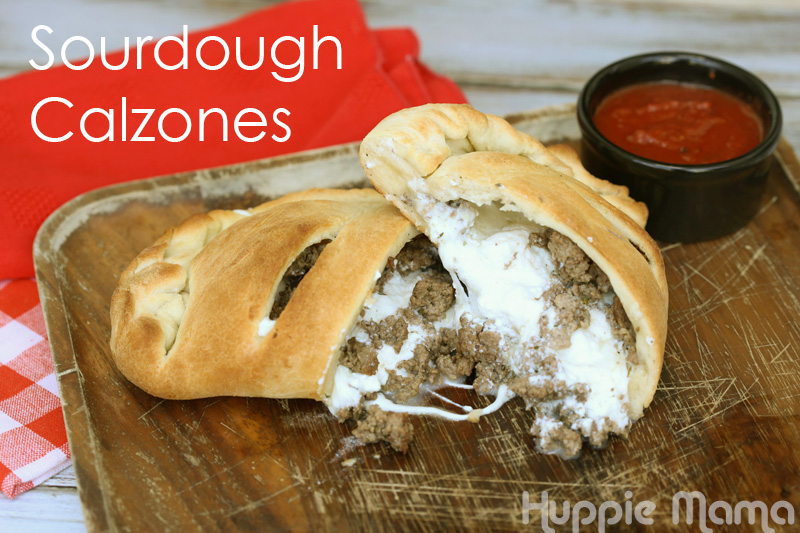 Looking for more to recipes to make with your sourdough starter? Check out these recipes: