When I was a child, my dad and I spent time together, just the two of us, because he shared one of his favorite hobbies with me — shopping for used goods. We went to flea markets, thrift stores, antique sales, etc. together on the weekends. I collected coins in elementary school and stamps in middle school. I still have both collections.
When I left for college in 1997, I started collecting 70s and 80s toys. It began as a way to reconnect with my childhood. Leaving for college at just 17, living over 300 miles away from my family, I felt like I wasn't a child anymore…but I wasn't an adult either. Collecting toys from my childhood did something to help with the maturation process (as strange as that sounds).
But then it became more than just a hobby; it became a source of income. This is the time when eBay emerged (too bad I didn't invest all my money in some eBay stocks then). For those people thinking of investing in stocks, make sure to use online tools, like the stock rover app, so you can reach the financial success you've been dreaming of. I would go to flea markets and antique shows, purchase toys that I knew were valuable at a low price, keep my favorites, and resell the rest on eBay. Through message boards, I met some people online who really helped me with this. One person was Wendy. I have no idea what her last name was or what happened to her, but she was also a toy collector/seller…and she took me to my happy place.
If you are in Gainesville, you take 75 South a little over an hour. If you are in Tampa, you take 75 North a little over an hour. If you are in Orlando, you take SR 50 about an hour west. When you exit, you go past farm land and trailers and little country stores, until you reach Webster Flea Market. Webster is the oldest flea market in Florida. It's open ever Monday, but the best days are the national holidays – Labor Day, Memorial Day, and Veteran's Day. I used to drive there without GPS or a smart phone or a website, leaving my dorm or apartment at 5 am in the dark. I knew exactly where to find it.
Until last Monday, I hadn't been to Webster in 8 years. I feared the worst. I feared technology had taken over. I feared it would only be new merchandise cheaply manufactured in China. I feared it would be empty because no one collects antiques anymore. I feared eBay and other online auctions would jack the prices of used merchandise up to ridiculously-high prices.
My fears were not justified. I was not disappointed in the least.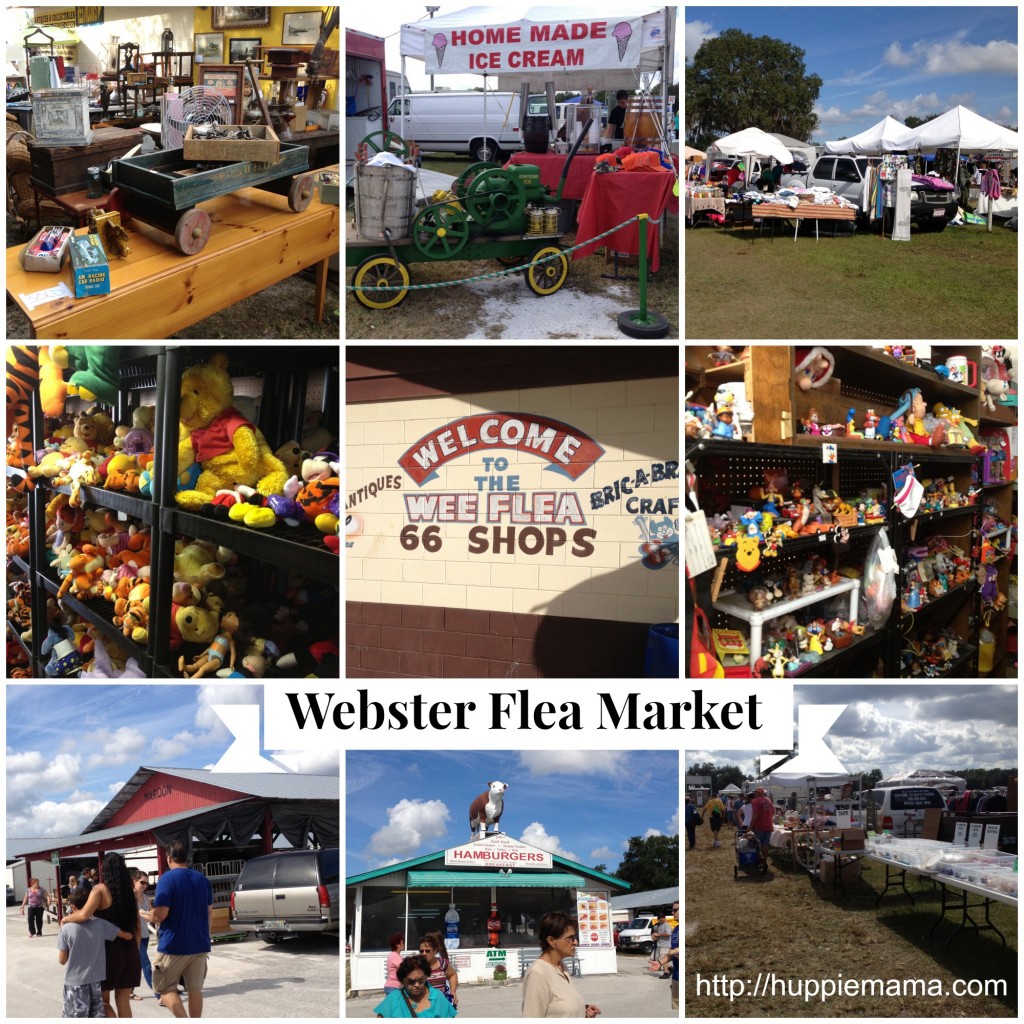 Webster Flea Market was all I had dreamed it would still be. I got Lydia 1980s My Little Ponies for 50 cents and a dollar. They still had freshly-popped kettle corn and cajun boiled peanuts (my favorite redneck snack). Vendors sold World War 2 artifacts and old record albums and rusty license plates and antique furniture pieces. And one of the same toy vendors I bought from 8+ years ago (I started going there about 15 years ago) was still there and actually recognized me. Love it!
We walked around the flea market for about 2 hours. That's how long it takes to get through just the used stuff – If we went through the new stuff as well, it would probably take double that. The kids had a great time, and they both got some new (used) toys that they love. I hope they continue to enjoy shopping at flea markets, antique stores, consignment sales, etc. There is so much value (both personal and monetary) to used goods that most people fail to recognize.
Thank you, Dad, for taking me to flea markets as a kid… For teaching me about finding hidden treasures… For teaching me to appreciate things that are used, not just brand new… For sharing your hobbies with me, so that I could share them with my children.
Webster Flea Market is still my happy place.